Square Enix has announced the action RPG, "Trials of Mana," is set to be sold in Asian regions on April 24th, 2020 for PlayStation 4 and PC (Steam)
Improved Graphics
The beauty of the world of Mana in full 3D graphics! See the original scenes transformed!
Revamped Battle System
Characters can now jump, dodge, and fight with combo attacks in modern action RPG style!
Soundtrack Arrangement
All 60 tracks from the game have been rearranged under the supervision of Hiroki Kikuta, the original composer. Players can also switch to the classic versions of the songs.
Character Voices
A cast of talented voice over artists for your favorite characters! Different party members trigger different conversations during your adventure.
This slideshow requires JavaScript.
With choices made, destinies entwine… The story begins anew.
This overlapping story of interwoven destinies changes depending on who you choose as your main character and companions! It's now fully modernized with quality graphics, an upgraded battle system, character voices, a remastered soundtrack, extra conversation interludes, and more!
This daring tale of overcoming the tests of fate has been given new life! Will these young adventurers be able to use the power of mana to save the world from the brink of destruction?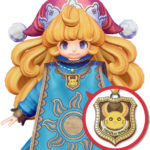 Those who preorder or early-purchase the package or digital editions of "Trials of Mana" will receive an in-game bonus piece of gear, "Rabite Adornment."
Equip it to your character to earn more EXP in battle until level 10.

PlayStation Store Bonus: "Trials of Mana" Avatar set
Everyone who purchases this product from the PS Store will receive a "Trials of Mana" avatar set as a bonus.
Steam Bonus: "Trials of Mana" Original background wallpaper
Everyone who preorders or early-purchases this product on Steam will receive a "Trials of Mana" original background wallpaper as a bonus.
Below are the product details;
Title: Trials of Mana
Release: April 24th, 2020 (projected)
*PC (Steam) edition will release on April 25th, 2020.
Retail Price: MYR 209 (package/ digital editions)
Genre: Action RPG
Platforms: PlayStation 4/Windows (Steam)