Bandai Namco Entertainment Asia is proud to announce the release of Tokyo Ghoul:re Call to EXIST for PlayStation 4 and PC today! A Co-op Survival Action Game based on popular manga Tokyo Ghoul and Tokyo Ghoul: re is now available!
In a team of four, get ready for the war against Ghouls and Investigators rages on with one goal — to survive! Work alongside with your team and defeat the looming enemies!
Early Purchase Bonus
Downloadable Content (DLC) for Early Purchase Bonus "Kaneki's Avatar Set" and "Quinx Mask Set + Rabbit Mask."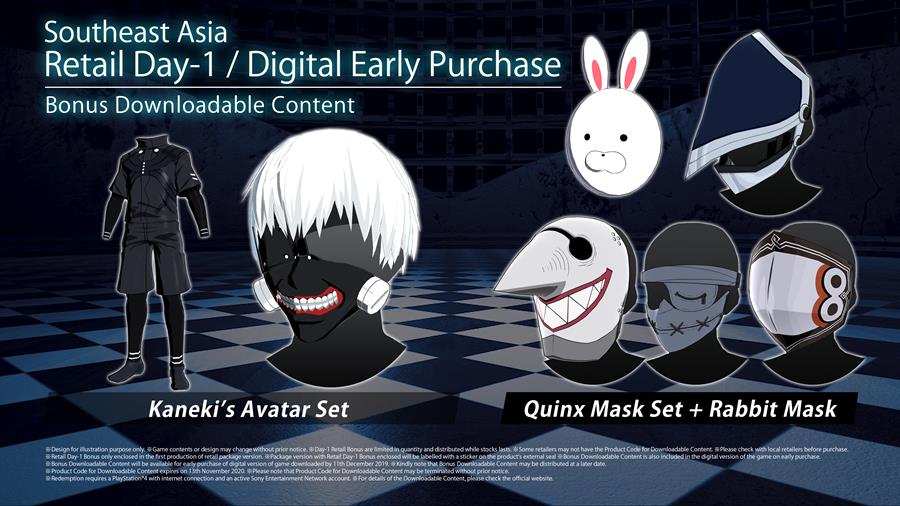 Retail Day-1 / Digital Early Purchase Bonus.
Contents may subject to change without prior notice.
Please be informed that due to limited quantities, it will only be available for redemption while stock lasts.
Only available at selected retailers. Please contact your local retailers for more details.
Bonus will be enclosed in the package version of the first production. Products with Bonus has a seal on the packaging's exterior film.
Bonus is also included in the digital version.
Bonus is included in Digital version downloaded before 11 December 2019.
Please be informed that the Bonus may subject to release at a later date.
The product code is valid until 13 November 2020. Please note that product code redemption may be terminated without prior notice.
Please connect to the PlayStation Network to use the product code. A PlayStation Network account is also required.
For more information on this Bonus, please visit the Official Website.
Tokyo Ghoul:re Call to EXIST is a Third-Person Perspective Co-op Survival Action Game for PlayStation 4 which will unite characters from across the franchise, including Tokyo Ghoul and Tokyo Ghoul:re.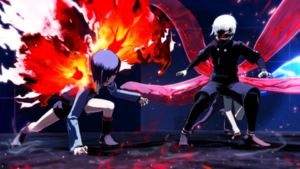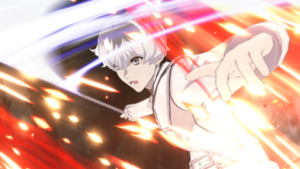 EAT OR BE EATEN
Pick your side: Ghouls or Investigators? Each character type has its own abilities and weapons that you will have to master to take down your enemies. Taking advantage of your surroundings and mastering your Kagune or Quinque will be key to survival. Featuring an offline mode and a multi online co-op play, player's goal is to survive. Pick your sides and challenge friends to see who will reign supreme in gruesome battles to the death.