EA and Maxis have revealed that The Sims 4 Industrial Loft Kit is now available as of Thursday, August 26 on PC and Mac via Origin and Steam, PlayStation 4 and 5, Xbox Series X|S and Xbox One.
Inspired by the converted warehouses of Brooklyn, New York, the Industrial Loft Kit features an assortment of stylish and contemporary furnishings for players to embrace reclaimed architectural design in the spaces they create. Simmers can unleash their creativity and design spaces that evoke a sense of history that melds with modernity using oversized windows, exposed hardware and sturdy statement pieces.
The Industrial Loft Kit offers a plethora of ways for players to showcase their Sims' character and accentuate elemental spaces with exposed piping, metallic vents, trendy wood and steel frames, and lighting fixtures that give rooms a comforting, warm aesthetic. Players can further highlight the beauty of raw and unfinished detailing with bright and oversized windows and sliding double doors that fill their newly designed dwellings with natural light.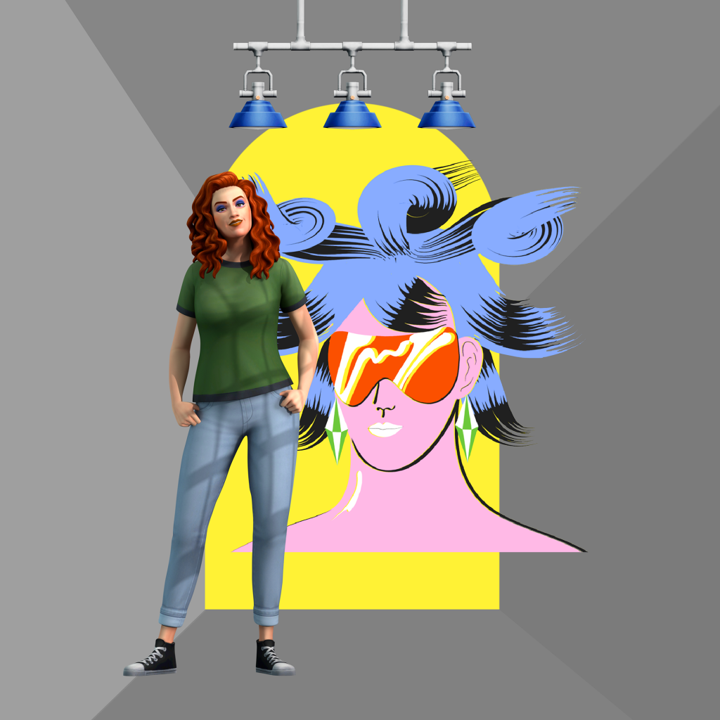 Ohni Lisle, "Hair Vision"
To celebrate the reveal of the Industrial Loft Kit, The Sims 4 also released a free game update, which features an original piece of artwork from Brooklyn-based artist Ohni Lisle. Ohni is a contemporary artist who uses a mix of materials to create masterpieces of colorful, expressive design inspired by nature, art and the human form. Ohni has frequently partnered with LGBTQ+ organizations to help promote equality and inclusion through her art, and her collaboration with The Sims is a natural fit centered around their shared values around self-expression and playful creativity!