Sony Interactive Entertainment and Naughty Dog has recently offered a hands-on preview gameplay The Last of Us Part II to some outlets and released a behind-the-scenes trailer stated below:
---
The raw gameplay without commentaries below provided by GameplayOnly:
How far would you go for revenge?
Set in Jackson, 5 years after the events of the original Last of Us, with the introduction to horseback patrolling in the snowy scenes with Ellie's romantic interest Dina. Only to find themselves landing into trouble against a new militia group called WLF – the Western Liberation Front. Featuring a few new elements in the game:
Joel is making a comeback!.
WLF uses guard dogs to tracking your scent down, getting players off the comfort zone in their sneaking field (Yes, you will have to kill dogs in this game). Guard dogs seem to be a new type of challenge for players as they will come rushing at your very fast.
New improved sophisticated AI human enemies, each with their own name as they communicate with each other constantly. They will react in agitation as well when their buddies are killed.
Raising the bar newly evolved infected prowls around ranging from corrosive exploding clouds tankers known as the Shambler and an unknown mini-boss infected type that stalks/sneaks on their prey. This alone will definitely keep you on your toes while sneak crawling under the tall grasses.
Upgradable weaponry depending on your playstyle.
Ellie as an adult is more athletic than before in terms of traversing via climbing, crawl, dodge, squeeze through certain gaps/ in-between shelves and jumping, which will open up more puzzle elements in platforming.
Listen mode is making a return with added scent trails for the guard dogs.
Overhauled upgrades system just by reading magazines scattered around, choose how you want Ellie to grow based on your preferred play style.
A glimpse of new hope in its multiplayer
Developer Naughty Dog addresses the game's lack of a multiplayer mode with the following statement below via Twitter: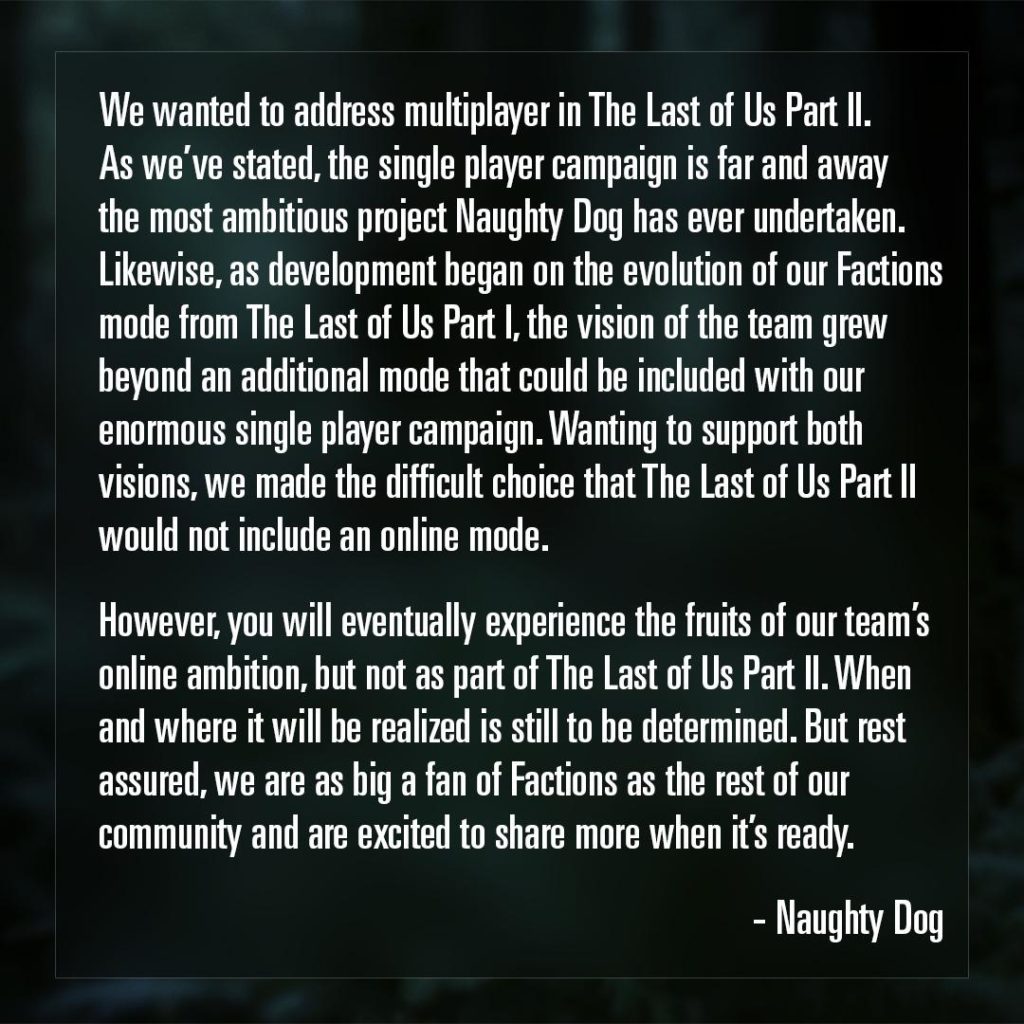 However, lead game designer Vinit Agarwal has addressed this issue by stating the following via Twitter:
"An update on multiplayer. Don't worry, we haven't forgotten. We're still hiring for our online team – something is happening.

Hold tight and enjoy TLOU Part II!"

Vinit Agarwal
Stating that currently, they are in development for a separate component on the multiplayer aspect. Stay tuned for more info.
Help Ellie survive while she's out for revenge in The Last of Us Part II launching this coming February 21, 2020, for PlayStation 4.
For more of our previous coverage, click below links: