A live broadcast by Bandai Namco was shown and was announced that Super Robot Wars T is coming to the Playstation 4 and Nintendo Switch. The latest installment of the Super Robot Wars series this time will feature more notable franchises such as Cowboy Bebop, Magic Knight Rayearth and many more.
Here are the list of confirmed notable series that will be coming to Super Robot Wars T:
Invincible Robo Trider G7
Aura Battler Dunbine
New Story of Aura Battler Dunbine
Mobile Suit Gundam
Mobile Suit Gundam ZZ
Mobile Suit Gundam: Char's Counterattack
Mobile Suit Gundam: Char's Counterattack – Beltorchika's Children*
Mobile Suit Crossbone Gundam
Mobile Suit Crossbone Gundam: Skull Heart*
Mobile Suit Crossbone Gundam: Steel 7*
Mobile Fighter G Gundam
Armored Trooper Votoms
Armored Trooper Votoms: The Last Red Shoulder*
Armored Trooper Votoms: Big Battle
The Brave Express Might Gaine
The King of Braves GaoGaiGar
Cowboy Bebop (New)
Gunbuster
Martian Successor Nadesico: The Motion Picture – Prince of Darkness
Getter Robo Armageddon
Mazinger Z: Infinity
Arcadia of My Youth: Endless Orbit SSX (New)
Magic Knight Rayearth (New)
Gun X Sword
Expelled from Paradise (New)
*Mech appearances only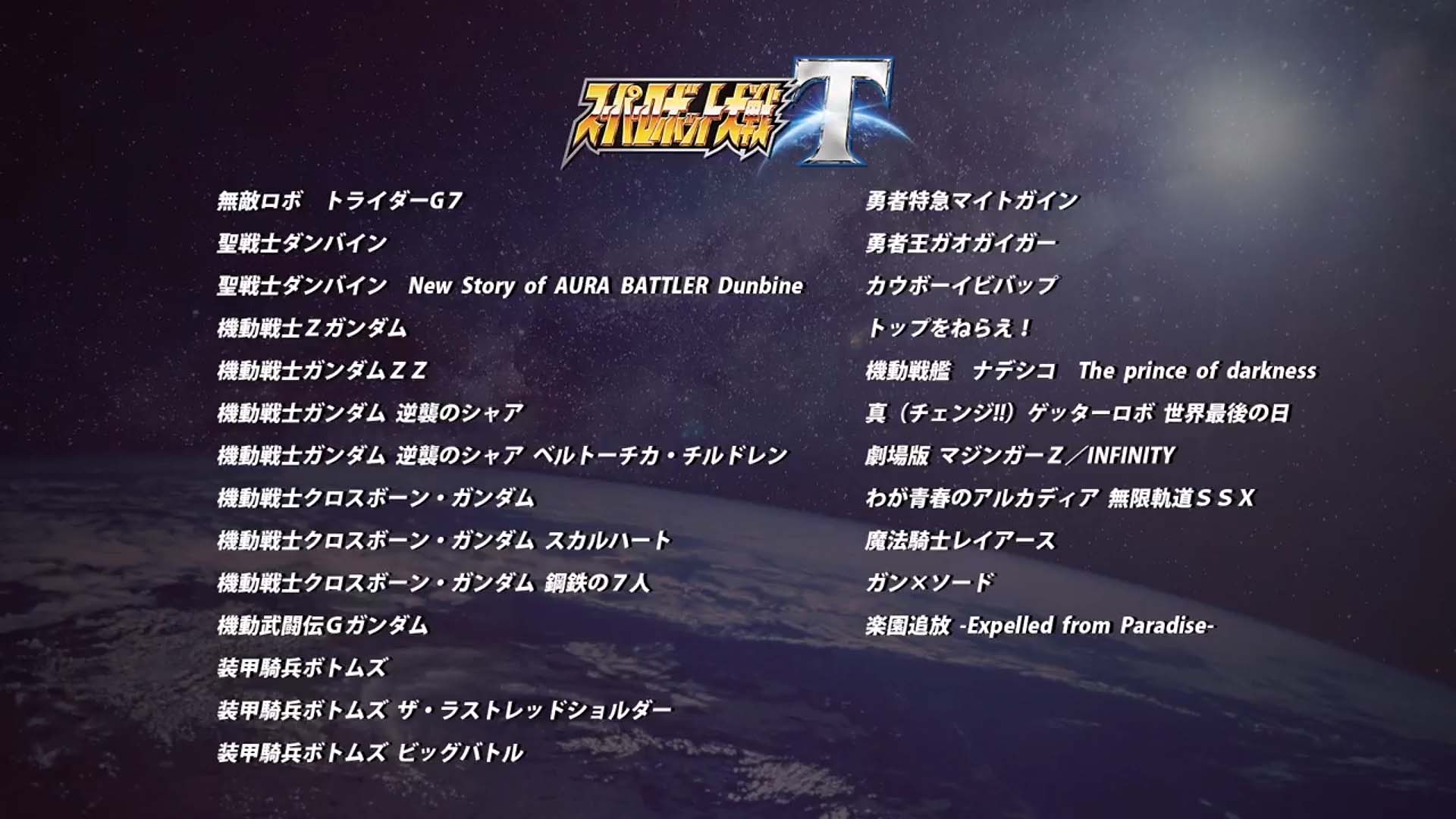 For the time being, Super Robot Wars T is only announced for the japanese market due 2019. There is no word given for yet for an English version though a traditional Chinese localization will be coming. Nonetheless, given the game series' track record, an English version is definitely in the pipeline though it may take a while.
*It seems Bandai Namco has confirmed that an Asia English version will be out on 2019 as well*