thatgamecompany (Journey and Flower), announced that Sky: Children of the Light is now available on the Nintendo Switch in Europe. 'Sky' will be free-to-play on Nintendo Switch and will provide cross-play capabilities for fans to experience the game between mobile and console versions. The Nintendo Switch port will include a free main story arc and offer up the ability for eight players to explore and play socially at any one time.
Originally launched in July 2019 on iOS and in April 2020 on Android, players arrive in Sky as a child of light to unravel mysteries of the desolate kingdom and return the fallen stars back to their constellations. Players can explore seven dreamlike realms with like-minded friends, where they can fly, hold hands and collaborate together around the world. With compassion, friendship, and altruism as central elements of Sky, the game's innovative experience has drawn both critical acclaim and awards.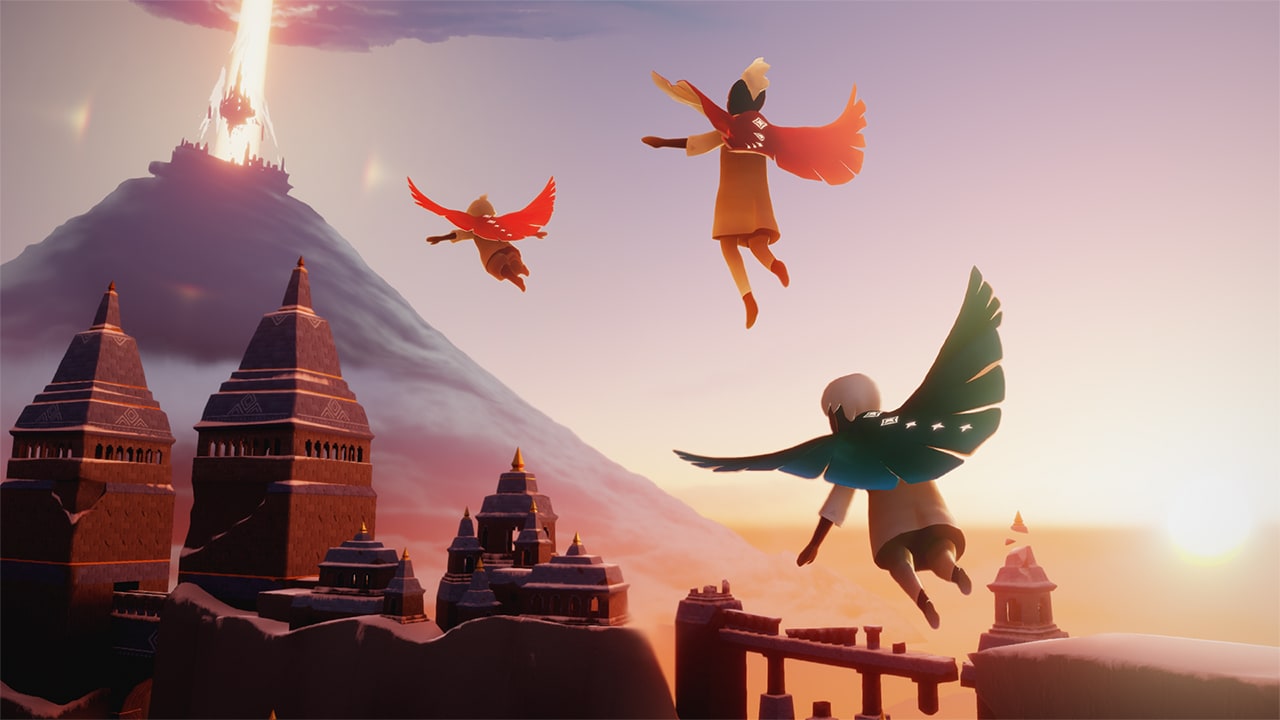 To celebrate its release, Nintendo Switch players will be able to purchase a new Starter Pack, which includes two new capes, a vessel flute, a new hairstyle, 75 candles and an extra surprise for £28.99. Additionally, players can look forward to Sky's first-ever collaborative crossover event that will star the internationally beloved character, Le Petit Prince (The Little Prince), from the cross-generational French children's novel and franchise created by Antoine de Saint-Exupéry. A brand new beautifully-designed "Starlight Desert" area has been added to also stage the all-new storyline. The new season launches on July 6th 2021, with more information on the collaboration coming soon.
Happy Switch Launch Week, Sky kids! ?

For those of you just joining the vibrant Sky community, here's a brief intro on the basics of what to do in #thatskygame. pic.twitter.com/2X1RqSIWQc

— Sky: Children of the Light (@thatskygame) July 2, 2021
Fly with Friends
From the award-winning creators behind Journey (2013 Game of The Year) and the highly-acclaimed Flower, comes a ground-breaking social adventure that is set to warm your hearts.
Welcome to the enchanting world of Sky, a beautifully animated kingdom waiting to be explored by you and your loved ones.
In Sky, we arrive as the Children of the Light, spreading hope through the desolate kingdom to return fallen Stars to their constellations.
In the kingdom of Sky, you can…
• Soar and explore 7 dreamlike realms to uncover the mystery.
• Encounter and socialize with like-minded players from around the world.
• Meet new characters and experience heartfelt stories with each new adventure season and event.
• Feel free to express yourself with a delightful selection of character customization.
• Team up with others to adventure into darker realms, save spirits and uncover ancient treasures.
• Gift candles of light to share appreciation and grow friendships.
• Enjoy a unique musical experience and create harmonies together.
• Join an ever-expanding world with new upcoming attractions, including seasonal events and expansion of realms.
There's a new rainbow every day in Sky: Children of the Light. ?

The Days of Rainbow event is a celebration of diversity and global unity, with new quests, cosmetics, and more.

Chase the light in @thatskygame. pic.twitter.com/mMVxmNDv7G

— App Store (@AppStore) June 14, 2021