Samsung Electronics has unveiled its Galaxy Tab S9 series, promising redefined user experiences in both creativity and entertainment. Comprising three models—Galaxy Tab S9, S9+, and S9 Ultra—the series boasts state-of-the-art Dynamic AMOLED 2X displays, powered by Qualcomm Snapdragon® 8 Gen 2 for Galaxy, promising unmatched viewing and immersive entertainment. Additionally, the series introduces the IP68-rated S Pen, enabling users to unleash their creativity both indoors and outdoors, making it the first Galaxy Tab S series to earn such a rating.
"There are no devices like the Galaxy Tab S9 on the market today. A true disrupter in its category, it is the first of its kind to deliver experiences that users love most about tablets in one complete premium design,"

"The Galaxy Tab S9 series empowers users to take their big ideas and bring them to life, completely effortlessly."

TM Roh – President and Head of Mobile eXperience Business at Samsung Electronics
A World of Entertainment and Inspiration Awaits
Designed for seamless on-the-go entertainment, the Galaxy Tab S9 Ultra boasts a 14.6-inch Dynamic AMOLED 2X display, ensuring an immersive experience in a portable package. HDR10+ support and a dynamic refresh rate ranging from 60 to 120Hz optimize viewing while conserving battery life. The 16:10 aspect ratio ensures TV shows and movies are viewed as they were meant to be seen.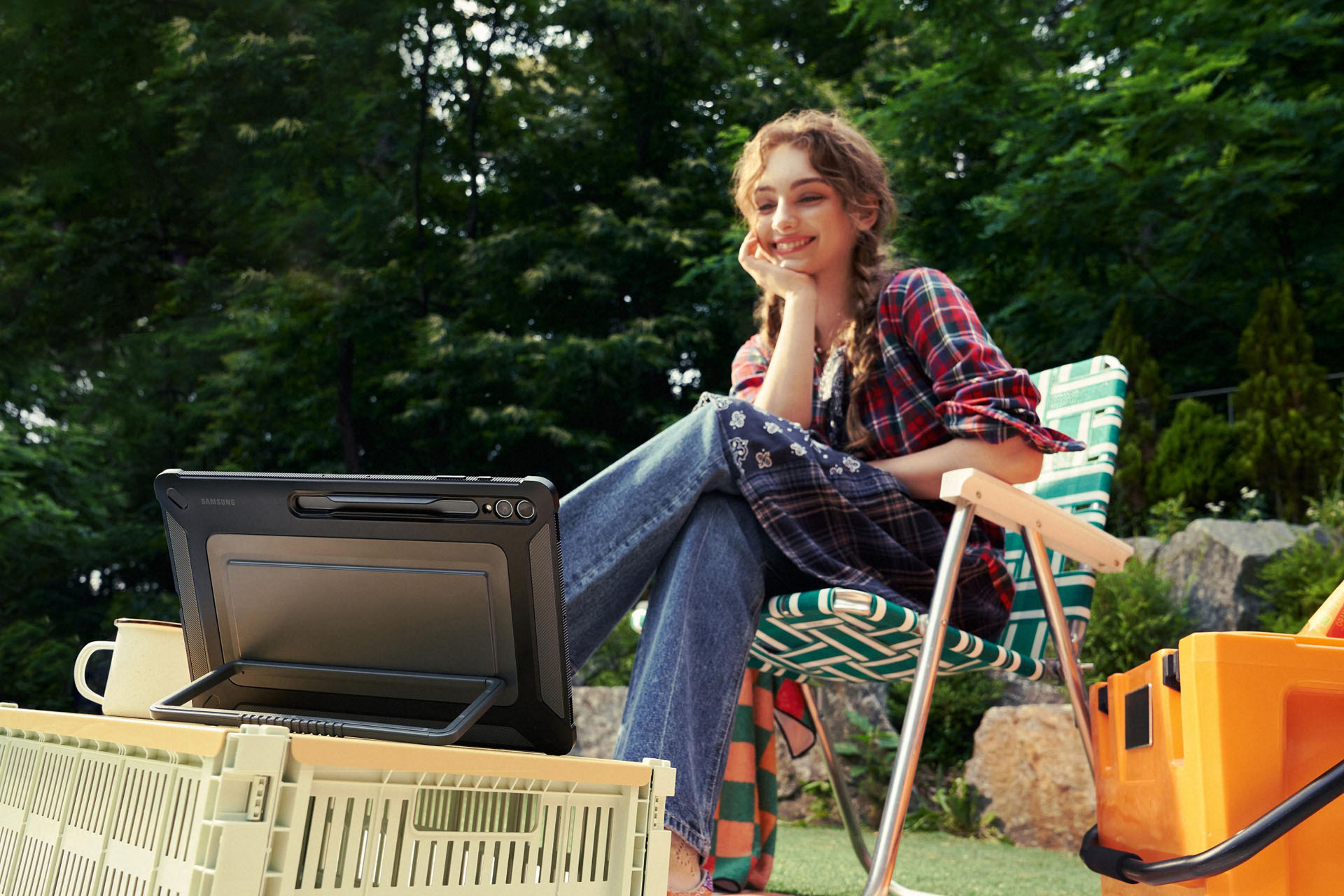 The entertainment experience is further enhanced with 20% larger quad speakers delivering exceptional audio, supported by AKG and Dolby Atmos. Users can customize sound settings to suit various activities, such as gaming, music, or video calls. For outdoor enthusiasts, the Vision Booster technology automatically adapts to bright lighting conditions, ensuring a vivid screen display. The Smart Book Cover stands independently, allowing users to position the tablet either in portrait or landscape mode for hands-free viewing.
Creativity Unleashed with Galaxy S Pen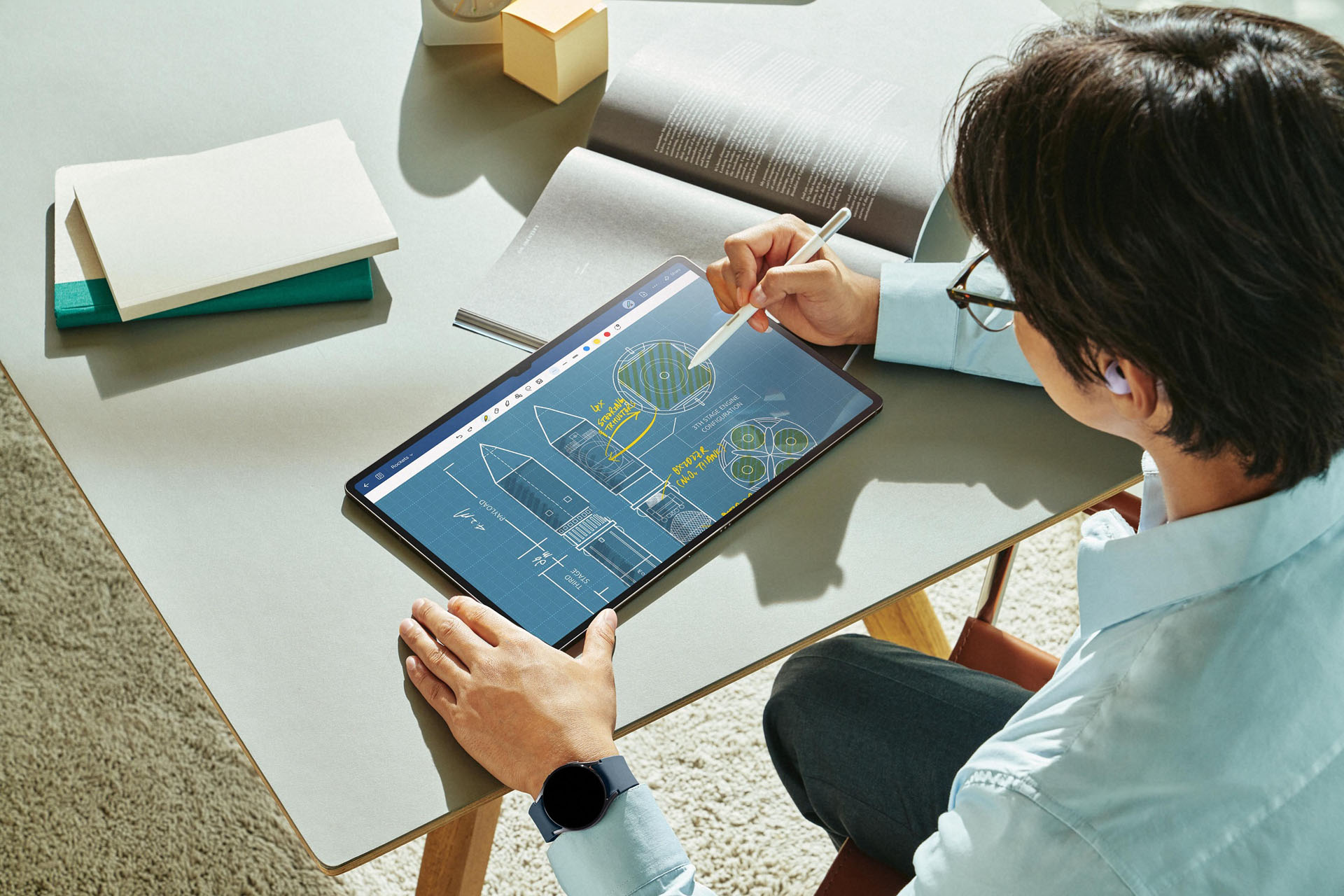 Galaxy Tab S9 devices come equipped with the Galaxy S Pen, taking creativity to new heights. The S Pen and the tablet itself have an IP68 rating, granting users the freedom to express their ideas in any environment. The S Pen Creator Edition, an optional upgrade, features textured material for a comfortable grip and a wider tilt angle, enhancing the creative experience.
The immersive displays of the Galaxy Tab S9 series offer seamless multitasking with Multi Window and Pop-Up View features, allowing up to three apps to be displayed simultaneously or viewed in floating windows while accessing the full home screen.
A Powerhouse of Productivity and Performance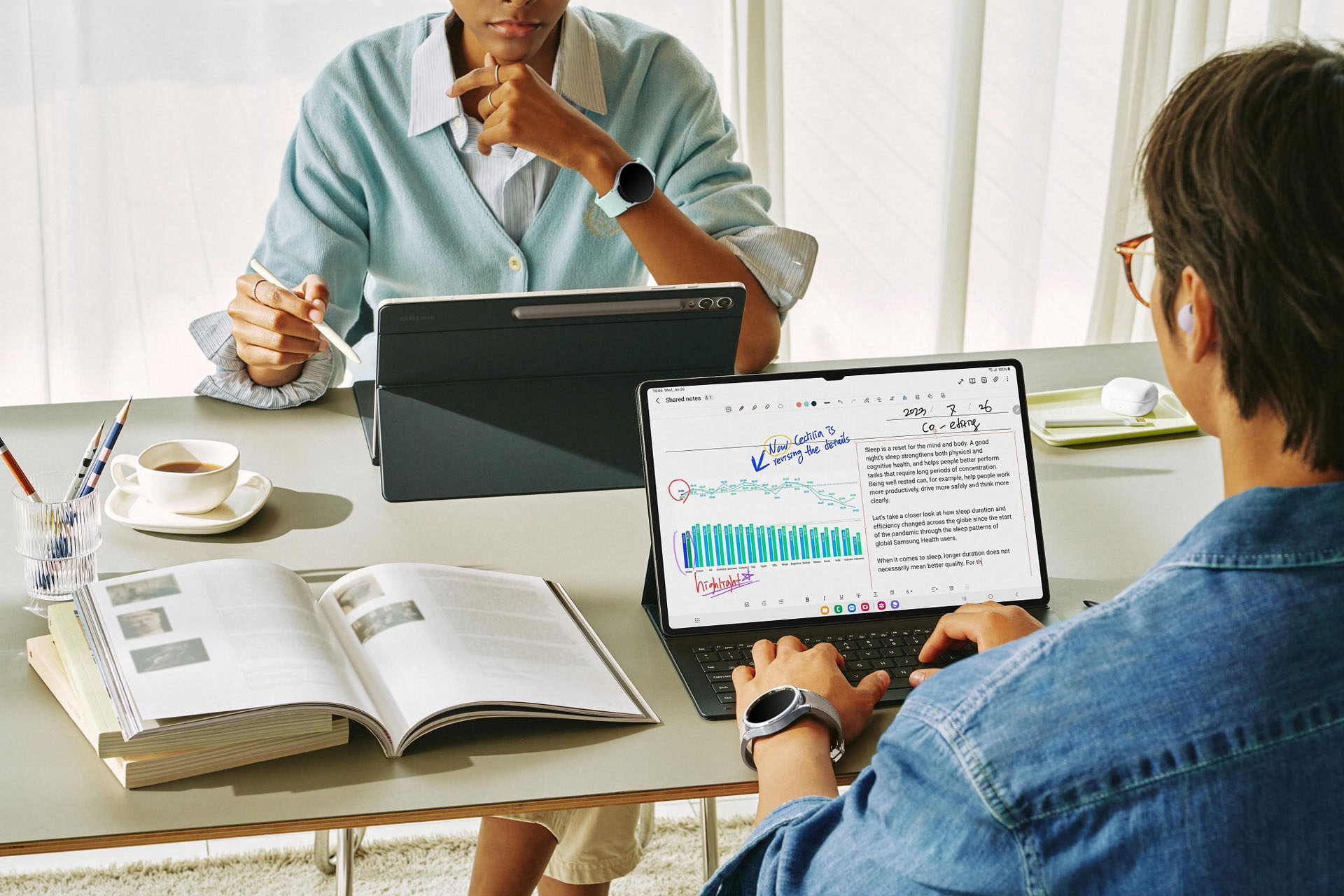 The Galaxy Tab S9 series is a productivity powerhouse with its Book Cover Keyboard and DeX Mode. The Book Cover Keyboard provides a PC-like experience with adjustable angles and a backlit keypad. DeX Mode enables easy window resizing and positioning for a desktop-like experience on a tablet. Collaboration is simplified during Google Meet calls with shared screens and live co-editing of Samsung Notes documents.
Moreover, the Galaxy Tab S9 series is packed with innovative apps tailored to fulfill creative passions. The GoodNotes app, now available exclusively for Galaxy tablet users, offers note-taking and journaling experiences. LumaFusion, a pro-level video editing app, ensures precise video editing on the expansive screen of Galaxy Tab S9 Ultra.
Seamless Integration into the Galaxy Ecosystem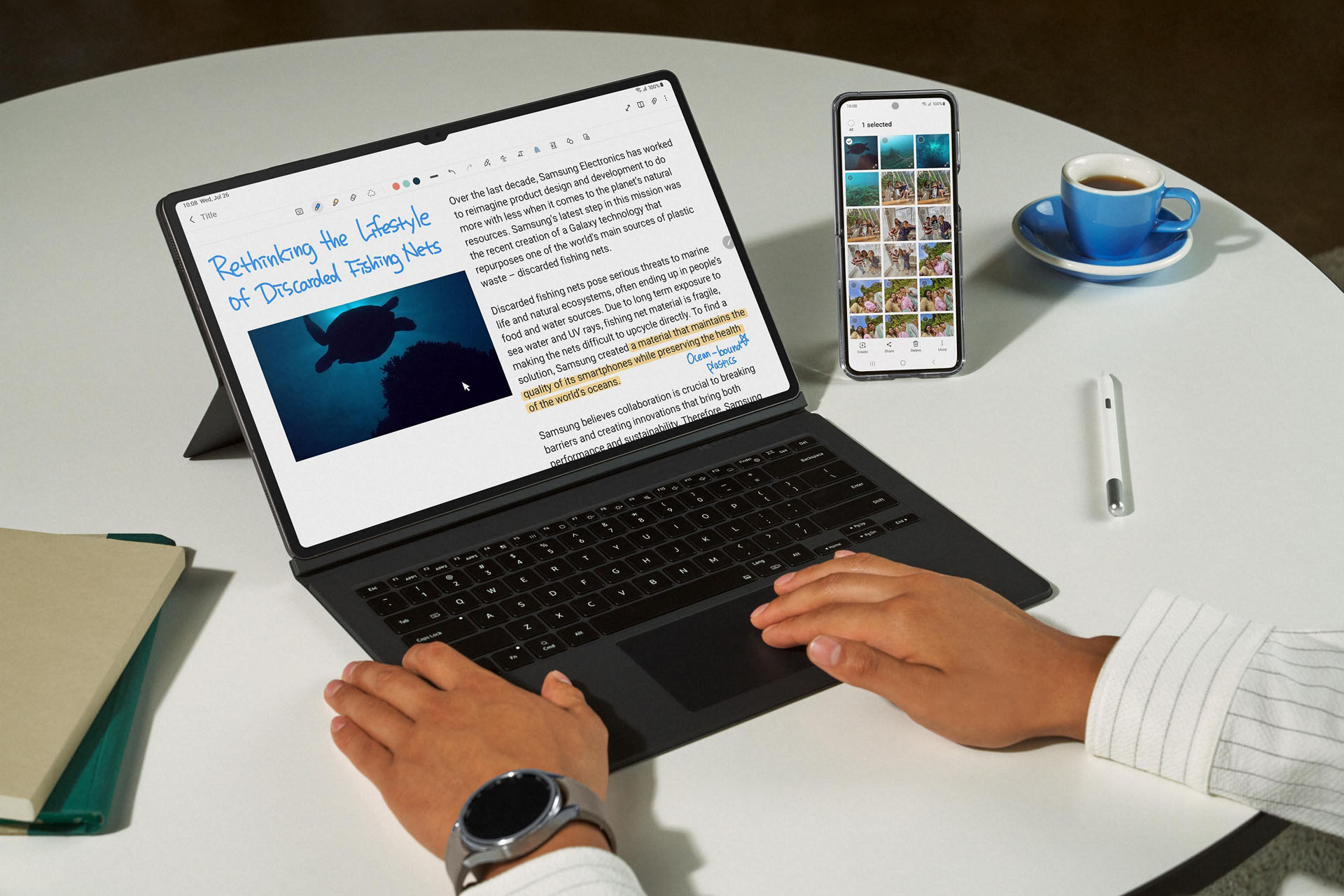 The Galaxy Tab S9 series seamlessly integrates with the Galaxy ecosystem, allowing users to use creative tools across devices with Multi Control. The tablets also sport iconic Galaxy design characteristics, offering a thin and durable body reinforced with Armor Aluminum.
Please note that the pricing, pre-order dates, and availability may vary by region and retailer. For the most accurate and up-to-date information, please refer to the official Samsung website or authorized retailers.
---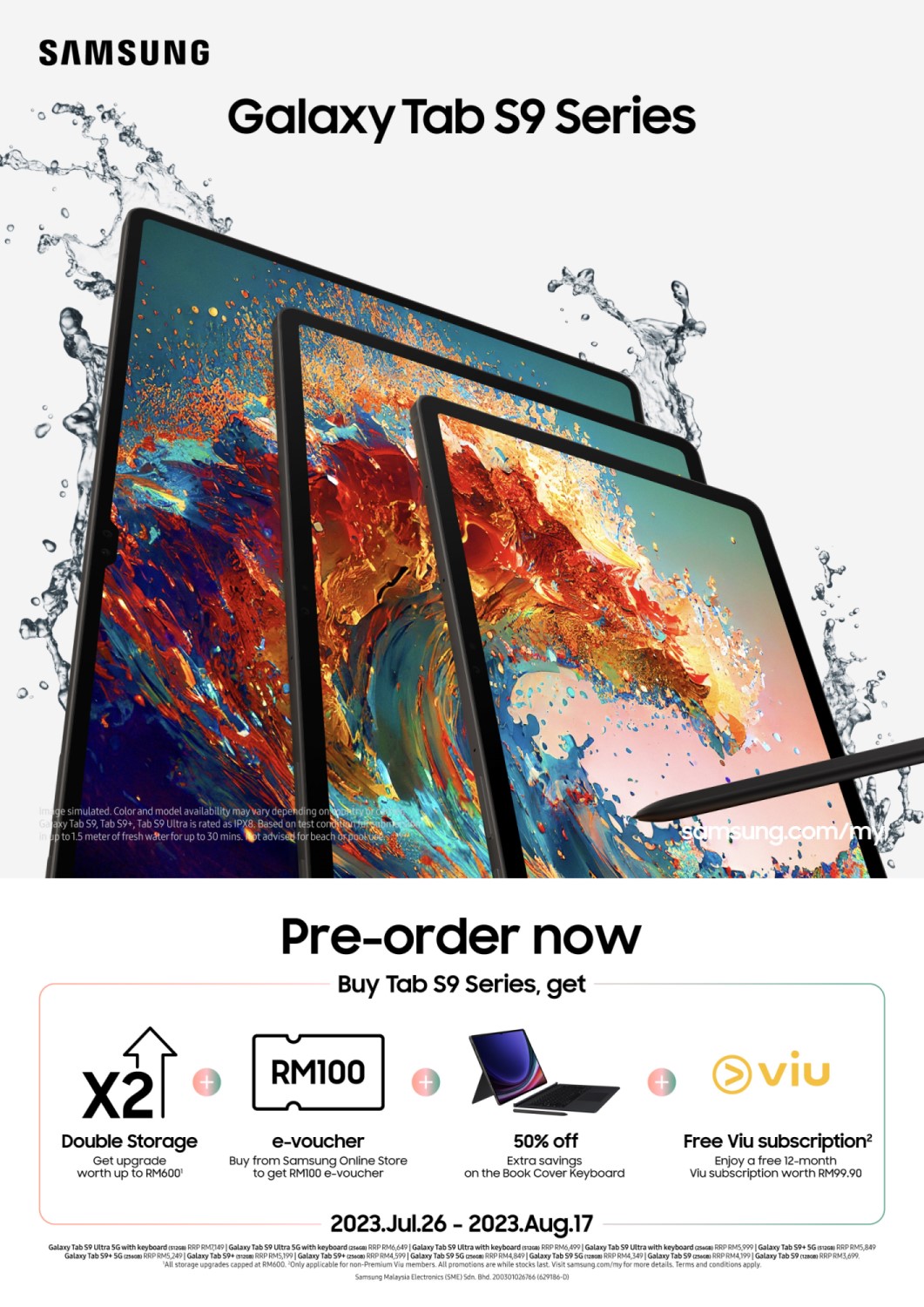 Starting from 26th July to 17th August 2023, you can now pre-order the Galaxy Tab S9.
Get the Galaxy Tab S9 Ultra (512GB) with keyboard RRP RM6,499 at the price of a Galaxy Tab S9 Ultra (256GB) with keyboard RM5,999.
Get the Galaxy Tab S9+ (512GB) RRP RM5,199 at the price of a Galaxy Tab S9+ (256GB) RRP RM4,599.
Get the Galaxy Tab S9 (256GB) RRP RM4,199 at the price of Galaxy Tab S9 (128GB) RM3,699.
Pre-order now: https://www.samsung.com/my/tablets/galaxy-tab-s9/buy/
Models
RRP
Colours
Offers
Galaxy Tab S9 Ultra 5G with keyboard 512GB
RM7,149
Graphite

Double Storage upgrade worth up to RM600 (1).
Buy from Samsung Online Store to get RM100 e-voucher.
50% off on the Book Cover Keyboard.
Free 12-month Viu subscription worth RM99.90 (2).

Galaxy Tab S9 Ultra with keyboard 512 GB
RM6,499
Galaxy Tab S9+ 5G 512GB
RM5,849
Graphite, Beige
Galaxy Tab S9+ 512GB
RM5,199
Galaxy Tab S9 5G 256GB
RM4,849
Galaxy Tab S9 256GB
RM4,199
(1)All storage upgrades capped at RM600.
(2)Only applicable for non-Premium Viu members. The promotion is while stocks last. Terms and conditions apply.
---
Galaxy Tab S9 series will be available in Malaysia nationwide starting from 18 August 2023.
The series comes in two colors, Beige and Graphite, and three sizes: 14.6-inch on Tab S9 Ultra, 12.4-inch on Tab S9+, and 11-inch on Tab S9.
To find out more about the pre-order offers, please visit: www.samsung.com/my/offer/flip5-fold5/#preorder-tab
To learn more about Galaxy Tab S9 series, please visit: https://www.samsung.com/my/tablets/galaxy-tab-s9/