Innchanted, the cooperative innkeeping game from publisher Twin Sails Interactive and debut Aussie Indie developer DragonBear Studios, will leave you spellbound when it arrives on Steam on March 28th, 2023. Innchanted's new gameplay trailer shows off the fast-paced fun you can have to manage your magical inn – either on your own with an AI companion, or with up to four players in co-op. Pre-orders are available on Steam now, featuring four exclusive in-game skins and a limited-time 15% discount until March 28th.
Yarrul's family inn has been stolen by an evil wizard landlord – and it's up to you to reclaim your family's legacy! To stop the wizard from claiming the inn for himself, you must pass his challenge: prove who the better innkeeper is! Team up with friends and/or an AI companion to manage and upgrade your inn, brew potions, fish, cook, serve food to hungry customers, discover new recipes, and defend your inn in this magical adventure.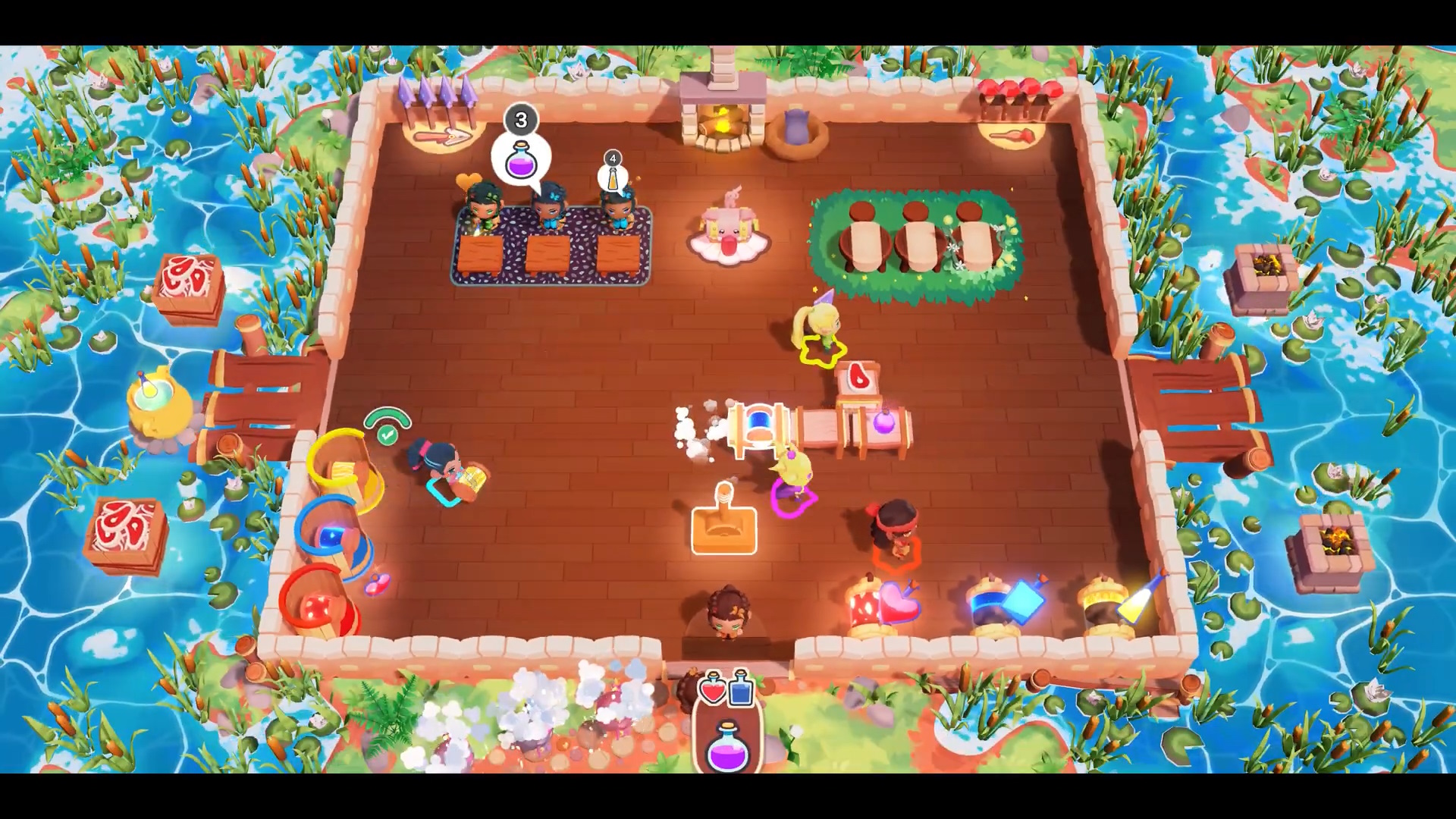 Making this in a roaring success will be no easy feat. Every day brings new challenges, layouts, adventures, and mechanics to learn in this fantasy adventure inspired by Indigenous Australian tales. You'll have to navigate your inn's constant magical changes, overcome the wizard's nefarious monsters and schemes, and satisfy the infamous Food Critic. But don't forget that being good innkeepers means charming the locals, fishing sustainably, being kind to others, and helping out your fellow villagers in need!
Key Features:
Run a Magical Inn with Friends Online: Play solo with a delegable AI companion or in a group of up to four players (online or local) to save your inn from the evil wizard landlord across over 50 levels. Work together to brew potions, fish, cook, serve food, and defend your inn from monsters and CatBurglars!
Enjoy Nightly R&R: As night falls, take the time to unwind from the serving rush. Here you can chat with your customers, uncover more of the story, practice your skills, and choose a nighttime activity which could prove either helpful or hilarious on your next shift.
Fully Customizable Inn: Upgrade your inn to improve its services and equipment, and decorate it with different tables, paintings, rugs and cute Aussie animals to add a personal touch!
A Hectic & Heartfelt Fantasy Land: Dive into a beautiful fantasy world full of amazing creatures, magical spirits, and lively locals inspired by Indigenous Australian tales. In this pun- and fun-filled quest, you'll fight to protect your inn, learn local customs, fish carefully, be good to others, and help out your neighbors!
Some of your guests will require you to take care of their wombat mounts for them. 🥰
Brush them and also of course: feed them! ʕ•ᴥ•ʔ

Hey @CanYouPetTheDog, did you know?
In Innchanted, you can pet the wombat! #followfriday #indiegame #indiedev #cozygame #cute pic.twitter.com/2UHUHS5VaQ

— 🧙‍♂️🏡 Innchanted 🐨🦘 (@Innchanted_Game) February 24, 2023
Innchanted is already available for pre-order on Steam featuring four exclusive in-game skins and a limited-time 15% discount until March 28th (when the game will be launched for 19.99 € / 19.99 USD / 16.75 GBP / 29.50 AUD). Innchanted will also be coming soon to PlayStation, Xbox and Nintendo Switch.