"The trailer was taken from certain part in current work in progress Tekkan 8 story mode which played on PlayStation 5. All the character models, backgrounds, and effects are the same ones that are used in-game. Although this was captured from the story mode, it is not a pre-rendered movie made for the trailer but rather real-time rendered footage, running at 60 frames per second, similar to how you would experience the game in versus battle modes."

(Of course, some of the effects, dialogue as well as the camera angle is currently being updated and may change when the game launches).

Katsuhiro Harada –
Travel to a galaxy far, far away on PlayStation VR2 in Star Wars: Tales from the Galaxy's Edge – Enhanced Edition, coming in 2023. The award-winning VR experience from Lucasfilm's ILMxLAB has been rebuilt to take advantage of many of the enhancements the hardware has to offer, and we're excited to share what you can expect to see and feel when you escape to Galaxy's Edge.

Demeo — the award-winning VR experience will be available to PlayStation VR2 and PlayStation 5 in 2023 with a wealth of great features that truly make this one of the best ways to experience Demeo yet.
Haptics in the PS VR2 Sense controllers, headset, and the PlayStation 5's DualSense wireless controller will each play a role in immersing you deeper into Demeo than ever before — and it's not just big moments like feeling rocked by a fireball or other offensive spells. Imagine reaching down with your PS VR2 Sense controller to pick up the different game pieces and feeling a different weight to each of them. That's the level of depth we're aiming to capture with our haptics implementation.
Like a Dragon: Ishin is an action-adventure historical thriller set uniquely in 1860s Kyo, a fictionalized version of Kyoto. While other games tell earlier stories in Japanese history, Ishin lets you experience the story of how the iconic samurai era vanished. Our hero, Sakamoto Ryoma, is a true historical figure largely credited with overthrowing the shogunate and taking Japan into a radical reformation.
Born from the rhythm of an engine, Pacific Drive is a run-based first-person driving survival game. As you explore the Zone, your car is your lifeline: scavenge resources to maintain and improve your car — as long as you keep it running, it will protect you from the surrounding dangers.
In 1955, the United States government seized a region of the Pacific Northwest by eminent domain. The Olympic Peninsula became the staging ground for promising new technologies, but these utopian creations came at great cost: severe radiation, environmental collapse, and supernatural horrors. The government walled off the area and established the Olympic Exclusion Zone. What happened inside was never disclosed.
Sebastian Sallow's Dark Legacy
Sebastian quickly became a beloved character since he was first revealed as a classmate in the Hogwarts Legacy State of Play last March. We've been thrilled with the reaction to this charismatic Slytherin. If you're a fan of Sebastian, you're not alone. Nearly everyone at Avalanche loves Sebastian, too. Creating the Sebastian Sallow's Dark Legacy trailer gave us the opportunity to show a darker side of Hogwarts Legacy while giving you another glimpse into Seb's — as we at the studio have come to call him — story.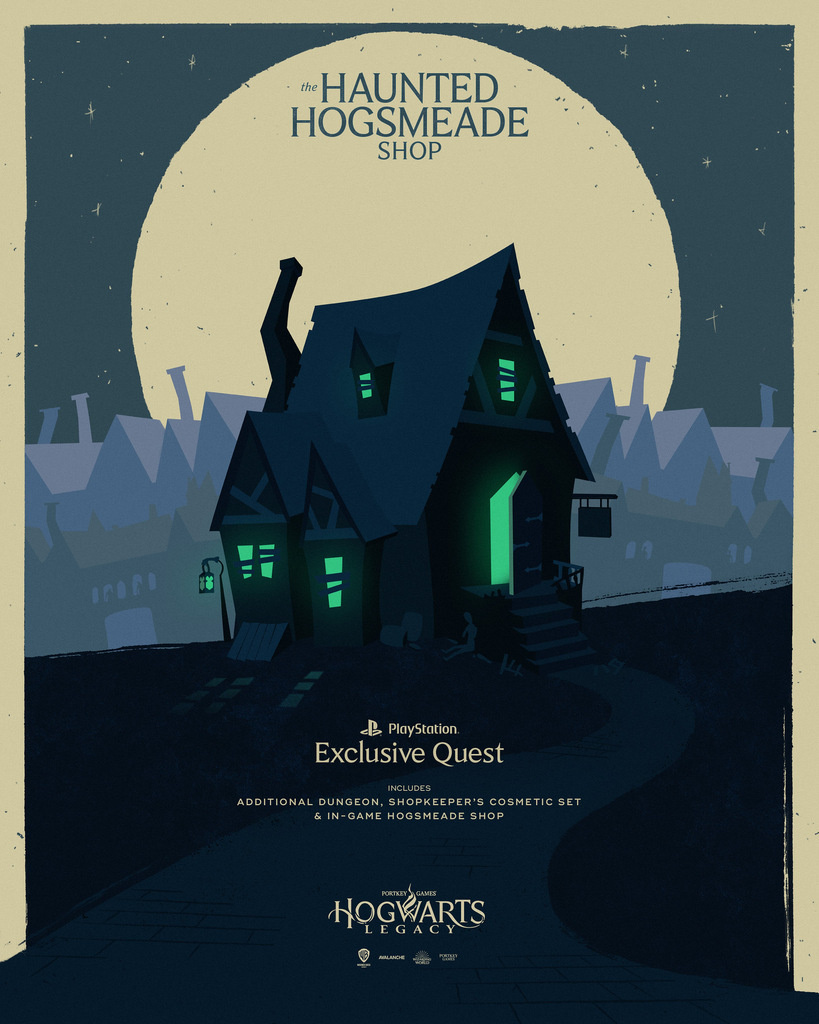 The Haunted Hogsmeade Shop
A peek at the PlayStation-exclusive quest, The Haunted Hogsmeade Shop. This mysterious quest is built into the core game and can be discovered by any witch or wizard playing on PlayStation.
PlayStation Stars – which will be free to join. Digital collectibles represent the things that PlayStation fans enjoy, including cherished devices that tap into Sony's broader heritage in consumer electronics.
Created just for PlayStation Stars, these digital collectibles can only be earned through our loyalty program. In some instances, collectibles will be provided as a way to commemorate past activities, achievements, or product ownership. They range in rarity, just like the actual products on which they are based or the effort required to earn them. Once you've earned collectibles, you can arrange them in a virtual display case within the PlayStation App and, if you choose, you may display your collectibles case within your PSN profile to friends. There will be different ways to acquire or earn collectibles – the primary way will be through completing campaigns.
The meaning of Stellar Blade
The title is a combination of "Stellar," which signifies stars in Latin, and "Blade," which defines Eve's existence.
Where the point of that blade will lead you to, that's entirely up to you.
Mankind's last remaining city on Earth, Xion
Eve and her comrades land on the surface to reclaim the extinct Earth and cross paths with a survivor named Adam. Eve is then led by Adam to the last surviving city, Xion, where she meets the elder of the town Orcal and is told many stories. In order to serve her mission to save Earth, Eve develops close relationships with the key members of Xion and contributes to rebuilding the city.
On a mission to save Earth from the NA:tive, Eve is also faced with helping out the citizens of Xion. Whether you will help the survivors or not, depends purely on your decision as the player.
Action-packed battles against fierce bosses
Stellar Blade introduces action combat that require deflecting and evading the NA:tives' attack at a precise timing that will also connect to combos and unique skills. Throughout the game, you will arm yourself with unique Beta Skills and intense Burst Skills, which I promise will be pleasing to the eye.
Brace yourselves… Bosses' strengths are on a completely different level compared to the common NA:tives, offering a challenging and strategic combat encounter.
Rise of the Ronin is a combat focused open-world action RPG that takes place in Japan at a time of great change. It is the very end of a 300-year long Edo Period, commonly known as "Bakumatsu". Set in the late 19th century, Japan is facing the darkest of times as it struggles with its oppressive rulers and deadly diseases while western influence permeates as civil war continues to rage between the Tokugawa Shogunate and the Anti-Shogunate factions.
Synduality is set in a dystopian future where poisonous rain and deformed creatures wreak havoc on the world, where you and you AI partner must find a way to work together and reclaim lost ground for humanity. Adding to the excitement, we have partnered with prominent designers Neco (for character design) and Gyobu (for mech design) to bring their unique sci-fi style to the game.
Also PlayStation announced, the limited edition God of War Ragnarök DualSense wireless controller. Its two-tone, cool blue on icy white design was inspired by the Norse world of Midgard, further embellished with bear and wolf insignia – representing Kratos and Atreus.
The limited edition DualSense wireless controller will be available November 9, with pre-orders starting September 27.
This slideshow requires JavaScript.