The new Samsung Galaxy Buds2 Pro is the latest iteration of the Buds Pro that I've reviewed last year and while most Samsung devices usually record small to medium scale improvements in their latest product compared to their older models, the Buds2 Pro, in my opinion, registered the biggest leap in terms of overall improvement. But it isn't cheap. At RM 899, the Buds2 Pro will set you back quite a bit.
TLDR: The Buds2 Pro is undoubtedly the best Samsung earbuds so far. While it isn't perfect, it isn't too far from being one either. There have been some improvements in the ANC department, overall buds Design that made it more comfortable and fitting, and the improved touch controls that are more sensitive.
Buds 2 Pro Overview
Dimension

Earbud – 19.9 x 21.6 x 18.7mm, 5.5g
Case – 50.1 x 50.2 x 27.7mm, 43.4g

Speaker

Custom Coaxial 2-way (Tweeter + Woofer) Speaker

Sound Quality

24bit Hi-Fi*
360 Audio with Direct Multi-Channel**

ANC & Ambient
Sound

ANC*+High SNR Microphone (2 outer + 1 inner)**
Ambient Sound
Voice Detect***
**With 3 high SNR (Signal to Noise Ratio) microphones, Galaxy Buds2 Pro can eliminate small noises by capturing lower-level sounds
***Galaxy Buds2 Pro can distinguish between noise and human voices. When you speak, it switches temporarily to Ambient mode and reduces media volume so that you can hear conversations without taking out your earbuds.

Battery

Earbuds: 61mAh (typical)
Charging Case: 515mAh (typical)

Play Time

Up to 3.5 hours / Total up to 14h (ANC on)
Up to 4.0 hours / Total up to 15h (ANC off)

Connectivity

Bluetooth® 5.3, Auto-Switching
Codec: Samsung Seamless Codec HiFi (Samsung Proprietary)
AAC, SBC

Sensor

Accelerometer, Gyro, Proximity, Hall, Touch, Voice Pickup Unit (VPU)

Rating

IPX7

Price

RM 899
Design & Fitting
Coming in 3 colours, you can choose from the classic-looking Graphite, White, or the strikingly refreshing Bora Purple. The review unit we received is the White variant and it looks stunningly clean and minimally fashionable. I reckon the Bora Purple colour would be the one most people would want but I'd dread over how well it pairs with my closet.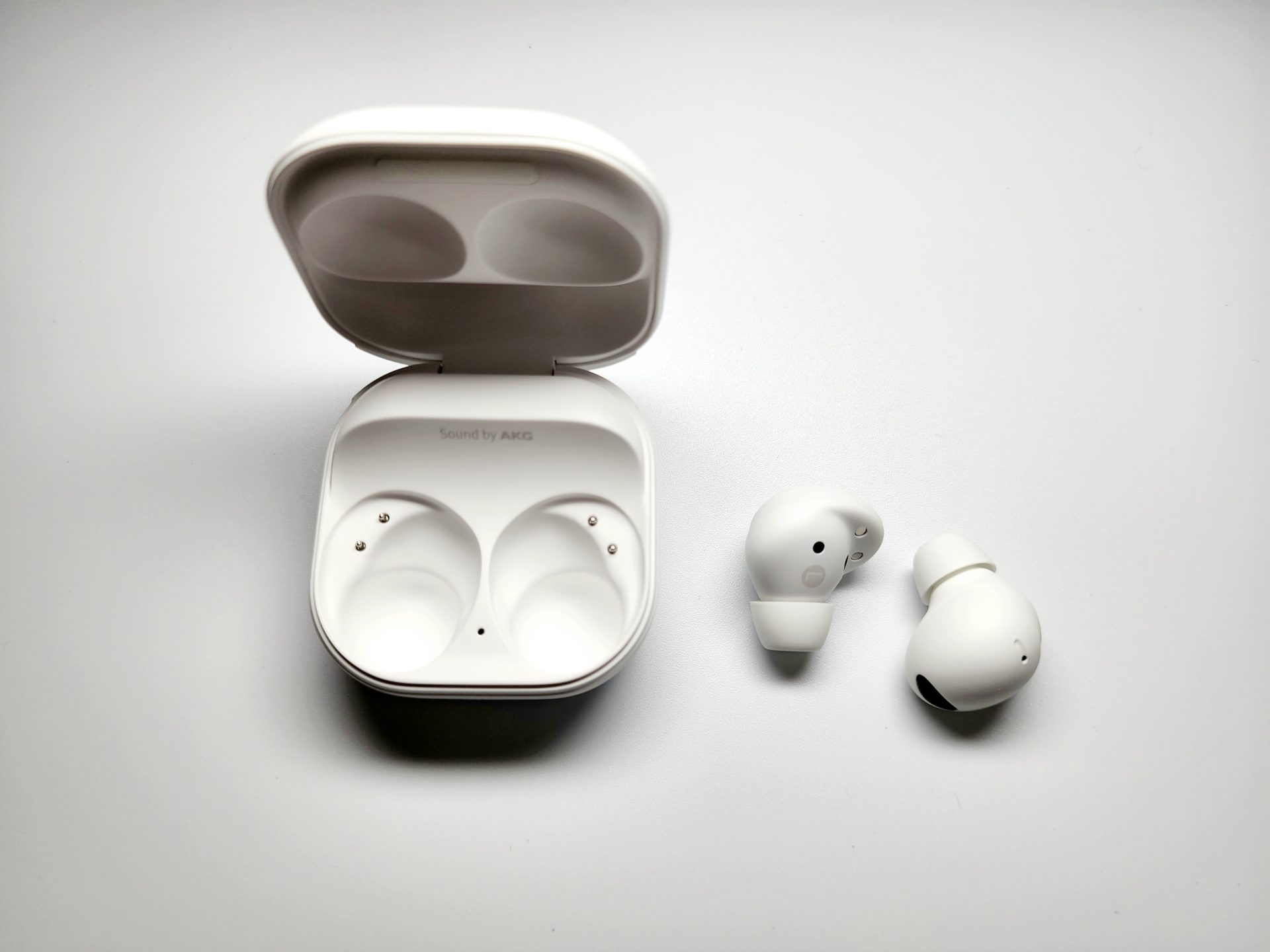 Compared to the older Buds Pro, I find the Buds2 Pro design more agreeable with the new soft matte finish as opposed to the older sibling's glossy finish. I remarked in my review then of the Buds Pro that the glossy finish made it hard for me to really appreciate its beauty due to how easily fingerprints cloud over its surface. Fortunately for the Buds2 Pro, the soft matte surface invites no such trouble and the premium-priced buds can look eternally pristine and smart.
Weighing at just 5.5g, the weight in my ear is negligible. The IPX7 rating is retained, allowing the buds to withstand some weather, especially rain or being submerged in water for 1 meter for up to 30 minutes.
The buds sit better and more comfortably in my ear this time around compared to the older Buds Pro and this is important considering the Buds2 Pro, along with its IPX7 rating shield is meant for those with a somewhat active lifestyle. Be it at the gym or going for a run or jog, the confident fitting of the earbuds provided a sense of security and assurance.
Sound Quality
When it comes to sound quality, the Buds2 Pro offers little to complain about. It isn't perfect, but it's still great and provided a lot of good, impactful moments. For Galaxy device users, you'll really benefit from the 24-bit lossless audio streaming but that depends on the music streaming provider you're using. For non-Galaxy users, you won't get to enjoy the benefit the 24-bit offers but the Buds2 Pro can still be a great option for you nonetheless.
The default EQ setting is just adequate but I found it less charismatic when it comes to Bass and background. Thankfully, the Dynamic setting provided the right balance for me and it has been a music fair since.
Active Noise Cancellation (ANC) received some notable upgrades this time with the Buds 2 Pro with the buds intelligently adjusting to your surrounding ambient sounds, but it's still not the best. Comparing it to the older Buds Pro, the Buds2 performs better in handling ANC but it still depends very much on how well the buds fit your ears. Any small gap or leak and the ANC starts losing its charm.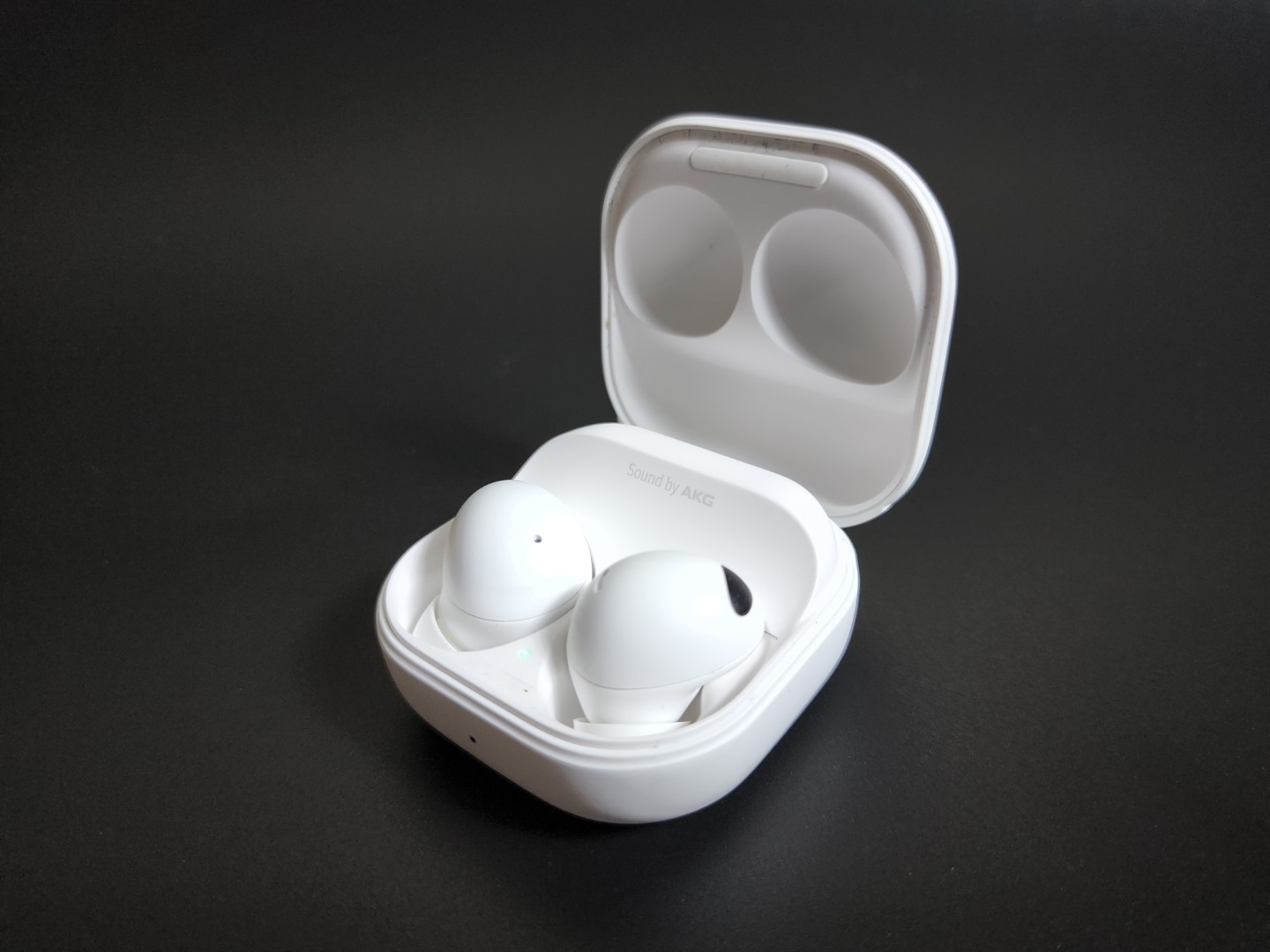 Sitting down at the book cafe I always frequent to work on my write-ups, the ANC did wonders in providing a near-quiet environment. The ambient sounds are nicely blocked but I'd still pick up distant conversations every now and then, and if I sat near anyone using a mechanical keyboard, I'd still hear every stroke albeit at a softer, less annoying volume.
Buds2 Pro Songs/Music Performance
The review unit I got arrived just in time when my favourite Mongolian rock band, The HU's new album released and needless to say, the Buds2 Pro have been serving their latest tracks to me on a loop for many days now.
The table below reports the song/music experience that I've regularly heard via the Buds2 Pro and how I'd rate the buds' performance in terms of sound quality. This is meant to provide you with an impression of how the Buds2 Pro handled songs/music of different genres and beats.
With the score going from 1-5 with 5 being the perfect experience, 4 being pretty close to perfect but could be better in some aspect (instrument, bass, vocal), 3 being Good, 2 being just Decent, and 1 being undesirable;
| | |
| --- | --- |
| Song and Artist | Score 1-5 |
| Haru Wa Yuku (Cover Ver.) Ft.Yuzuki Yukari -Takaokamizuki | 5 |
| Una Cancion Para Los Dos – Erich | 4 |
| Valen Mas – Morat | 5 |
| Koi No Uta – Akano | 5 |
| Kamado Tanjirou No Uta – Akano | 5 |
| Mother Nature – The Hu | 5 |
| Shihi Hutu – The Hu | 4 |
| The Legend of Mother Swan – The Hu | 5 |
| Remember Everything – Five Finger Death Punch | 3 |
| Anchor – Mindy Gledhill | 5 |
| Red Swan Ft. HYDE – Yoshiki | 3 |
| White Winter Hymnal – Birdy | 5 |
| 你的答案 (Ni De Da An) – 阿冗 | 4 |
| Hustlin – Rick Ross | 4 |
| Arriety's Song (Instrumental) – Cecile Corbel | 4 |
| Emerald Princess – Thomas Bergesen | 5 |
| Mountain Call (Vocals) – Thomas Bergesen | 5 |
| Bitter Sweet Symphony – The Verve | 5 |
| Canon in D – Brooklyn Duo | 4 |
| Claudine – Maksim | 4 |
| Compass – Two Step From Hell | 4 |
| Faded – Alan Walker | 4 |
| Flashlight – Jessie J | 5 |
| Immigrant Song – Led Zeppellin | 5 |
| Killer Queen – Queen | 5 |
As the table shows, I've had a pretty memorable experience with the Buds2 Pro. Be it conventional instrumental heavy or electronics, vocal or bass, the buds produced good results. Vocal-heavy songs like Una Cancion Para Los Dos received the right attention to the singer's voice but not trading off the background music to the point they sound muted.
The Hu's Legend of Mother Swan featuring the band's trademark Mongolian throat and coarse-voice singing style with a balance of rich instrumental elements and accompanying bass came out wonderfully on the Buds2 Pro. Every element came out right for this one which was impressive because it's easy for this song to sound underwhelming on a lesser speaker.
The intro Harp portion in Takaokamizuki's Haru Wa Yuku (Cover Ver.) featuring Yuzuki Yukari came out as elegantly and clear as it could, befitting the sound of a Harp while the elevation rose sharply without discounting the clarity in the singer's voice.
Improved Touch Control
The biggest and thickest slice of beef I had with the older Buds Pro was its insensitive touch control that required multiple taps before it even registered one properly. This makes skipping or repeating a song difficult, as well as answering and ending calls. But thankfully, the new Bud2 Pro did not have this problem and using touch controls feels natural once more.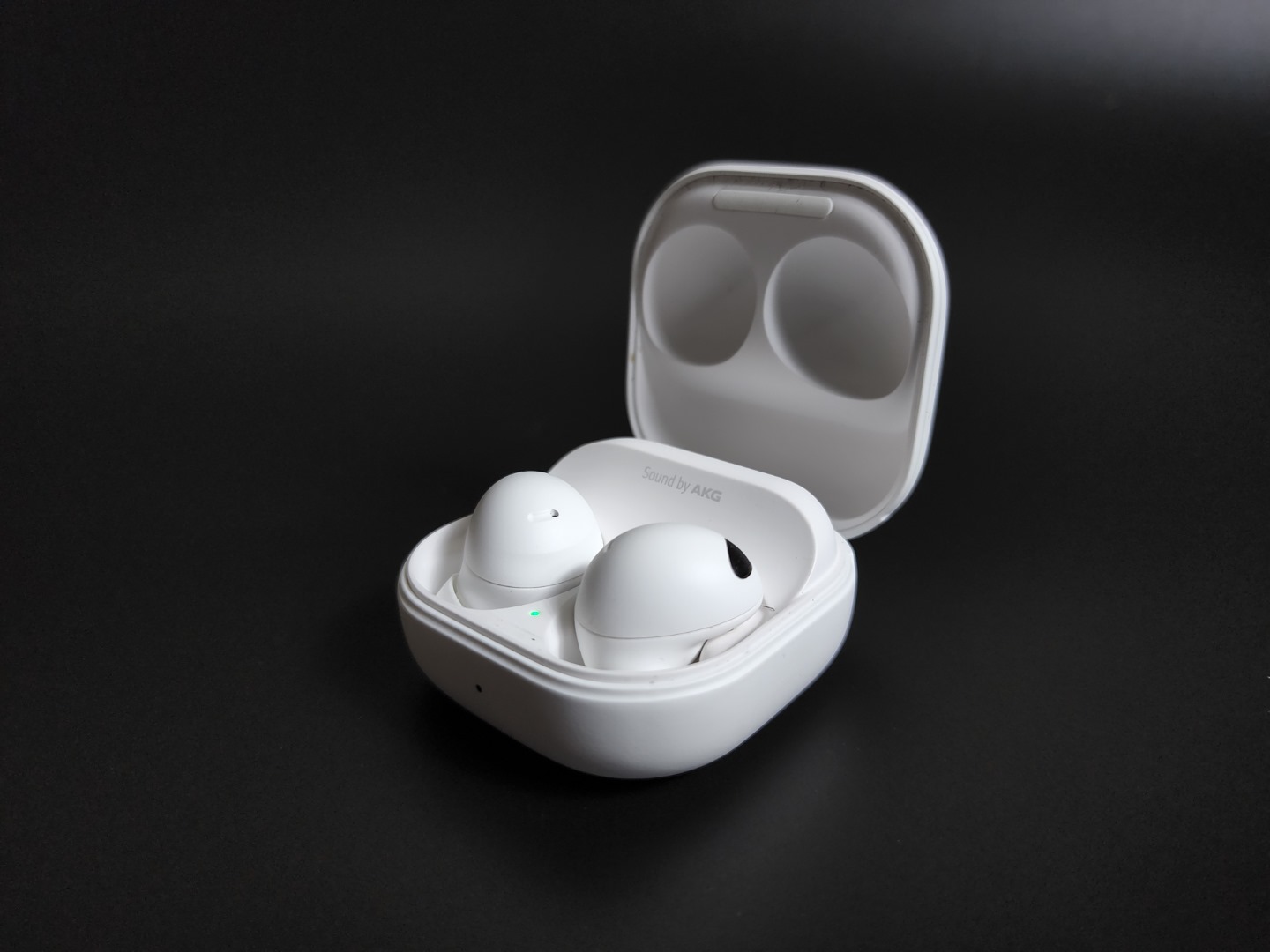 Battery
The battery department of the Buds2 Pro is identical to that of the Buds Pro, offering 5 Hours of go time with ANC on and 8 hours without. The case itself offers 20 hours or so extra juice, depending on your habit of using the ANC. So, there's really no improvement here but based on my experience so far, the battery life has never worried me. I charge the case once every 3 days or so, surviving just fine with the Buds sitting in my ears for 4-6 hours per day depending on my routine that day.
---
What I Really Liked About The Samsung Galaxy Buds2 Pro
Smaller and better-looking design than the older Buds Pro
Soft Matte finish on the surface made it anti-fingerprints
Sound quality is top notch
24-bit Audio
Improved ANC compared to Buds Pro
Improved Touch Control
IPX7 Rating
What I Wished Was Better
Just the price tag really
---
Verdict
All the qualities the Galaxy Buds2 Pro comes with make it the best of Samsung buds to date no doubt. In fact, it can even be considered as one of the best earbuds in the market that you can get at this price range. If you are looking for an upgrade for your Buds Pro or are just looking for a new earbud in general that's great for music and good ANC, the Buds2 Pro might just be the champion you are looking for. But do keep in mind one thing, the 24-bit audio mode will only work with Galaxy devices so if you are not in the Galaxy ecosystem, then the Buds2 Pro's strongest feature has just become meaningless to you.