Sony Interactive Entertainment Singapore Private Limited (SIES) announced today that two versions of "PlayStation®5 Console God of War™ Ragnarök Bundle" will be available on 9th November 2022.
The PS5 Digital Edition Bundle will be available at a suggested retail price (SRP) of 2,339 and PS5 with Ultra HD Blue-ray™ disc drive will be available at SRP of MYR 2,769.
Each type of bundle includes a PlayStation®5 (PS5™) console (Digital version or disc drive version), a DualSense™ Wireless Controller, PS5 software God of War Ragnarök Voucher Card *1. The bundles will be available at all PlayStation® Authorized Dealer, Sony Stores and authorized retailers on 9th November 2022 onward.
Store locations: https://www.playstation.com/local/retailers/
God of War Ragnarök
Embark on an epic and heartfelt journey as Kratos and Atreus struggle with holding on and letting go
From Santa Monica Studio comes the sequel to the critically acclaimed God of War (2018). Fimbulwinter is well underway. Kratos and Atreus must journey to each of the Nine Realms in search of answers as Asgardian forces prepare for a prophesied battle that will end the world. Along the way they will explore stunning, mythical landscapes, and face fearsome enemies in the form of Norse gods and monsters. The threat of Ragnarök grows ever closer. Kratos and Atreus must choose between their own safety and the safety of the realms.
The Norse Saga Continues
A future, unwritten – Atreus seeks knowledge to help him understand the prophecy of "Loki" and establish his role in Ragnarök. Kratos must decide whether he will be chained by the fear of repeating his mistakes or break free of his past to be the father Atreus needs.
Instruments of war – The Leviathan Axe, Blades of Chaos and Guardian Shield return alongside a host of new abilities for both Kratos and Atreus. Kratos' deadly Spartan skills will be tested like never before as he battles gods and monsters across Nine Realms to protect his family.
Explore vast realms – Journey through dangerous and stunning landscapes while facing a wide variety of enemy creatures, monsters and Norse gods as Kratos and Atreus search for answers.
Find out more about the game here: https://www.playstation.com/games/god-of-war-ragnarok/.
Enjoy God of War Ragnarök PS5 innovations including 4K and HDR visuals*, DualSense™ wireless controller adaptive triggers and haptic feedback, Tempest 3D AudioTech** and more.
---
*4K and HDR require a 4K and HDR compatible TV or display.
**3D audio via built-in TV speakers or analog/USB stereo headphones. Set up and latest system software update required.
---

Product Outline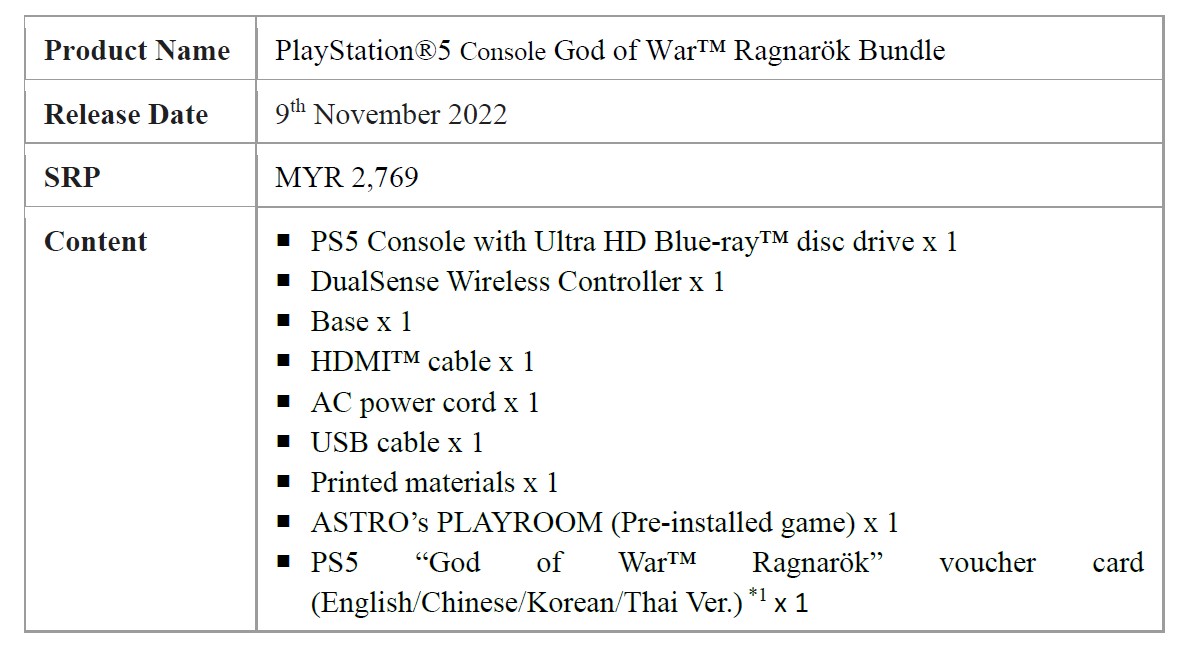 Design and specifications are subject to change without notice.
---
*1 Valid until 9th November September 2023.
Please download from PlayStation™Store using the code on the Voucher Card. Account for PlayStation™Network and high-speed internet required.
---
For more information head on over to the official links below:
Website: http://www.playstation.com
PlayStation® Authorised Dealers: https://www.playstation.com/local/retailers/
Facebook: http://www.facebook.com/PlayStationAsia
Customer Service Centre: https://www.playstation.com/support/
For our full review of God of War Ragnarök follow the link here.