91.6 Million Units Sold dei…

Sony Interactive Entertainment Hong Kong Limited Singapore Branch (SIES) announced today that their flagship hardware, the PlayStation 4, has reached a new sales milestone. As of December 31, 2018, the PlayStation 4 has now cumulatively sold through more than 91.6 million units globally!
Here are the full facts shared by Sony.
PS4 has now cumulatively sold through more than 91.6 million units globally as of December 31, 2018.
Within the above number, PS4 has sold through more than 5.6 million units globally during the 2018 holiday season.
More than 50.7 million PS4 games were sold through globally during the 2018 holiday season, which sums up to 876 million PS4 games cumulatively sold through worldwide as of December 31, 2018.
Marvel's Spider-Man, launched in September 2018, has cumulatively sold through more than 9 million copies worldwide as of November 25, 2018.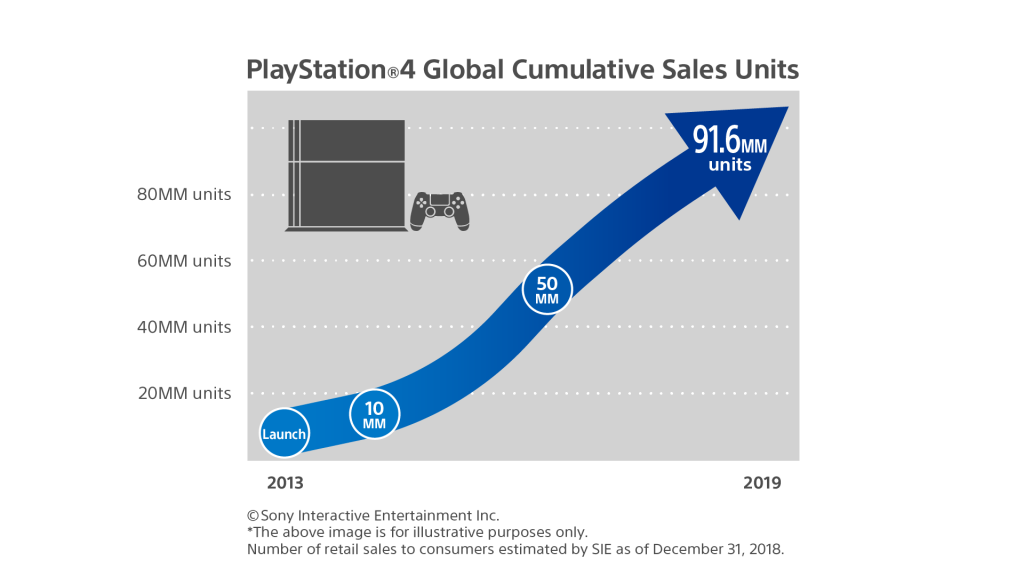 And a 90 million strong PlayStation Network users.
"Thanks to the continued support from our fans during the holiday season, we are pleased to announce that PS4 has reached 91.6 million units globally. We are also happy to announce that the monthly active users of PlayStation Network continue to show strong growth and has surpassed 90 million as of the end of November 2018," said John Kodera, President, and CEO of Sony Interactive Entertainment.
"I would like to express my deepest gratitude to our passionate community around the globe, and our partners, for helping us achieve these milestones. This year, we will bring more enhanced experiences to our fans along with a highly anticipated line-up of games that are only possible on PS4. As we look toward the next PS4 milestone, SIE will continue to evolve, and we will further expand the platform to deliver the best interactive entertainment experiences to the world."
Here are some fun facts for you on what that 91.6 million actually means.
91.6 million = 91,600,000 (can you count how many zeros?)
According to a 2017 census, the population of Malaysia is 31 million people. Meaning everyone in Malaysia would have owned at least 3 PlayStation 4.
Based on Sony Malaysia's website at press time, the cheapest PS4 set is being sold for RM 1349. Now, if we assume that all 91.6 million units sold were standard PS4 (not pro), Sony would have collected RM 123,568,400,000 (RM 123.5 billion) in sales. Fun right?
Is this really surprising tho?
At the end of the day, I doubt many would find this news surprising. Sony's PlayStation 4 has been leading the race in the Formula "C" (Console) Grand Prix from the beginning. Starting off from pole position on every match day and going on to win them almost unopposed every time.
This impressive sales figure shows how big of a gap the PlayStation 4 has pulled away from its competitors. When Sony announced last year that they will not be participating in 2019's E3, that itself was a victory announcement. Their lead was unassailable.
Though the next-gen console is not out yet, that matters not. The race for this gen is already over.