Yes, you heard it right! Developers Capcom has announced at TGS 2018 that it will be bringing back the first three Ace Attorney games. Turn the verdict tables around as the trilogy includes the original "Ace Attorney", following up with its sequel "Justice For All" and lastly the 3rd called "Trials and Tribulations". Watch the English trailer below:
A Short Background Check
You play as the attorney Phoenix Wright who is only interested in protecting his clients by investigating, interrogating and funny, wacky objections while cross-examining witnesses, solving multiple wonderfully written crimes. This game is story driven with various themes of character, location and fashion. Full of twists and turns, prepare yourself for the bizarre road to justice!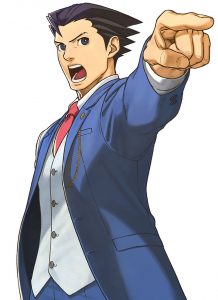 With memorable characters and moments, this series is a must-have for the story-driven gamer. Other than releasing in 2019, no further announcements on the exact release date at this point of time, but it has been confirmed for PlayStation 4, PC Steam, Xbox One and Nintendo Switch. Stay tuned for more info.