Niantic and Capcom has announced a host of new updates related to Monster Hunter Now in their special showcase. From the diversity of monsters you can hunt, to the many different types of weapons you can wield, the team is really excited for you all to try out this specially adapted experience for mobile while you're on the go.
Details as shared on official website:
A total of 13 monsters will be available in the game at worldwide launch: Great Jagras, Kulu-Ya-Ku, Pukei-Pukei, Barroth, Great Girros, Tobi-Kadachi, Jyuratodus, Paolumu, Anjanath, Rathian, Legiana, Rathalos and Diablos. To learn more about these monsters visit here. These monsters will be found in unique habitats such as forest areas, desert areas, or swamp areas. As hunters explore their towns, they'll discover these habitats and find monsters specific to those areas.
Weapons: weapons including 'Sword & Shield', 'Great Sword', 'Long Sword', 'Hammer', 'Light Bowgun', and 'Bow' will be available at the worldwide launch.
Most importantly, Monster Hunter Now will release worldwide on September 14th, 2023. This collaboration between Capcom and Niantic has been years in the making, and we can't wait to bring the world of Monster Hunter to the palm of your hands. In the meantime, don't forget to pre-register for the game on the Google Play Store or Apple App Store. The more pre-registrations we get leading up to the global release, the more rewards you can earn! Let's work together to hit these global milestones and earn some great rewards at global launch.*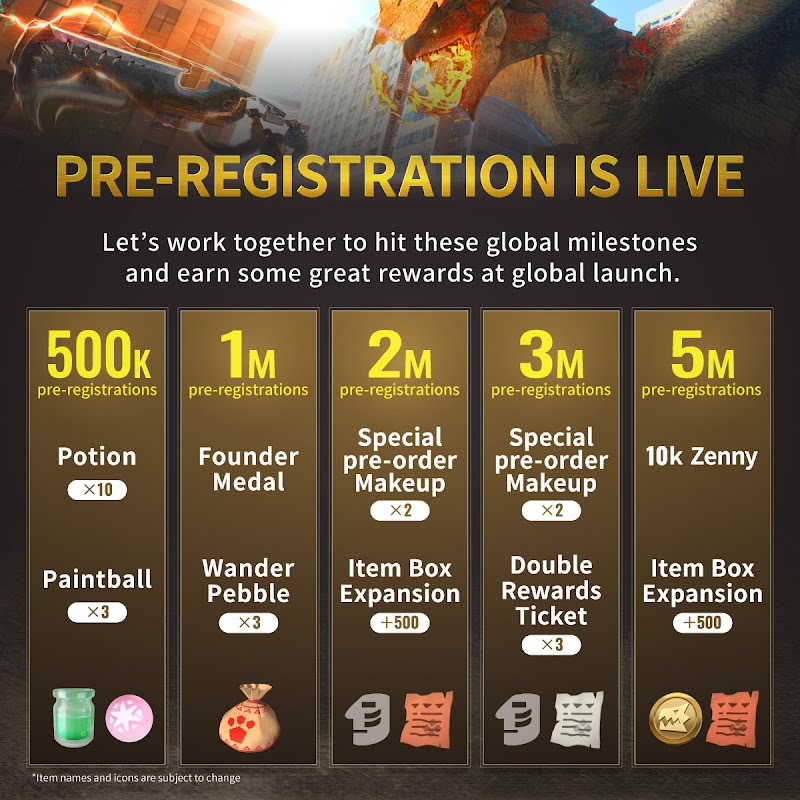 500,000 pre-registrations – Potion x10 & Paintball x3
1,000,000 pre-registrations – Founder Medal & Wander Pebble x3
2,000,000 pre-registrations – Special Pre-Order Makeup x2 & Item Box Expansion +500
3,000,000 pre-registrations – Special Pre-Order Makeup x2 & Double Rewards Ticket x3
5,000,000 pre-registrations – 10k Zenny & Item Box Expansion +500
(Item names and icons are subject to change)
Notes about Pre-Registration:
◆ Pre-registration Benefits Eligibility
All users who install and login to Monster Hunter Now within 7 days of the official service launch will be eligible. Learn more
◆ Distribution period for Pre-Registration benefits
Pre-registration benefits can be redeemed within the in-game shop. Users will have 60 days from the official service launch to redeem the rewards, so don't forget to pick it up!
◆ How to redeem Pre-registration Benefits
The above pre-registration benefits can be received as supplies in the shop menu.
"Special Pre-Order Makeup" and "Founder Medal" will be redeemable from the second week of the official service launch.
The pre-registration eligibility period, benefits, and duration of distribution are subject to change or cancellation without notice.
Thank you for waiting, hunters!

""Monster Hunter Now"" is primed for release on Thursday 14th September 2023 🎉

We're also taking pre-registrations right now❗
Sign up and get your hands on exclusive items✨

Pre-register from here👇https://t.co/7yQWQNNQOe#MHNow

— Monster Hunter Now (@MH_Now_EN) July 28, 2023