In his IFA 2018 keynote titled "The Ultimate Power of Mobile AI", Huawei Consumer Business Group CEO Mr. Richard Yu introduced the Kirin 980, the system on a chip (SoC) that will bring about the next evolution of mobile AI. As the world's first commercial SoC manufactured with Taiwan Semiconductor Manufacturer Company's (TSMC) 7nm process, Kirin 980 combines best-in-class performance, efficiency, connectivity features, and Dual NPU AI processing power.
As for Mobile Gamers, the Kirin 980 will bring about the following improvement to your gameplay experience.
Better Gaming Capability
As graphics in mobile games have become more and more sophisticated in recent years, Huawei has integrated the Mali-G76 GPU into the Kirin 980 to deliver unparalleled gaming experiences. Debuting with the Kirin 980, Mali-G76 offers 46 percent greater graphics processing power at 178 percent improved power efficiency over the previous generation. Mali-G76 also features an innovative clock boosting technology that utilizes AI to intelligently identify gaming workloads and adjust resource allocation for optimal gaming performance.
Absolute Superiority
The Kirin 980 is the first SoC to embed Cortex-A76 cores, which are 75 percent more powerful and 58 percent moreefficient compared to their previous generation. In an octa-core configuration, the CPU in Kirin 980 is comprised of two high-performance Cortex-A76 cores; two high-efficiency Cortex-A76 cores; and two extreme efficiency Cortex-A55 cores. Running at higher clock speeds compared to the prior generation, Kirin 980 enables quicker app launch times, better multi-tasking and a generally smoother user experience.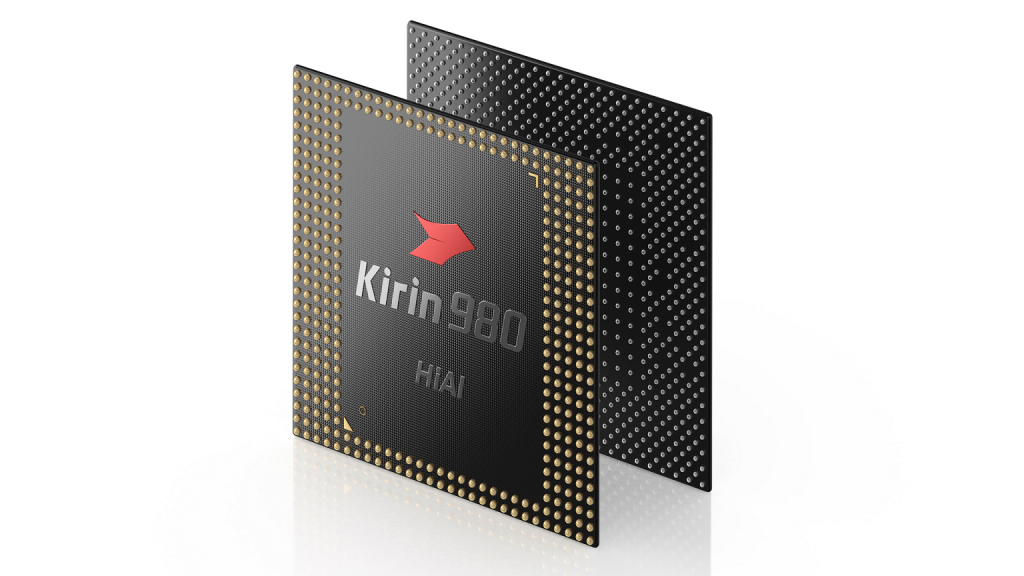 Industry's First "Dual-Brain" Power
The Dual NPU Kirin 980 elevates the On-Device AI experience with greater processing power and intelligence. The synergy between the Dual NPU results in an image recognition capability that is greater than the sum of two—the Kirin 980 can recognize up to 4,600 images per minute, up 120 percent compared to Kirin 970, further demonstrating Huawei's industry leadership in the On-Device AI space. Additionally, Kirin 980 supports common AI frameworks such as Caffee, Tensorflow and Tensorflow Lite, and provides a suite of tools that simplify the difficulty of engineering On-Device AI, allowing developers to easily tap into the leading processing power of the Dual NPU.
Full-Featured ISP
In addition to a 46 percent increase in data throughput compared to its predecessor, the new ISP also provides better support for multi-camera configurations, as well as an all-new HDR colour reproduction technology that can manipulate picture contrast to highlight objects on various parts of an image. In addition, Kirin 980 utilizes the Multi-pass noise reduction solution that accurately removes artifacts without scrubbing away image details, resulting in better quality on images taken in low-light scenarios. Another new feature of the ISP is improved motion tracking. When a user attempts to snap a photo of a moving person, the ISP can still recognize the subject with 97.4 percent accuracy, so any user can capture fleeting moments with ease. Kirin 980 also adopts a new pipeline dedicated to processing video captures, allowing the camera module to shoot videos with 33 percent shorter delay.
World-Class Connectivity
Huawei integrated the world's first modem supporting LTE Cat.21 with a peak download speed of 1.4Gbps. Additionally, the Kirin 980 supports carrier aggregation, even across frequency bands, so users are free to choose their mobile operators and still enjoy the same premium connectivity experience, regardless of where they are.
Huawei had also announced that the next mate series will feature Kirin 980, which is scheduled to arrive in October 2018. We are looking definitely looking forward to the new generation devices that are powered by this new Kirin 980 and whether or not the mobile gaming scene will benefit from this powerful SoC.