It seems fans of Metro Exodus can finally be one 'stop' closer to getting the game. Publisher Deep Silver and developer 4A Games has just announced that Metro Exodus is finally up for pre-orders across all major physical and digital retailers. This news alone would definitely satiate the long wait for fans. In the meantime, everyone can still get a chance to play at their Hands-On-Tour that will be happening in various upcoming conventions.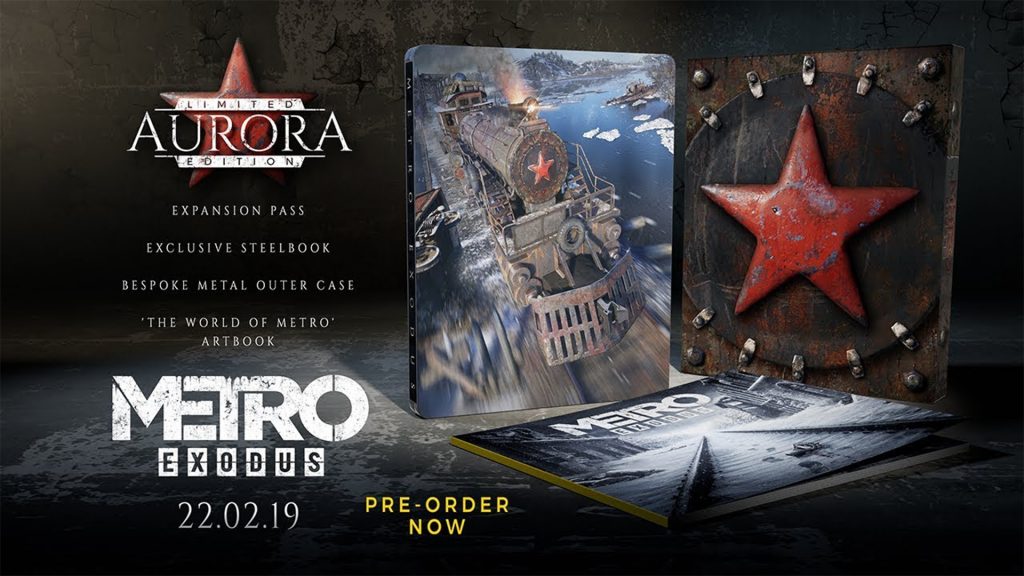 In addition to that, for those pre-ordering the physical, there would be two available versions to choose from. The Aurora Limited Edition comes with the full game in an exclusive Steelbook® along with a 32 page Art Book which contains many beautiful artworks of the game as well as the Metro Exodus Expansion Pass. All of these will be packaged within a bespoke metal outer case that is inspired by the steam locomotive. The Standard Edition meanwhile contains the game disc in a standard box and will be more widely available from local stores.
On the digital side of things, the option between Standard and Gold Edition are available to choose from. Both editions come with the game itself while the latter comes inclusive with Metro Exodus Expansion Pass.
Additional pre-order bonuses will be included across all editions with the only differential factor depends on the platforms of your choosing.
All PlayStation 4 pre-orders be it physical or digital will be receiving a stunning Dynamic Theme based on the Metro Exodus 'Winter' artwork.
Xbox One pre-orders, on the other hand, includes a copy of the remastered version of Metro 2033 Redux.
Meanwhile, PC physical pre-orders and Steam pre-orders will come inclusive a digital art book and the Metro Exodus OST.
While there wasn't any information regarding the exact contents of the Expansion Pass, 4A Games will be commencing on working on additional single-player content as soon as the game has gone 'Gold'. They will continue to support the game with continuous updates and free DLC so fans can rest assured that this game is in for the long run.
4A Games also confirmed that regardless of where or how you buy the game, no in-game content has been cut for pre-orders only. Fans will be safe to know that they will be getting the full Metro Exodus experience even outside the pre-order window.
Metro Exodus will be released on February 22, 2019, on Xbox One, PlayStation 4 and PC. Head on to www.metrothegame.com/preorder to start your pre-orders now.