Riot Games has announced that its League of Legends: Wild Rift SEA Championship 2021 will begin on 14th September 2021. The tournament will see the region best 21 Wild Rift teams battle it out to be the first Wild Rift Southeast Asia Champion. The Wild Rift: SEA Championship 2021 is organized with the partnership by ESL Asia which marks a milestone in Riot's quest to make Wild Rift its first true global mobile eSport.
The participating teams come from 9 countries around the region, including Singapore, Malaysia, Thailand, the Philippines, Indonesia, Vietnam, Oceania, Taiwan and Hong Kong, all of whom will compete for a total prize pool of USD200,000. Each of the teams have qualified, following impressive performances at the Wild Rift SEA Icon Series: Fall Season.
Speaking at Wild Rift: SEA Championship 2021 virtual press conference, Leo Faria, Global Head of Wild Rift Esports at Riot Games commented on Wild Rift esports' journey thus far. He said, "We intend for Wild Rift esports to be Riot's first truly global mobile esport. While we are still in the early stages of building out our newest sport, our progress in Southeast Asia sets the tone for what we want to achieve in other regions.
The Wild Rift: SEA Championship 2021 shines a spotlight on the incredible talent and passion of these Southeast Asian teams, and also sets a standard for how mobile esports can be viewed and enjoyed. We're excited to bring this same player-focused strategy and high-quality productions to other mobile audiences around the world."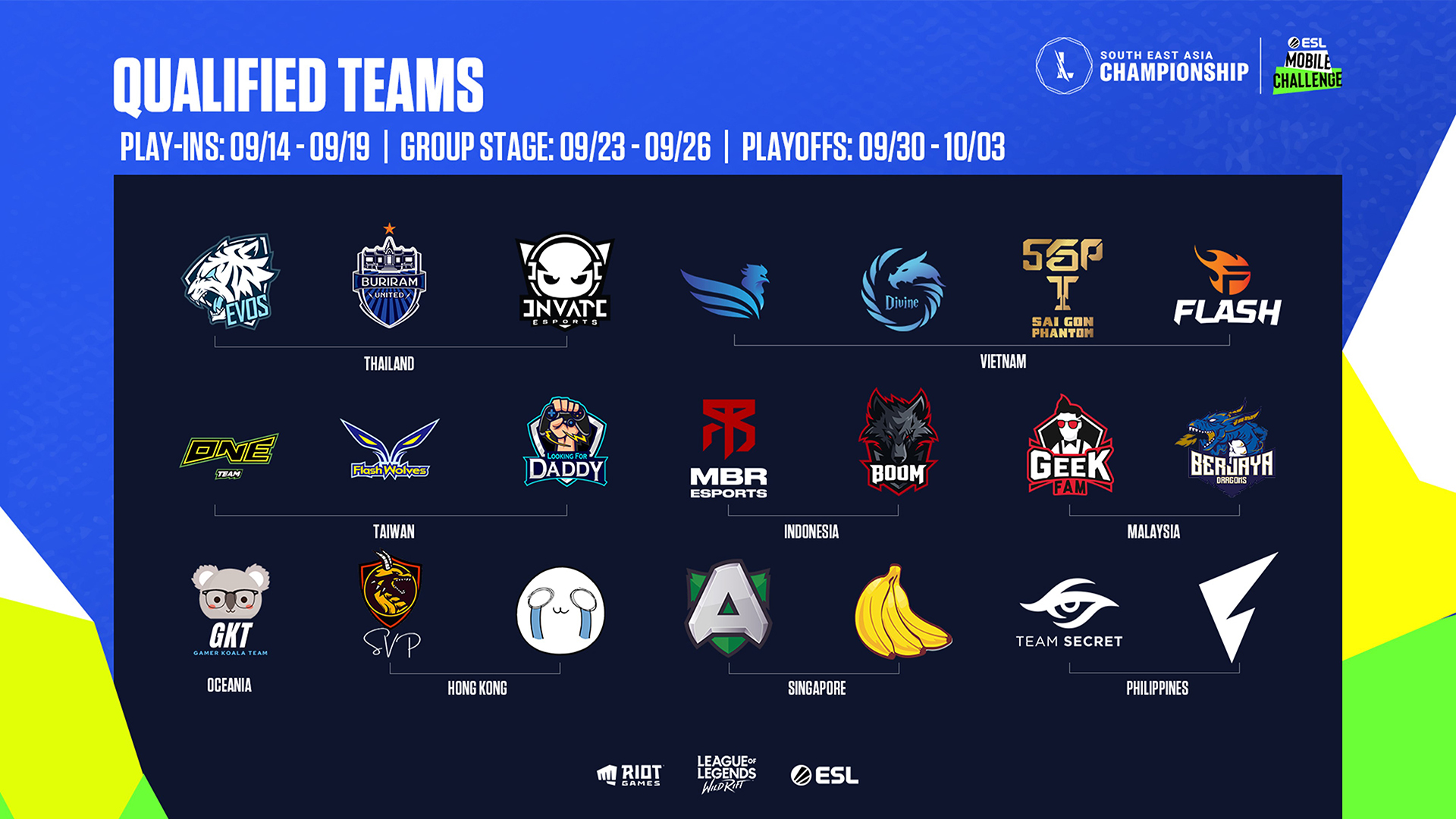 There will be 3 stages of competition for the Wild Rift SEA Championship 2021:
Stage 1 – Play-Ins: September 14 – 19, 2021
Stage 2 – Group Stages: September 23 – 26, 2021
Stage 3 – Main Event: September 30 – October 3, 2021
WHERE TO WATCH
The Wild Rift SEA Championship 2021 will be broadcasted in English, Tagalog, Bahasa Indonesia, Bahasa Malaysia, Mandarin, Vietnamese, Thai, and Cantonese. Broadcasts will begin at 12:30 PM SGT, with the first match starting from 1:00 PM SGT. The matches will also be live on Twitch, Facebook, and YouTube on Riot SEA's official channels as well as on our partners' broadcast channels:
English:
Bahasa Malaysia: