Samsung Electronics Co., Ltd. unveiled its new Neo QLED, MICRO LED, and Samsung OLED lineups alongside lifestyle products and accessories ahead of CES 2023. This year's lineup features advanced, innovative products with a focus on enhanced connectivity and personalized consumer experiences.
Samsung's wide portfolio of offerings helps users build their own tailored experiences with the devices they use every day, with more intuitive technology than ever before. This year, Samsung takes one step further in its ever-evolving journey to simplify consumers' everyday lives with seamless multi-device integration across its entire ecosystem through its smart home platform SmartThings.
In 2023, we are pushing boundaries of innovation to offer consumers more than just premium picture quality, but a holistic, premium device experience tailored to what they need and want out of their connected home – With SmartThings, our advanced technology is seamless and intuitive, making life more sustainable, accessible and enjoyable everyday.

Cheolgi Kim – EVP of Visual Display Business at Samsung Electronics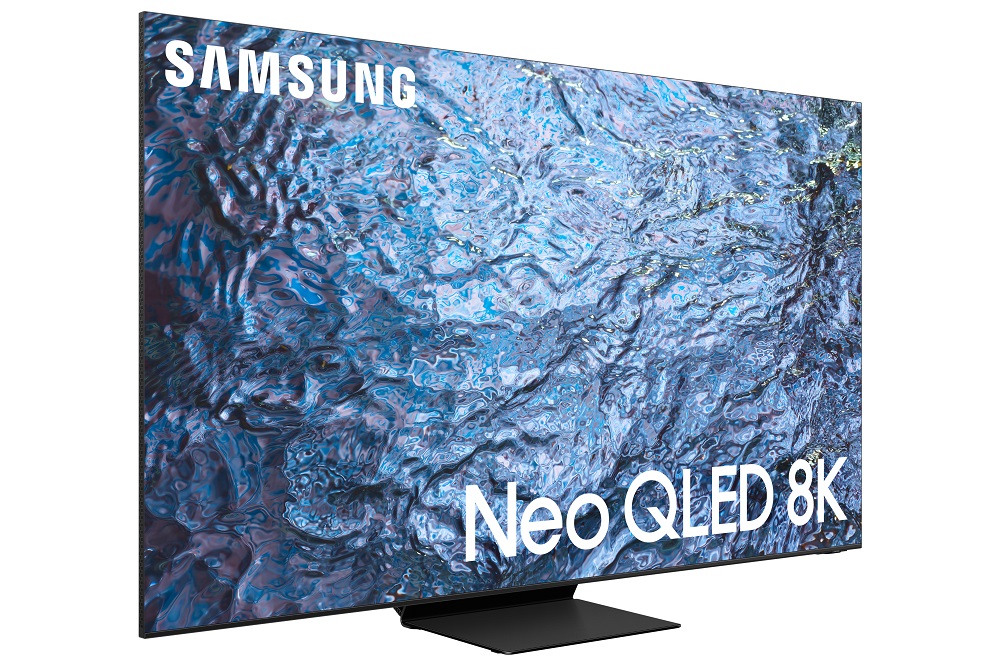 Premium and Connected Experiences with Neo QLED
Samsung's latest suite of Neo QLED 8K and 4K televisions provide consumers with premium options that suit every need. Neo QLED picture quality is powered by Samsung's advanced Neural Quantum Processor, which supports the Quantum Mini LED-lit TV with 14-bit processing and AI upscaling, enabling features such as Shape Adaptive Light Control and Real Depth Enhancer Pro for a three-dimensional, lifelike picture.
Samsung's 2023 Neo QLEDs also go beyond just a clear picture, with a high-resolution panel and Samsung's proprietary algorithm that power Samsung's new Auto HDR Remastering. It uses AI deep learning technology to analyze and apply real-time High Dynamic Range (HDR) effects on Standard Dynamic Range (SDR) content on a scene-by-scene basis, making SDR content brighter and livelier for absolute immersion.
In addition, SmartThings users no longer need to purchase a separate SmartThings dongle to connect and control Zigbee and Thread devices. In 2023, the SmartThings Zigbee & Matter Thread One-Chip Module will be directly built into Samsung products. And for the ultimate connected device experience, SmartThings automatically syncs devices for easier control of not just Samsung devices, but also third-party appliances and IoT devices for seamless connections.
Chat Together: Users can easily enter a live chat group to share thoughts and react in real-time with others who are also watching the same content.
ConnecTime: Make it easier to take video calls from connected devices, providing a larger platform for video calls on the TV and a seamless transition to a smaller device if a user wants to walk away and transfer the call to another screen.
3D Map View: Designed to let users conveniently control and monitor connected devices, Samsung's 3D Map View provides users a bird's eye view of their home and all of their SmartThings devices at-a-glance.
Broadening Viewing Options with MICRO LED and Samsung OLED
The 2023 MICRO LED lineup offers new models ranging from 50 to 140-inches to provide consumers with a breadth of options for unparalleled picture quality and screen experience. Thanks to its modular nature, MICRO LED is not bound by shape, ratio and size, making it completely customizable to fit a consumer's desired set up. In addition, it comes without bezels so regardless of configuration, the boundary between the screen and real life is seamless.
And to provide consumers with even more viewing options, Samsung's 2023 OLED lineup is now available in 55, 65 and the new ultra-large 77-inch models. Samsung's latest OLED lineup comes with Quantum Dot technology that has been developed for Samsung's Neo QLEDs as well as Neural Quantum Processors to retain OLED technology's core strengths, while simultaneously improving limitations in its brightness and color representation.
The expanded lineup comes with a 144Hz refresh rate and all of Samsung's smart features, including Samsung Gaming Hub. And for the first time on an OLED TV, Samsung OLEDs come with AMD's FreeSync Premium Pro certification for the ultimate OLED gaming experience.
Finally, to expand viewing options, Samsung offers Samsung TV Plus on all of its smart TV lineup. The free ad-supported TV (FAST) and video-on-demand service delivers over 1,800 channels globally, including over 50 owned & operated channels, reaching 24 countries and 465 million devices globally across the company's TV and mobile devices. It is 100% free and doesn't require any downloads, subscriptions or additional devices.
SmartThings will support Matter and HCA in 2023. This will enable SmartThings users to add a thousands of compatible devices seamlessly into their SmartThings Home Environment.
Samsung's MICRO LED lineup will be offered in 50, 63, 76, 89, 101, 114 and 140-inches in 2023.