Eversoul, a brand new collectible mobile RPG — developed by Nine Ark Inc. Studio, licensed by Kakao Games, and operated by Glohow — has announced that pre-registration will be accepted starting 29th Nov! Global players (unavailable in some countries) can pre-register on the official website on both mobile platforms (Android and iOS)! And for Asia Players e-mail address is needed for pre-registration.
At the end of the event, they will count the total number of pre-registered players and give out tier rewards in thanks for supporting and anticipating Eversoul! Let's hype up the launch of Eversoul and wake the slumbering Souls together!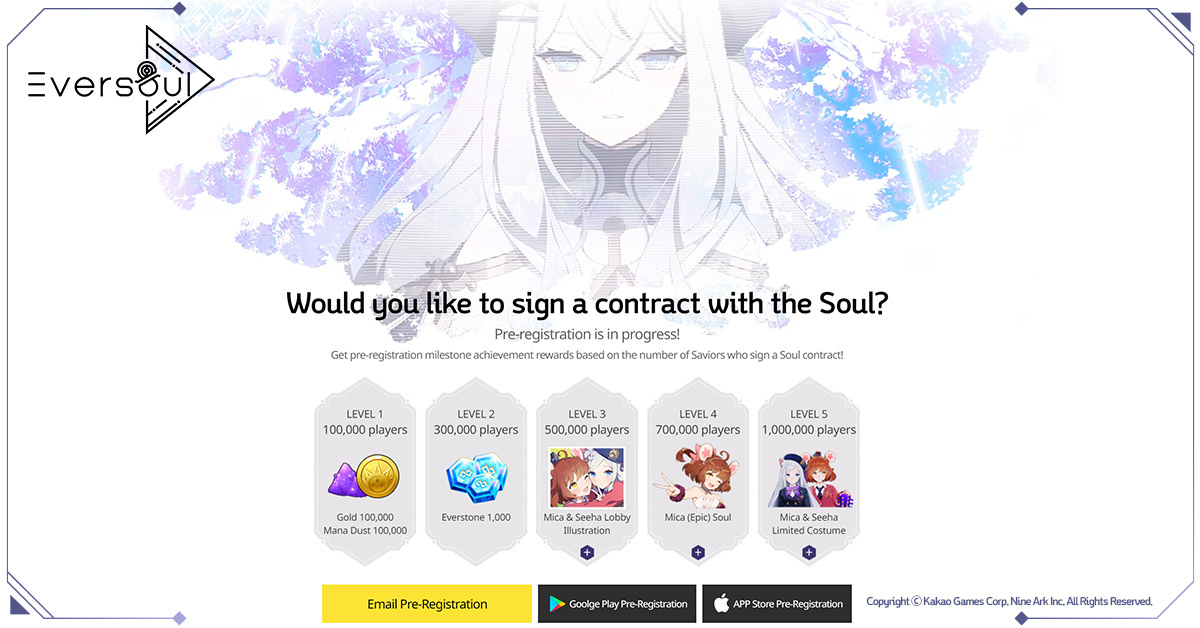 Eversoul Background
Eversoul is a story that involves the souls that live in the distant future of Earth — Eden, after the extinction of humankind. One day, the ever-peaceful Eden was in a sudden strike of enemy invasion and in great danger. To resolve the world-ending conflict, the souls summoned you from the other side as their sole "Savior". Together, you and the souls join hands for the battle to protect Eden.
About the combat system, players need to gather elven characters to build their unique battle combos. Using overwhelming power is not the only way to fight off enemies. The ample use of strategy is also required, souls of different elements can suppress or have attack bonuses on enemies.
The gorgeous combat visual is not the only thing that stands out in Eversoul. Another highlight of the game is the "Bond point" that let you build up affinity with the souls. The team states that many souls will be ready to meet the player at the launch of the game, and you will be able to unlock hidden plot points by raising "bond points" with each elf. With this interactive story-telling, they believe it will make the players more immersed in the experience!
Pre-register now and wake the slumbering souls together! To know more info and news about the game, please head to the official fan page, website, or Discord for further information.