GIGABYTE TECHNOLOGY Co. Ltd. has launched GIGABYTE Nvidia GeForce RTX 4060 Ti series graphic card powered by Nvidia ADA Lovelace architecture. GIGABYTE offers a wide range of graphics cards, including the AORUS and GIGABYTE series, to cater to the diverse needs of gamers.
The GeForce RTX 4060Ti family is designed to deliver incredible performance for mainstream gamers and creators at 1080P resolution at 100 frames per second with Ray Tracing and DLSS 3. The GeForce RTX 4060Ti product family offers all the advancements of the NVIDIA Ada Lovelace architecture — including DLSS 3 neural rendering, third-generation ray-tracing technologies at high frame rates, and an eighth-generation NVIDIA Encoder (NVENC) with AV1 encoding.
AORUS series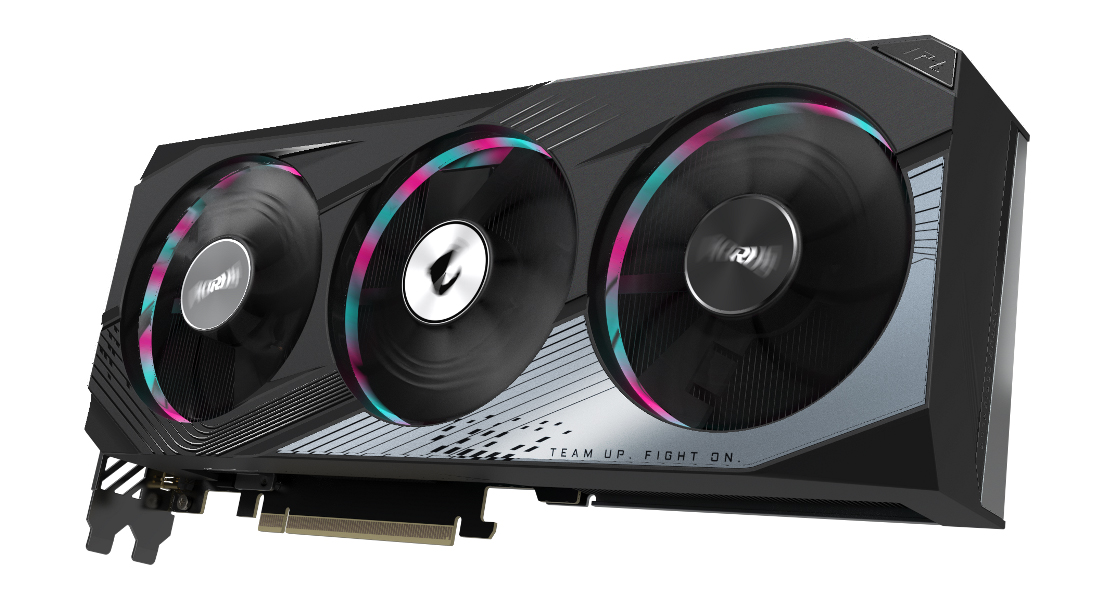 The AORUS GeForce RTX 4060 Ti series graphics cards stand out for their powerful cooling capabilities and excellent performance, thanks to the advanced WINDFORCE cooling system. This system features three unique blade fans, alternate spinning, composite copper heat pipes directly touching the GPU, 3D active fans, and screen cooling to maximize heat dissipation. The WINDFORCE fans utilize graphene nano lubricant, which extends fan life by 2.1 times, delivering nearly the lifespan of the double ball bearing while providing quiet operation.
The exceptional performance of the AORUS graphics card is due to its power design and use of ULTRA DURABLE-certified components. These components allow the graphics card to maintain lower temperatures while delivering high performance, ensuring stability and reliability. The onboard Dual BIOS switch allows users to choose the SILENT mode for a quieter experience without the need for software installation. Additionally, the AORUS graphics card is equipped with aerospace-grade PCB coating to extend its lifespan.
The AORUS GeForce RTX 4060 Ti series graphics cards feature a unique design with RGB Halo triple-ring lighting, which is loved by DIY enthusiasts for its exquisite and colourful illumination. Gamers can freely adjust various lighting effects through software to showcase a stunning and unique style. In addition, the protective metal backplate not only provides optimized structural support to prevent PCB from bending and sagging but also adds more charm to the overall visual effect.
GIGABYTE series –GAMING OC, AERO OC, EAGLE OC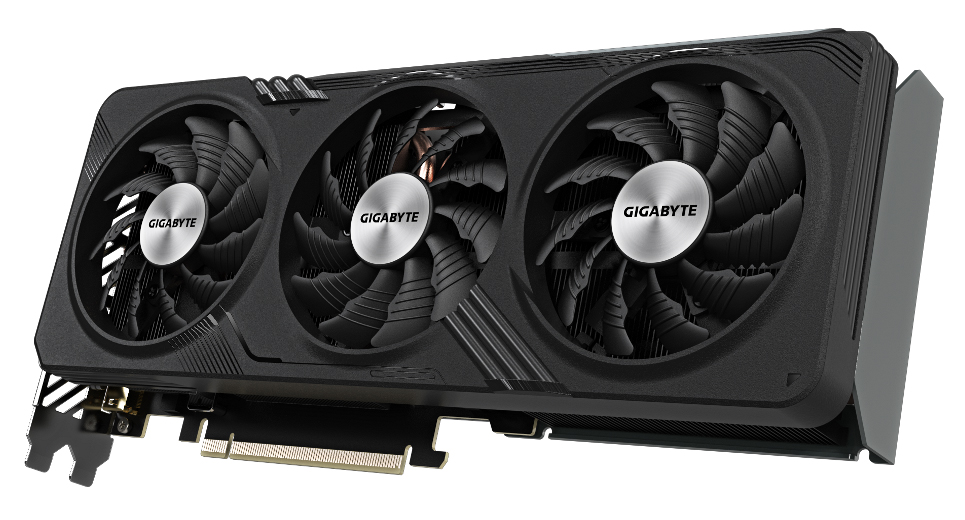 The GIGABYTE GeForce RTX 4060 Ti GAMING OC series are classic and popular graphics cards from GIGABYTE, known for their superior performance and stability, as well as their gaming-style appearance, making them the top choice for gamers. The GIGABYTE GeForce RTX 4060 Ti AERO OC series with its white and silver design are particularly favoured by designers and users who prefer a simple style and they are particularly suitable for PC systems with light and minimalist themes. The side logo of the graphics card features a special material that displays a rainbow effect. The GIGABYTE GeForce RTX 4060 Ti EAGLE OC series incorporate some futuristic design elements, leading to a unique and personalized identity. These include cosmic-themed graphics, symbols, and geometric shapes prominently showcased on the exterior of the graphics card.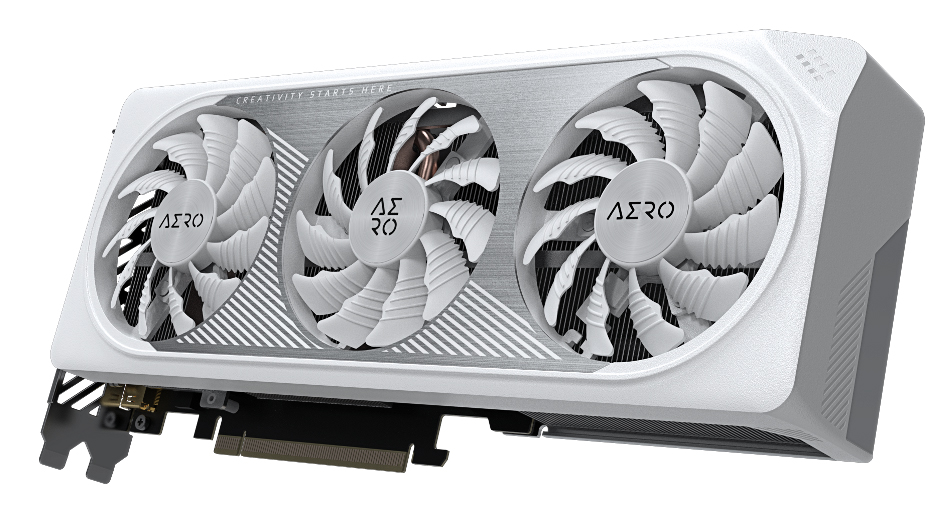 GIGABYTE GAMING OC, AERO OC, and EAGLE OC series graphics cards also come with a range of advanced technologies, including the GIGABYTE WINDFORCE cooling system, graphene nano lubricant, excellent power design, and ULTRA DURABLE certified components allowing the graphics cards to deliver higher performance while maintaining lower operating temperatures. The onboard dual BIOS switch allows users to choose the SILENT mode for a quieter experience without the need for software installation. In addition, both GAMING OC and AERO OC graphics cards have built-in lighting that can be customized with different colours and modes through software, allowing users to showcase unique lighting effects. The upgraded and strengthened back plate provides optimized strength support while also considering the overall appearance design.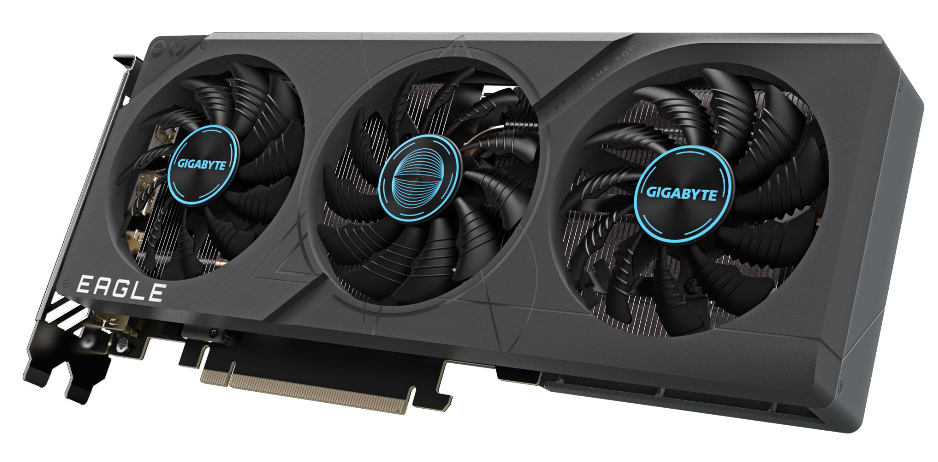 The GeForce RTX 4060Ti family graphics cards launched by GIGABYTE offer exceptional overclocking performance, enabling gamers to enjoy smoother and higher-quality gaming experiences. Each graphics card has a unique appearance and cooling design, meeting the preferences and needs of different gamers. In addition, GIGABYTE will provide the WINDFORCE OC series for gamers who prefer a dual fan design, compact size, and good gaming performance.
The GIGABYTE GeForce RTX 4060 Ti 8GB series will be available for sale on 24 May. The GeForce RTX 4060 Ti 16GB and GeForce RTX 4060 8GB are also expected to be available for sale in July.
AORUS GeForce RTX™ 4060 Ti Elite 8G(RM2,329) https://www.gigabyte.com/Graphics-Card/GV-N406TAORUS-E-8GD#kf
GeForce RTX™ 4060 Ti GAMING OC 8G(RM2,159) https://www.gigabyte.com/Graphics-Card/GV-N406TGAMING-OC-8GD#kf
GeForce RTX™ 4060 Ti AERO OC 8G(RM2,239) https://www.gigabyte.com/Graphics-Card/GV-N406TAERO-OC-8GD#kf
GeForce RTX™ 4060 Ti EAGLE OC 8G(RM2,069) –https://www.gigabyte.com/Graphics-Card/GV-N406TEAGLE-OC-8GD#kf
GeForce RTX™ 4060 Ti EAGLE 8G(RM2,019) https://www.gigabyte.com/Graphics-Card/GV-N406TEAGLE-8GD#kf