The full Q&A is available further down the article..

Making a difference.
The exterior design of consoles is mostly dull and boring. Even so, it's not easy to put the blame on developers because everyone knew that design is not a major purchase deciding factor. Be it a PlayStation 4, an Xbox One or a Nintendo Switch, players choose their consoles based on the library of exclusive games that come with that respective brand. However, there is one person who begs to differ and he strives to spread a message and show everyone through his arts, that owning a console can also be a unique experience that gives you a sense of premium ownership.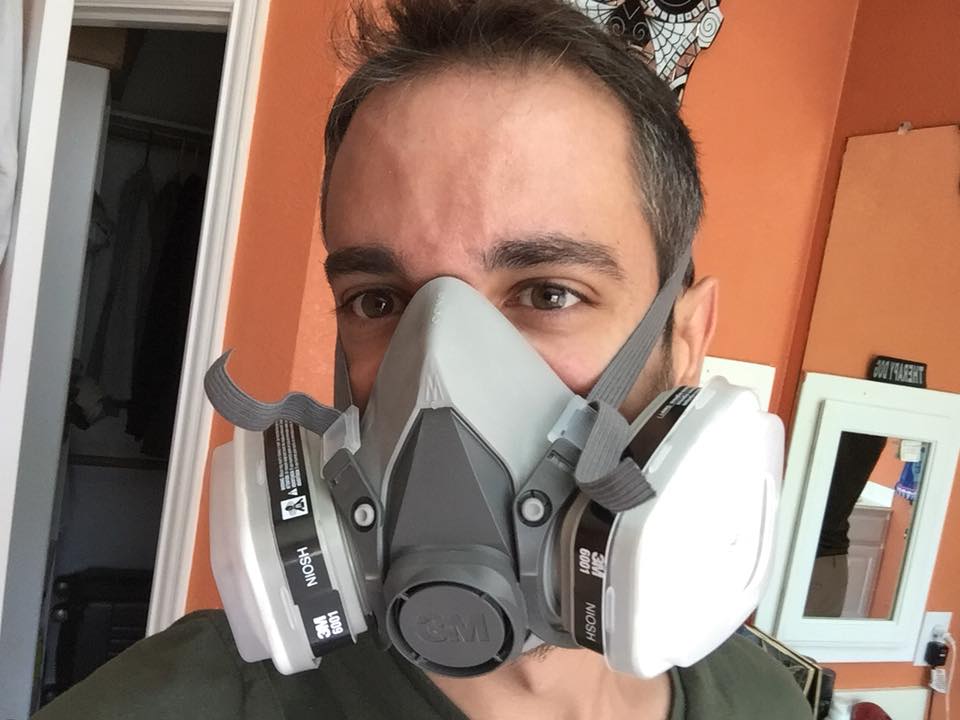 The Maestro himself.
Meet Gerardo, or more fondly known as "Mako" the 39-year-old man behind MakoMod who hailed from Barcelona, Spain but is currently in Dallas, USA for a long visit. He started modding in 2015 as a hobby but have since been able to do this as his full-time job. Unsurprisingly, his work has gained the attention of many media portals and even console developers like Sony's PlayStation. Mako's passion for mods earned him more than just money, praises and reputation, it also gave him a new direction in life. One he would end up travelling 5,000 miles across the ocean for.
Speaking of PlayStation…
One of his more recent work, a God of War themed PlayStation 4 Pro. This was, in fact, the first thing that caught my attention when I stumbled upon it while surfing through my Facebook feed. My first thought was Sony released a new GOW PlayStation 4 bundle but then I looked again and realized this was hand-crafted. It was then when I decided to dig around and found Mako. I knew I wanted to know more about him and his work.
How long did it take and is it for sale?
Mako took 4 months to complete this project and it was no easy task according to him. First of all, he had to source for a capable Leather Artisan who can craft the leather "Shoulder Pad" that covers half of the Pro's top. Apart from the authentic leather made shoulder pad, he also used real aged pine wood with carefully carved-on nordic runes from the game to decorate the console button section. Finally, he used stone-finish spray paint to create the rough ashen texture on the Pro's top cover. It may look and sound simple once anybody looked at the photos of his work and get their hands on the list of materials. But to be able to visualize this masterpiece in the first place, to be able to imagine it and turn it into reality, is really something fewer than few can do. To those who wish to own this piece of beauty, you can do so by heading his eBay where he puts it up for auction.
[Best_Wordpress_Gallery id="116″ gal_title="Makos PS4 Pro God of War mod."]
Mako games too!
When asked on what sparked his inspiration to do a God of War theme instead of a Senran Kagura (obviously for their se…stylish reasons!), Mako made no attempt to hide his admiration to the highly acclaimed PlayStation 4 exclusive by confidently answering "I love the new God of War and that Nordic look". Same here Mako, great minds think alike! He also shared that his first project was "Midgar", based on his favourite video game Final Fantasy VII.
Our full Q&A starts here.

BunnyGaming's Zozi with Gerardo "Mako"


Zozi: Gerardo, I am curious about your work but can you tell me something about yourself first?
Mako : Sure! My name is Gerardo, simply known as "Mako" for my arts. I am 39 years old this year and I've recently travelled from Barcelona to Dallas for a visit. I started to mod consoles as a hobby back in 2015. I am doing it full time now.
Zozi : Mako, I really need to know more about this PS4 Pro mod with the GOW theme, can you please tell me how long did it take for you to complete this project?
Mako : Of course, it took me four months to complete it. At first I had to find a capable artisan who could work with leathers to make the "Shoulder Pad", I found one who could help me but he was very busy at first then he made it.
Zozi : Those small strips of wood near the console buttons, they look like real wood to me. What other materials did you use to finish this project?
Mako : Yes they are real wood, I used aged pine wood for that part. I also used authentic leathers for the shoulder pad and stone finish spray paint for the top colour and texture.
Zozi : What actually inspired you to use the God of War theme for this project?
Mako : Its simple, I love the new God of War and the Nordic look the game uses.

Zozi : So, what would you say is your favourite video game?
Mako : I would say Final Fantasy VII. In fact, my first work was "Midgar" based on the same game.
Zozi : Do you have any plans to see off your God of War themed PS4 Pro?
Mako : I am actually auctioning it off on eBay at this moment, I've also included the description of the mod there.
Zozi : Throughout your modding experience, what was the most challenging task you encountered so far?
Mako : To sculpt 3D Figures like the Ryu and Ken in my Street Fighter 2 PS2 Mod. I am a self taught artist and until I receive professional lessons, doing that (3D Sculpting) would be hard for me. Also the TEW2 PS4 mod that I did, Castellano's face was hard to reproduce.
Zozi : That sounded challenging indeed, what are the most frequent problems you have to visit during your work?
Mako : Learning new techniques and how to handle new materials. I have to become a little bit of an "expert" in many things, like how to age a piece of wood, how to do metal casting, airbrushing and anything else that I would need to do the modifications I have in mind.
Zozi : Before you start working on a project, how do you come out with the concept? Where on earth did you get these inspirations on what you want to build from?
Mako : Just paying attention to any iconic elements from the game really. I base my mods on those, just like the Aku-Aku mask and the Pre-Colombin stuffs for my Crash Bandicoot themed PlayStation 4, that is a good example.

Zozi : When you said you auction off your mods, how much on average can you usually get from it (auctions)?
Mako : That depends, the number varies from less than 100$ to over 2500$.
Zozi : So, how much was the most expensive and cheapest thing you've managed to auction off so far? And what were they?
Mako : The most expensive till date (Auction) would be the Sheikah Switch, around 2000 Euros (RM 9,461). The Aku-Aku was more expensive but it was sold directly to PlayStation Spain. The cheapest would be my Metroid Gunship SNES Mini which was auctioned off under its production cost.
Zozi : So Mako, when you look at any game's official Collector's Edition or Bundles, do you ever feel that you can make one better? It sure looks like some developers could learn a thing or two from you or use your expertise!
Mako : I feel sincere respect to the official editions of consoles. They are elegant and minimalist in nature. I actually love them! But my work is towards another style of modding, more ambitious and eye-catching I would say.
Zozi : Speaking of ambition, what do you have in mind for the future of MakoMod? Any particular direction you heading to?
Mako : I want to be able to make a BIG and impactful mod for every Triple-A game that is launched.
Zozi : I've enjoyed this interview so far Mako and I have just one last question for you and this is out of curiosity really. Is the purpose of the visit to Dallas work related or family ?
Mako : The reason for the visit was love. One of my followers who followed my work, she wrote to me one day then one thing lead to another and Fern and I entered into a relationship with each other. Our relationship is the reason why I flew almost 5,000 miles across the ocean. We are both passionate about Art and Games and now she and her family are supporting me with my work and everything. I also wish to take this chance here to say my thanks to them for everything!
Many thanks Mako.
I honestly did not expect the answer to the last question to be so beautiful, I mean I thought he went there (Dallas) for Donald Trump's greatness or maybe he just really like hamburgers ..and I only came for Mods and possible discounts… Yet, I walked away from this with such a good story to tell, one which I never saw coming. Many thanks to Mako for agreeing to do this "not-so-convenient over the Facebook Messenger" Q&A, I appreciate you bearing with me! Best of luck and of all wishes from us at BunnyGaming.
Mako features his crafts on his Facebook page MakoMods and his Twitter where you can find out more on his past projects. We've included some of his work here.
[Best_Wordpress_Gallery id="118″ gal_title="Makos other projects."]