Garena has announced the Free Fire 2023 Esports roadmap, unveiling updates to its international Esports tournament format. In addition to the flagship Free Fire World Series (FFWS) that will take place in November, fans and players can look forward to the very first Free Fire SEA Invitationals (FFSI) that will soon commence in May.
The new addition is coupled with various adjustments to the tournament format, which will now comprise two milestone stages — the Group Stage and Grand Finals — in an extended tournament period. These updates to Free Fire Esports are expected to shake up the competitive Free Fire scene and raise the bar for both players and fans.
Fans and players can look forward to two key tournaments in 2023 — FFSI and FFWS
This year, Free Fire Esports will launch the FFSI, a new multiregional tournament designed to focus on the rivalries between select competitive regions. Set to take place in May across three weekends, the FFSI will look to host 18 teams across the regions of MCPS[i], Vietnam, Indonesia, Thailand, Europe, MEA[ii], Taiwan, and Pakistan.
---
[i] Malaysia, Cambodia, The Philippines, and Sri Lanka
[ii] Middle East and Africa
---
The iconic FFWS will also make its return in the second half of the year in November, featuring a spectacular line-up of the best Free Fire teams hailing from major competitive regions including Brazil and Latin America. Fans and players can look forward to an enhanced Esports experience, with more information to follow down the line.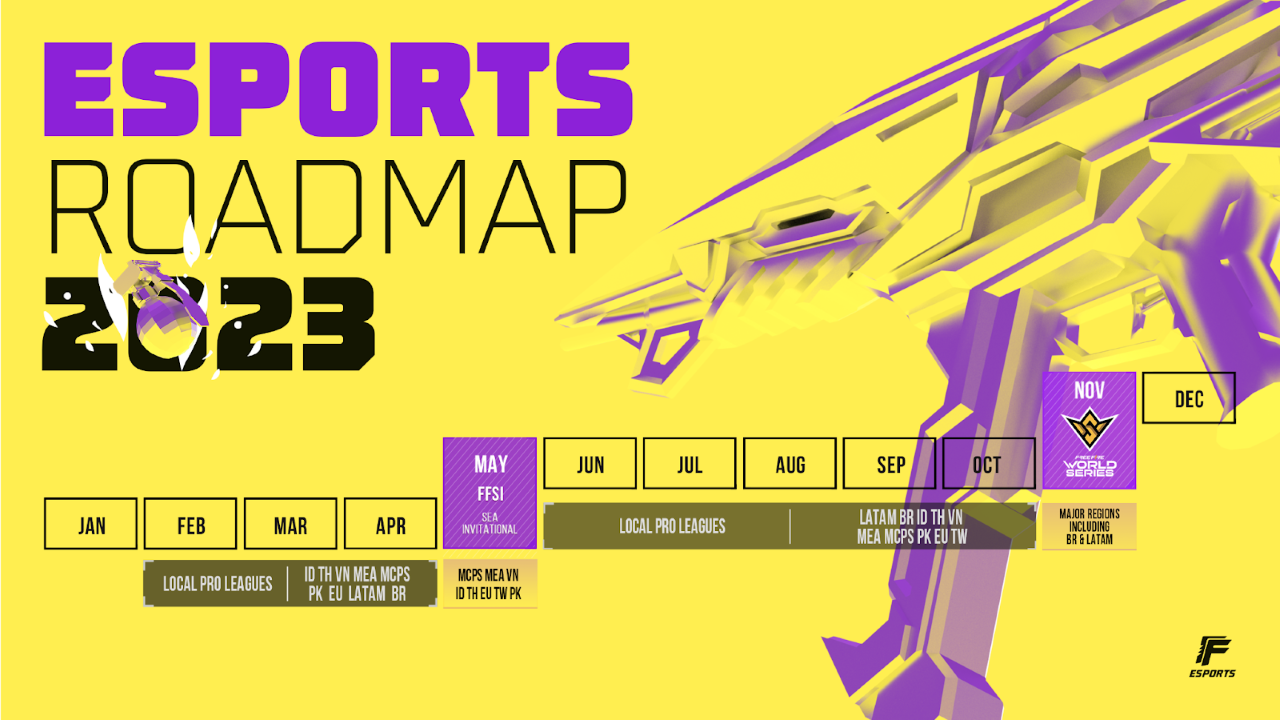 Various Free Fire local leagues around the world will be held between February to April, and for a second time between July to October. Similar to previous years, local league rankings will determine the final teams promoted to FFSI and FFWS. The upcoming MCPS Majors Season 5 will seed 2 teams into the Group Stage of FFSI.
Upcoming Key Tournaments Will Feature A Refreshed Tournament Format
Free Fire will introduce a new tournament format for its international Esports tournaments, which features a Group Stage and Grand Finals.
The Group Stage will take place over two weekends and will see 18 teams compete for 12 slots to the Grand Finals. The teams will be divided into 3 groups of 6, with 2 groups facing off across 6 games on each match day of the Group Stage. The top 12 teams based on the total number of points will then advance to the Grand Finals, which consists of 18 matches held across three days. Final placements will be based on the total points accumulated by the 12 finalist teams across the three days.
Newest Adjustments Seek To Elevate Free Fire's Competitive Landscape
The newest adjustments have been implemented with intentions of elevating the Free Fire Esports landscape. In the upcoming FFSI and FFWS, teams will be required to exhibit a greater level of skills, versatility, and consistency throughout all matches, and against different competitors. With an extended tournament period, Free Fire fans will also be able to fully immerse and progress along with their favorite teams and players as they strive to remain among the top Free Fire teams.
Stay tuned to the official Garena Free Fire channels for exciting updates:
Free Fire can be downloaded on both the Apple iOS App and Google Play store.