Platforms: PS4, PS5, XBOX, PC
Reviewed On: PS5
Codemasters returns with yet another Formula One racing game this year with F1 2021, 'The Official Videogame of the 2021 Formula One World Championship'. While the handling and mechanics are largely the same as last year's F1 2020 title, this year's game came with several notable changes – We have an F1 game that bears EA's tag now, after the giant publisher's acquisition of Codemasters last year, next-gen features are here (only just barely), a two-player career mode that's just awesome if you have a mate, and the new single-player story mode 'Braking Point' that offers a fascinating insight into the life and struggle of an F1 driver.
From the settings, the game can be set to run on either Performance or Quality mode – Performance being the game running on 1440p @ 120 FPS on compatible monitor/TVs, and Quality being on 4K @ 60 FPS. There is no Ray-Tracing on either mode except in race replays. But no matter which mode the game runs on, this is the best-looking F1 game I've seen so far, except for a few minor distracting graphical hiccups that I'll mention later.
I decided to start my game with Braking Point and the single-player story mode this year offers a much more realistic and relatable experience compared to the entries from the past two years.
If you'd have watched the Netflix F1 documentary – Drive to Survive, Braking Point is sort of like Season 1 of that series when it showed Daniel Ricciardo and Max Verstappen's time in RedBull Racing together and more specifically how Verstappen, the upcoming and promising driver's achievement on track was eclipsing Ricciardo's, who is the more veteran driver in the sport. In their bid to prove to themselves and everyone that they are the better driver, it created frictions between the two drivers, and from there, frictions lead to hard racing and clashes on the track.
But instead of Daniel and Max, we have Aiden and Casper in Braking Point. Aiden, the new Formula 2 series champion has just earned himself a seat with Alfa Romeo (this depends on which team you chose) and he teams up with the veteran driver, Casper Ackerman. After some misunderstanding, Aiden soon found himself in open hostility against his own teammate and childhood hero, Casper. The story developed well and got me hooked many good hours and what probably surprised me the most other than how decently interesting the story is, was how halfway through the experience, the game shifted my perspective from that playing as Aiden to that of Casper. The perspective change was well done too and wasn't just for show as it provided a meaningful insight into how a new F1 driver embarks on a journey full of hopes and dreams, and the insecurities and struggles of others whose time on the racetrack inevitably coming to an end.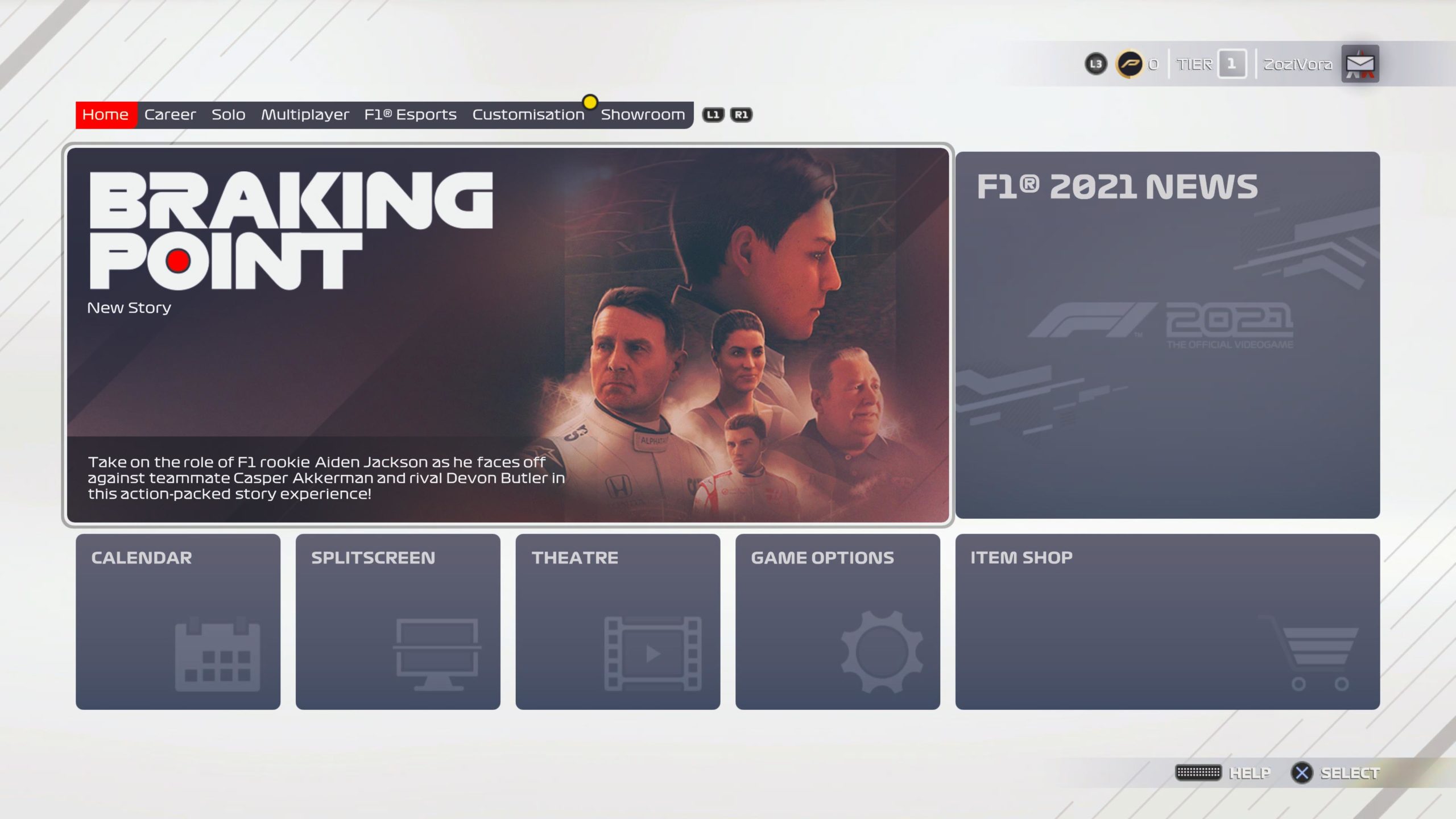 The racing experience in Braking Point although fun to play but can be very challenging for those who walk in unarmed against the expectations it requires. The mode can be played in 3 different difficulties – Normal, Challenging, or Hard – I started mine in Challenging and that is indeed the right word for what it represents. I would advise you to just start in Normal if this is your first F1 game experience. Braking Point doesn't always have us running the full race, in fact, most of the time we'd be running part of a race with a specific mission – catching up to a certain position, overtaking a certain driver, or defending a position. But what's tricky here is there are no practice nor qualifying sessions, so players are just thrown into a race expected to be already well-versed with the track's curves and straights. This makes achieving the goals difficult for those playing on Challenging mode or harder because track knowledge is so important in F1 races and not having enough of them will just make meeting those goals impossible. There are no compromises here and if you are one position behind what's asked for when the race ended, you'd fail and restart.
Thankfully, restarting a game or loading into one is made so comfortable in F1 2021 due to the game being next-gen ready and it loads at a heavenly speed. The other next-gen experience in the game is the haptics and adaptive triggers, but they are so mild I always forgot they exist until I remember they do. Oddly, the visual quality from the rear-view and side mirror are just horrifying and broken. Imagine PS5-worthy graphics when you look ahead, but a PS2 graphic on that tiny rectangular rear-view mirror. As a result, I keep my rear-view turned off to avoid the ugly distraction.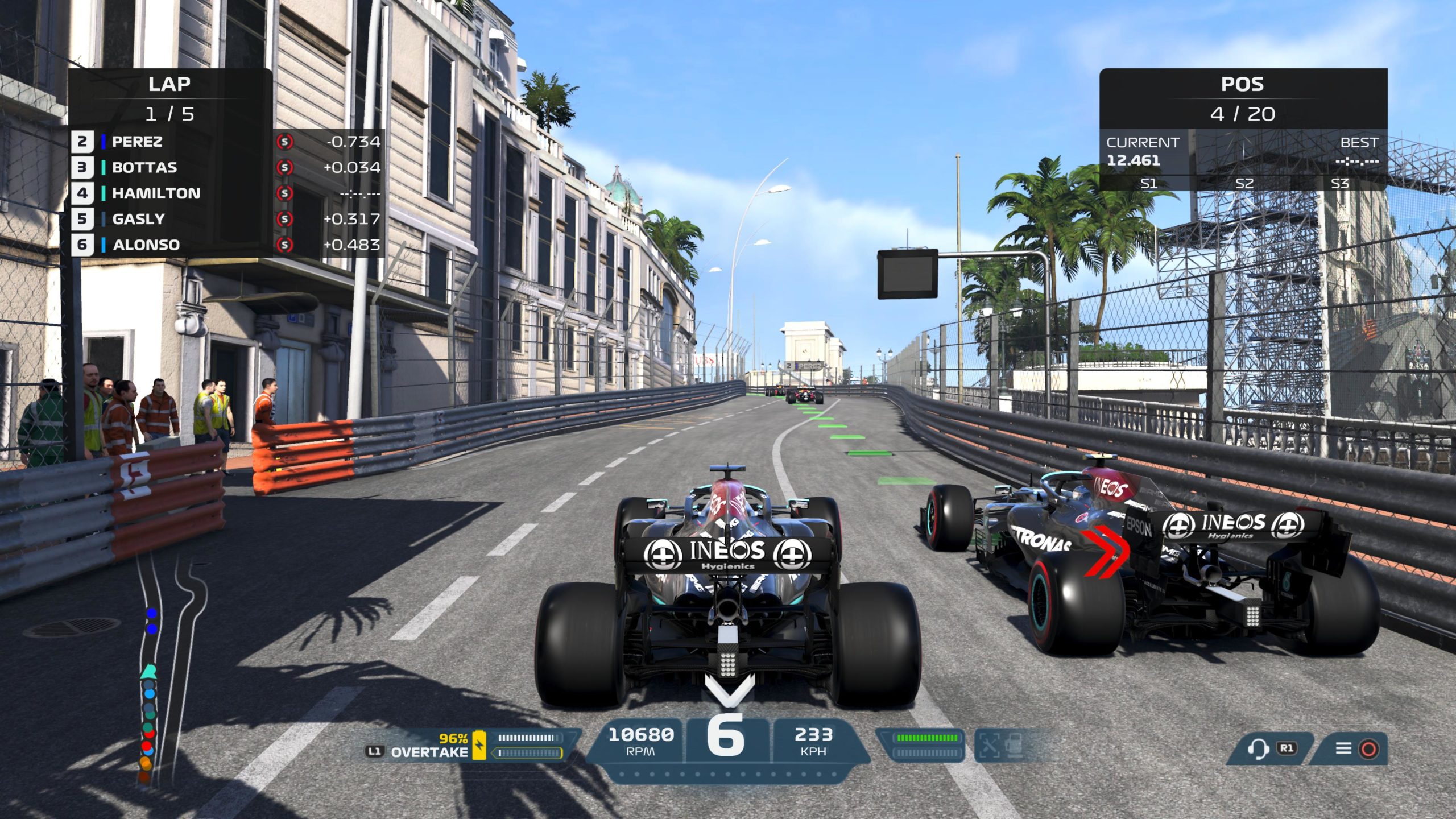 My friend and colleague, Kelvin and I used to play F1 games together from time to time and we'd both usually team up to play seasons together via the multiplayer option. So, when we learned that this year's F1 game would come with a multiplayer career mode, we both jumped in joy. But to be honest, this year's F1 2021 two-player career mode isn't very different from the usual multiplayer mode that we used to play. The biggest differences are perhaps these – Now, you can make full decisions on how the car's R&D goes and oh, do Press Interviews. But being able to work together as a team to collect upgrade points on practices, discuss on which part we should R&D first, and slowly build a back-of-the-grid team (we picked Williams!) into a championship-worthy contender does have a nice appeal to it.
There are bits that has been bothering me since the previous installment of the franchise that I saw are still unattended to in F1 2021. The most we get to participate in this game are the on-track activities – Practices, Qualifying Rounds, and Races. I mean that's the most important bits no doubt, and if I play MyTeam, I get to work on the sponsors and which driver to sign as well but I was looking forward to more like the pits and strategies. For example, why isn't there a gameplay experience that involves the recruiting and training of pit crews? Pit stops, as we know, could make or break a race and they are a vital part of any racing team.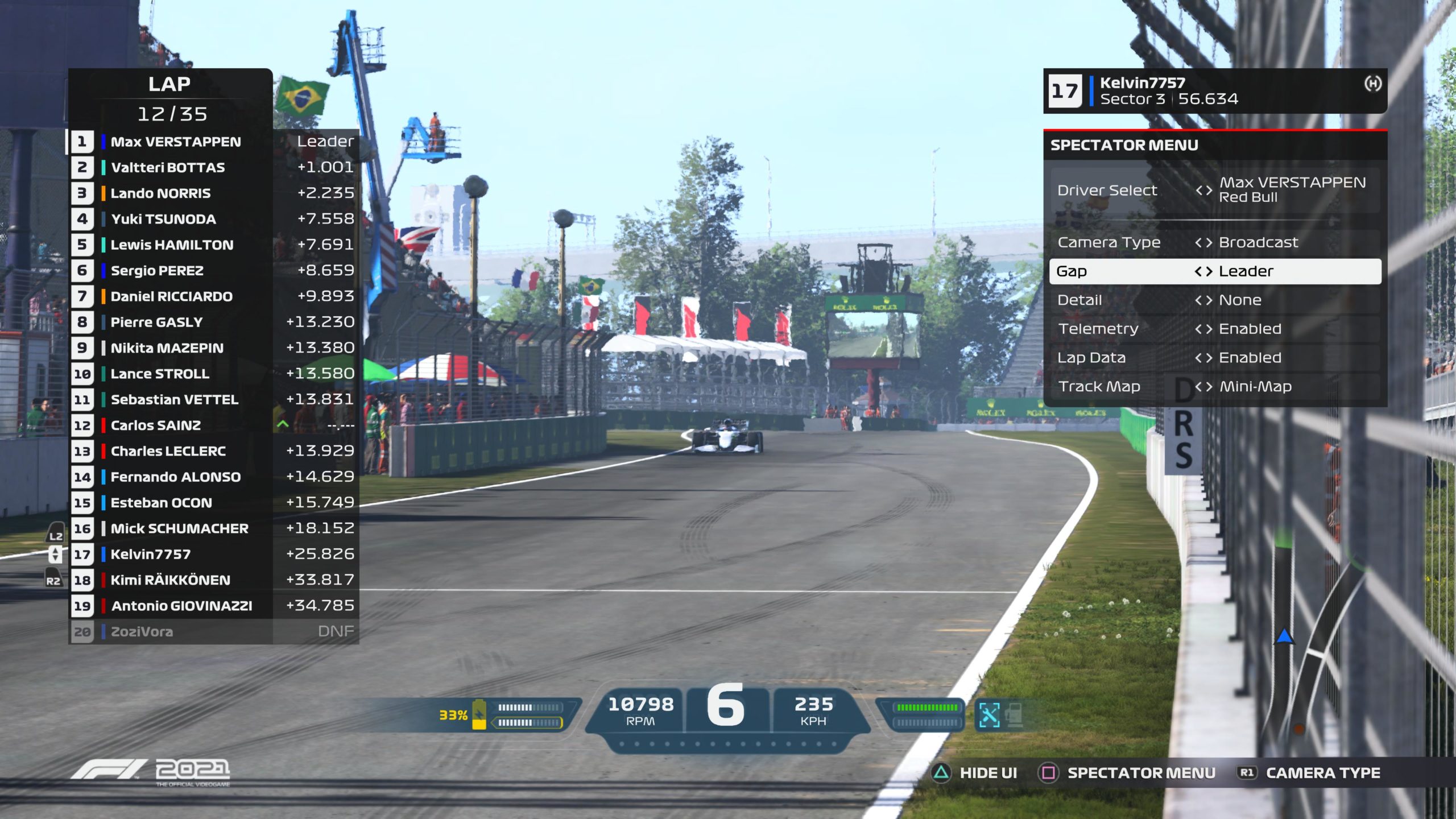 In Braking Point, the game showed instances when the team gave 'Team Orders', that's when a driver needs to give way for their faster teammate to overtake due to their potential of finishing the race in a better position. But somehow, this does not exist anywhere else in the game, not even in MyTeam mode where I'm supposed to be both the team's owner and one of the drivers. But even as the team's owner/principal, I have no control over the second car's pit strategy, fuel strategy, and not being able to give out or receive Team Orders. So, the absence of any meaningful strategizing options for a game based on a Sport that relies so much on strategies really does dampen the experience.
What about the team Radio? After every single F1 race in the real world, the F1 body themselves would release countless videos and audios showing hilarious, exciting, and emotional exchange on various teams' radio, so there's obviously a lot going on between the drivers and their teams during a race but in the official FIA F1 racing game itself, the atmosphere is just mute. Race engineers dish out race updates every now and then but that's just too scarce in my opinion. I long for a mode where I can choose the radio option of "Chase" or "Defend" where my race engineer would consistently dish out time gap updates between me and the car I'm chasing or defending against, and with some emotion in his tone, it would make such an exciting atmosphere.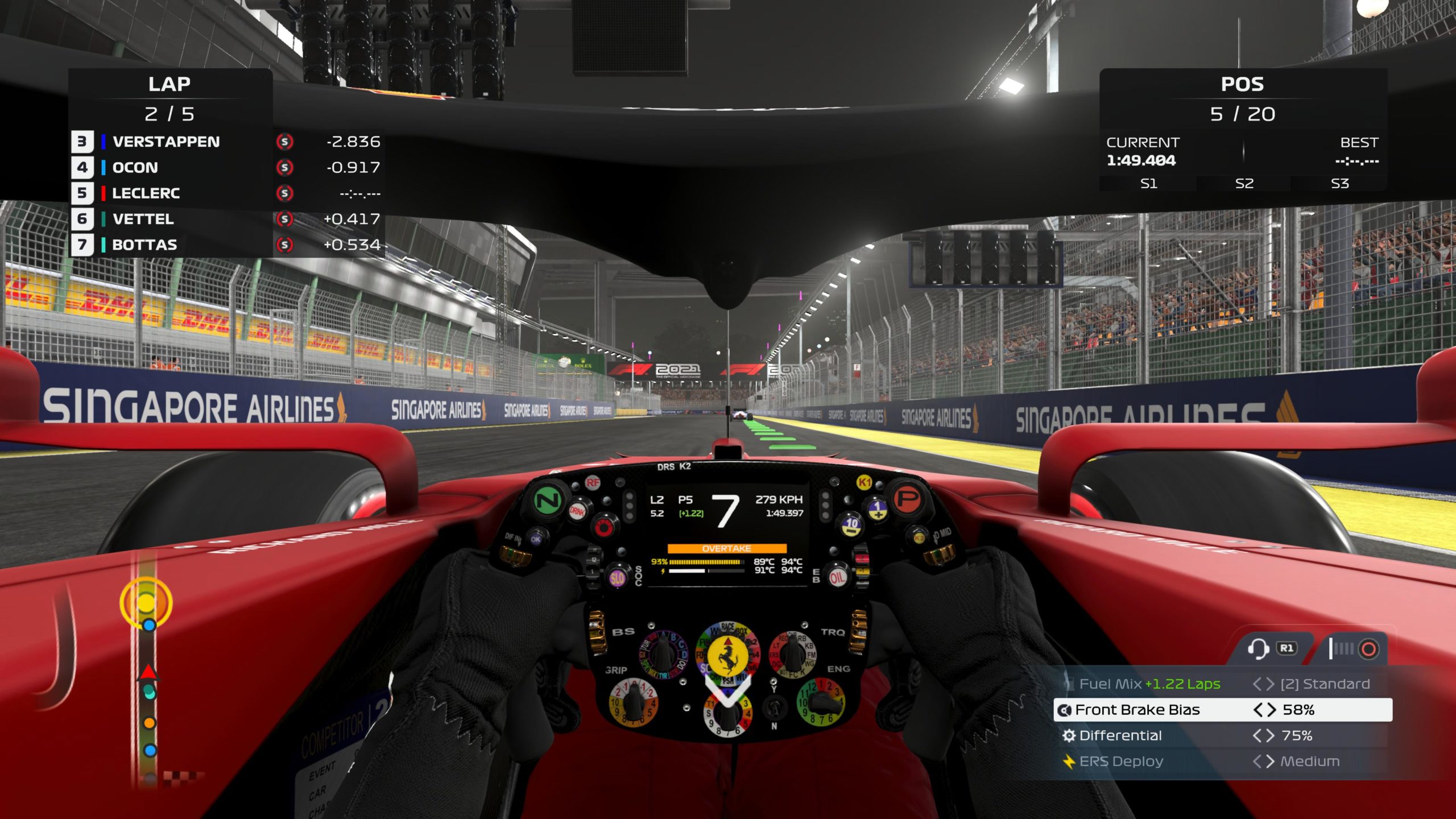 But don't get me wrong, I absolutely adore the racing aspect of the game and I love the fact that the most technical motorsport in the world comes in the form of a video game that could replicate the technical aspect and the driving experience. And despite how hard it is to master the game and to learn the tracks well enough to take on corners confidently, F1 2021 remains as accessible as ever for everyone with players being able to adjust almost every aspect of a race. There are settings that let you experience close to what a real F1 driver does, and there are those with several different assists that let players have a more casual driving experience. The settings are so versatile that we can also have something in between and the game makes it so easy to set them.
What I liked about the game –
Braking Point, the new single-story campaign is both fun to play and its drama fun to watch
Performance and Quality mode option – this is the best-looking F1 game.
Two-Player career mode made its debut!
As friendly as ever to new players while still packing enough to bruise veterans.
Great loading time
What I wished was better –
Missed gameplay opportunities like pit crews and radio options.
Not enough managerial options on MyTeam, mainly on the race strategies.
Bad visual qualities on the Rear-view and Side-mirrors.
A rather mute atmosphere during the race. Can be pretty boring in a long race.
Verdict.
Liking this game was no challenge at all because to me, F1 2021 is a solid Formula racing game, and though it's not by leaps and bounds, the F1 2021 game did feel like a sizeable improvement over its predecessor, the F1 2020. Yes, it bothered me that we still don't have much of a strategizing option in our play and the lack of any meaningful teamwork option makes MyTeam feel quite redundant. But if I should weigh the game on a scale, I would say the weight would still tip heavier on the positive side. The 2-player career mode was a progressive and daring step forward and the fun it brought to my friend and me was worth celebrating. The series as a whole has always felt both too technical and mechanical, and even when it introduced a storied campaign mode, it still felt emotionless. But with Braking Point, that changed and for the first time, F1 game isn't just the race or car, it's also about the drivers, their passions, and dreams.
Final Score – 8.5 / 10