Electronic Arts and FIFA today has announced a new EA Sports FIFA 22 eSports program that is expected to attract tens of millions of players and viewers. Featuring both 1v1 and 2v2 competitions, players will represent themselves, globally recognized esports organizations, real-world football clubs, and their nation in a diverse set of FIFA esports events.
The three competitions featured in the expanded eSports ecosystem are the FIFAe Club Series 2022, the FIFAe Nations Series 2022, and the EA SPORTS FIFA 22 Global Series on The Road to the FIFAe World Cup 2022™. The three pinnacle events of the series will all take place in summer 2022.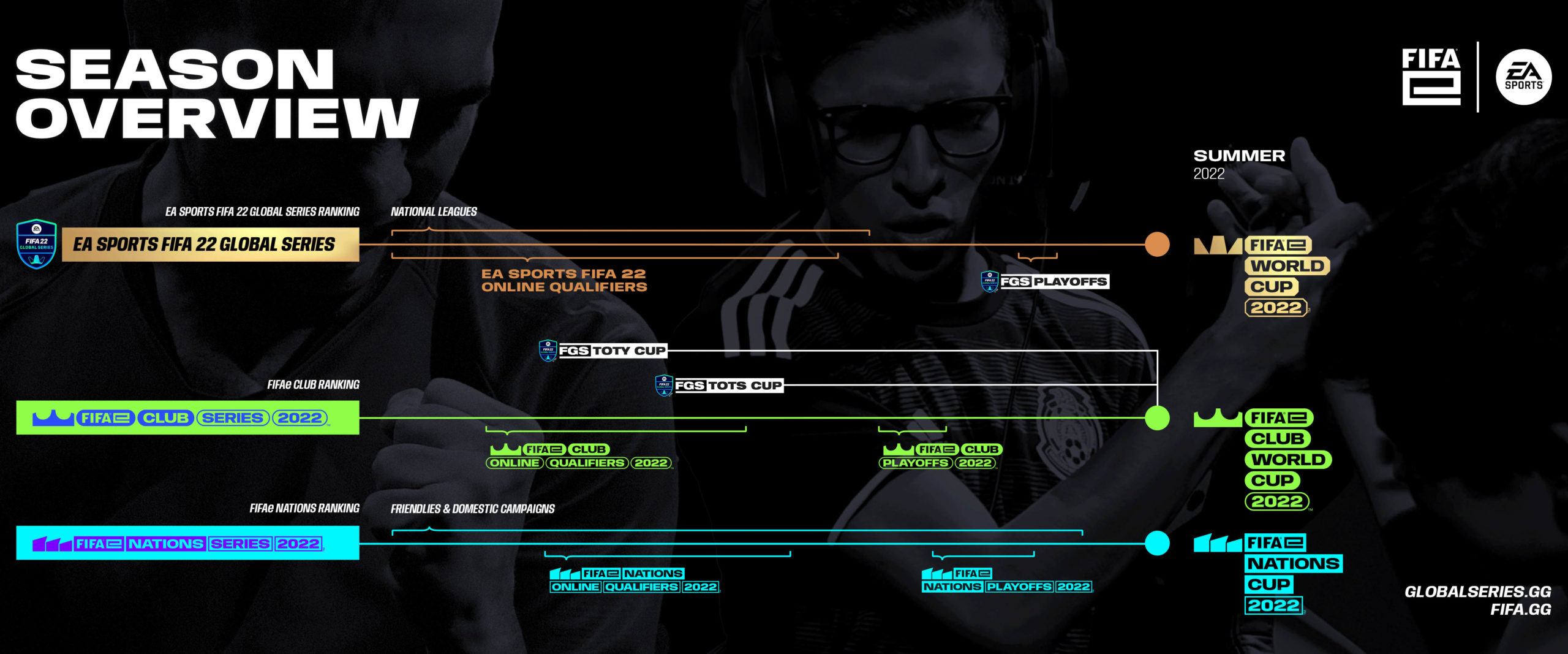 Here are some details for each event:
The Individual Best – EA SPORTS FIFA 22 Global Series on the Road to the FIFAe World Cup 2022
Qualification starts on 27th November as the traditional 1v1 competitive FIFA format is showcased with online tournaments across 10 global regions. Register to compete HERE on 4th October.
In addition, more than 30 leagues offer esports programs, Official League Partners, including the Premier League, Bundesliga, LaLiga, Ligue 1, MLS, CONMEBOL Libertadores, and UEFA Champions League will give fans residing in each respective nation the opportunity to represent real-world clubs.
The EA SPORTS FIFA 22 Global Series Rankings will be available on GG.
FIFAe Club Series including the Debut of 2v2 FIFA Ultimate Team™ (FUT) Cups
The FIFAe Club Series 2022 featuring 2v2 competition begins this November with the FIFAe Club Online Qualifiers™ and includes the new FUT Team of the Year and Team of the Season Cups on the Road to the FIFAe Club World Cup 2022.
Prepare your GG profile today, as registrations start on 5th October.
National pride in the FIFAe Nations Series
The FIFAe Nations Series 2022 will feature member associations competing against each other in this global 2v2 competition. Furthermore, national campaigns will find the top competitive stars.
All nations will begin their journey at FIFAe Nations Online Qualifiers, with top national teams advancing to the FIFAe Nations Playoffs on the Road to the FIFAe Nations Cup 2022. Find out more at GG.
The Power of Competitive Gaming as Mainstream Entertainment
Watch the first entertainment-focused tournaments of the season as celebrities, football stars and top FIFA competitors showcase the 2v2 potential.
30 September: Watch legends across football, music, esports and entertainment raise money in the Twitch Rivals eSoccer Aid for UNICEF ft. FIFA 22. Pitting Team Soccer Aid World XI against Team England.
21 October: FIFA 22 Challenge will feature top ambassadors representing Team adidas and Team EA SPORTS. Reveal of the full participant list, and a special announcement for FIFA Ultimate Team (FUT) fans, will be later announced in October.
More information about the FIFAe tournament series including its new FIFAe Squad and FIFA Sound strategy can be found on FIFA.GG.