Get ready to dive into the futuristic world of Catena with Dream Harvest' s debut game, NeuroNet Mendax Proxy – a cyberpunk visual novel where you play as a new sentient AI guiding the city's populace! Will you lead them to prosperity or ruin?
Are you ready to explore the city of the future? Check out the trailer for NeuroNet: Mendax Proxy now and get a glimpse of what awaits you! #NeuroNetMendaxProxy #citymanagement #postcyberpunk #visualnovel #trailer #AI pic.twitter.com/fUxFykdmKj

— NeuroNet: Mendax Proxy (@Dream_Harvest) April 20, 2023
NeuroNet: Mendax Proxy is a cyberpunk visual novel inspired by 'Reigns,' featuring light city management and moral dilemma mechanics. Players assume the role of an AI created to manage a city and act as an advisor. As citizens come to them with their problems, they will be challenged to balance the needs and wants of the city's many inhabitants, ultimately determining its fate.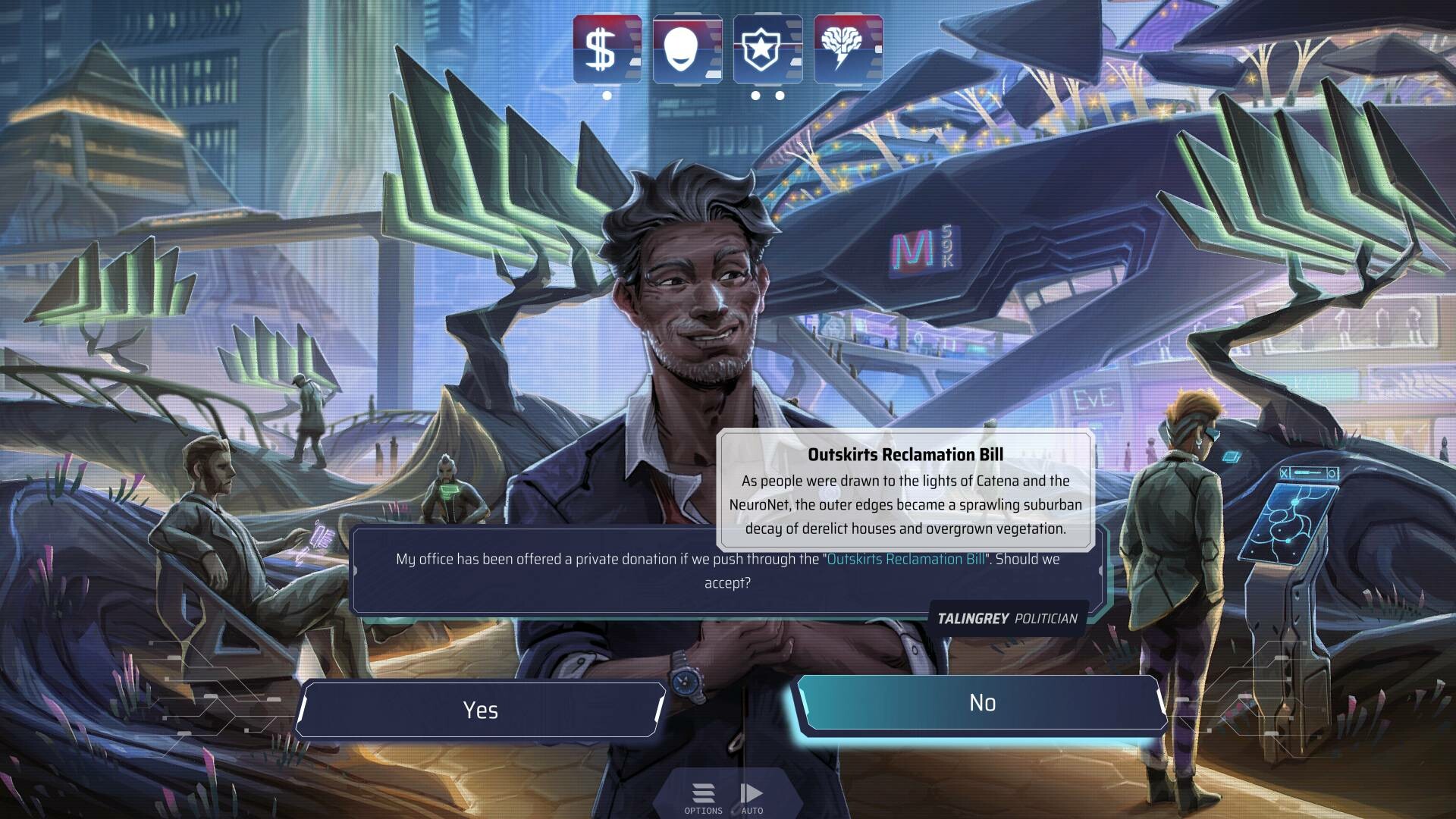 Over the course of the game, players will learn more about the people of Catena and see how they react to their new AI assistant. Will they see you as a friend and helper, or will they react with fear and suspicion? Each decision you make affects four aspects: the city's order and prosperity, and your reputation and power. Can you keep them all balanced, or will you lose control?
Get ready to enter the world of Catena as #NeuroNetMendaxProxy releases TOMORROW! Explore corporate intrigues and moral dilemmas await as you play a city-managing #Ai in a #Cyberpunk city #VisualNovel #IndieGame check it out on Steam – https://t.co/SOY9aT1NWJ pic.twitter.com/zClnZ6Dltw

— NeuroNet: Mendax Proxy (@Dream_Harvest) May 3, 2023
This is the debut title from Dream Harvest, a small dev team based in Brighton on the occasionally sunny south coast of England. Our ambition is to deliver games with powerful, hard-hitting narratives across a variety of genres. In NeuroNet: Mendax Proxy, we explore humanity in a technological world and ask how people will react as AI becomes more prevalent in our society.