Hello everyone! This time around we managed to get the Persona 5 "Take Your Heart" Premium Edition for unboxing and review, and I must say this CE is a beauty! This is also our first time attempting to do an unboxing video, so hopefully you will enjoy our new form of presentation. We hope to do more unboxing videos in the future and we definitely welcome any suggestions and feedback on how we can improve on our videos (we are new to this)
Check out our unboxing video!
There are not many items in this CE so this review is going to be brief. Items included in this CE are :-
Collectible outer box
Soundtrack CD by Legendary Composer Shoji Meguro.
Steelcase.
4" / 10 cm Morgana Plush.
63-page hardcover art book.
School bag, Persona 5 theme with the Shujin Academy Crest.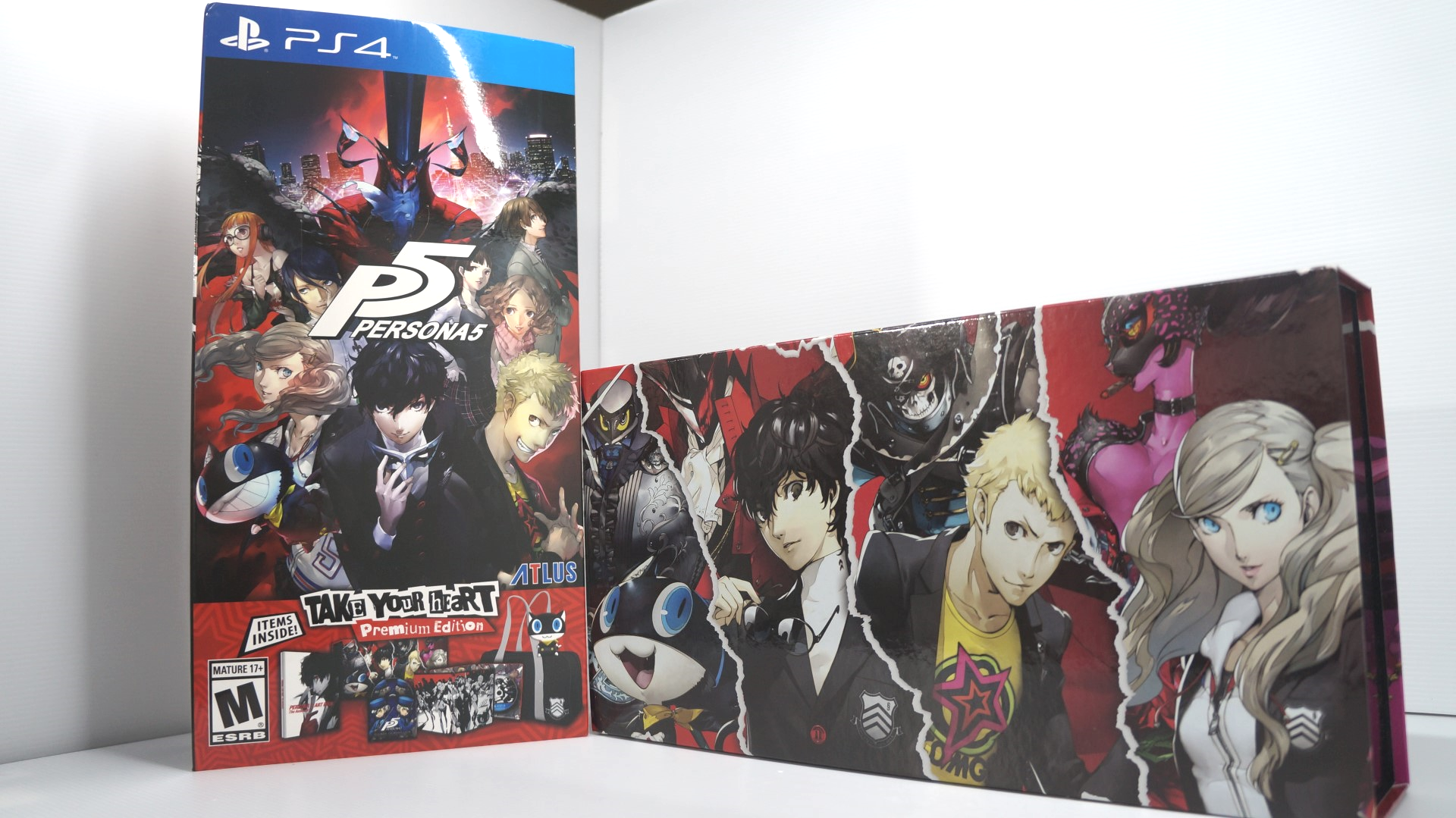 The Persona 5 Collector's Box is well designed. The entire box is filled with character arts and colours, making this box one of the more decorated CE boxes I've seen. The material quality of the box however did not impress me, it felt light, fragile and cheap. If only it was made of harder card boxes instead of thin ones, it would have weighed more and give more "Premium" feel. Not a perfect box but the beauty of its design is undeniable.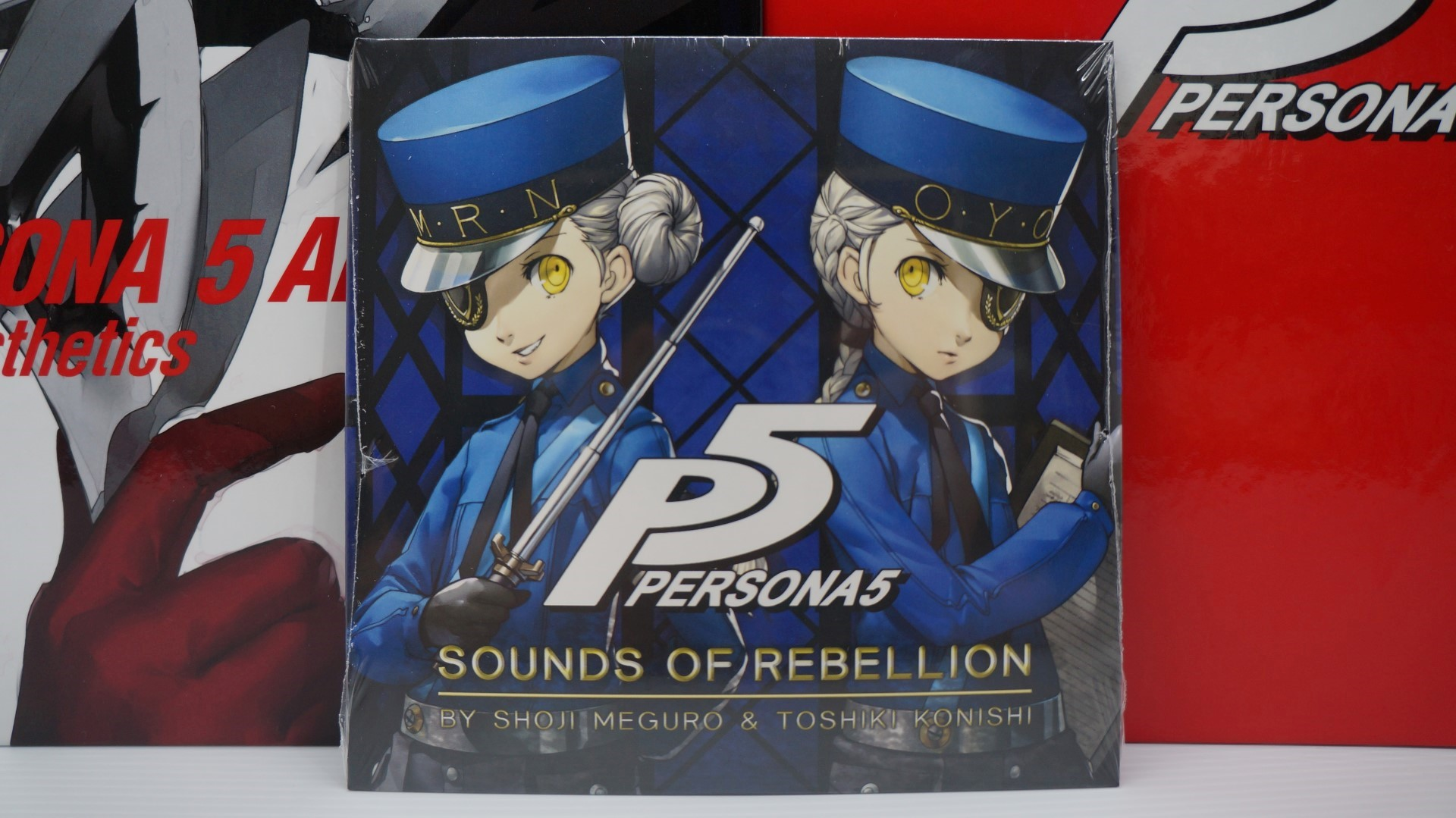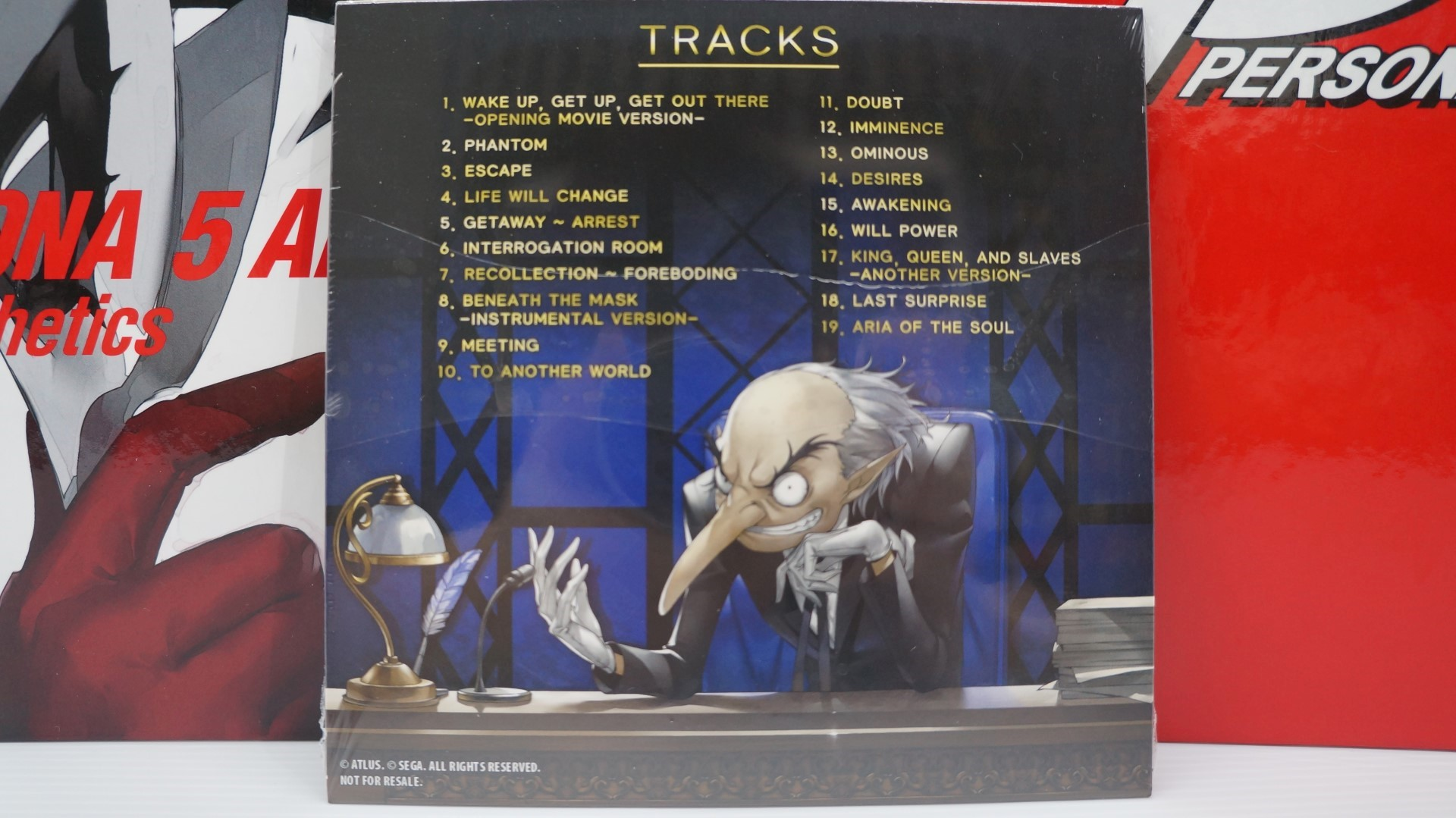 The soundtrack CD with the work of Shoji Meguro! No doubt, the content in the CD contain the work of one of the industry's finest talent. Music enthusiast will be pampered by the 19 tracks that comes with Persona 5's premium edition. However, I'd be ignorant if I did not point out the lack of effort in making a better CD case. A paper card made CD pocket case is something I'd not associate with the word "Premium". Here is a simple why, a pocket case cannot be sealed and the mouth of the pocket will always remain opened. If any dust or bits find their way inside, they may scratch the surface of the CD. If you keep it horizontally and stack some stuff on it, you risk damaging your CD.
There are some better CD Case option out there, made of paper card on the exterior and with a plastic of CD holder on the inside. The CE of Sword Art Online Hollow Realization and Overwatch's CE are both using that and they are a good examples of how budget can also result in quality.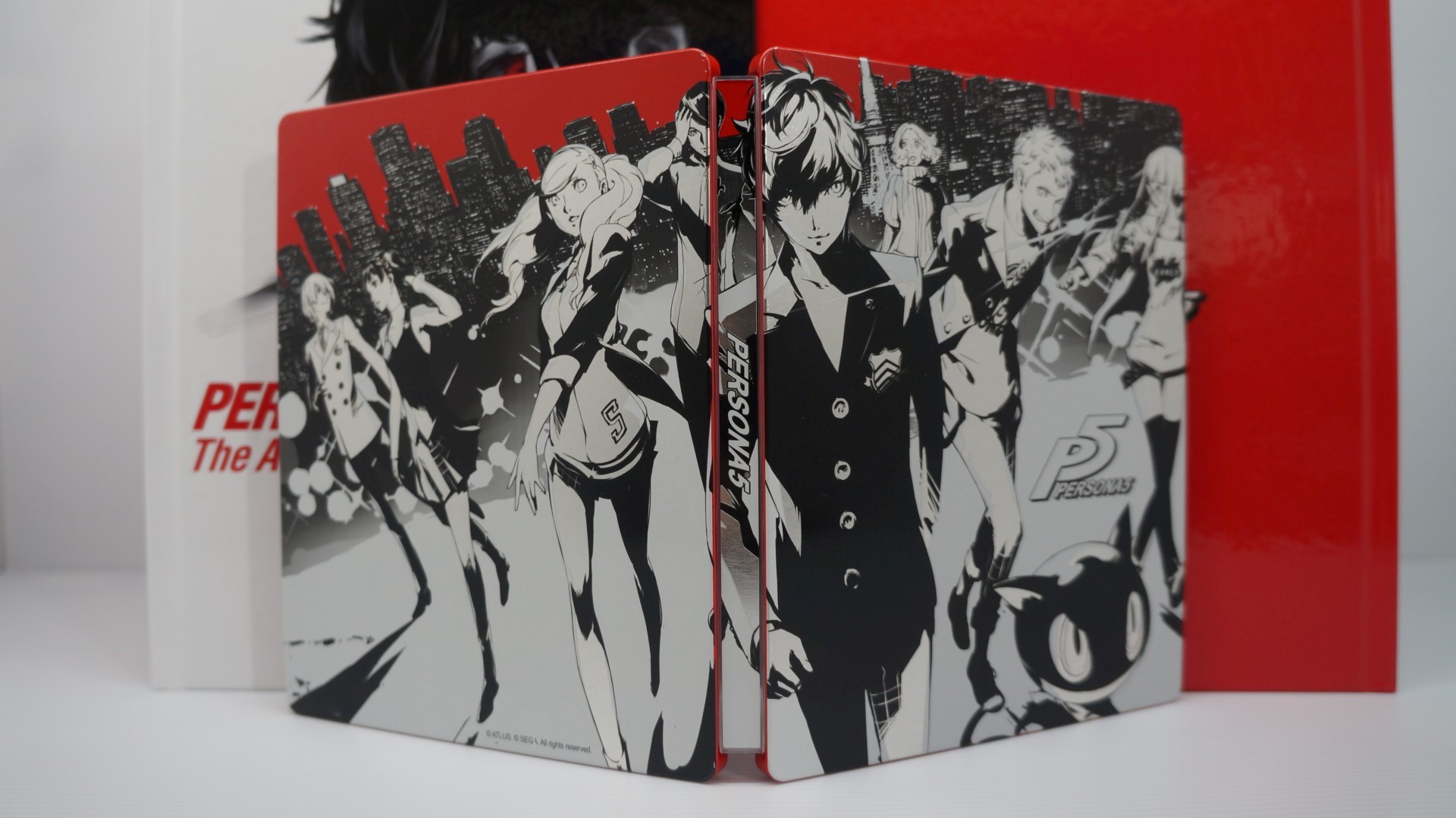 *Wiping drools* ..The Persona 5 Steelcase is one of the best I've seen! So beautiful, so mesmerizing on every front! Its simply amazing, I have nothing against it at all.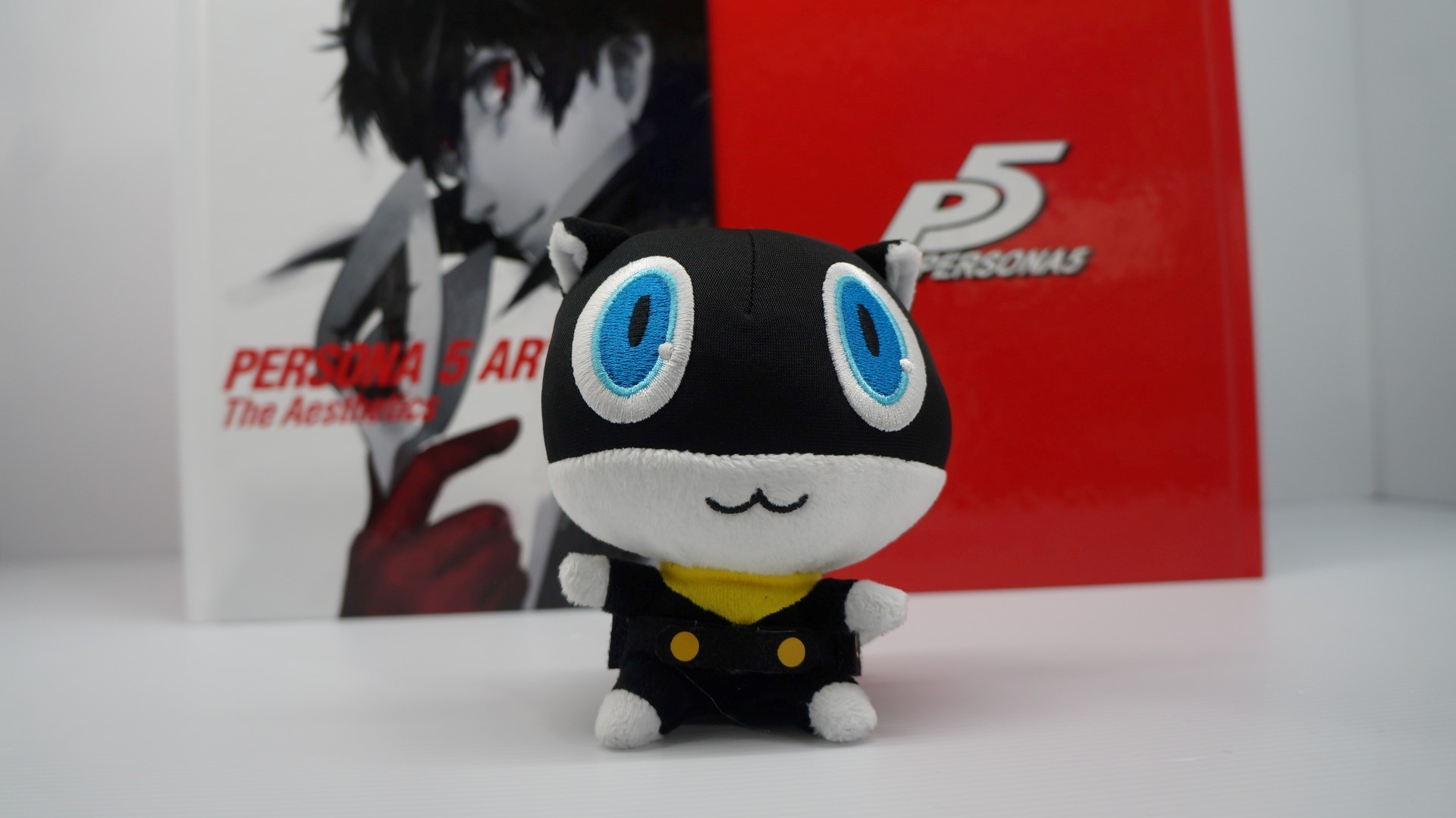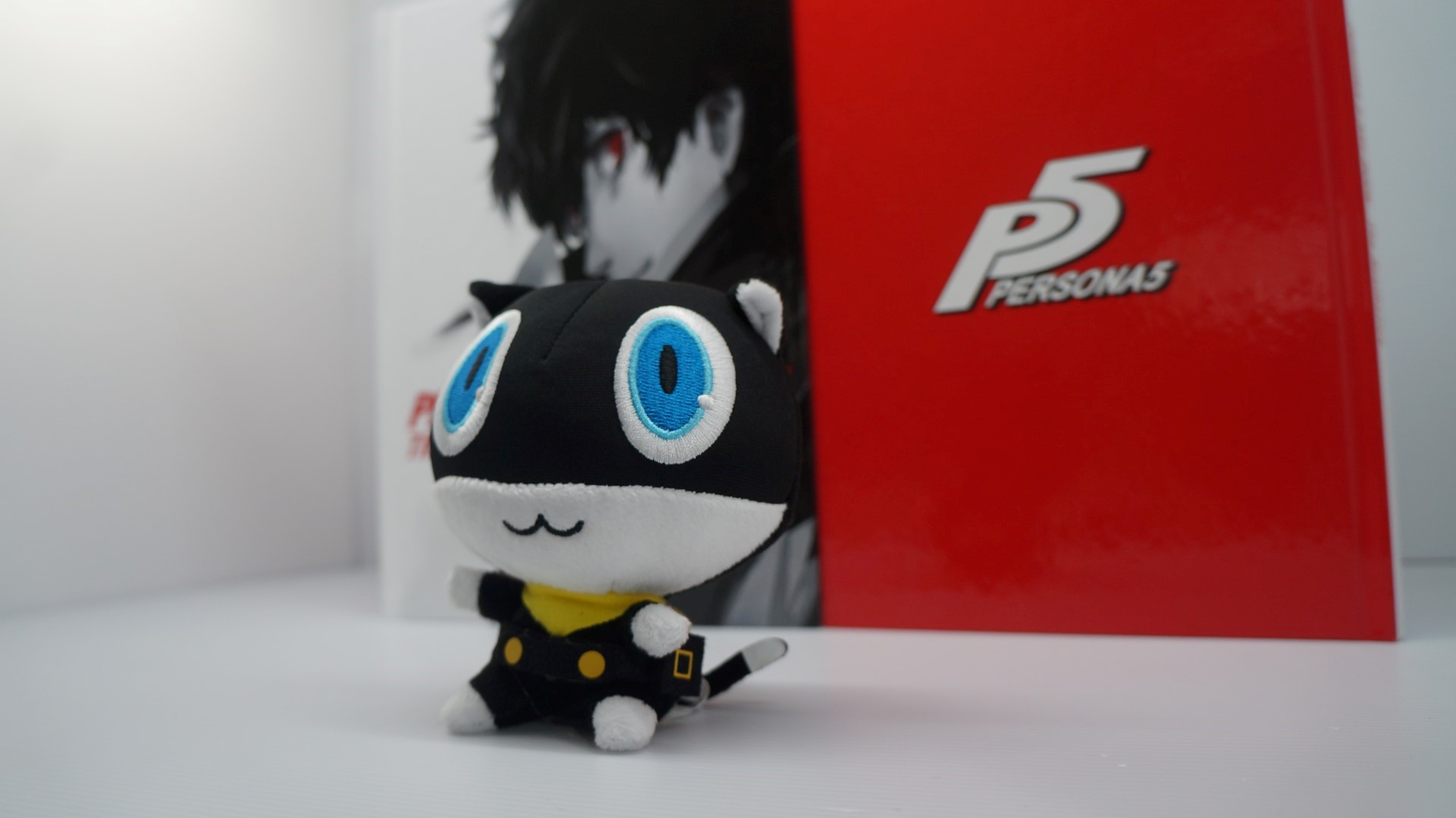 Morgana Plush! They say this is also a keychain, I'd never ever let this thing near any keys. Not going to risk it getting rust and dirt on its cute face. Nothing much to comment here actually, the quality seemed ordinary. Its a normal plush with a cute cat lip smile :3
Behold! All bow before the A4 Sized, Hard Covered Art Book! Before you get confused, the CE only comes with 1 book, we happen to have 2 CE with us during the Photo & Video shoot so we placed 2 books [Front & Back view] for easier viewing. I love how they design the Artbook covers. Not overly complicated and not too simplistic, just nice.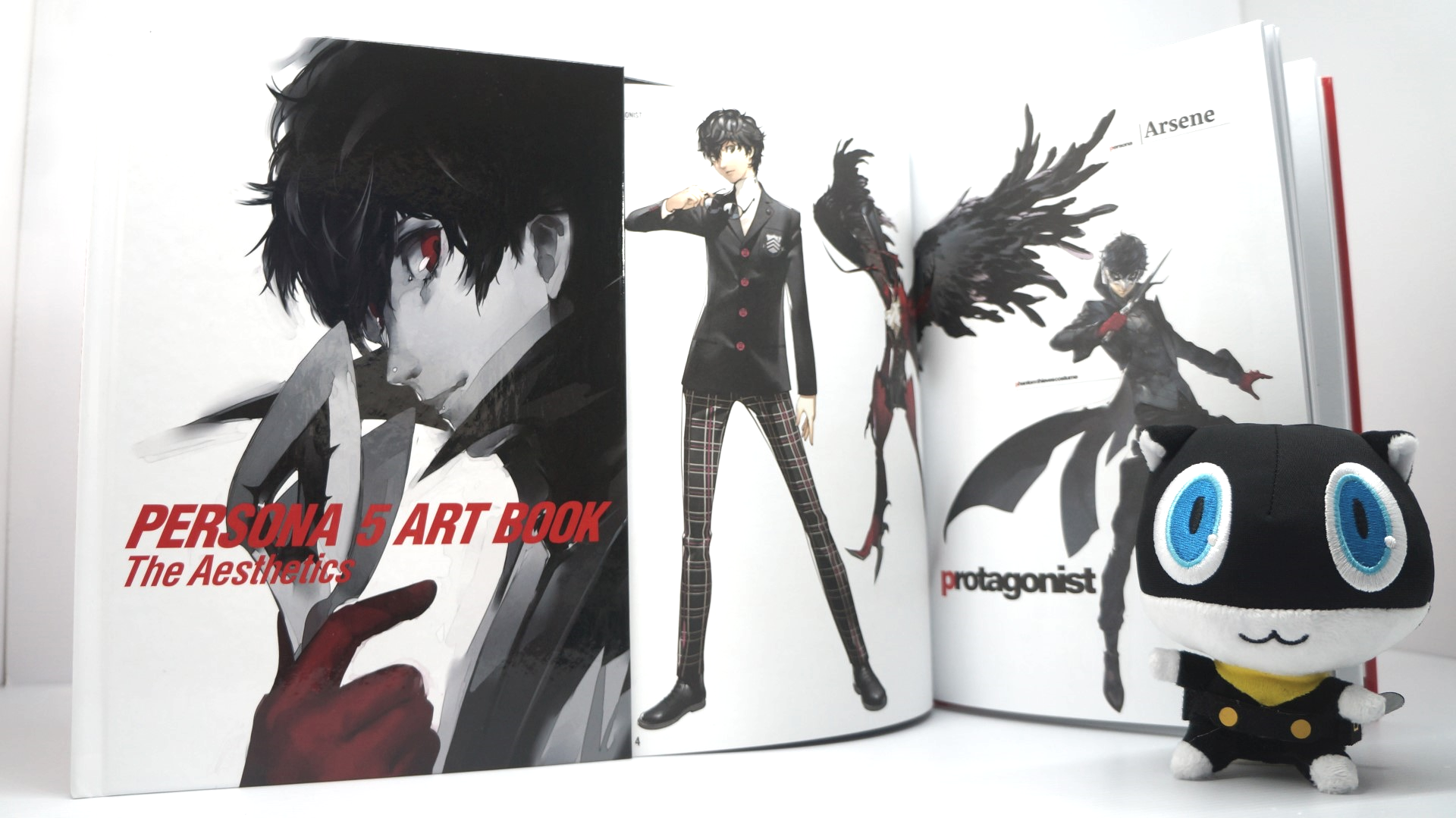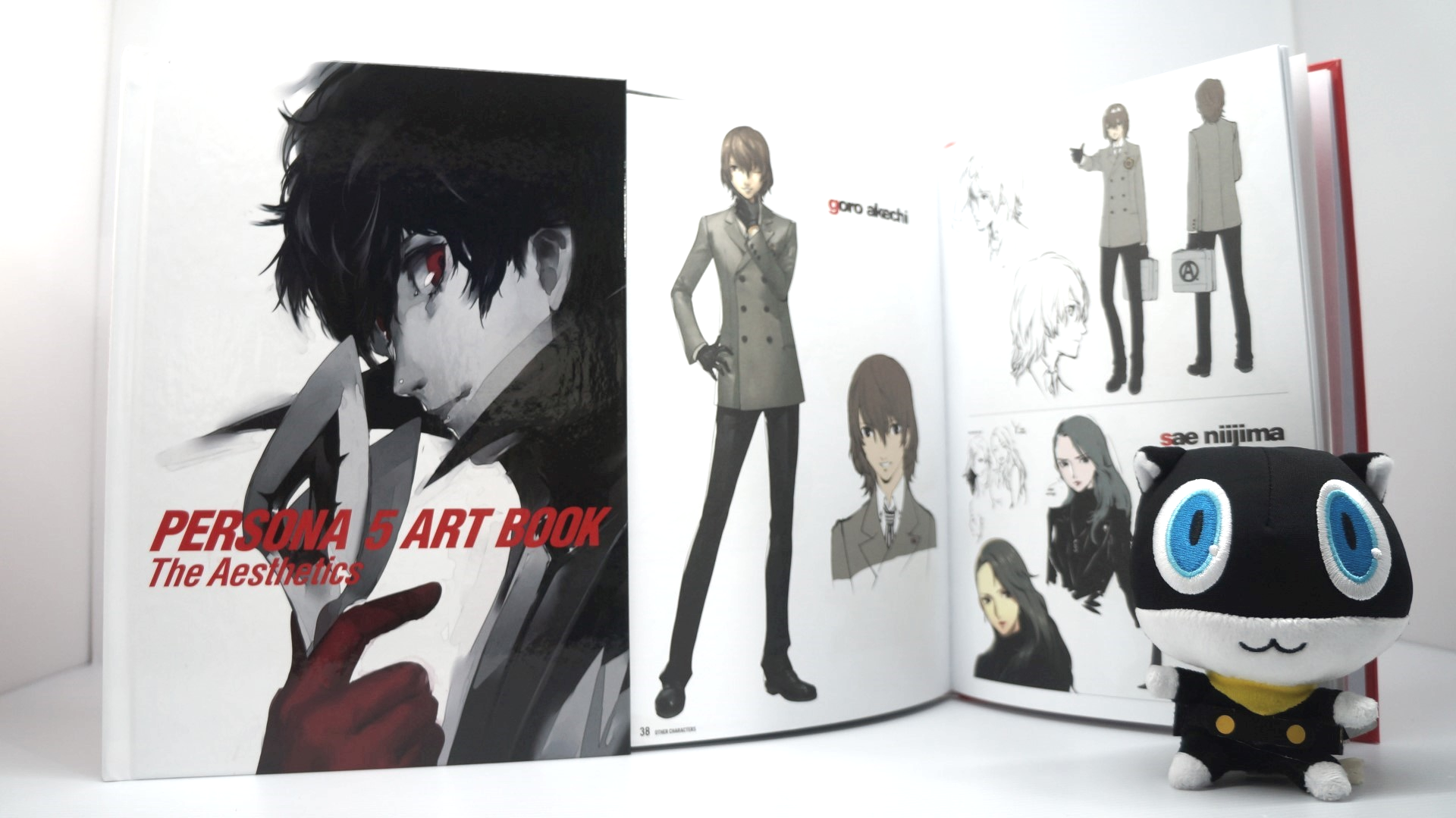 The book cover mostly on character arts, I can imagine how Persona fans would drool all over it. Previously I've been making a fuss on how CE from Sony's Exclusive titles are all under par, not only were they too stingy to show more arts, the book itself was also very small. I sincerely welcome the return of A4 sized Artbooks where fans can browse through pages comfortably and scan through artworks with ease. The P5 CE comes with such luxury and the artwork in it are very nice.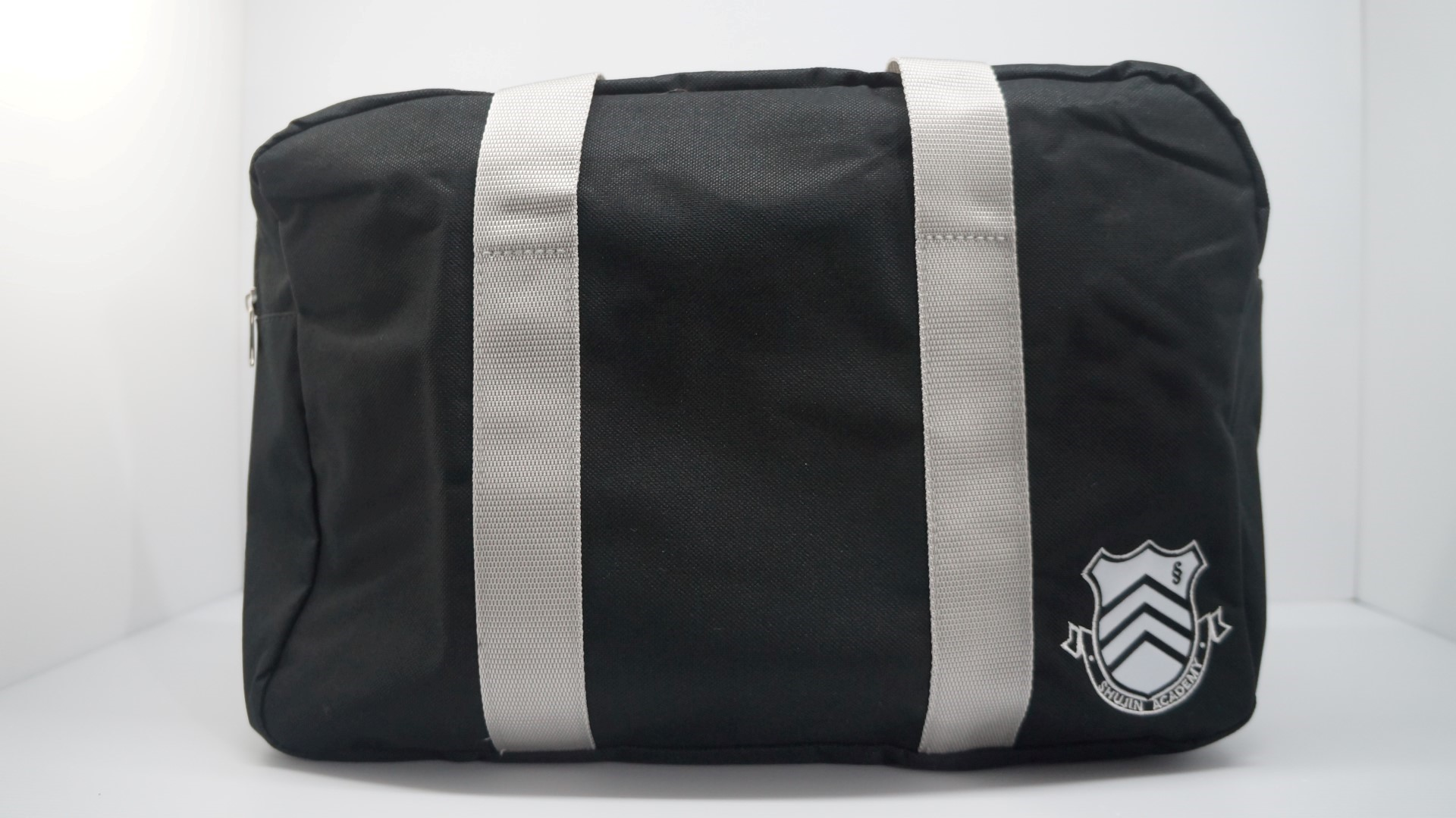 Here comes the main item! The shining star item in Persona 5 "Take Your Heart" Premium Edition! An ordinary , extremely light weight school bag that is only good for carrying light items. Anything heavier than 3 text books and you risk damaging the bag. But then again, this is a Collector's Edition item, so it isn't meant for us to use it for our daily stuff. The design as you can see is ordinary but it does give a Persona 5 feel (coz they stitched the Shujin Academy crest on it but they didn't do a very good job at it, so don't let this bag go near your keys too, you have been warned.)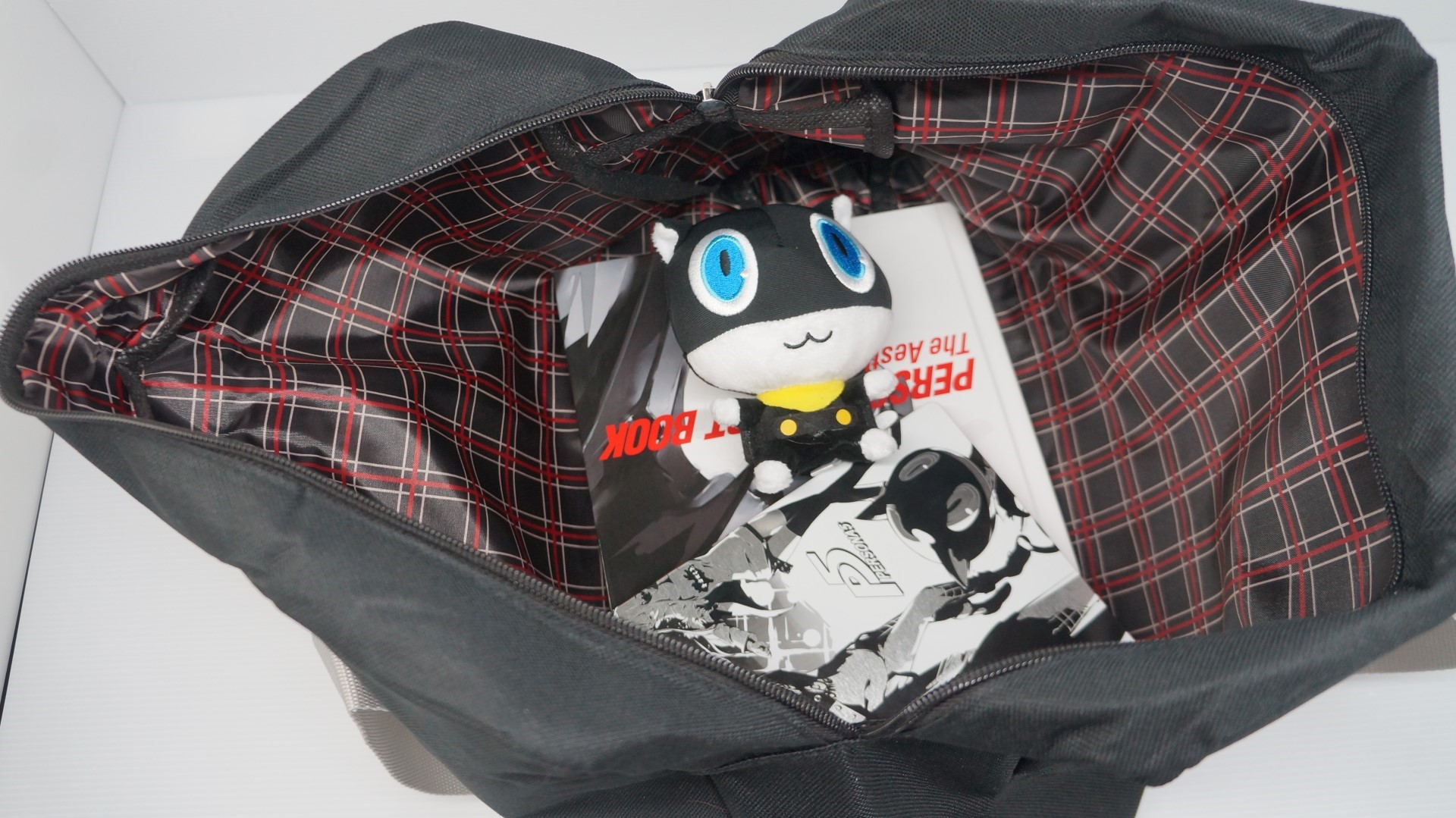 The inside of it is amazing, very Persona 5 feel, apparently the interior pattern of the bag is the same as the school pants pattern in the game, I really like to see details like this embedded in a CE. Overall I am happy with the bag.