CODE VEIN DELAYED – Bandai Namco Entertainment America announced earlier today on the release date of their highly anticipated upcoming Dark Souls like action role playing game Code Vein has been pushed to 2019. Originally planned for release in the coming September 28th, Bandai Namco came to a decision to "dedicate additional time to further developer CODE VEIN to ensure that the final product delivers on the expectations set amongst media and fans"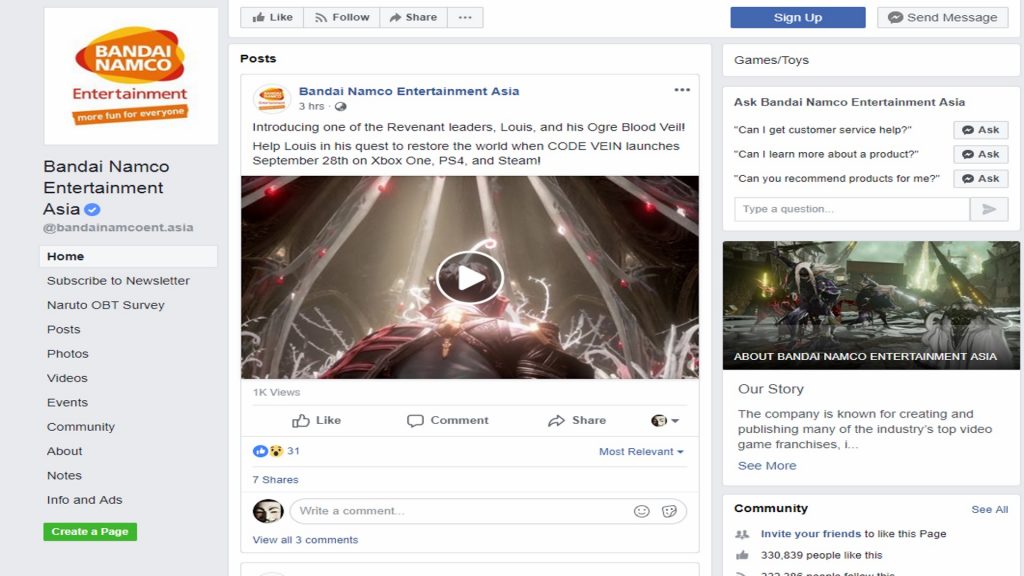 Shocking indeed. The sudden handbrake so close to launch date seemed to have confused many fans including Bandai Namco Entertainment Asia themselves. The post on their Facebook page still pointed towards 28 September as the game's release date. As shown in the screen shot above, as of 3 hours ago from this post was published, Bandai Namco Entertainment Asia was probably unaware of their American counterpart's announcement. Or maybe their Social Media staff didn't get the memo. As of right now there is still no confirmed actual launch date other than it coming in 2019.
Full Press Statement from Bandai Namco Entertainment America Inc. regarding the delay.
BANDAI NAMCO Entertainment America Inc. today announces that CODE VEIN will be moving its release date to 2019 from the previously announced date of September 28, 2018. Throughout its prerelease promotion campaign, CODE VEIN has consistently garnered positive reactions from both media and consumers. With this knowledge, BANDAI NAMCO Entertainment Inc. has made the decision to dedicate additional time to further develop CODE VEIN to ensure that the final product delivers on the expectations set amongst media and fans.

"CODE VEIN has received an enormous amount of positive feedback from eager fans who have received hands-on time with in-development versions of the game over the past nine months," said Eric Hartness, Vice President of Marketing for BANDAI NAMCO Entertainment America Inc. "Armed with knowledge of how well the game has already been received, we made the decision to postpone the release of CODE VEIN to further refine its gameplay in an effort to exceed the expectations fans already have of the title. It was a difficult decision to make, but we feel it is the correct one."

Venture into the post-apocalyptic land of CODE VEIN and uncover its secrets. Players will be able to craft their own unique character and customize their experience by equipping numerous weapons, items, skills, and gifts to accommodate their favorite fighting style or gain a competitive advantage against impossible odds. Various A.I. controlled partners will also be on-hand to explore the interconnected world with their own specialized attributes and personalities. CODE VEIN will be available in the Americas in 2019 for the PlayStation®4 computer entertainment system, Xbox One, and PC via STEAM®.