On December 8th, players legendary journey in Warzone Pacific begins with Season One of Call of Duty: Vanguard and Warzone Pacific.
With a brand-new map built on learnings from the community, Warzone Pacific marks a new era of pulse-pounding tactical combat on a massive scale. Featuring a dedicated Playlist with new vehicles and Vanguard weapons, Warzone Pacific's first season kicks off another year of free content, all based on your own grand epic of stamping out the last of the Axis resistance.
Welcome to Paradise: the new home for Warzone Pacific known as Caldera.
New Warzone Pacific Map Caldera Detailed
On December 8th, Vanguard owners will receive 24 hours of exclusive access to Caldera, the brand-new Warzone Pacific map. During this initial period, all Warzone players will be able to drop into Rebirth Island. After this exclusive period, Caldera becomes accessible to all players, with Rebirth Island returning later in Season One.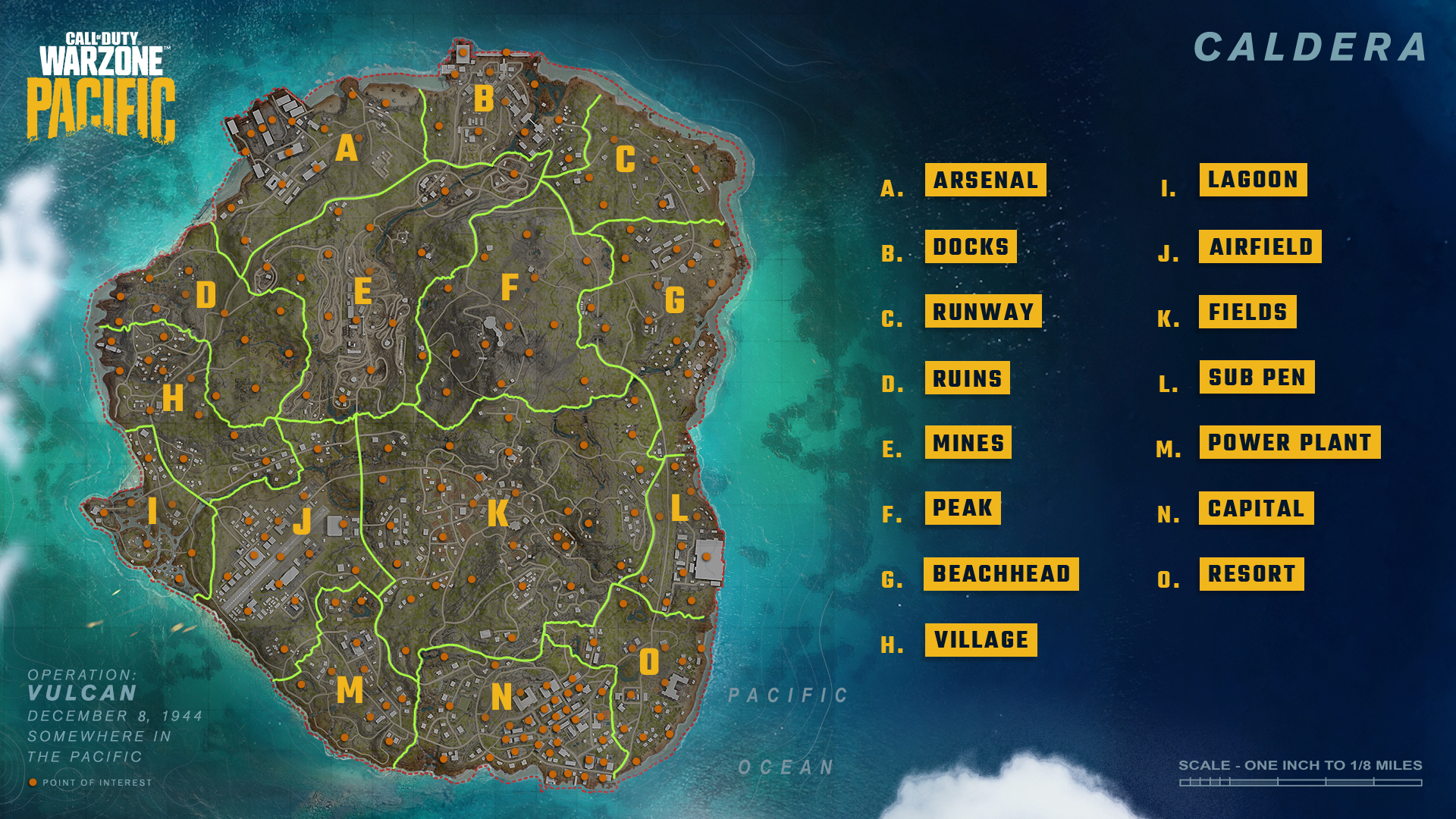 Caldera comprises 15 huge, distinct areas to explore and fight across once Operation Vulcan begins. There are also hundreds of lesser points of interest to investigate and use to your tactical advantage.
Warzone Pacific — Day One Playlists, Content, and RICOCHET Anti-Cheat Driver Rollout
Outside of Caldera, which Vanguard owners can access on December 8th before all players drop in on December 9th, Warzone Pacific will overflow with new content, including all Operators and Weapons from Vanguard as part of the integration:
40 Weapons: The core 38 weapons from Vanguard's launch, plus two free functional weapons in the Season One Battle Pass. All of these can be personalized with unlocked camouflage, and every ballistics-based weapon can be further customized with up to 10 attachments through the Gunsmith.
Over a Dozen Operators: Each of the Operators from S.O.T.F. 002–005 are ready to drop in alongside Special Operations Task Force 006 arriving this season…
Calling Cards, Emblems, and More: Show off your progress in Vanguard since launch to everyone in Warzone.
At the start of the season, cross-progression between Vanguard and Warzone will be enabled, allowing you to rank up through Seasonal Prestige and unlock new content through the Battle Pass and Challenges. Also, expect the Store in both games to contain new Bundles featuring Vanguard content.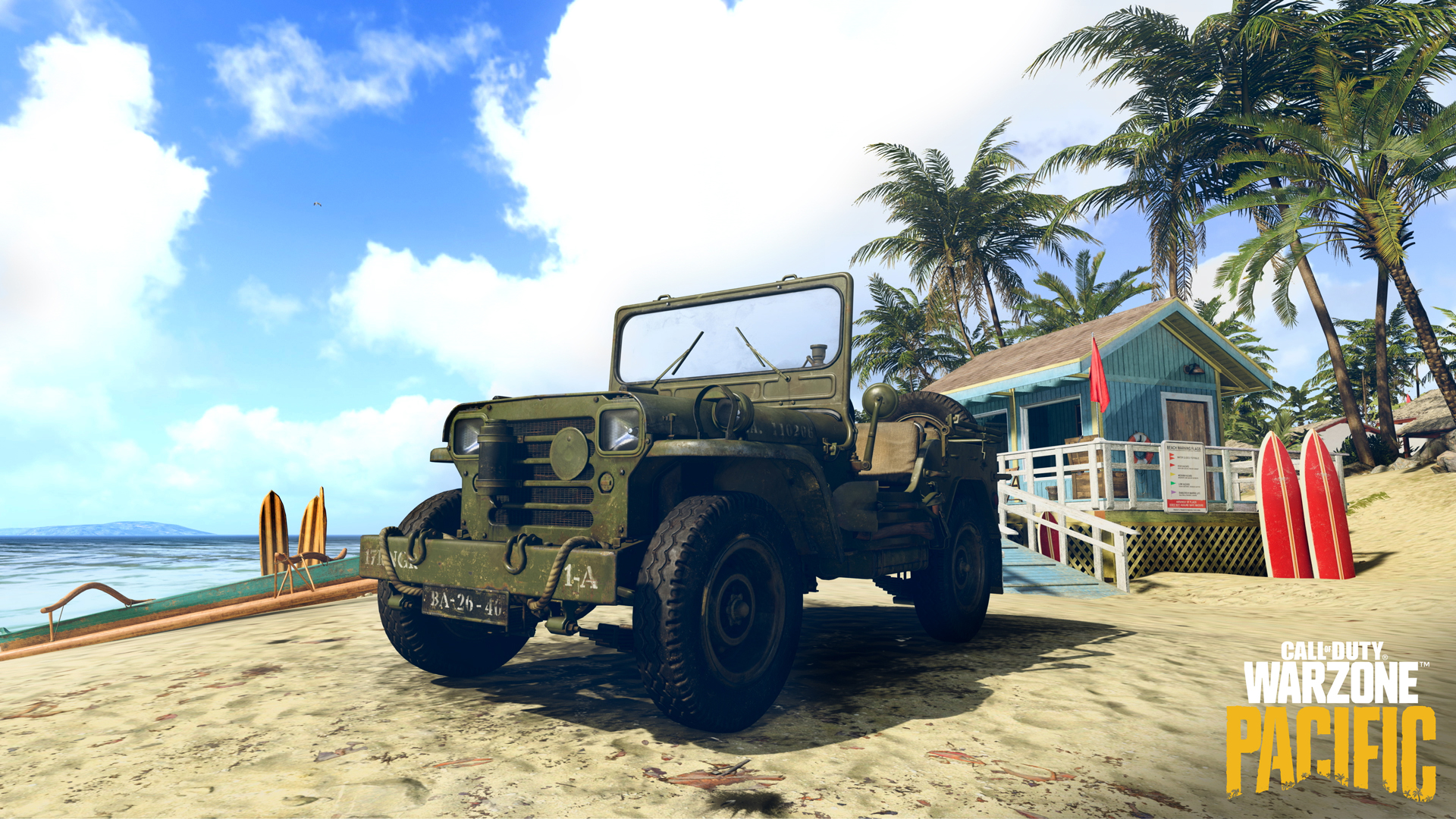 Vanguard Royale — Explore All New Content with Dogfighting, Updated Land Vehicles
Available to all players on December 9th with Vanguard players gaining exclusive play access on December 8th with Caldera, Vanguard Royale leads Season One's featured Playlist rotation with a game mode that puts a fresh set of vehicles and a streamlined Loadout and weapon pool on the brand-new map.
Specifically, there are two major differences between a Vanguard Royale and traditional Battle Royale:
New Vehicles and Dogfighting. Fly fighter planes that rain down fire on foes or head for the AA guns or trucks to shoot them out of the skies. There are also other ground-based vehicles, including a Squad Transport all-terrain car that will help your squad cut through and around the island.
A Focus on Vanguard Weapons. Loadouts can only contain Vanguard weaponry, streamlining the meta for more accessibility and room for experimentation. Expect all weapons around the island to also be from Vanguard. Operator selection is also limited to Vanguard soldiers.
Circle Collapse Changes, In-Game Events, and More. The radii and times for Circle Collapses are altered to offer a different pace of play, especially with dogfighting overhead. Also, expect an in-game event at each Circle Collapse, Bombing Runs, and different items both within Caldera's overworld and contract rewards.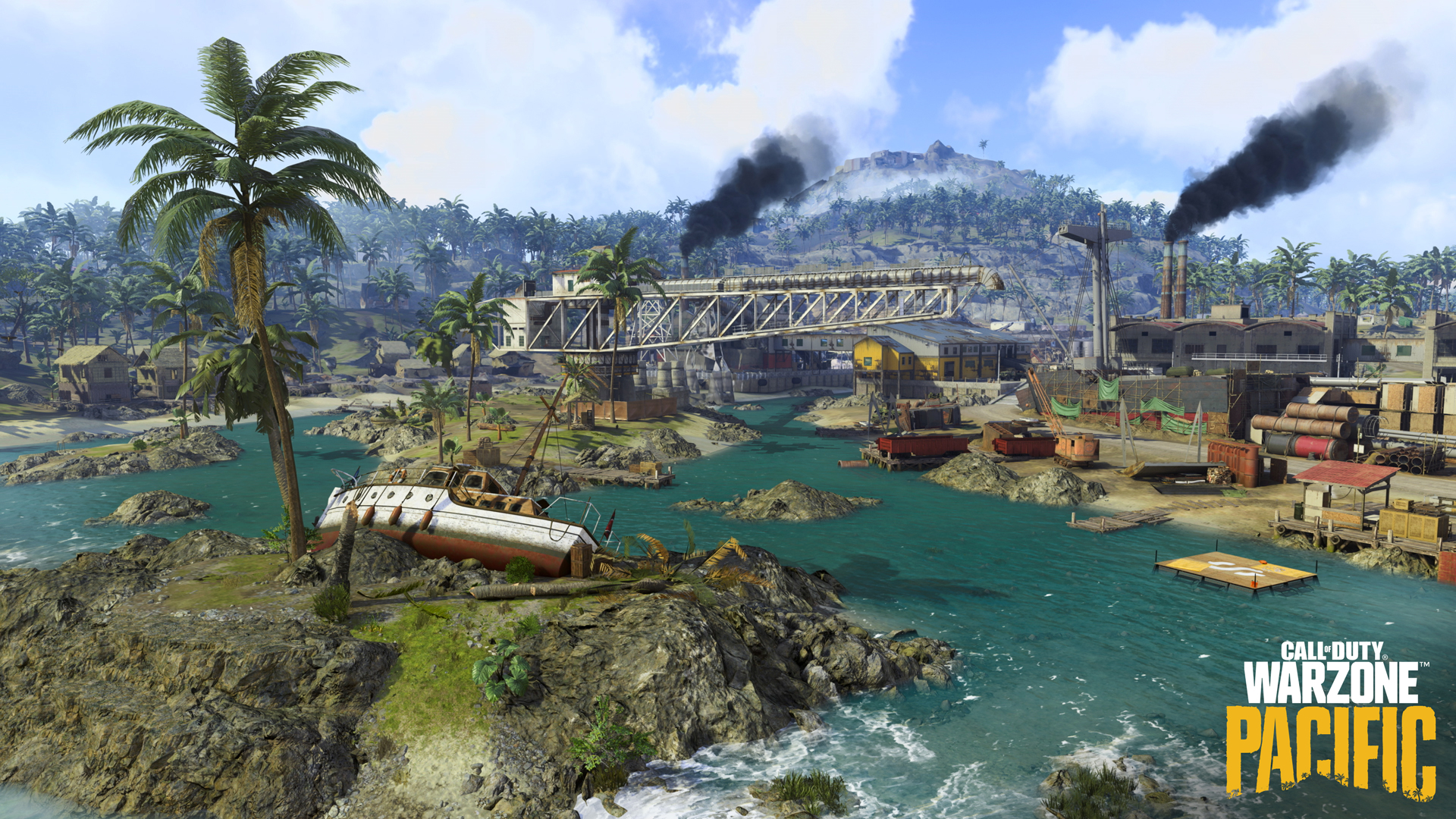 RICOCHET Anti-Cheat Driver to Roll Out with Warzone Pacific Season One
As part of the Season One update, RICOCHET Anti-Cheat will deploy a new, internally developed kernel-level driver on PC to assist in identifying cheaters in Warzone. This will allow players to focus more on the fun new offerings in Warzone Pacific as #TeamRICOCHET fights unfair play with its new anti-cheat security initiative.
This kernel-level driver is coming first to Warzone and will be required for all PC players as of this update. The kernel-level driver will subsequently be released for Vanguard at a later date.
Learn more about Call of Duty: Vanguard Season One and Warzone Pacific on the Call of Duty blog.
For more information on Call of Duty: Vanguard, check out www.callofduty.com and www.youtube.com/callofduty and follow @SHGames, @Treyarch, @RavenSoftware, and @CallofDuty on Twitter, Instagram, and Facebook.