Activision and Treyarch's new season of content for Call of Duty: Black Ops 4 began on February 19th. Called Operation Grand Heist, the season features updates across the entire game, including a new Specialist, new outfits and personalisation items, new Blackout map additions, vehicles and game modes, and much more. There are 100 new tiers and each tier costs $1 (RM4.07) to unlock. In total it would cost $100 (RM406.83) to unlock all 100 tiers.
Starting from the 1st tier for the low low price of $1 (RM4.07) unlocks a new Specialist the Outrider, then for the low fee of $25 (RM101.71) you get to unlock tier 25 which gives players The Cha-Ching! money bag melee weapon, perfect for tight situations during a quick getaway. For $50 (RM203.41) you get to unlock 50 tiers which give you access to the full-auto Rampage shotgun, providing devastating impact at close ranges, and for $100 (RM406.83) you get to unlock the 100th tier which unlocks The Switchblade X9, a new folding SMG with fast reload and ADS times. Not to forget that New Signature Weapons will now be available in Blackjack's Reserves, and will provide a bonus +25% XP boost per kill while using the Signature ("MKII") version of any gun.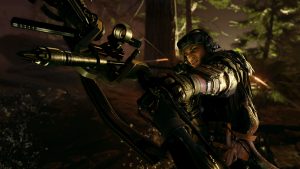 The new specialist Outrider's Special Issue Equipment, the Hawk, is a pilotable drone that can be parked at strategic overwatch positions and will automatically tag enemies in its view to help you find and eliminate your prey. Her Sparrow Special Issue Weapon returns with a boost to its precision and power with accurate, explosive-tipped arrows that detonate on impact. Outrider will be instantly unlocked in Multiplayer and Blackout once players complete Tier 1 of the new Operation in the Black Market or you can always pay to unlock it instantly.
The update also brings a new game multiplayer mode called One in the Chamber. You start three lives and a pistol with one bullet and Land a perfect shot or melee your opponent to gain another bullet and 100 points. Be mindful of the regularly sweeping UAV, and fight to earn the most points to claim victory.
And for the competitive Multiplayer fans, the World League Hub debuts with first League Play Event on Thursday, Feb. 21 on PS4, delivering a new breed of competitive action to Black Ops 4. Play like the pros using the newest CWL ruleset while battling for rank all week long during events. Get all the details on League Play here, and jump into the Pro Series playlist in Multiplayer in the meantime to get your loadouts ready for competitive play.
As for Blackout, you get a new destination: Ghost Town with two big locations and new playable structures throughout the map. Prestige mode finally makes its way to Blackout. Players who Prestige in Blackout will unlock unique Prestige icons, Calling Cards, Victory Coins, and more on the journey to the top.
New game modes for blackout are also set to debut during Operation Grand Heist, kicking off this Friday with Hot Pursuit, a respawn mode featuring three new vehicles, each with unique advantages: the SUV, Muscle Car, and PBR. Roll out in a Muscle Car to spot nearby Supply Stashes or Supply Drops, or put out an APB in one of the new police vehicles with built-in Sensor Darts and the ability to detect occupied Muscle Cars.
More big updates and changes to Blackout are also coming throughout Operation Grand Heist, including Hardcore Mode, a special (top secret) in-game event, and more. Additional weapons are coming to Blackout later in the Operation as well, including the KAP 45 full-auto pistol, Switchblade X9 SMG, Rampage auto-shotgun, and Outrider's Sparrow.
As for Zombies, you get a new Gauntlet: "Death-Con Five", and a new perk called Ethereal Razor. Going forward, players will earn an additional Tier Skip for completing Daily Callings in the Zombies Barracks, giving Zombies players up to two Tier Skips per day.
Black Ops Pass Content
Black Ops Pass holders will receive 2 new intense Multiplayer maps that will immediately join the standard map rotation in Core and Hardcore playlists, as well as a new Blackout character from Dead Ops Arcade at the start of Operation Grand Heist.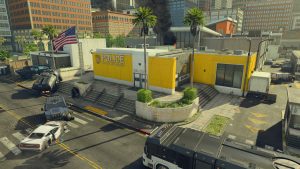 Battle for justice at a Los Angeles police station in Lockup, where teams take sides during an active assault. Secure the rooftops or manoeuvre through the lower floors to gain the upper hand and lead your squad to victory.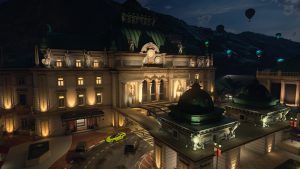 In Casino, the heist goes international in an upscale Monaco gambling resort. Take on unique end-to-end engagements in the lap of luxury, as thieves craft a plan to beat the house and take off with the goods. And remember… always bet on Black.

Additionally, Treyarch has released a calendar roadmap image that highlights the exciting content launching throughout the new season, along with information about future content coming this year.