Organisers of Gamescom Asia shared details of the program line-up for the 2022 edition, to be held in Singapore. To date, over 80 exhibitors from 16 countries will showcase their services, games, and expertise across a larger-scaled physical Trade Zone. The festival also announced country pavilions and a new networking tool, the gamescom biz community, to bring trade visitors a truly global experience under one roof. The Entertainment Zone will feature shows that will be held fully online.
Over 80 exhibitors to showcase their industry expertise and games
Trade Zone: Country Pavilions and Gamescom biz community to offer a global experience and network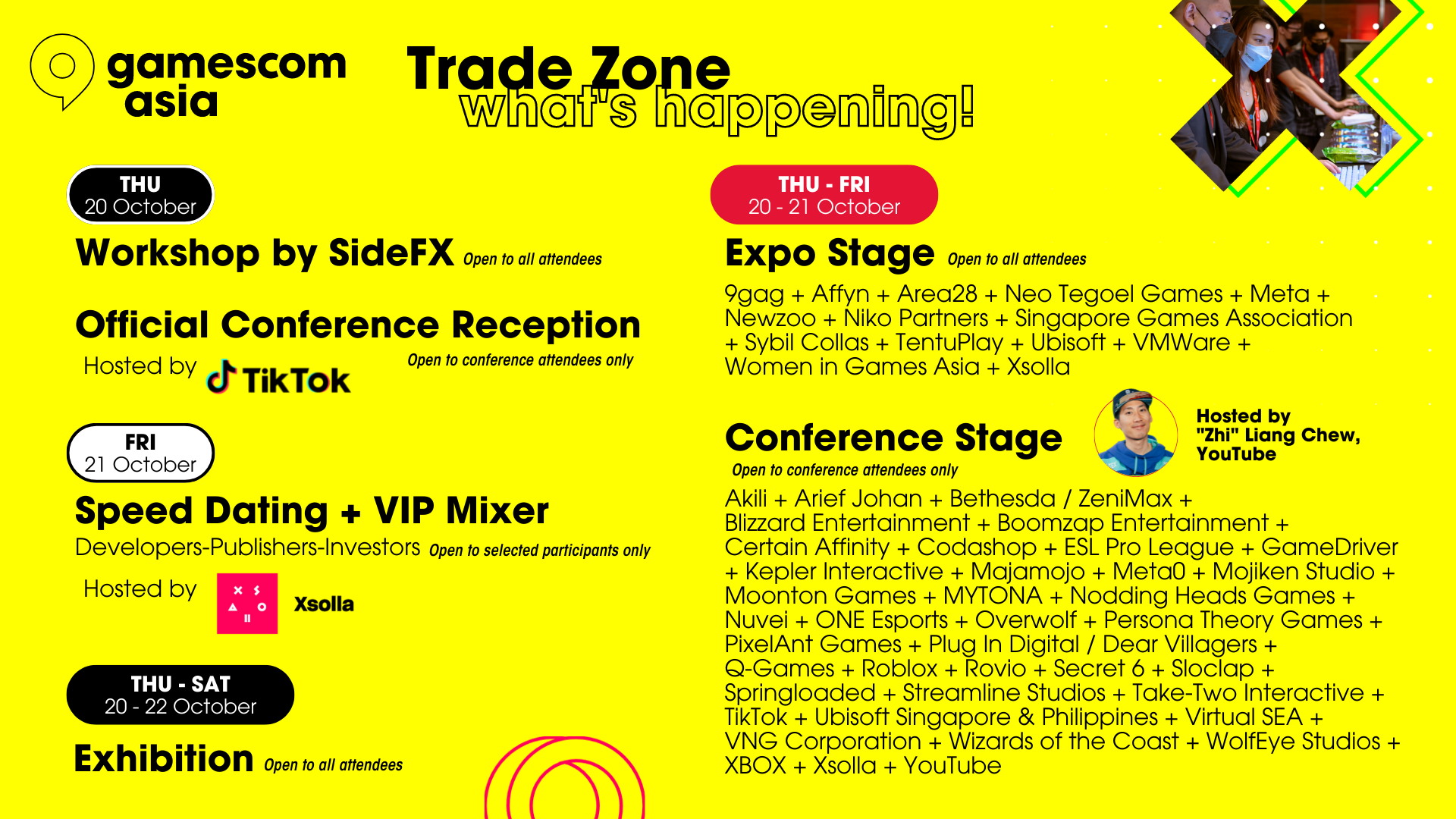 The only satellite event of the world's largest video games festival, Gamescom, Gamescom Asia will be held in Singapore from October 20th–October 22nd. The event includes a physical Trade Zone and Conference exclusively for the industry in Suntec Convention & Exhibition Centre. Two virtual shows PRIMETIME and STUDIO will showcase international and regional game publishers, trailers, announcements, and extended games showcases in a fully online Entertainment Zone (B2C), with game previews and tryouts on the STEAM event page. Online segments are available for all audiences on October 19th and October 23rd.
Trade Zone: Country Pavilions and gamescom biz community to bring the world to Singapore gamescom asia's Trade Zone includes an Expo area and Expo Stage, a Trade Conference, Networking, and a Developer-Publisher-Investor Speed Dating event from October 20th to October 22nd.
With Meta0 as the Platinum Sponsor, other sponsors include Gamedriver, Nuvei, TikTok, Xsolla, as well as Codashop, MYTONA, Scopely, and Xbox. Niko Partners is this year's Knowledge Partner.
Visitors will get to meet and explore potential collaborations opportunities with exhibiting brands and companies including AppTweak, Abysse Corp, Click Entertainment, OVHCloud, Kwalee, MegCD, Keywords Studios, Virtuos Holdings, Leoful, Tentuplay, VisualLight, and Yggdrazil Group.
How much does company culture matter in creating great games? @KeplerInteract @ubisingapore PixelAnt Games @boomzap @streamlinenews discuss the importance of building team relationships and how studios can put that into practice.

Get your tickets at https://t.co/Nt971gDlJ8 pic.twitter.com/l6cgHPeP8w

— gamescom asia (@gamescomasia) October 4, 2022
Hosted by trade associations from Singapore, Germany and Sweden, these country pavilions will showcase local game publishers and industry players. Companies representing the respective countries include Aerosoft GmbH, Black Screen Records and NerdStar UG from Germany, Cargo Studio, General Arcade and Lionfish Studios from Singapore, and Friendbase and Lurkit from Sweden
The Indie Village will also bring together the achievements and potential of indie game companies. They include Arsanesia, Brace Yourself Games, Gripper, Sprytosaur, Tantanmen Games, and more.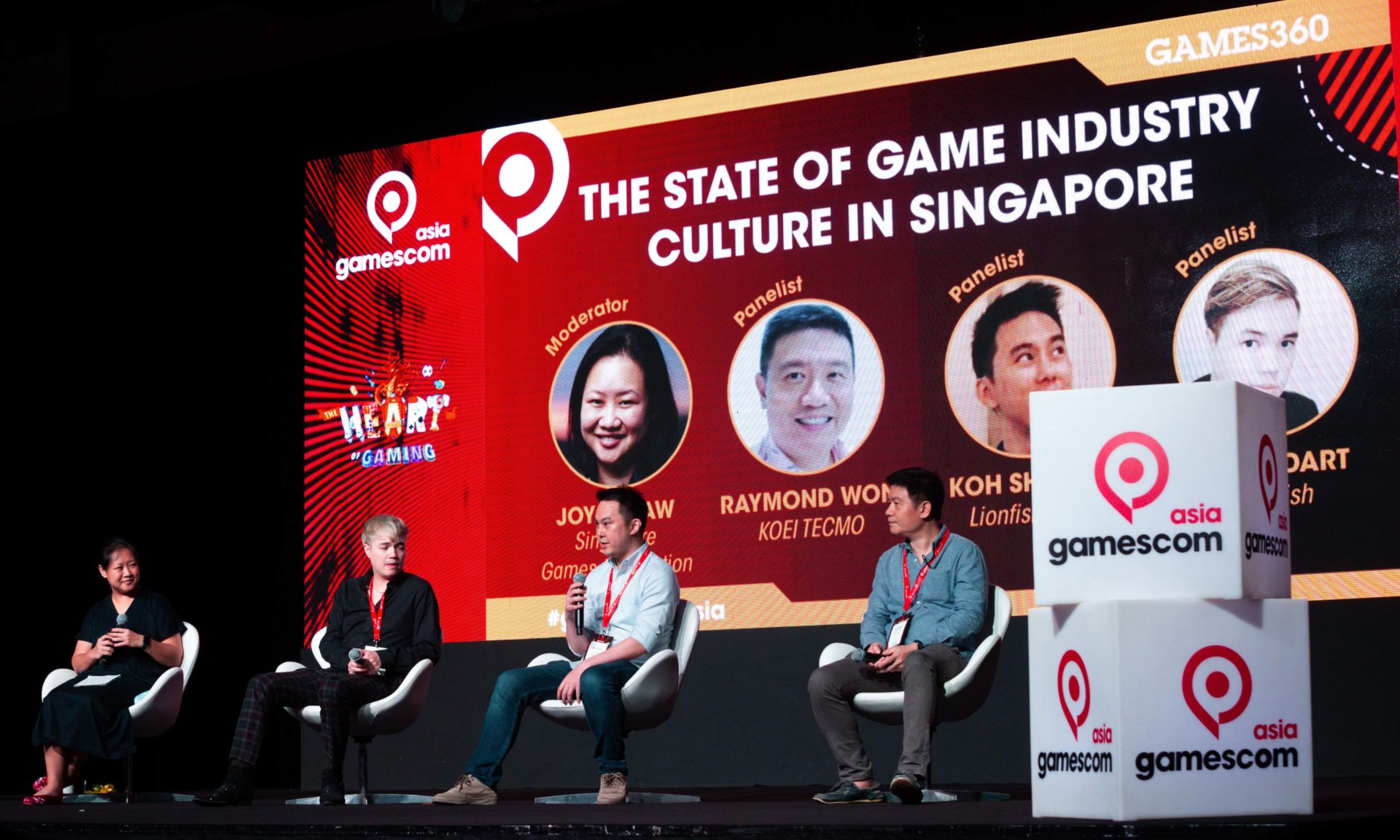 All registered delegates for Gamescom Asia 2022 will be able to use the gamescom biz community app to view and speak to exhibitors virtually, schedule meetings, check out the conference agenda and more, while conference delegates get additional access after the event to watch the conference sessions on demand. As a joint digital platform with gamescom and devcom, the app will remain accessible throughout the year, uniting all three business communities globally to provide visitors with updates and opportunities to forge partnerships via gamescom-related events.
Registration as a trade visitor to the expo area is free for the industry and also includes access to the gamescom biz community. Trade Conference: Distinguished speakers share on top gaming trends. Conference attendees can look forward to over 60 speakers from global game developers and publishers, indie games studios and social media platforms to share their insights on trending topics in the gaming scene. All speakers will be present live in Singapore.
Our next round of featured speakers from @Xbox @Xsolla at this year's conference. The #gamescomasia2022 conference lineup is going strong! Register for your conference passes now at: https://t.co/okuaBgKju0 pic.twitter.com/ysOzYdz7U8

— gamescom asia (@gamescomasia) October 5, 2022
New additions to the lineup welcome Certain Affinity, Springloaded, Plug In Digital/ Dear Villagers, Streamline Studios alongside an already star-studded cast representing Activision Blizzard, Wizards of the Coast, WolfEye Studios, MOONTON, Sloclap, Ubisoft, ESL Pro League, and others.
Topics will revolve around discussions and case studies on development and production, narrative and design, mobile games, community management, business and marketing, payments, and future trends. Highlights include:
October 20th:

Panel on "Culturally-infused games" by Mojiken Studio (Indonesia), Persona Theory Games (Malaysia), Secret6 (Philippines), Arief Johan (Malaysia), Virtual SEA (Sri Lanka)
Panel on "What's happening in the Esports space" by ESL Pro
League, MOONTON Games, ONE Esports, YouTube.
October 21st:
Presentation on "The Global Appeal of Asia-Made Indie Games" by
XBOX
Presentation on "Architects of the Metaverse" by Roblox
Panel on "How Game Publishing is Evolving" by Bethesda/ Zenimax
(Australia), Pug In Digital/ Dear Villagers (France), Majamojo
(Indonesia), VNG Corporation (Vietnam), Take-Two Interactive
(Singapore)
The full agenda and speakers list can be found on the Gamescom Asia website.