Adventure game aficionados the world over, sit up and pay attention: Revolution Software is gearing up to welcome fans new and old to Broken Sword in the months and years ahead, lifting the lid on two exciting new projects at this year's Gamescom in Köln.
First up, Revolution Software is excited to reveal the sixth chapter in the Broken Sword series. In development for console, PC, and mobile, Broken Sword – Parzival's Stone offers a major evolution in adventure gaming with the simplicity of a point-and-click adventure brought bang up to date with innovative, immersive gameplay. A unique 'Super 2D' graphic style offers stunning hand-drawn backgrounds, applied to 3D geometry which delivers the visual style, in high resolution, but with the flexibility to create incredible cinematography that is only possible in 3D.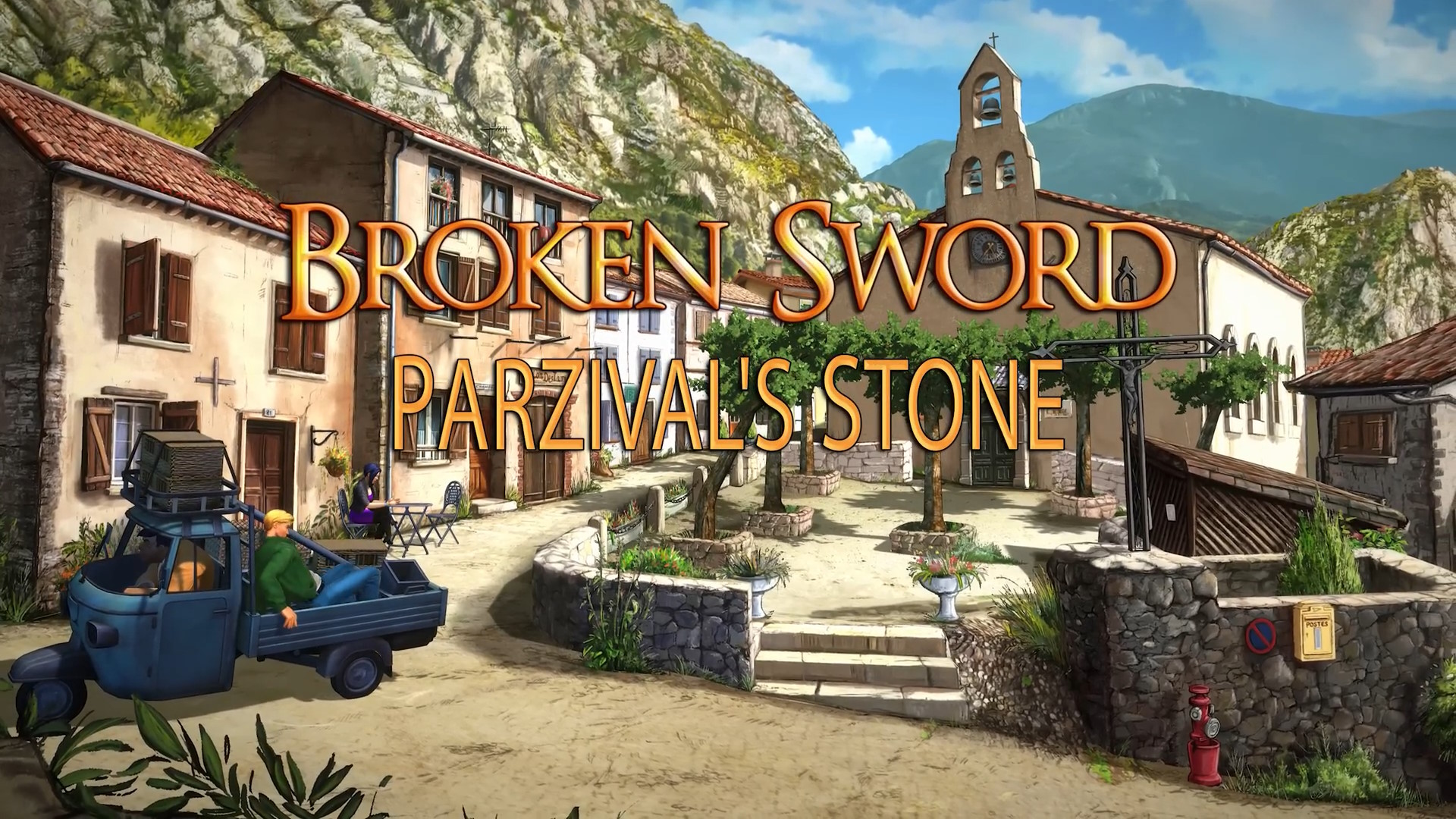 George and Nico reunite but are soon drawn into a terrifying conspiracy in a world of hidden treasure hunters, brutal medieval histories, and Quantum Physics.
But before George & Nico can even think about setting out on their brand new adventure, they'll have to contend with a completely revitalized and – as the title suggests – 'reforged' version of their debut tale, Shadow of the Templars, in development for PC, console, and mobile for an early 2024 release. Yes, almost three decades on from the series' original outing, Revolution is re-drawing backgrounds, re-animating sprites, and honing many other aspects of the original game to deliver this adventure classic in full 4K, with upscaled audio lifting the quality of the speech to match the new refined visuals.
This is the start of what we're calling the 'Broken Sword Renaissance – With both Parzival's Stone and Shadow of the Templars: Reforged, we're making a big, bold, and broad offer both to those who have walked in the shoes of George & Nico before and hunger for a new adventure, and also just as crucially people who have never even heard of the franchise. As with all Broken Sword games, both titles exist as independent adventures with no prior knowledge required, though naturally for those invested in the world we've created, there's a lot to tap into under the surface.

Charles Cecil – Founder and CEO of Revolution Software
Known for combining scripts laced with sharp wit with logical but nonetheless challenging puzzles guarding the way, Broken Sword is a celebrated franchise within the adventure genre, having first hit the scene on PC and PlayStation back in 1996. The games are famous for transporting fans to various locations around the world as the stories link back to real historical events, famously focusing on the city of lights and love, Paris, as well as Syria, Egypt, Spain, Scotland, Ireland, and even Glastonbury, amongst numerous others.
Broken Sword stands as one of the genre's most acclaimed series, featuring in top adventure game lists to this day.
In Broken Sword – Parzival's Stone, you will:
Take on the roles of George and Nico as they investigate an ancient manuscript and find themselves drawn into a terrifying conspiracy and into a world of Nazi treasure hunters, ancient medieval histories, and Quantum Physics.

Navigate the manuscript's clues to uncover the secret location of the Grail (but not as one might expect): a mythical treasure, lost for a thousand years.

Rival ruthless technology entrepreneurs, corrupt government agencies, and billion-dollar global energy corporations which are also out to beat our heroes to the ultimate goals. Because George and Nico might just well be the only thing stopping the whole world from armageddon.

Play out your adventure in a 'Super 2D' environment, sculpted using 2D colored background elements applied to 3D geometry to move in real time.
Before that, in Broken Sword – Shadow of the Templars: Reforged, you will:
Step out onto the streets of Paris as George finds himself wrapped up in a mysterious journey of intrigue and jeopardy.

Enjoy a globe-spanning adventure, exploring exotic locations, solving ancient mysteries, and thwarting a dark conspiracy to reveal the secret truths of the Knights Templar whether it's your very first time, or you're revisiting a beloved classic.

Voyage through the game's iconic locations illustrated in beautiful 4K for the first time ever.

Listen to enhanced audio as Revolution delivers the finest, most stunning version of George and Nico's original adventure to date.
Expect more details about both games in the months ahead.
Broken Sword – Parzival's Stone is in development for PC, console, and mobile. Broken Sword – Shadow of the Templars: Reforged is in development for PC, console, and mobile for an early 2024 release.