Asus ROG has announced two models: the 42" ROG Swift OLED PG42UQ—the world's first 42" OLED gaming monitor—and the 48" ROG Swift PG48UQ. These expansive displays will depict gaming worlds in glorious detail with their 4K resolution. Not only do they deliver deep, inky blacks and dazzling highlights, but they also offer true 10-bit colour, covering 98% of the wide DCI-P3 colour gamut for vibrant, lifelike images. They're tuned for accurate colours, as well, as they're factory-calibrated to achieve a ΔE of less than 2 right out of the box. Whether you're playing the latest game or kicking back with a movie, you'll experience your favourite content just as its creator intended.
Less glare, fewer distractions
The glossy surfaces of typical OLED TVs might increase their appeal in the showroom, but their reflective surfaces can cause distractions when they're used as a desktop monitor. ROG Swift OLED monitors feature a Micro-texture coating that shows less glare than other options. This allows these displays to offer more accurate colours and less on-screen distraction in the heat of battle, creating a better viewing experience.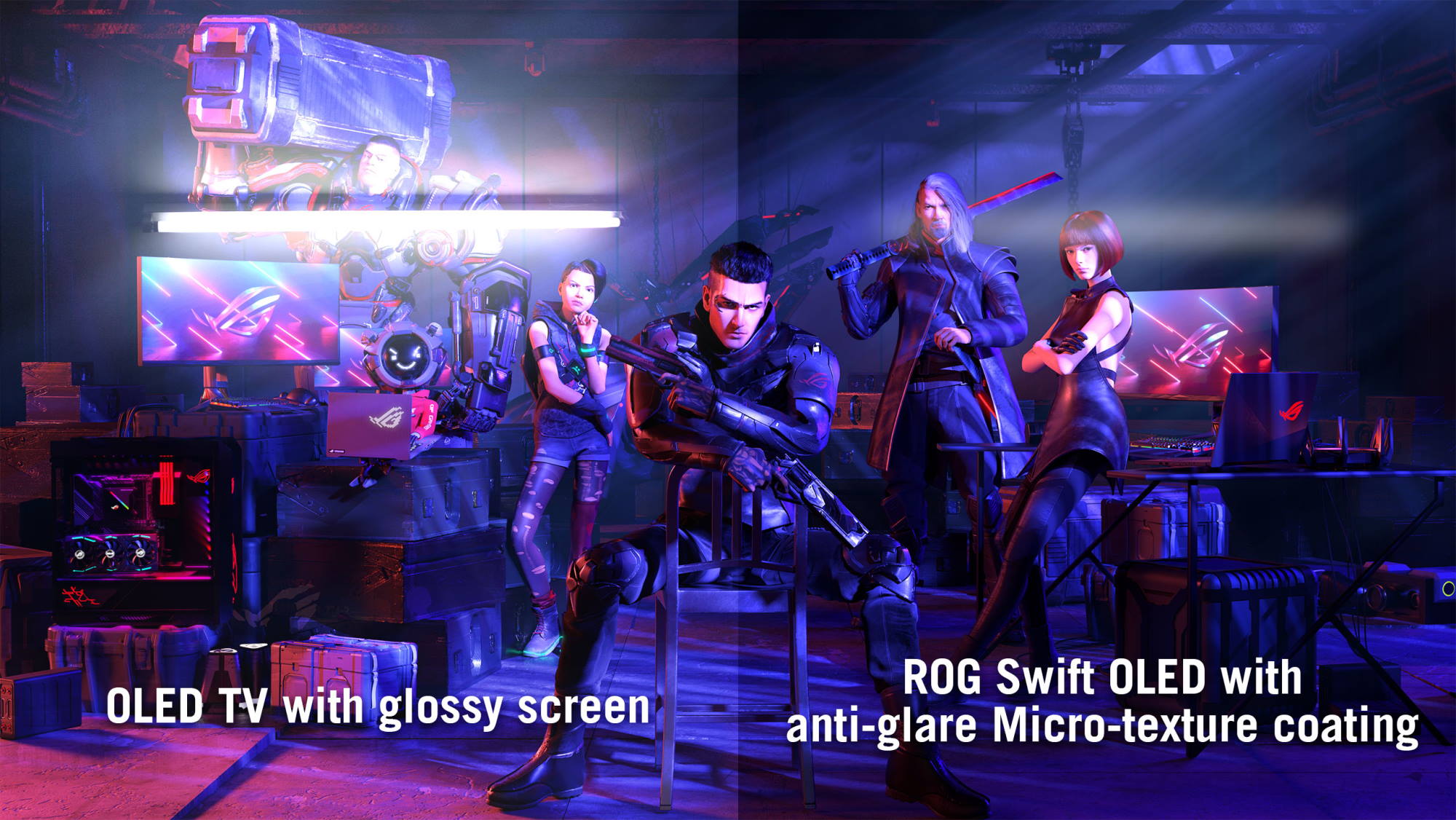 Premium cooling for long-term performance
One design challenge with OLED panels is heat dissipation. Since excessive heat can affect product lifespan, it's not uncommon for TV manufacturers to cap brightness levels in order to keep operating temperatures around 60° C. Asus drew on their extensive experience with cooling motherboards, graphics cards, and laptops to design a custom cooling solution for the ROG Swift OLED series. A large custom heatsink and a carefully planned interior airflow layout maximize heat exchange to keep operating temperatures below 50° C. That thermal headroom lets these monitors offer a peak brightness of 900 nits*, while limiting burn-in for reliable long-term performance. (*3% of the screen with HDR on)
Next-gen HDMI 2.1 connectivity
Many enthusiasts have games they prefer to play on PC and games and prefer to play on a console, so Asus outfit ROG Swift OLED displays with a pair of HDMI 2.1 ports in addition to two HDMI 2.0 ports, a DisplayPort 1.4 connector, and a USB hub. Unlike most HDMI 2.1 monitors, though, ROG Swift OLED displays use fixed-rate link (FRL) tech to unlock the full 48Gbps bandwidth of the new HDMI specification. That means you can game at 4K and 120Hz on the latest gaming consoles, all without chroma subsampling blurring the image.
For many, though, it's the sheer speed of a display that determines its worth as a gaming monitor. ROG Swift OLED displays offer smooth, fluid animation without screen tearing through their 120Hz refresh rate, variable-refresh-rate technology, and auto-low-latency modes. Their astonishingly-low 0.1ms response time gives you a crystal-clear view of the game without motion blur. Put together, these technologies make ROG Swift OLED monitors perfect for fast-paced gaming.
OLED brilliance meets premium gaming features
For gamers, the choice is clear. With an anti-glare screen, a custom heatsink, and full-bandwidth HDMI 2.1 ports, ROG Swift OLED monitors deliver a gaming experience that typical OLED TVs just can't match. For more information on the pricing and availability of the ROG Swift OLED series displays in your region, please contact your local ROG representative.