HUAWEI November promotions are coming in your way! Add your desired items to the cart now and get ready to shop with exciting promotions during the upcoming HUAWEI Brand Day.
Amazing offers are available on HUAWEI Store Online (25 November 2021), HUAWEI Flagship Store on Lazada (25 November 2021) and HUAWEI Official Online Store on Shopee (27 and 28 November 2021). So, let's get moving!
Consumers can receive discounts up to 47% OFF* and free gifts such as keyboards, backpacks, MatePad 11 M-Pencils (2nd Gen) etc with the purchase of selected products. So, what are you waiting for? It is the best time now to start filling up your shopping carts, then be patient until 25, 27 and 28 November to check out your favourite HUAWEI products!
HUAWEI MateBook D14
Dubbed as HUAWEI's 2021 Best Value Notebook, the HUAWEI MateBook D14 is sturdy yet lightweight while offering a sleek and stylish design. Its relatively higher screen-to-body ratio goes up to 84%, giving off a delicate and premium look on its 14-inch FullView Display. Equipped with an extraordinary 56Wh battery, the MateBook D14 can ensure longer and more sustainable battery life – whether for back-to-back meetings or working on the go. Besides, it also comes with a built-in fingerprint reading sensor at the power button which prevents privacy-related intrusions. Rest assured as you can now work with your safety secured.
HUAWEI MatePad 10.4 LTE
Ready to impress, the HUAWEI MatePad comes with a quad-speaker and quad-channel sound system. It allows you to immerse yourself in the outstanding sound system that surrounds you with its Histen 6.1 3D stereo, which can help in boosting your concentration level while working. With sound supported by Harman Kardon, the HUAWEI MatePad brings music to you while enhancing the rich acoustic details. The powerful sound waves will rock your world – perfect when you need to revitalise your working routine.
HUAWEI WATCH GT2e 46mm
Enjoy innovative workouts anywhere with your very own personal trainer on the wrist. The HUAWEI WATCH GT 2e can track your workouts with precise positioning systems, providing you with professional sports guidance. It also allows you to monitor your heart rate with its accurate TruSeen 3.5 and a calorie counter to measure how many calories you burned after exercise – you can "count" all on HUAWEI wearables. HUAWEI WATCH GT 2e is certainly a must-have item as a professional companion, whether for your indoor and outdoor activities – enabling you to stay active wherever you go with its long battery life.
HUAWEI Band 6
Equipped with a built-in SpO2 detection system, HUAWEI Band 6 monitors your blood oxygen saturation 24/7. With a simple reminder feature, the HUAWEI Band 6 will vibrate to notify you when your SPO2 level drops too low below the average range. So, you can easily monitor and take time out to breathe while regaining your equilibrium. On top of that, the smartwatch boasts excellent 2 weeks of battery life on a single charge, make sure your health is under monitored 24/7.
HUAWEI WATCH Fit
Start training anytime with a total of 96 Effective Workout Modes to choose from the HUAWEI WATCH Fit. Make the best out of your downtime to keep fit with this smartwatch, offering precise and real-time workout metrics for 11 professional sport modes, including running, swimming, cycling, etc. Coming along with 85 custom workout modes that allow you to unleash your potential, whether you are into yoga or high-intensity interval training. The watch also keeps track of your real-time heart rate, calories, and workout duration – one-stop monitoring for your fitness and health.
HUAWEI FreeBuds 4i
Coming with a brilliant Active Noise Cancellation, the built-in capacitive sensors in HUAWEI FreeBuds 4i is able to actively detect and reduce ambient noise. Regardless of where you are at, with the FreeBuds 4i, you can always be immersed in the music you love – hearing only what you want. Complementing the Active Noise Cancellation feature, its dual-mic system comes with a slit-duct design to effectively reduce outdoor wind noise. To add on, the FreeBuds 4i comes together with an exclusive beamforming technology that is combined with AI noise reduction technology. It is not only capable of picking up your voice with more accuracy but also maintaining its quality despite crowded environments – allowing you to hear and be heard loud and clear at every call.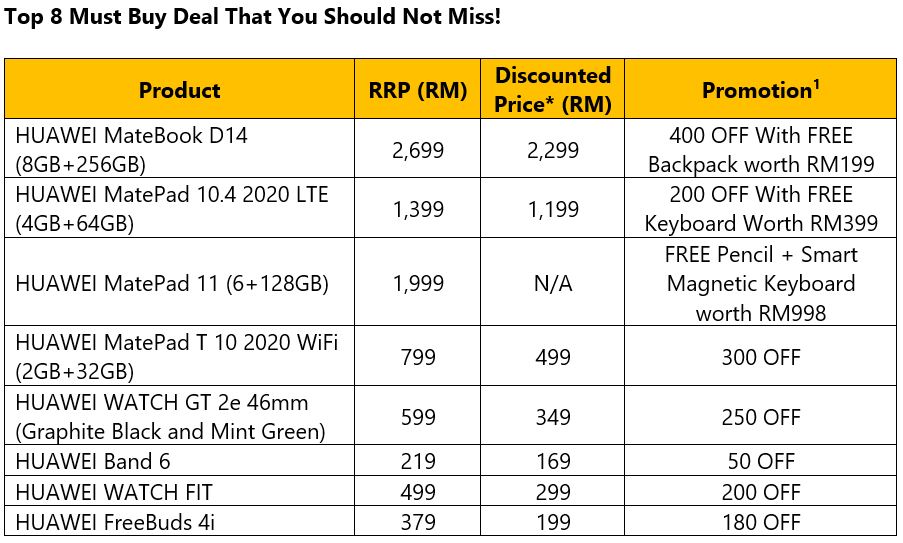 Your new gadgets await! Check out the link below to find out the full list of product offers and grab yours today on HUAWEI Store Online (25 November 2021), Lazada HUAWEI Flagship Store (25 November 2021) and Shopee HUAWEI Official Store (27 and 28 November 2021) respectively.