We've got two new toys from Samsung to play with, one being the new 75″ Neo QLED 8K QN800C TV that we've unboxed and talked about in the link provided, and the other one is this new HW-Q990C Soundbar that we'll be talking about in this article.
The HW-Q990C is the latest flagship soundbar from Samsung replacing the older model, Q990B from last year's Q-series lineup. Here's what the specs table looks like.
Number of Channel

11.1.4

Number of Speaker

22

Subwoofer Type ( Active / Passive / Wireless, Bulit-in )

Wireless

Wireless Rear Speaker Included

Yes

Center Speaker

Yes

Dolby

ATMOS Music,ATMOS,Dolby MAT,Dolby Digital Plus,Dolby True HD

Voice Enhance Mode

Yes

Sound Modes

Surround Sound expansion, Game Pro, Standard, Adaptive

Night Mode

Yes

4K Video Pass

Yes

HDR

HDR 10+

Decoding Format

Yes for AAC, WAV, MP3, OGG, ALAC, FLAC, AIFF

HDMI In

2

HDMI Out

1

HDMI ARC

Yes(eARC)

HDMI CEC

Yes

Optical In

1

Bluetooth

Yes

Bluetooth Codec

SBC

Bluetooth Power On

Yes

Wi-Fi

Yes

One Remote Control

Yes

Wall Mount Bracket

Yes

Remote Controller

Yes

Weight

Soundbar 7.7 kg
Speakers 3.4 kg each

Sub Woofer 11.7 kg

With packaging 28.2 kg
This beaut brags a True 11.1.4 ch sound that boasts about having "Unrivaled Surround Sound That Envelopes You", as well as the Q-Symphony feature that ensures both the TV and Soundbar works in perfect harmony, and it works wirelessly with Samsung TVs to produce Dolby Atmos quality. That's just naming a few of what it's capable of.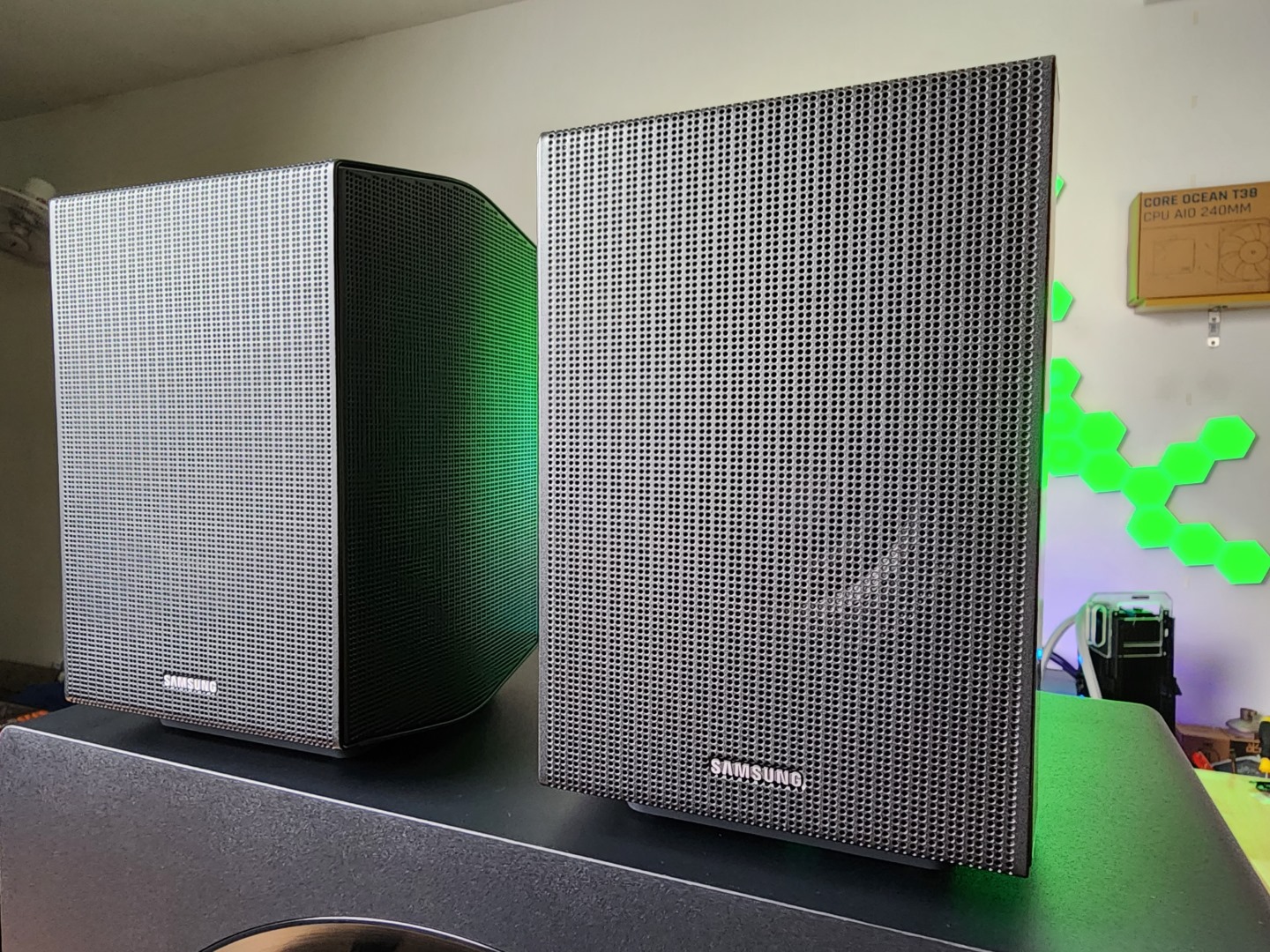 In terms of its price tag, the soundbar will cost you RM 6,499 but there's a bit of good news for you if you also intend to get the latest Neo QLED TV as well.
For those who buy the new Neo QLED TV this year during its Early Order stage that lasts till May 24, you can get the Q-Series soundbar at a great discount of 35%.
There's a big savings to be had here for those who go for these two products together considering the TV is now on a discount that'll save you RM 4,500, including a free upgrade (You get 85″ now by just paying for 75″), plus the 35% discount that's worth up to RM 2,275 when you get the soundbar.
What's In The Box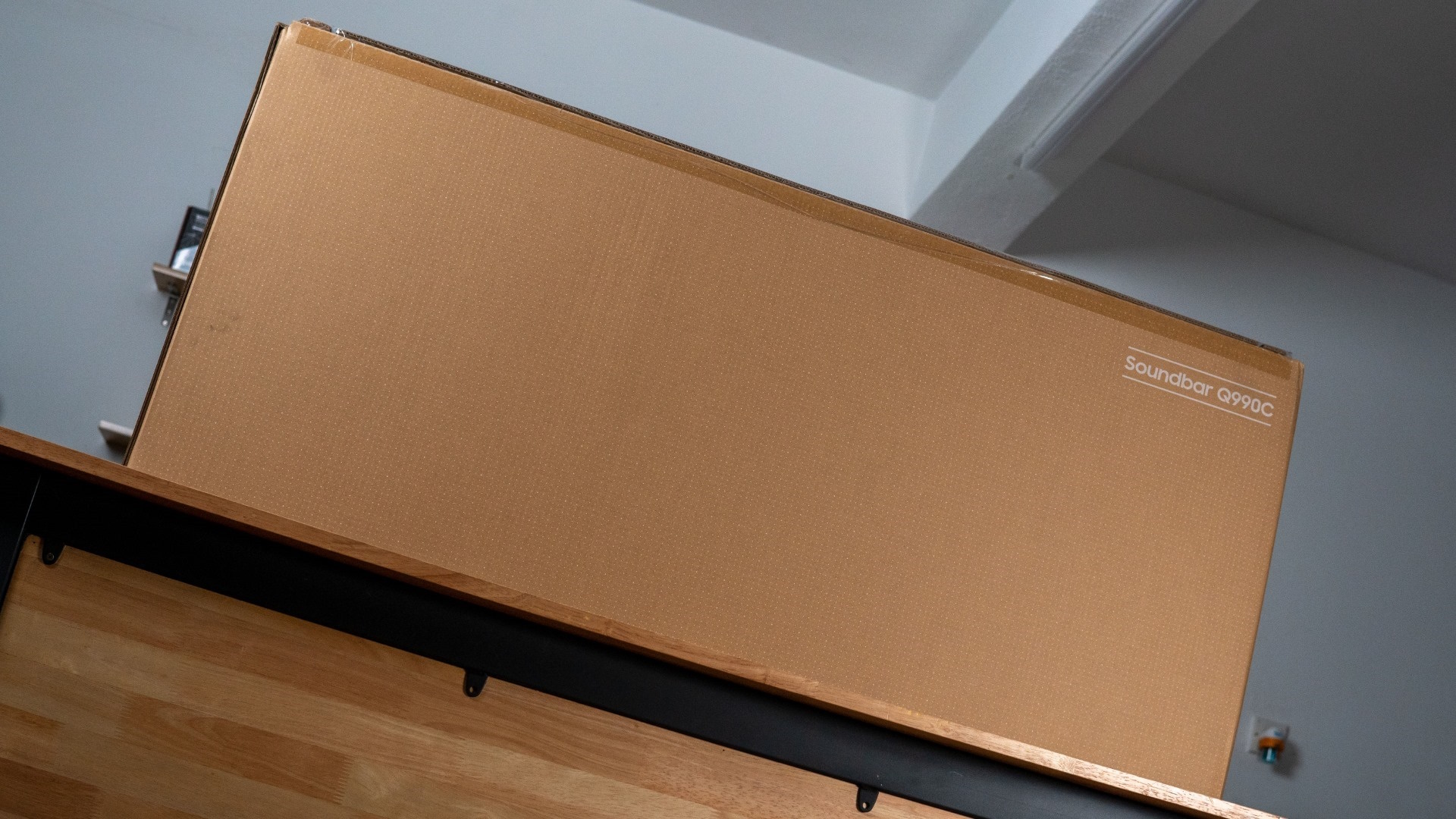 Remote control
Main Speaker (Soundbar)
Left Speaker
Right Speaker
Sub Woofer
Power Cables
Due to the size and weight of the Q990C soundbar, the packaging can be a little heavy (28.2 kg) but unboxing it and the subsequent setting up was simple and straightforward enough to be almost effortless.
Speaking about the box, here are some fun facts about this packaging. As one of the environmentally-conscious brands, Samsung started utilising what they called the Samsung Eco-Packaging in 2019. The design is such that this cardboard you see here is actually primed for upcycling possibilities. If you're new to this term, to upcycle means to creatively reuse or re-purpose a material into something else. This box right here has more life in it still.
To inspire this practice with some ideas, Samsung has even included a QR code on the box that'll take users to a website with instructions on what the card box can be converted into. It can be a small box or stand for your books, your remote controls, to put your console on, or even turned into a cat or dog house for your furry companion's sake. Let your imaginations go wild.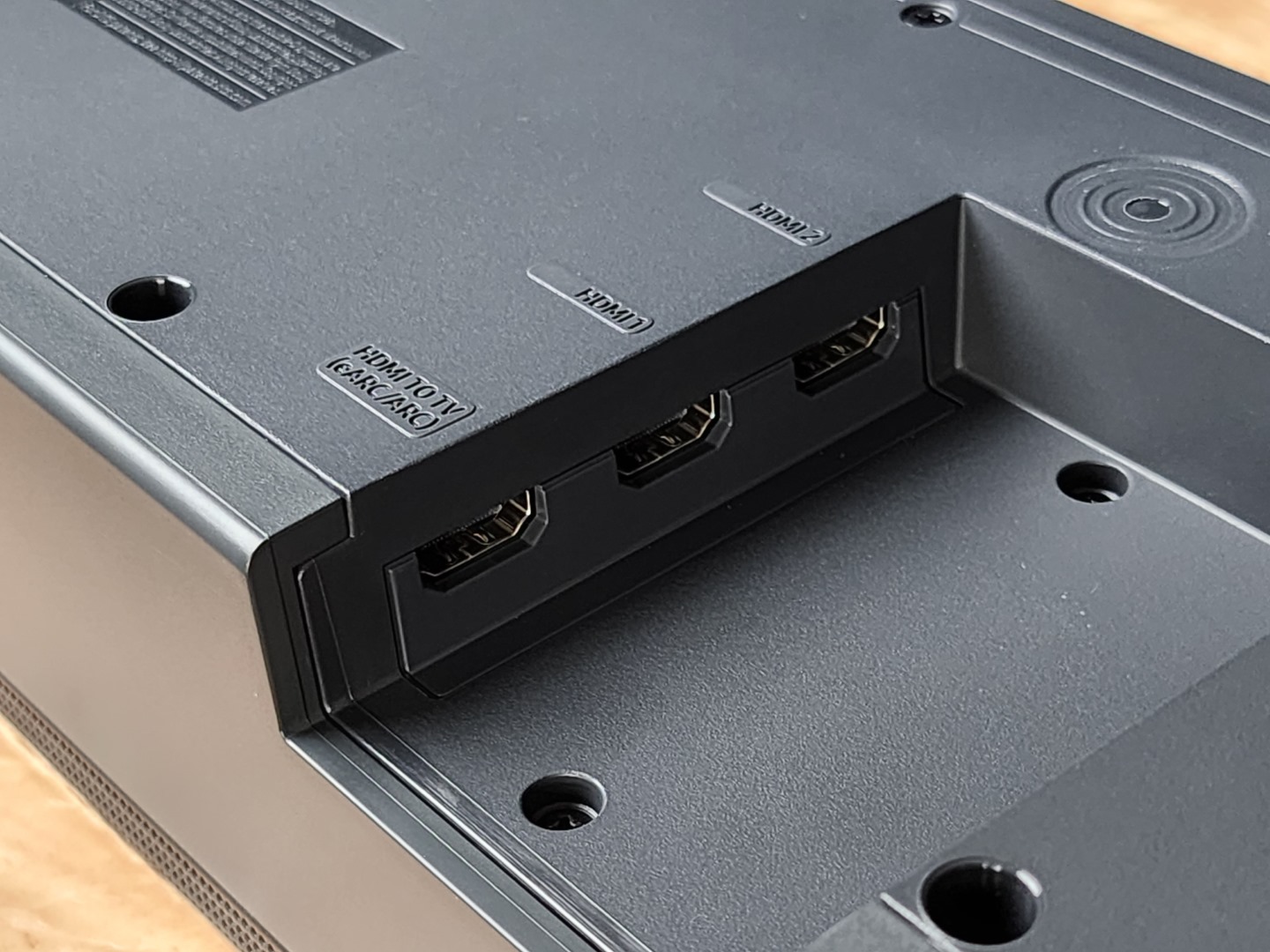 After inviting the 4 units of speakers out of the box, we wasted no time in connecting them to one of our phones. We wanted to do a 5 minutes test run, just to see why this baby costs so much and because one of our members fell asleep and we wanted to play her a proper lullaby.
One screaming colleague and 60 minutes later, the price tag started to make sense. We didn't fully explore this soundbar's potential and quality yet, but the picture was getting clearer.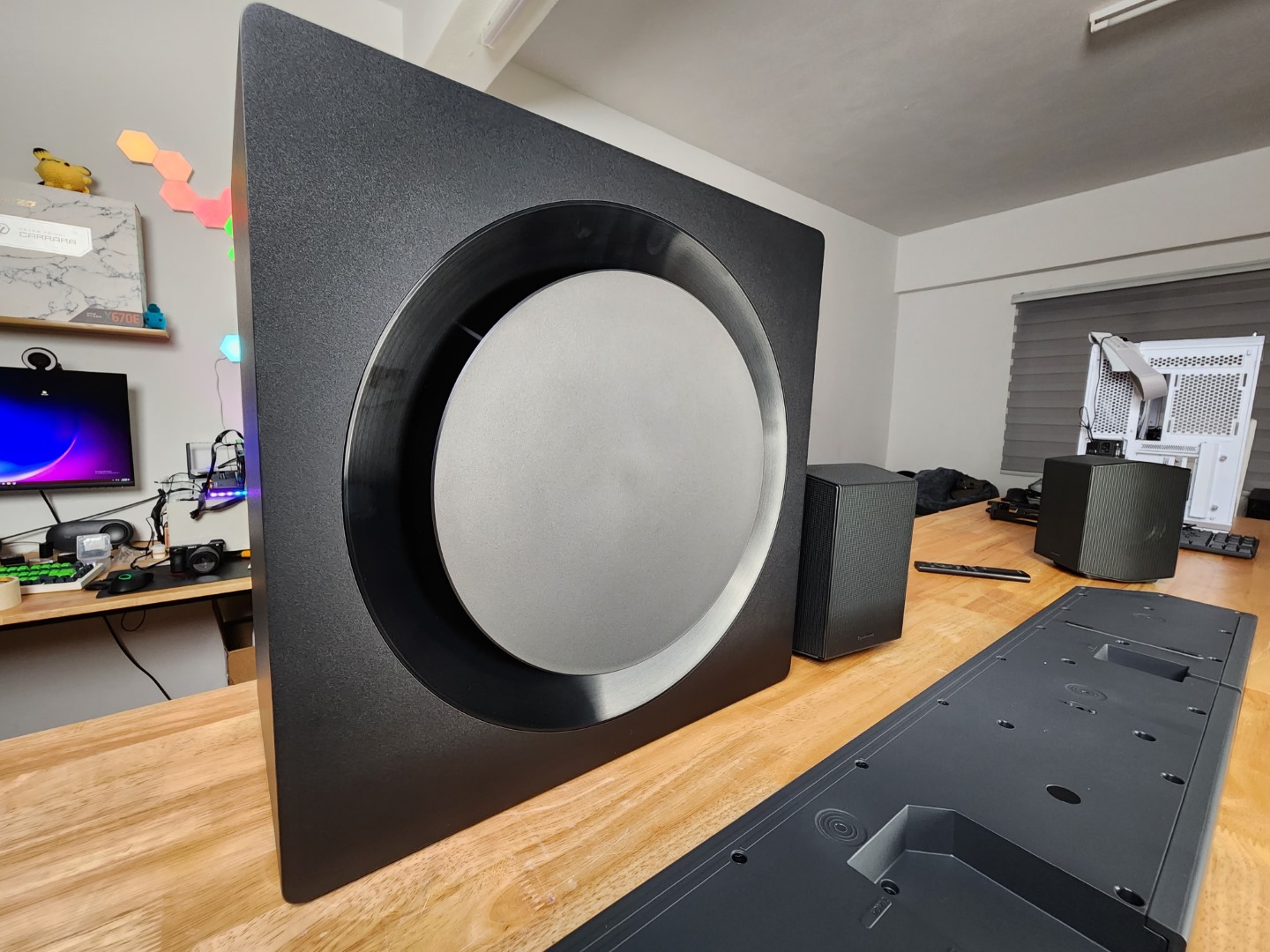 The HW-Q990C provided a solid first impression and the listening experience was surreal (so far). It was as if we were seated in front of a live band performance but we'll talk more about this on another day in the full review. The Soundbar still has a lot to be put through and answer before we can properly conclude our findings.
In the full review, we'll be talking about the soundbar's performance as a standalone, as well as how well it works and compliment its intended partner, the Samsung Neo QLED 8K TV that we also got our hands on.