I remember when I first saw the emergence of TKL keyboards some years ago and wondered if fans will really be onboard the idea of having their numb pad castrated from their keyboard. I was one of those on the fence too until I wasn't anymore and landed on the side of gamers comfortable with TKLs.
So, naturally, when the chance came to review this keyboard, I was excited about it but the first time I saw the full name of this keyboard, I paused to wonder why they decided on such a long name that also sounded like a bad password that one is guaranteed to forget. This is the Asus ROG Strix Scope RX TKL Wireless Deluxe keyboard – someone shoot the person who came up with the name, please.
But lets' take the keywords out of its name to see what kind of keyboard we're talking about, we only need to focus on these few – RX, TKL, and Wireless. Each of the pinpointed keywords represents an important detail about the keyboard.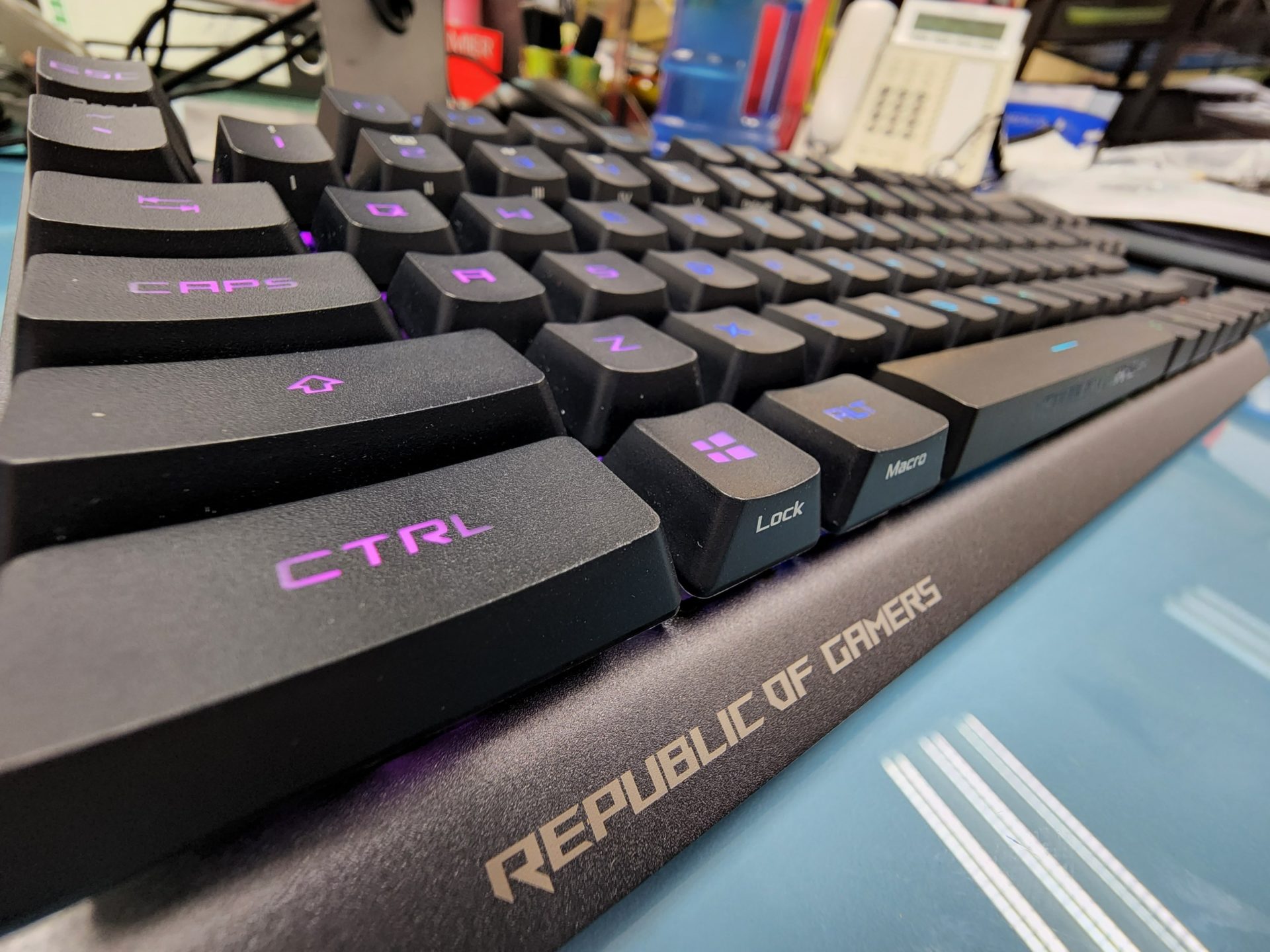 Build and Design
First thing's first, I absolutely love how this keyboard looks and this is not something I always say. I usually place more importance on how a keyboard feel and functions but this one, I really like how it looks. There's a certain alluring feel in the keyboard's dark grey aluminium alloy sandblasted body plus those handsomely lit-up large keycaps, and their seductively revealing switches illuminated by RGB rebounding from one end to another in a wavy pattern.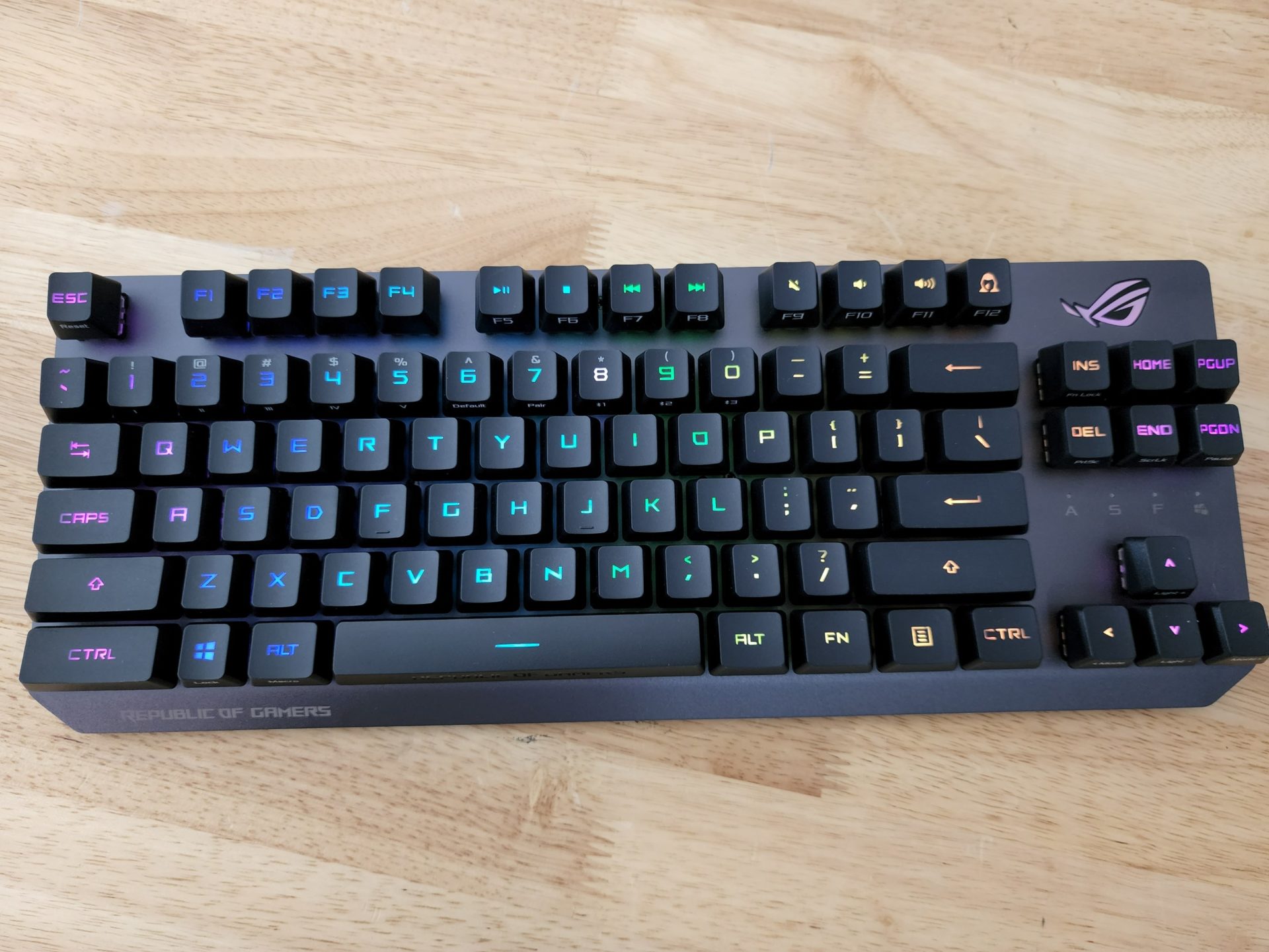 This beauty weighs around 850grams without the cable and has a dimension of 356mm x 136mm x 39mm. It is a TKL keyboard (80%) with Aura Sync and is 100% anti-ghosting. Came together with it is a detachable magnetic leatherette wrist rest as well as other connectivity attachments like a USB wireless dongle, a wireless dongle extender, and a USB Type C to Type A cable.
The magnetic detachable leatherette wrist rest is comfortable and easy enough to use with the keyboard but I've mostly gone without it. I've never been a fan of wrist rest but if it helps you get more comfortable, then this keyboard comes with another plus in your book. Its TKL form also meant that this keyboard is fit enough for most bags should you need to carry it around for gaming sessions or work. Weighing at only 850gram, I feel the keyboard can be carried around without much burden.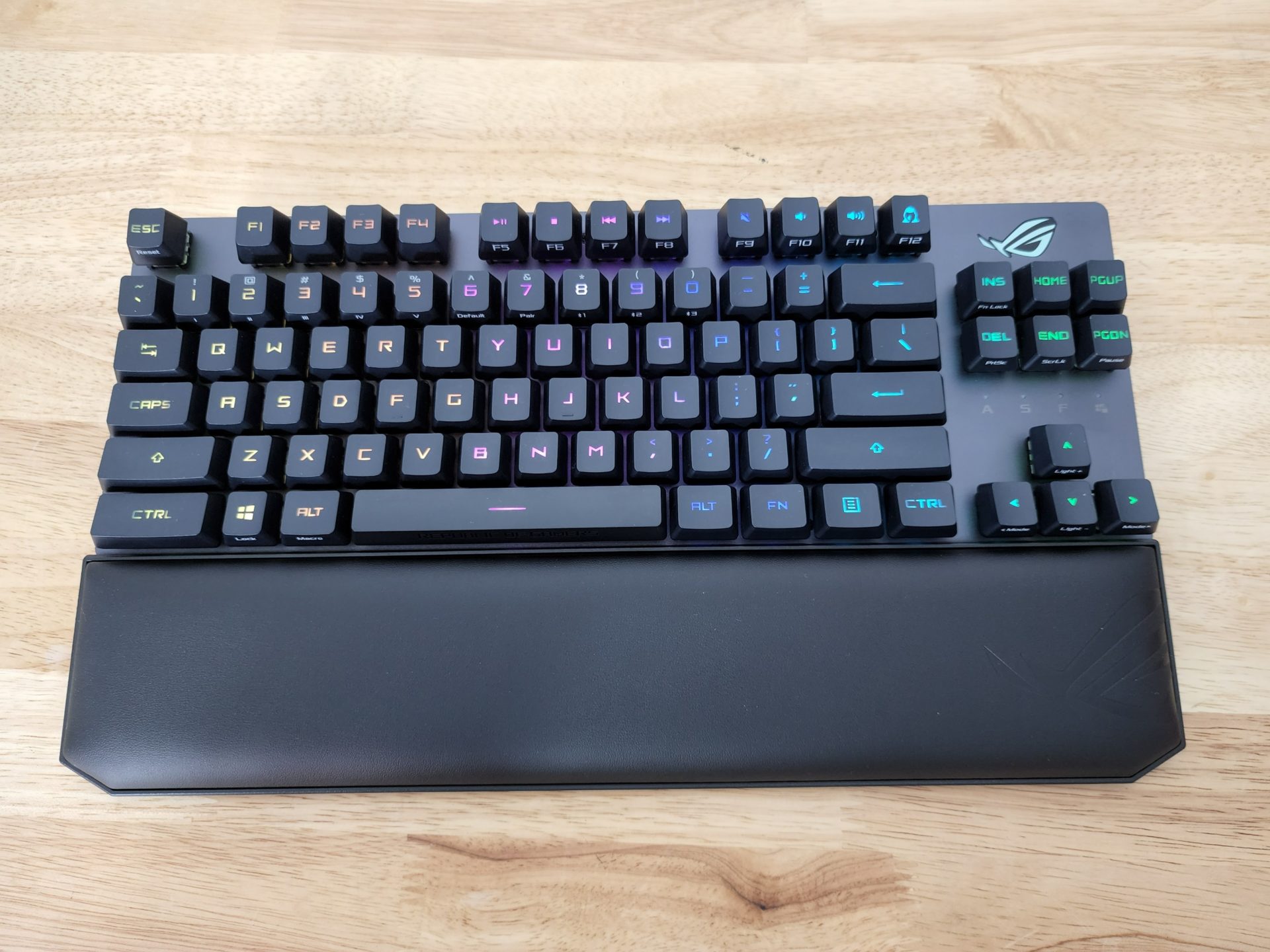 Performance
In terms of switches, the keyboard uses Asus' own custom ROG RX Red optical mechanical switches and while they need some getting used to at first, they quickly grew on me and began to feel impressive after a while. The keys feel a little mushy in the beginning since I just shifted to a full mechanical keyboard and still expecting the full tactile discipline from the keycaps, but after a short period of adjustment, I was really typing again. For fast typers, this keyboard will be a great ally since the actuation force required for an input to register is only 40g, with an actuation point of 1.5mm.
Of course, the speed advantage this keyboard presents also means gamers will benefit from it when gaming but there might need some getting used to at first. Since this keyboard is so 'sensitive', I ended up using more force than needed with every hit because I was so used to pounding on my keyboard. But once I got used to it, the advantage in speed is there even if it's just minor. The transition process didn't take long as it took me only an hour to register it into my muscle memory.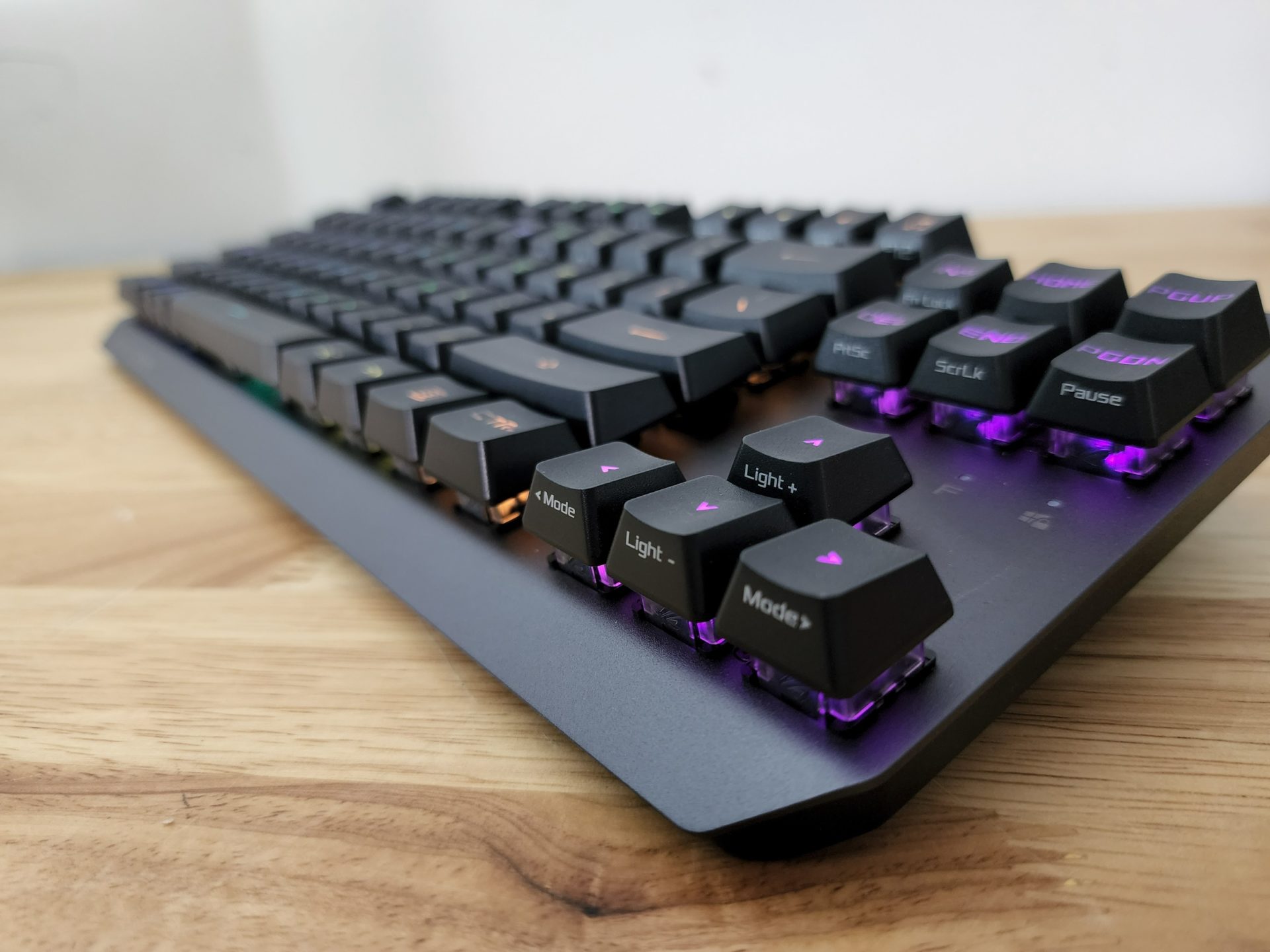 But I do have a slight concern over Asus' using its own custom switch and that is the switch is not compatible with any standard designs in the current market. So if something is broken due to an incident and it is not covered by the warranty, or if the warranty has expired, users may have a difficult time sourcing for parts to do their own repair.
Since there are no dedicated media buttons/keys on the keyboard, the designers decided to merge media functions into the F keys, specifically F5 to F8 and they went about cleverly labelling them in a creative way. The F1 to F4 keys are labelled on top of the keycaps whereas from F5 to F12, they are labelled in front of the keycaps, with the top bearing the media playback buttons (Play, Stop, Next, Rewind). The F9 to F12 caps are shared with other functions too like F9 for mute, F10 to lower the volume, and F11 to increase the volume. As for the F12 key, well it'll will need its own paragraph to be explained.
The F12 key on the keyboard features one of the most impressive (and hilarious) functions I've seen called Stealth Mode. Hit it once and it literally hides everything you're running, including full-windowed games by minimising them and even muting the volume. Hit it again and it will restore everything back to normal. So, if you are ever in need of an emergency button to hide whatever it is you are doing when your boss or colleague comes around, this is the keyboard for you. I wonder if they'll make a keyboard with a key that instantly wipes browser history too next.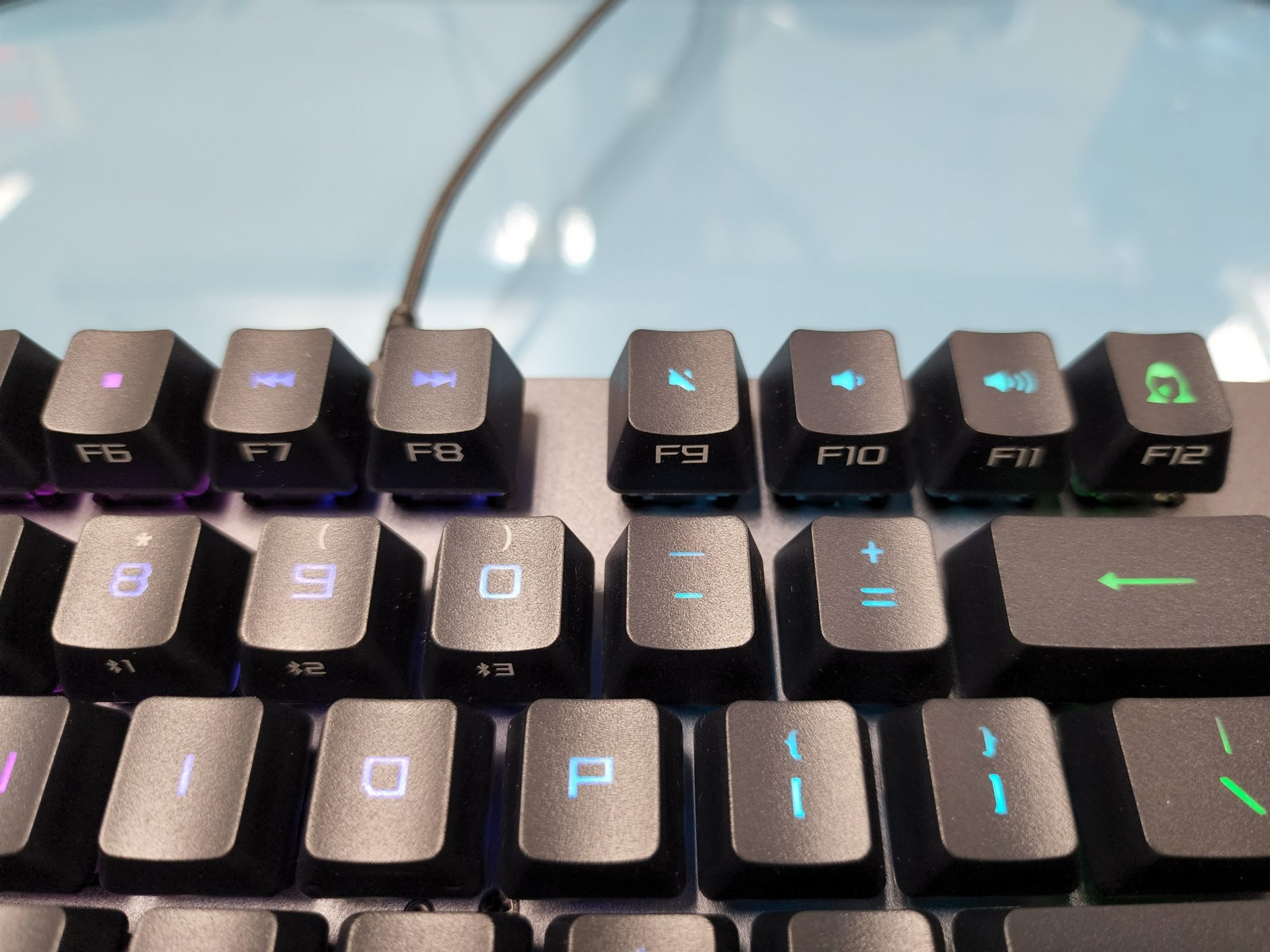 Connectivity
This keyboard works wired and wirelessly via a 2.4Ghz Wireless or through Bluetooth. If there was any difference between its wired or 2.4Ghz wireless mode, the difference is so small it's entirely negligible because I couldn't tell the difference between the two. Bluetooth is a two-edged sword due to its latency issue and I've caught it napping a few times between inputs. It may be okay for work, but for gaming use, my advice is to stick to the 2.4Ghz for reliability.
Software
Like many Asus ROG products, the Strix Scope RX can be used with Asus' Armoury Crate software where firmware updates and RGB lighting adjustments can be managed. The software can also switch its key assignment and RGB effects profile to the game that you launch long as it is configured.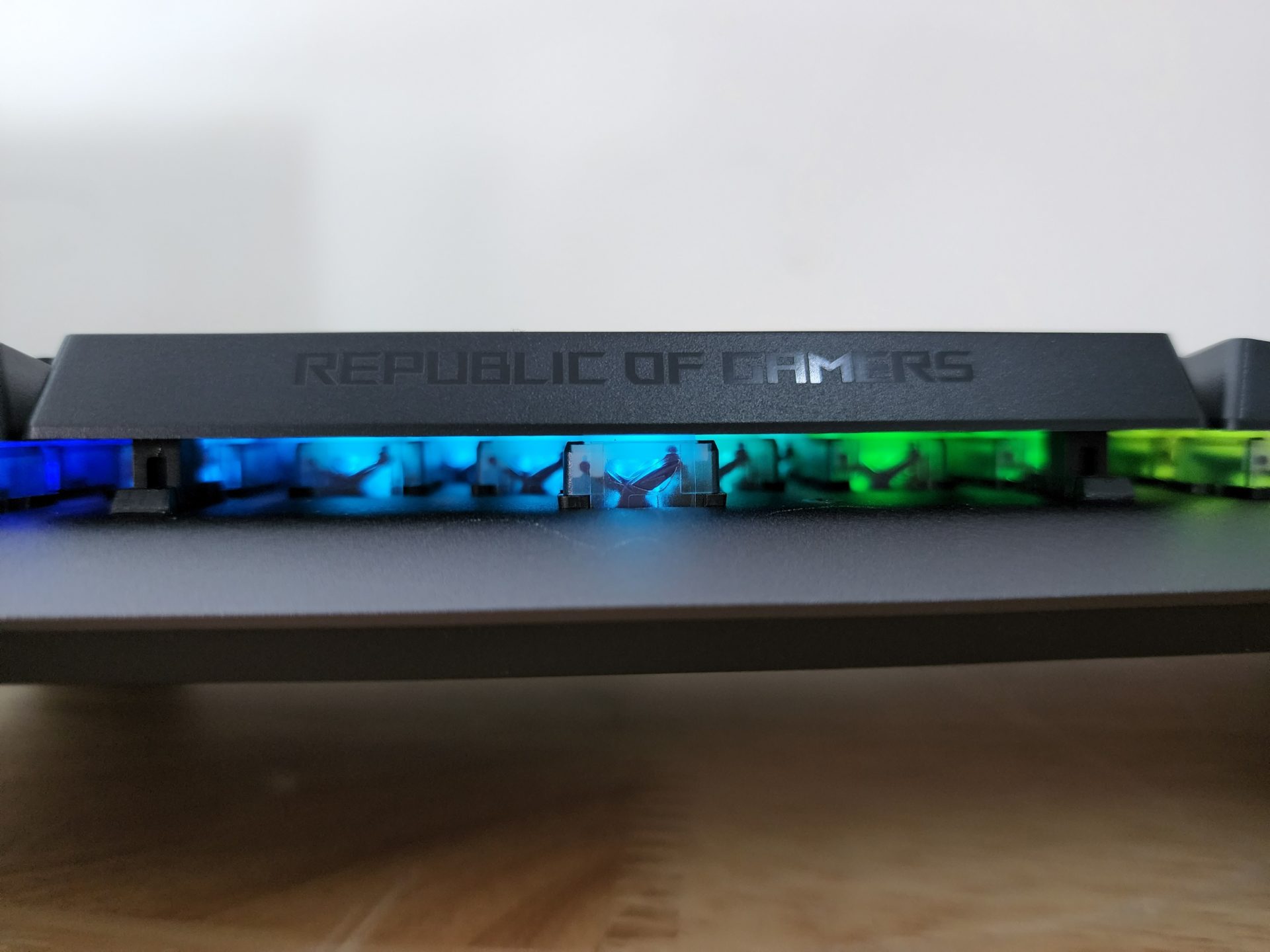 But like Razer's Synapse that I absolutely loathe running every time I want to change something on my Razer peripherals, the Armoury Crate gets the same reaction from me too because, for some reason, it takes a long time to start up. Thankfully, most of the keyboard's settings can be done on the keyboard itself rather than relying fully on the software. RGB light effects and brightness can be adjusted with the directional keys. Macro recording can also be done on the fly from the keyboard's onboard keys although it took me a few trials and errors before I could program one right.
Battery
On Wireless mode, I've used the keyboard for 5 days straight with a minimum of 8 hours each day for both work and gaming. The RGB brightness was set to the max because I am flamboyant like that and never once had I felt threatened by the lack of juice. My keyboard still had 50% battery in its reserve when I finally checked. Apparently, the lit-up logo on the top right of the keyboard would turn red if the battery level was in need of attention but I've never had the chance to see it play that role.
Price
Price-wise, this keyboard costs RM 699 onwards based on price checks on Shopee. It feels a little pricey to me despite all that it's capable of because the RM 700 range would present many other alternatives in the market. But ultimately, if this keyboard impressed you in some ways that others just didn't, then just go ahead.
---
What I Liked About The Asus ROG Strix Scope RX
Beautiful Design
Sturdy build quality
Speedy and comfortable to type
Close to Mechanical feel
Rich on-board secondary functions
Good battery life
Low Latency
What I Wished Was Better
The unique switch can be problematic to source if replacements are ever needed
The length of the keyboard's name.
A bit pricey
---
Verdict
It's hard to withhold recommending this keyboard to anyone who wants a good non-mechanical keyboard because it just does so splendidly in almost all of the important departments. From its handsome looks to its sturdy body, reliable performance, plus dependable battery life just made the Asus ROG Strix Scope RX TKL a great all-rounder for those who can afford its service.