As the digital nomad lifestyle becomes increasingly popular, ASUS has been at the forefront of the portable display market, releasing a wide range of innovative and feature-packed models. Among the latest additions to this lineup is the ASUS ZenScreen Ink, a cutting-edge portable display that offers a range of advanced features and capabilities.
In this review, we will be focusing on the MB14AHD variant of the ZenScreen Ink. This model features a glossy 14-inch IPS display with a resolution of 1920 x 1080. This variant is currently introduced to the market at the recommended retail price of RM 1,938.
Specifications
| | |
| --- | --- |
| Display | |
| Panel Size (inch) | 14 |
| Aspect Ratio | 16:9 |
| Display Viewing Area (H x V) | 309.37 x 174.02 mm |
| Display Surface | Glare |
| Backlight Type | LED |
| Panel Type | IPS |
| Viewing Angle (CR≧10, H/V) | 170°/ 170° |
| Resolution | 1920×1080 |
| Brightness (Typ.) | 220cd/㎡ |
| Contrast Ratio (Typ.) | 800:1 |
| Display Colors | 262K |
| Response Time | 5ms(GTG) |
| Refresh Rate (Max) | 60Hz |
| Touch | PCT + MPP2.0 Active Pen |
| Features | |
| Flicker-free | Yes |
| Trace Free Technology | Yes |
| SPLENDID Technology | Yes |
| Color Temp. Selection | Yes(4 modes) |
| GamePlus | Yes |
| QuickFit | Yes |
| HDCP | Yes, 1.4 |
| DisplayWidget | Yes |
| Low Blue Light | Yes |
| Accessories | |
| ASUS Pen (MPP2.0) | Micro HDMI to HDMI cable |
| Power adapter | Quick start guide |
| USB-C cable | USB-C to A cable |
| Warranty Card | ZenScreen Sleeve (Pouch) |
Aesthetics & Physical Design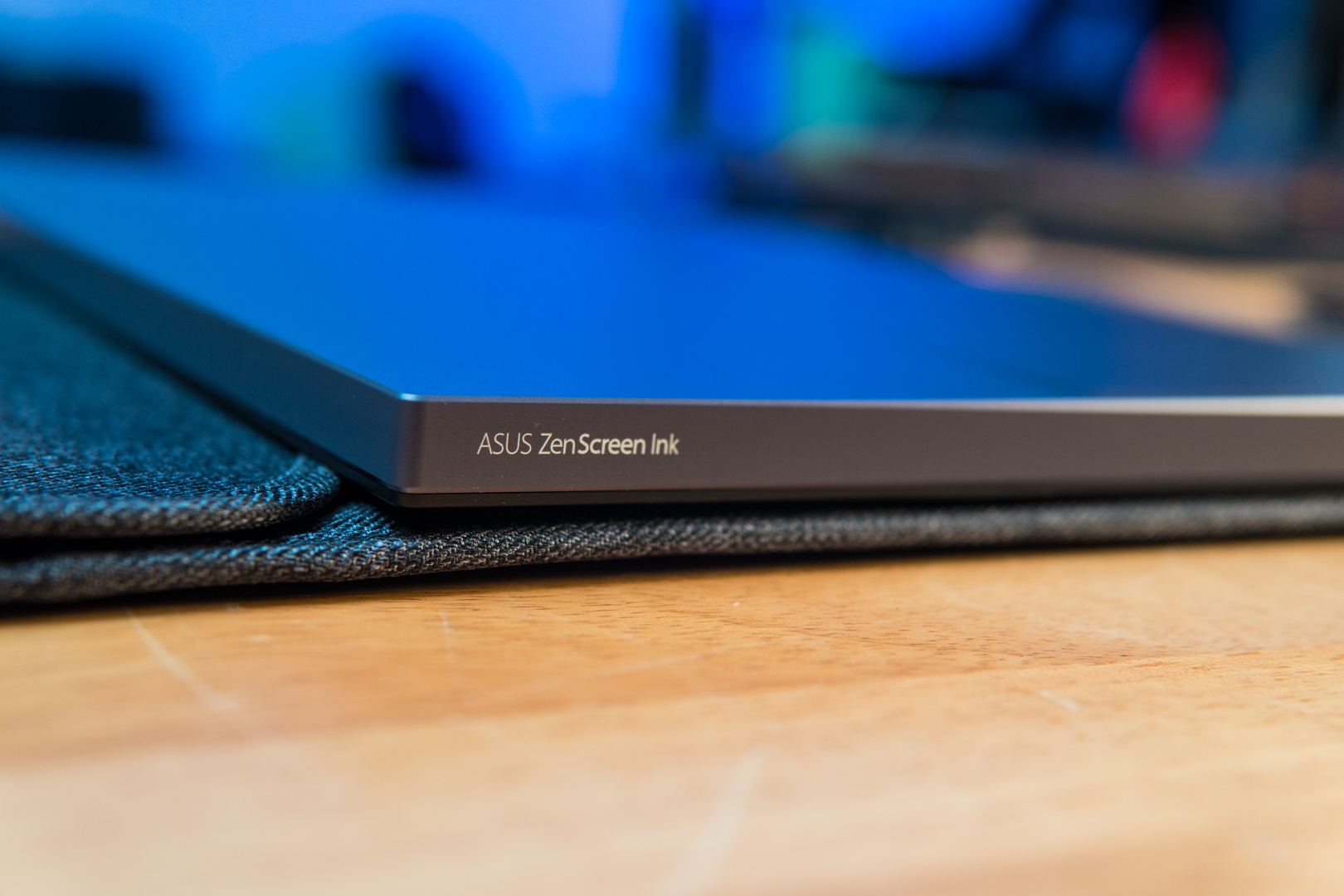 The front panel of the ZenScreen Ink is a simple glassed glossy display with thin bezels, providing a sleek and modern look. The ASUS emblem is placed at the bottom of the display, giving it a touch of elegance and sophistication.
In addition to the sleek and minimalist design of the front panel, the ZenScreen Ink also boasts a wide range of buttons and ports for easy connectivity and navigation. The left side of the monitor features a variety of ports, including two USB-C ports with Display Port alternate modes, a micro-HDMI port, and a headphone jack.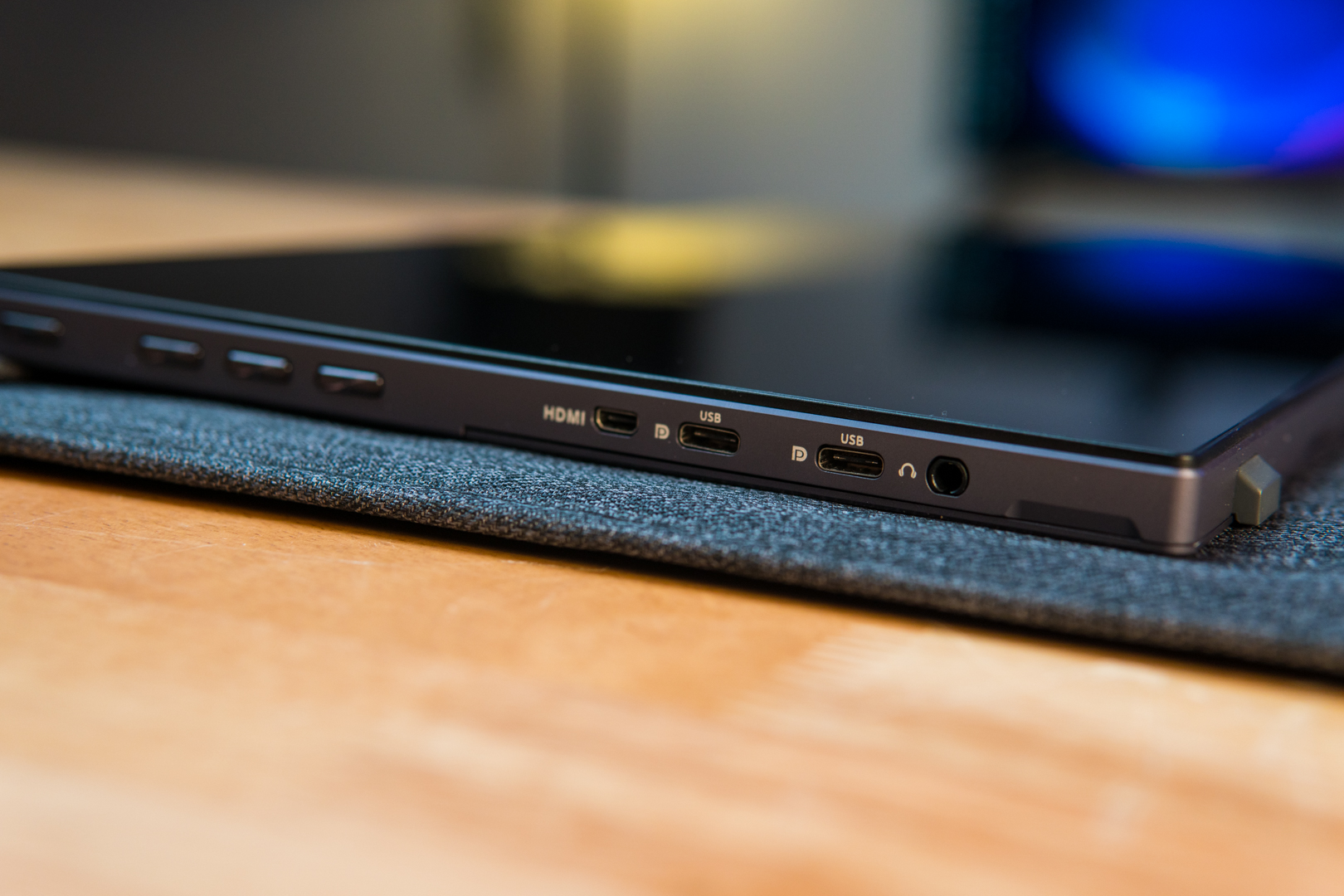 In addition to the ports, the ZenScreen Ink also features several buttons on the left side, including the power button and OSD buttons. While the power button may be a bit less intuitive on the left side, the display powers on automatically upon connectivity, making it less necessary to use the power button.
The ZenScreen Ink's other three sides are relatively simple and lack any additional I/O functionality. However, the top of the screen is designed to hold the ASUS Pen magnetically, allowing users to easily store and access the pen without having to search for it separately.
Additionally, for users who require a more stable mounting option, there is a ¼" tripod socket located at the bottom of the screen. This allows the ZenScreen Ink to be easily mounted on a tripod or other compatible stand, making it a versatile and adaptable tool for a variety of creative and professional ergonomic needs.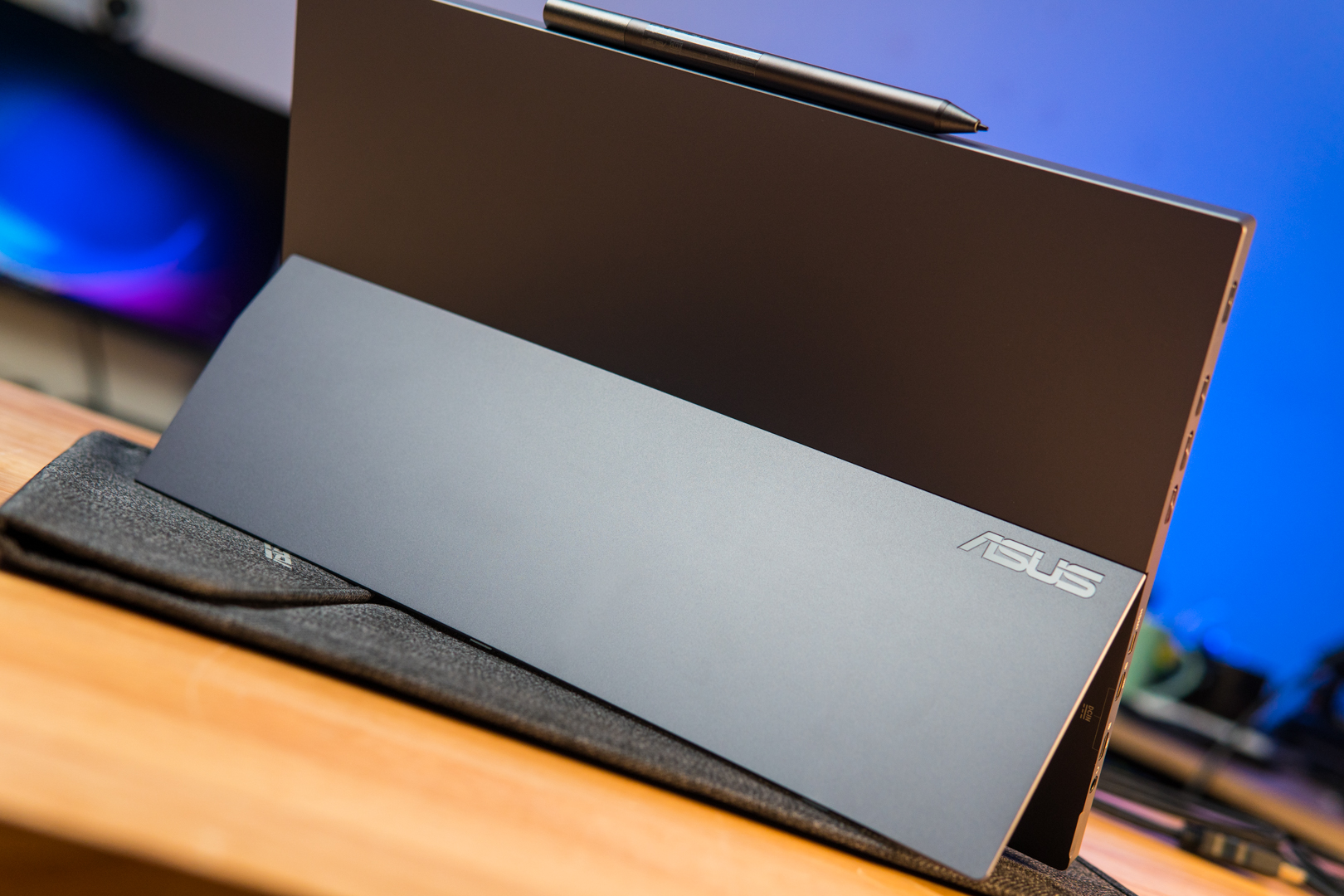 The ZenScreen Ink boasts a solid and well-built design that's both sturdy and reliable. The chassis of the monitor is crafted from plastic, while the hinged kickstand is made of aluminum, lending it an added layer of durability. The rubber feet, which are present on both the monitor and the stand, ensure that the device stays put and doesn't slide around on your desk or other surfaces.
Moreover, the integrated and hinged stand of the ZenScreen Ink is a great feature to have. Unlike the detachable and magnetic stands seen on some similar devices, the stand is sturdy and impressively rigid, with very little flex or wobbling observed during use.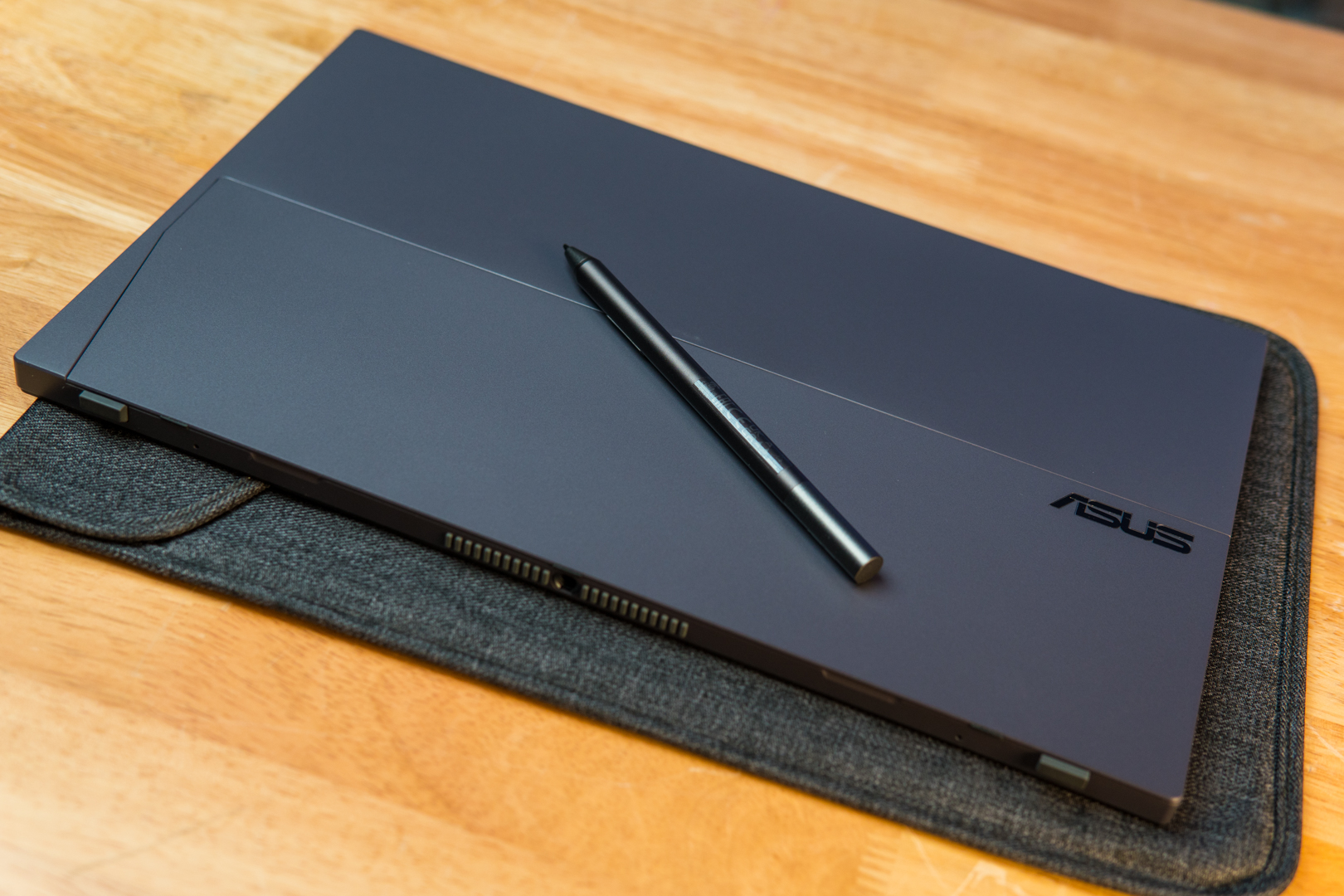 ASUS has also included a canvas pouch with the device. This pouch features a canvas like material on the outside and felt-like material on the. Securing the flap is a strip of Velcro, while simple but I would've preferred a better material as Velcro doesn't age well.
Despite the solid build quality of the ZenScreen Ink, it's still a delicate device due to the edge-to-edge glass display. Dropping it on the floor or hitting it against a hard surface could potentially cause damage to the device. While we didn't perform any scratch or impact test on the screen, I would still recommend using the included pouch or placing the display in a secured backpack compartment when carrying it around to prevent any accidental damage.
Display & Touch Performance
The ZenScreen Ink's 1080p resolution is quite reasonable for a portable 14-inch display. It comes with Trace-Free mode which reduces image ghosting while gaming. While it may not be enough for gamers who require higher resolutions for their setup, it is more than adequate for light gaming, productivity, and entertainment purposes such as web browsing, document editing, and media consumption.
The IPS panel provides great viewing angles and colors, which makes it a great option for photo and video editing on the go – especially with the SPLENDID Technology which shows the most accurate colors possible.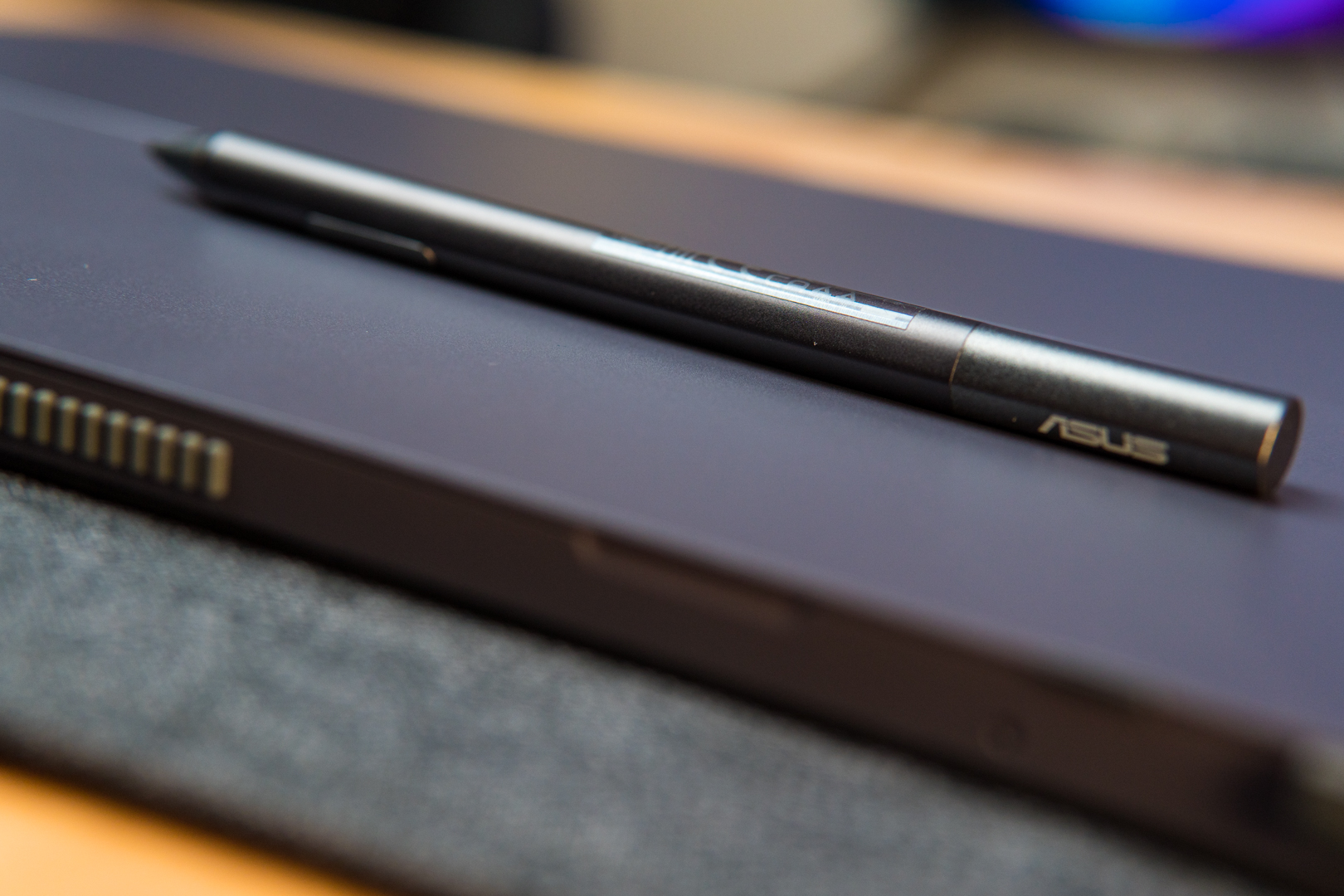 Additionally, the 60Hz refresh rate is more than enough for most applications outside of gaming. It provides smooth scrolling and motion, which is great for watching videos or working with animations. Furthermore, the ZenScreen Ink features ASUS' Flicker-Free technology and a blue light filter in the OSD settings to reduce eye strain during long usage sessions, which is especially important for professionals who work on their screens for extended periods.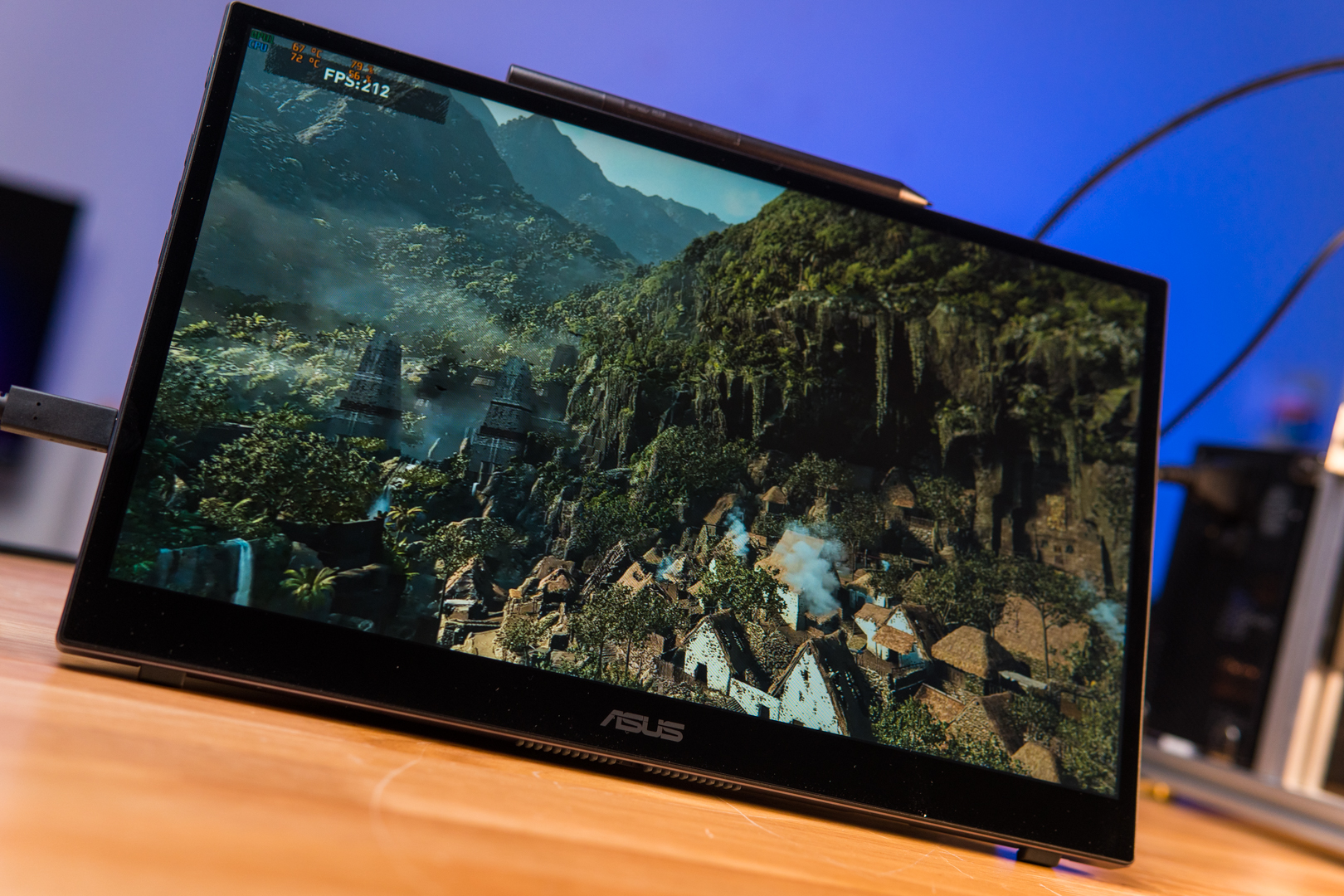 It's worth noting that the glossy OLED screen on the ASUS ZenScreen Ink also brings several benefits to the table. For instance, the color reproduction is outstanding, with deep blacks and vibrant colors that pop out. Additionally, the contrast ratio of 800:1 makes it capable of producing exceptionally sharp images and defined videos.
However, as with most glossy displays, outdoor usage can be a challenge, regardless of the display's brightness capacity. The same applies to the ASUS ZenScreen Ink, which is best used indoors to fully appreciate its excellent display quality.
Touch Screen
The ASUS ZenScreen Ink MB14AHD features a 10-point multi-touch display, which means it can detect up to 10 simultaneous touch inputs, making it ideal for tasks such as drawing, handwriting, or multi-finger gestures. The display is also equipped with a high-quality stylus, the ASUS Pen, which supports tilt and 4096 levels of pressure sensitivity. This allows for a natural and precise writing or drawing experience on the screen.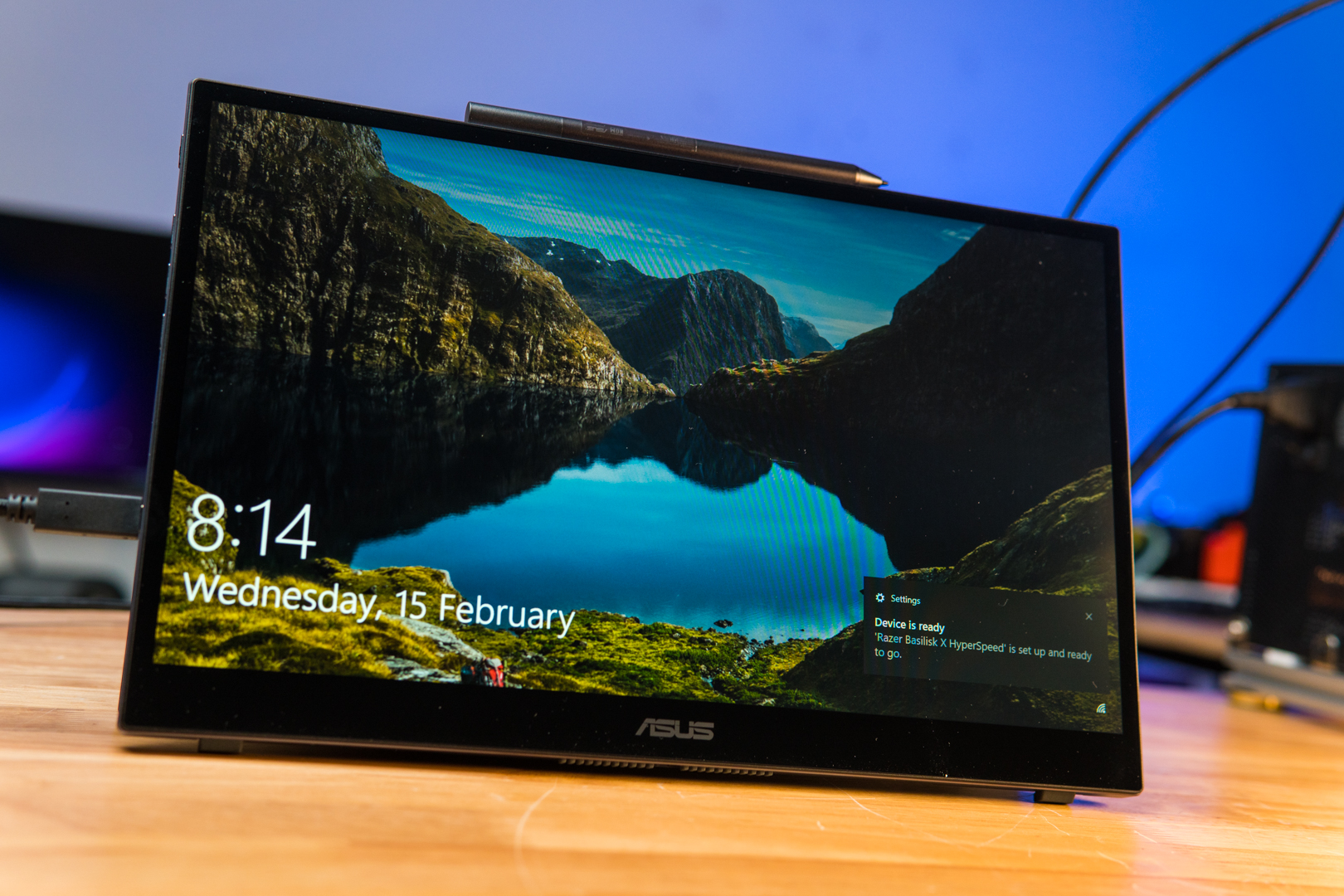 After tinkering with the ASUS Pen that is included with the monitor, I must say that I'm thoroughly impressed with its precision and responsiveness. The stylus can be magnetically attached to the top of the display for storage convenience, and there is minimal input lag or delay in usage. While it may not replace a Wacom, the ZenScreen Ink MB14AHD is still an excellent option for designers who want a portable drawing tablet cum display with great stylus functionality.
---

What I Really Liked About The ASUS ZenScreen Ink
Great build quality with all the necessary features
Impressive touch screen capability and the inclusion of the ASUS Pen is a plus point
Great display capabilities despite its limiting form factor
USB-C DP AND Micro-HDMI, not either or! Well done here!
The canvas-like pouch is a thoughtful addition. I prefer this over a folio cover anytime.
What I Wished Was Better
While it comes with a headphone jack, it'll be great if it comes with speakers as well.
No built in batteries (like it or not, independent power supply does come in handy)
---
Verdict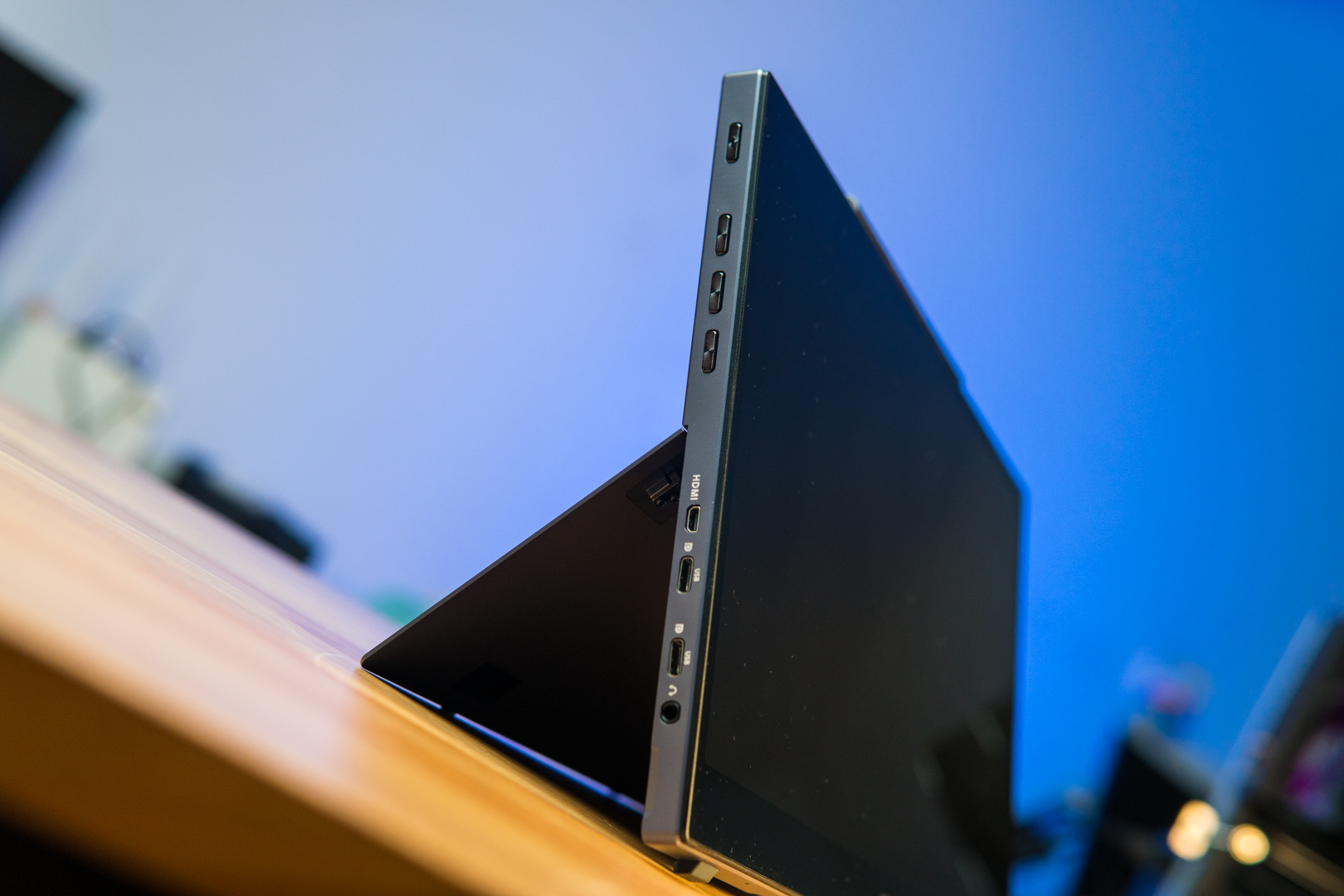 The ZenScreen Ink is a well-designed portable monitor that includes essential features such as the impressive range off IO ports, a sturdy kickstand, and a stylus pen, all packaged with a quality carrying case. Its sturdy design and flawless touchscreen makes it one of the top choices for portable touchscreen monitors in the market.
Although I believe that the ZenScreen Ink is an excellent portable monitor, I do find it slightly disappointing that it doesn't include built-in speakers and batteries. These features would've contributed to more points in making a purchase. The ZenScreen Ink's higher price point may make it less accessible to some users as well.
Overall, for those seeking a portable touchscreen monitor that doubles as a drawing tablet, the ZenScreen Ink is an ideal choice that will satisfy most of your requirements.
Final Score – 8/10
---
Official Link : https://www.asus.com/my/displays-desktops/monitors/zenscreen/zenscreen-ink-mb14ahd/