In December 2022, AMD released its latest graphics card series, which is based on the RDNA 3 architecture. This new architecture boasts a 50% improvement in performance per watt compared to the previous RDNA 2.
The flagship models of this series are the Radeon RX 7900 XTX and the Radeon RX 7900 XT, which are designed to compete with Nvidia's high-end GeForce RTX 4080 and RTX 4090 cards. These cards feature a chiplet-based GPU design, which divides the GPU into a graphics compute die (GCD) and six memory cache dies (MCDs) connected by a high-bandwidth Infinity Fabric Fanout interconnect. By using a chiplet design, AMD can take advantage of the 5nm process for the GCD and the 6nm process for the MCDs, while avoiding the difficulties associated with building a single, monolithic GPU.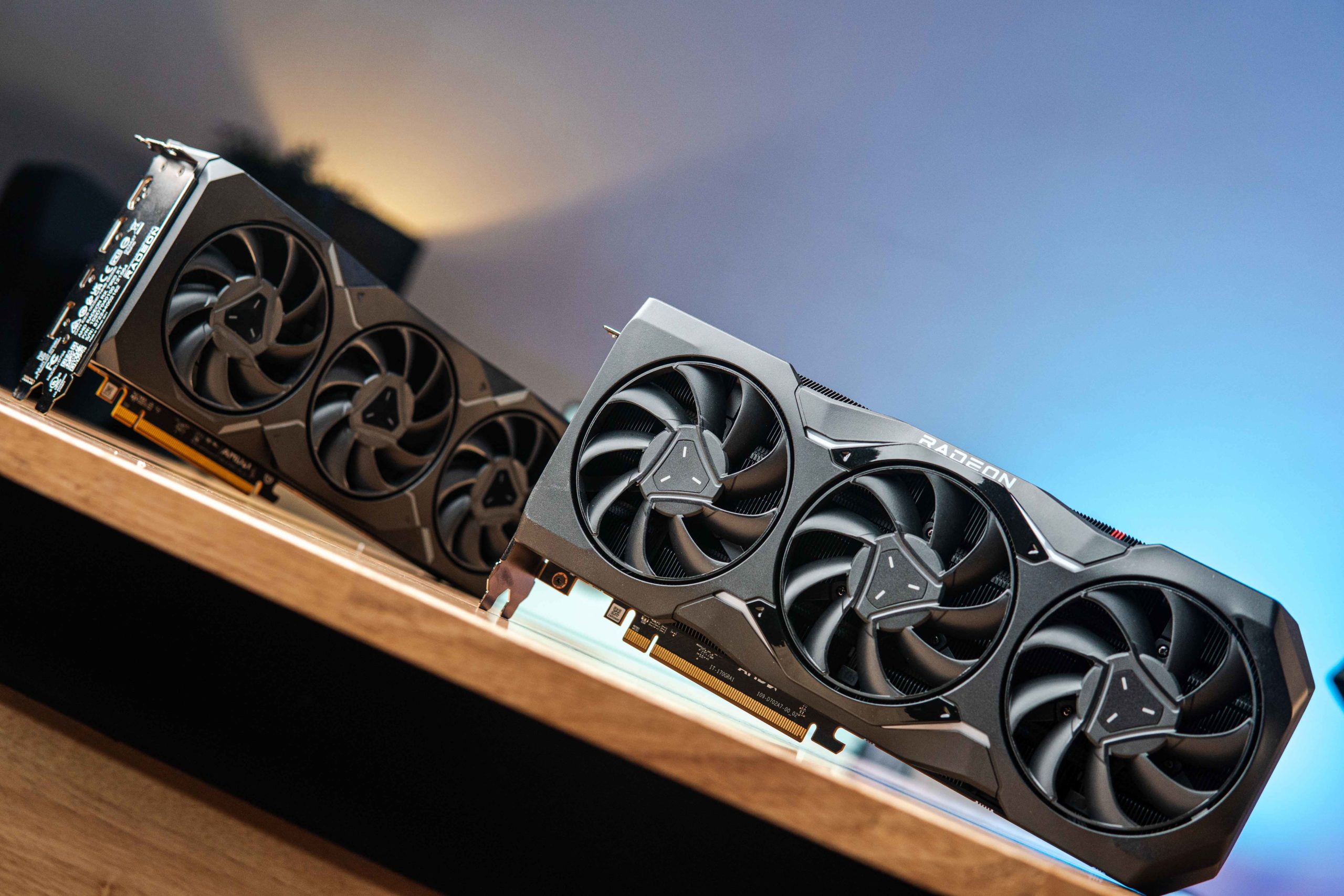 Specifications
| | | |
| --- | --- | --- |
| | AMD Radeon™ RX 7900 XTX | AMD Radeon™ RX 7900 XT |
| Architecture | RDNA 3 | RDNA 3 |
| Game Frequency | 2300 MHz | 2000 MHz |
| Boost Frequency | 2500 MHz | 2400 MHz |
| VRAM | 24 GB | 20 GB |
| Memory Type | DDR6 | DDR6 |
| Memory Speed | 20 Gbps | 20 Gbps |
| Memory Bandwidth | 384-bit / 960 GB/s | 320-bit / 800 GB/s |
| Infiinity Cache | 96 MB | 80 MB |
| TBP | 355 W | 315 W |
| Price | RM 5,199 | RM 4,599 |
Similarities and Differences
Aesthetics & Design
From the first glance, the Radeon RX 7900 XTX and Radeon RX 7900 XT have similar aesthetics with some subtle differences. Both cards also share a black metal shroud with a 2.5-slot thickness. The XTX features a matte black metal backplate with an illuminated "RADEON" logo on the side and RGB lighting on the front edge, while the XT has a similar matte black metal backplate without any lighting. Some may find this lack of design rather bland and boring, but I personally find it rather elegant with its matte black presentation with red highlight that stands out.
One noticeable difference between the Radeon RX 7900 XTX and the Radeon RX 7900 XT is their size and weight. Both cards have a 2.5-slot thickness, but the XTX is slightly longer and taller than the XT. The XTX measures 287 x 110 x 51 mm while the XT measures 276 x 110 x 51.1mm. The XTX also weighs more than the XT, at 1800g versus 1524g. This is due to the XTX having more compute units, stream processors, ray accelerators, memory, and memory bus.
Another difference between these cards is their fan design. The XTX has three custom 84mm fans with an integrated rim, while the XT has three custom 78mm fans with an integrated rim, which provide more airflow and cooling for the more powerful XTX card. However, this also results in the XTX generating more noise, with our decibel meter measuring a maximum noise level of 48 dB(A) under load compared to the XT's maximum of 44 dB(A). Both cards have a zero RPM fan mode when idle or under light load.
Regarding connectivity options, both the Radeon RX 7900 XTX and Radeon RX 7900 XT come with two full-sized DisplayPort 2.1 connectors (54 Gbps), one HDMI 2.1 output (48 Gbps), and one USB Type-C connector, which supports single cable VR headsets as well as DisplayPort 2.1 monitors. However, the XTX has an additional feature in the form of a dual BIOS switch, which allows users to choose between a performance mode and a quiet mode, whereas the XT lacks this feature.
Hardware specifications
When it comes to hardware specifications, the only similarities between the two are the RDNA 3 architecture and chiplet design. They are otherwise very different in specifications.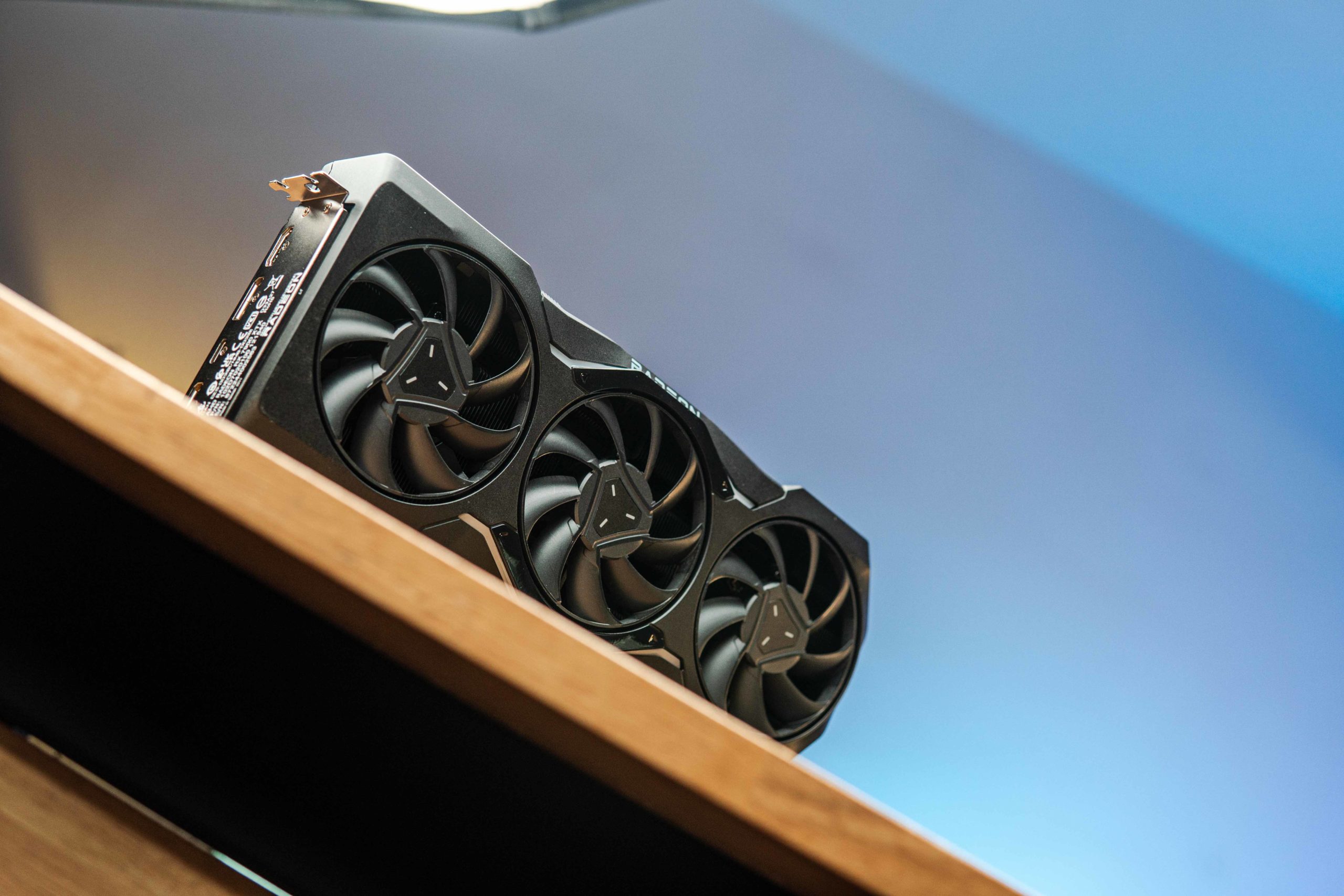 The Radeon RX 7900 XTX is the higher end of the two, boasting 96 compute units, 6,144 stream processors, 96 ray accelerators, and 24 GB of GDDR6 memory with a 384-bit memory bus. It has a base clock speed of 2.3 GHz and a boost clock speed of 2.5 GHz, with a TBP of 355 W and two 8-pin power connectors required.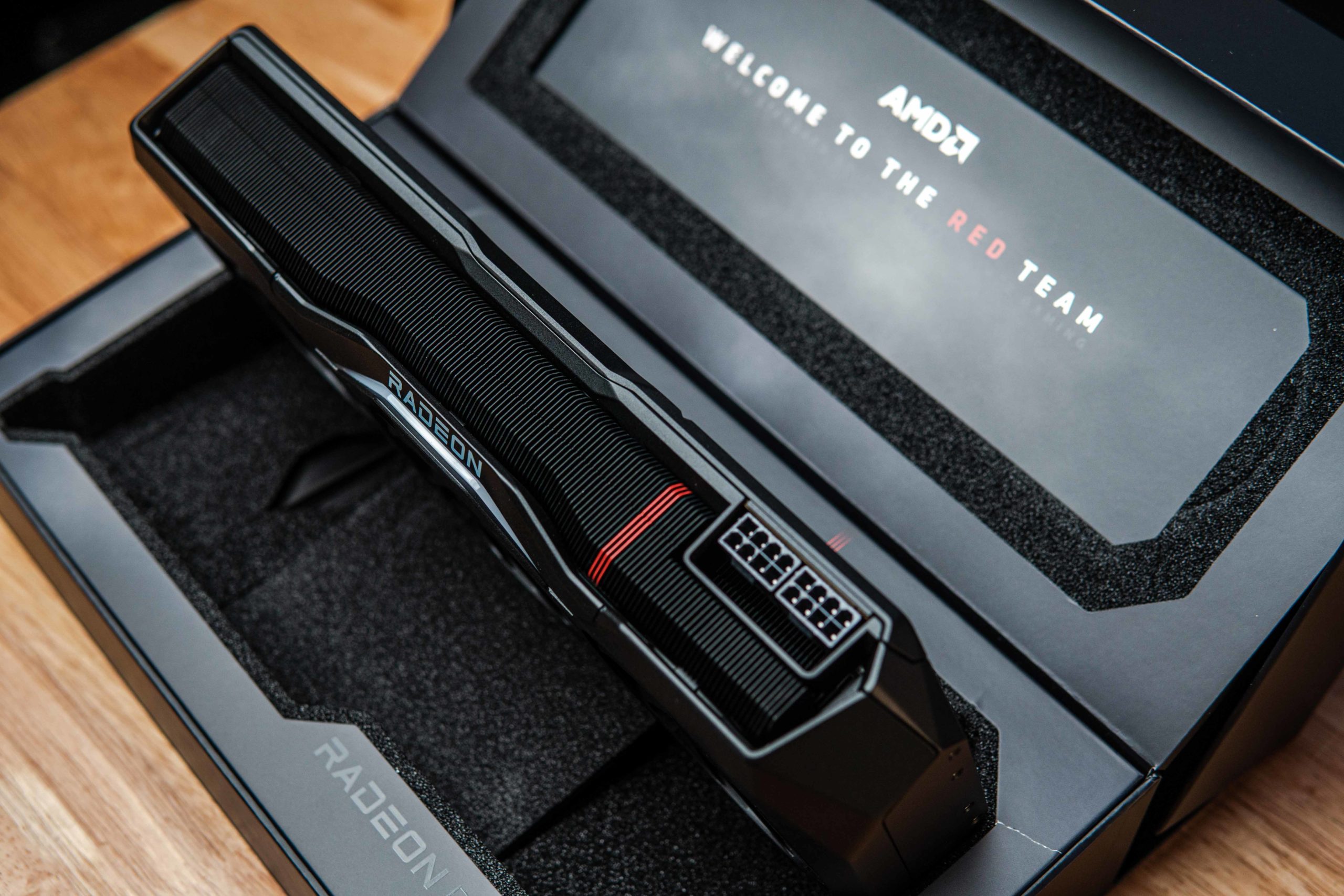 On the other hand, the Radeon RX 7900 XT is slightly less powerful, with 84 compute units, 5,376 stream processors, 84 ray accelerators, and 20 GB of GDDR6 memory with a 320-bit memory bus. It has a base clock speed of 2 GHz and a boost clock speed of 2.4 GHz, with a TBP of 315 W and also requires two 8-pin power connectors.
Due to its higher clock speeds and additional components, the XTX draws more power compared to the XT. In our benchmarks, the XTX can draw up to 350 W from the wall, while the XT can draw up to 300 W. This highlights a potential difference in power efficiency between the two cards.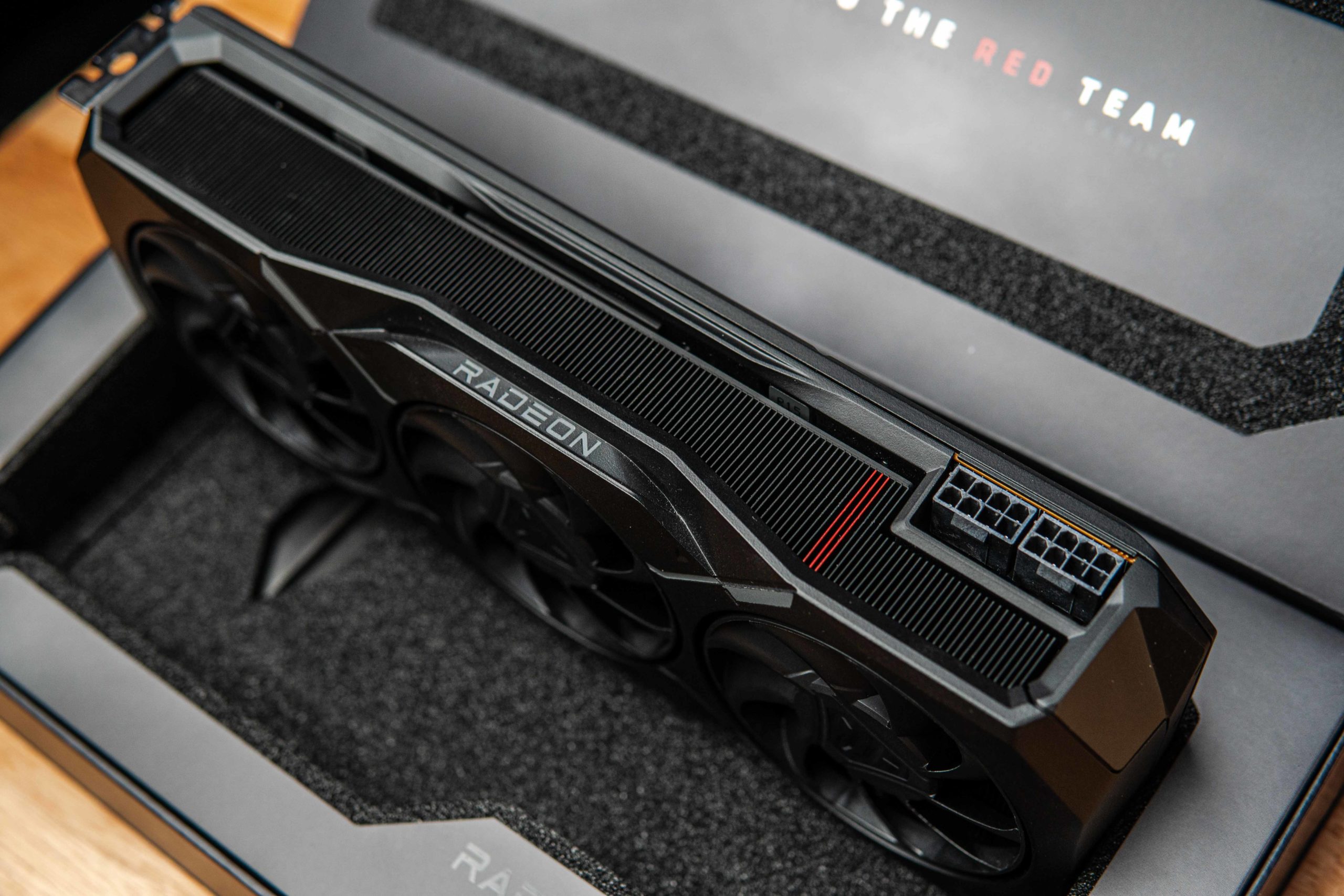 Both graphics cards support DisplayPort 2.1, HDMI 2.1, PCIe 5.0, AV1 decode/encode, and AMD's FidelityFX Super Resolution technology, which enhances performance and image quality in games that support it. Additionally, both cards feature dual issue-rate compute units, which boost the IPC by 17% over the RDNA 2 architecture, and an AI accelerator that enables matrix math functions for machine learning applications.
Benchmark Results

For benchmarks, we subjected both GPU to 3DMark's Time Spy, Port Royal and the built in benchmarking tool in Cyberpunk 2077. For the synthetic benchmarks, both the GPUs were tested for the Rage and Balanced mode preset available in AMD's Adrenalin Software as well.
| | |
| --- | --- |
| Operating system | 64-bit Windows 10 (10.0.19042) |
| CPU | AMD Ryzen™ 7 7700X |
| Motherboard | ASUS ROG CROSSHAIR X670E HERO |
| RAM | 2 x 8GB Kingston FURY Beast DDR5 RGB 5200 MT/s CL40 |
| Storage | 1 TB Sabrent Rocket 4.0 Plus |
Timespy & results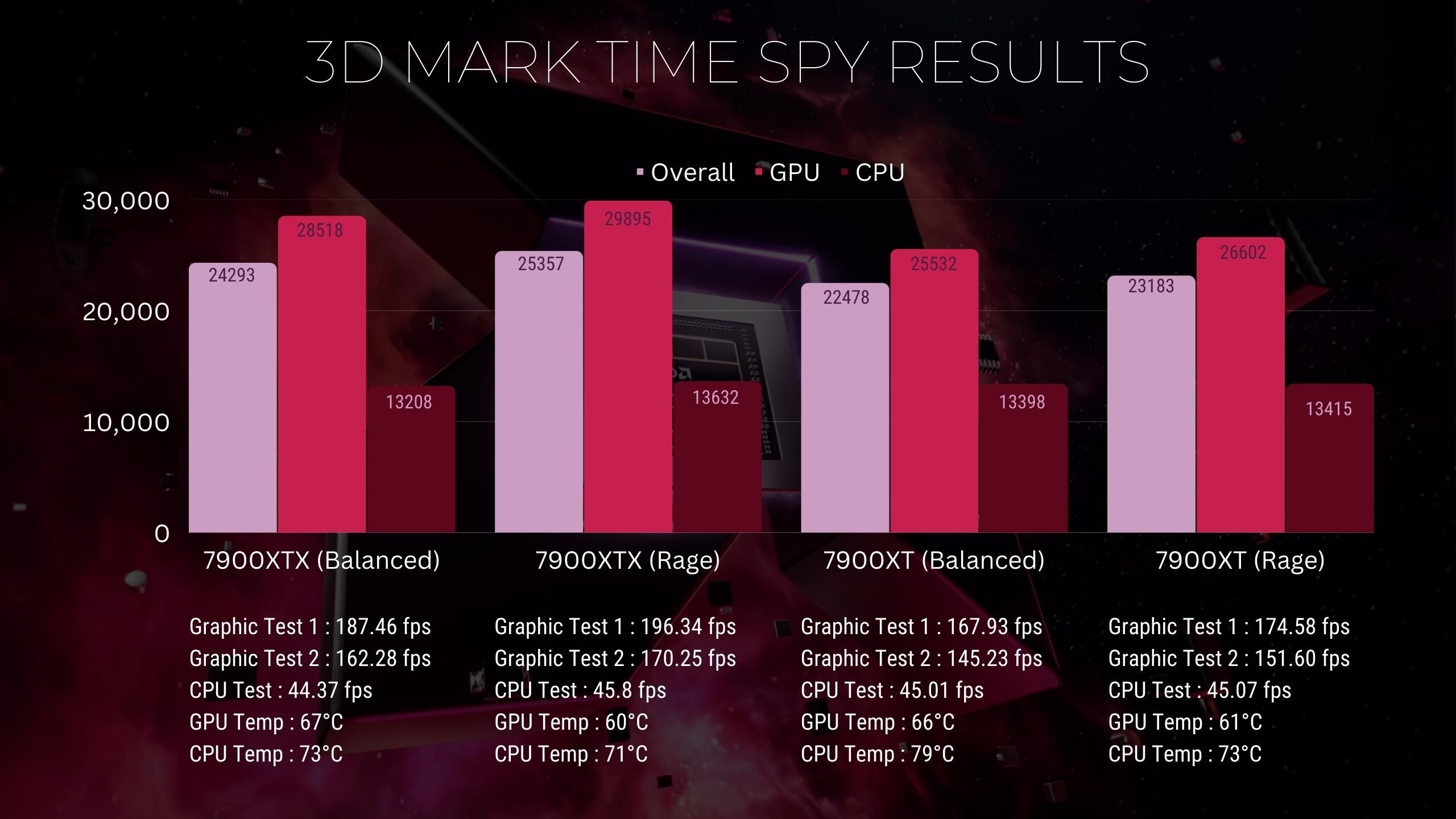 Overall, the Radeon RX 7900 XTX and Radeon RX 7900 XT demonstrated impressive performance. The 3D Mark Time Spy benchmark revealed a difference of around 10% to 12% in GPU performance between the two. Additionally, both GPUs performed well within the range of 167 fps to 193 fps in Graphic Test 1 and 145 fps to 170 fps in Graphic Test 2.
Port Royal
When it comes to Ray Tracing, the performance of both cards was not particularly impressive. Despite this, the Radeon RX 7900 XTX still showed a notable improvement of 12% to 13% in comparison. However, its maximum performance was limited to only 73.5 fps. On the other hand, the Radeon RX 7900 XT obtained scores of 63 fps on Balanced mode and 65 fps on Rage mode.
Cyberpunk 2077 (1440p) results
The 7900 XTX performed well in Cyberpunk 2077 at 1440p without ray tracing, reaching 142 fps on average and 105 fps on 1%. The 7900 XT was slightly slower than the XTX, with 121 fps on average and 103 fps on 1%.
With ray tracing enabled (using the default 'Ray Tracing' quality preset), the 7900 XTX dropped to 72 fps on average with FSR enabled. The 7900 XT did not fare much better, with just 54 fps with FSR enabled as well.
As you can see from the initial tests we ran above, the Radeon RX 7900 XTX and Radeon RX 7900 XT delivered the expected performance of a next generation graphics card. They not only provided good performance but also maintained desirable temperatures within the range of 60°C to 67°C. However, we observed an unusual difference between the two preset modes used. In Balanced mode, both the CPU and GPU temperatures were higher, whereas the overall temperature readings were better in Rage mode. This is surprising because Rage mode is designed to push the GPU to perform better, resulting in higher power draw and, consequently, a higher temperature range. Nonetheless, all results remained within the desirable temperature range.
---
What I liked about Radeon RX 7900 XTX and Radeon RX 7900 XT
Although subjective, I personally admire the aesthetics of both AMD GPUs. Their rugged design complements the raw power that the cards are capable of delivering.
Performs up to par as a next generation GPU.
What I wished was better/included
At the price of RM 4,599, one would expect the Radeon RX 7900XT to come with some form of RGB lighting. Nope, Nada, Zilch!
AMD has made some improvement with ray tracing performance on the RDNA3 architecture but it is still rather weak.
---
Verdict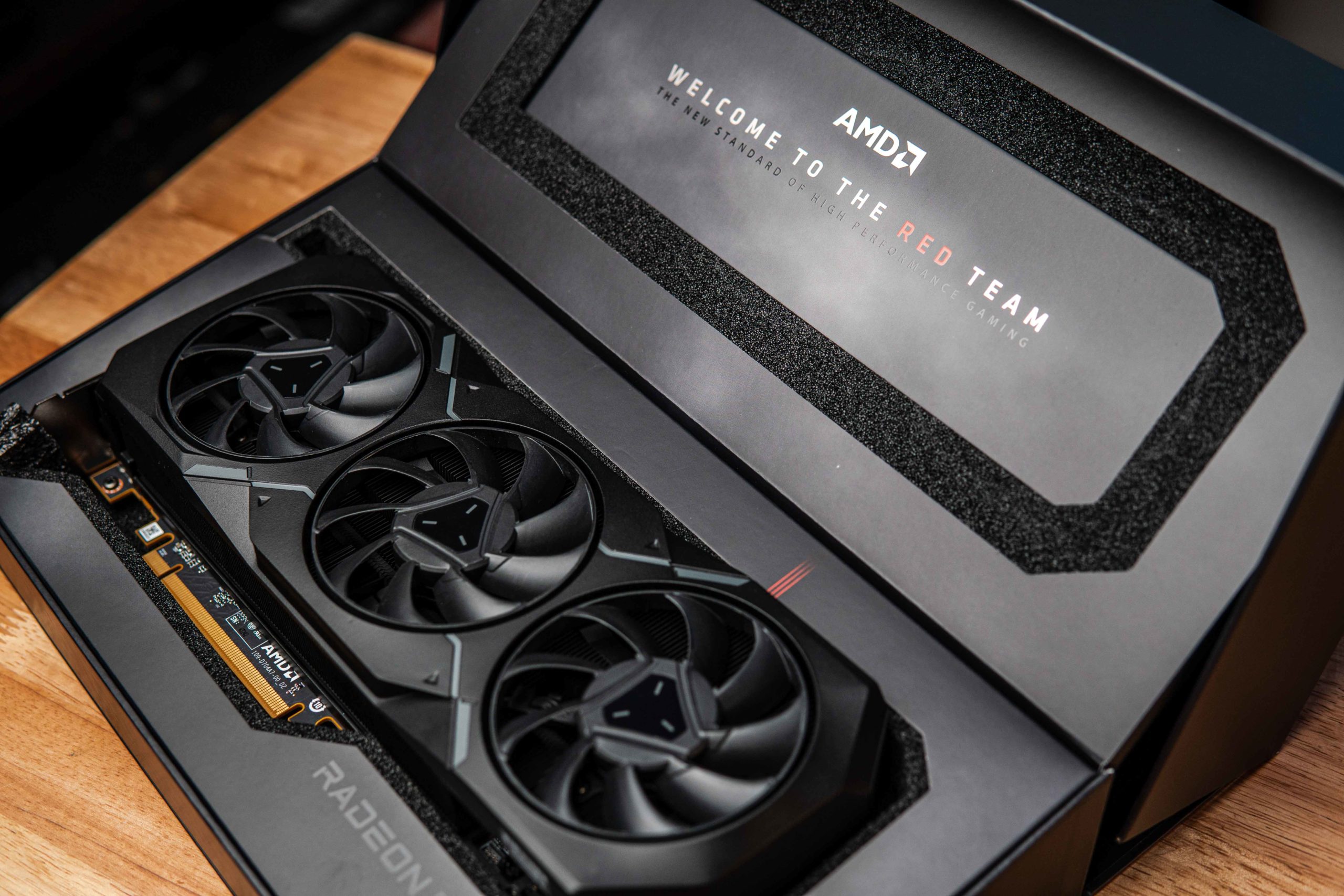 In a nutshell, both the Radeon RX 7900 XTX and the Radeon RX 7900 XT falls under the powerhouse category when it comes to performance. They are impressive graphics cards that are great for gamers and creators. They can handle any game at max settings with at 4k resolution, and they can also power multiple high-resolution monitors or VR headsets – and they're able to all these without turning your PC into a desktop Pizza stove. The only obvious drawback is their mediocre ray tracing performance from 1440p onwards, which I hope AMD will solve in time to come.
In the department of aesthetics, these graphic cards have a sleek and elegant design, with a black and silver color scheme and a red Radeon logo that lights up when in use. The cards also have a rugged and sturdy look, with a metal backplate and a triple-fan cooler that can handle the heat generated by the chiplets. The design, in my books, reflects the pure raw power that these cards can deliver, and they will look great in any PC case.
If I'm looking for a GPU within the price range of RM 4,599 to 5,199, these bad boys will very likely to be in my list. They are both excellent choices that will satisfy my gaming and creative needs for years to come.
Final Score (Radeon RX 7900XTX) : 9/10
Final Score (Radeon RX 7900XT) : 8/10
---
Product Page : https://www.amd.com/en/graphics/radeon-rx-graphics
Official FB (Malaysia) : https://www.facebook.com/AMDMalaysia/