Acer has recently unveiled its latest lineup of budget-friendly gaming monitors, the Acer Nitro QG0 series, aiming to provide gamers with high refresh rates at an affordable price. Among these new offerings, the QG240YH3 stands out as a particularly intriguing option. Priced at just RM 379, this monitor delivers an impressive 100Hz refresh rate and a speedy 4ms GTG response time, ensuring smooth and responsive gameplay. In this review, we will delve into the gaming features and overall performance of the QG240YH3, examining how it holds up against its more expensive counterparts and whether it offers excellent value for its price point.
Build and Aesthetics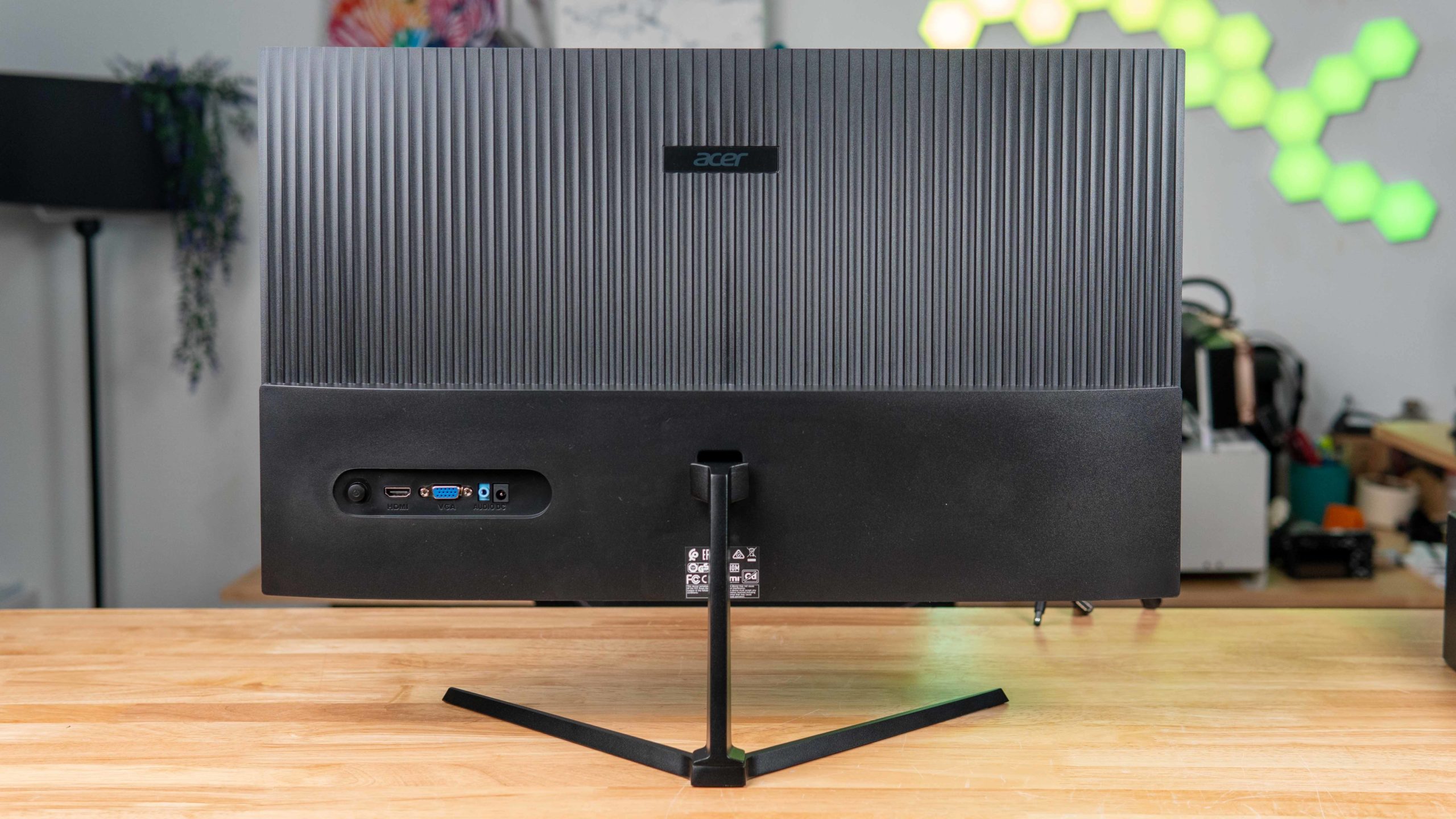 The QG240YH3 monitor while has a sturdy build quality and thoughtful design that doesn't compromise on style or stability. Its lightweight and compact design make it well-suited for various setups, especially for those with limited desk space. The nearly bezel-less display adds to its aesthetic appeal on top of minimizing distractions and maximizing the visual impact of your games and multimedia content.
While the monitor's plastic casing did raise some concerns about durability, the inclusion of a metal stand provides the required stability, preventing any wobbling or tilting during use. Even when engaging in intense gaming sessions that involve swift movements or accidental bumps, the monitor remains steadfast, allowing me to focus on the game without any distractions.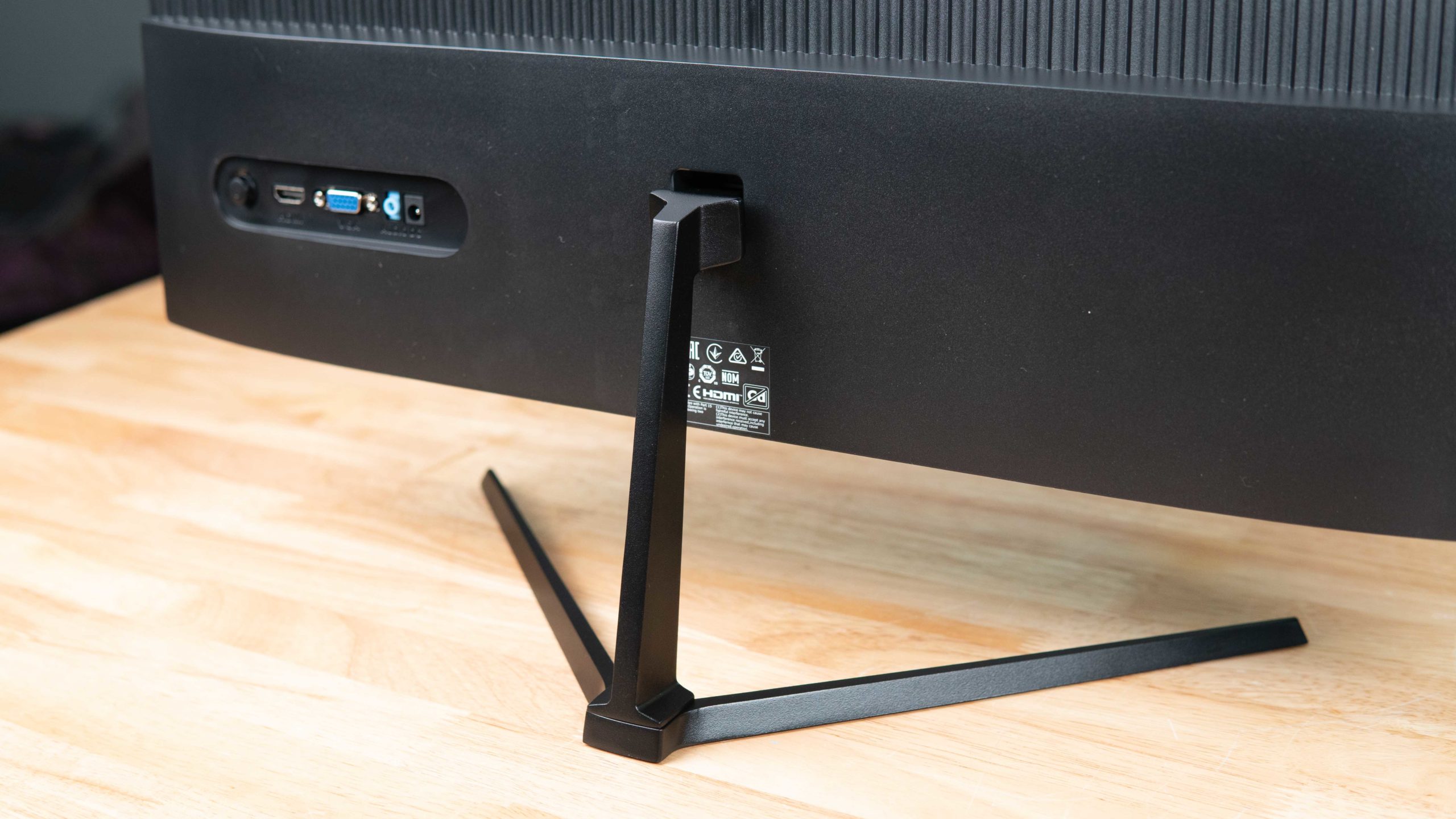 Although the included stand offers limited adjustability options, it does allow for slight tilting. This feature enables users to find the optimal viewing angle for enhanced comfort and reduced eye strain during extended gaming sessions. While it may not provide the flexibility of more advanced stands with height adjustments or swivel capabilities, the ability to tilt the monitor slightly is still a valuable inclusion, especially considering the monitor's budget-friendly price point.
Connectivity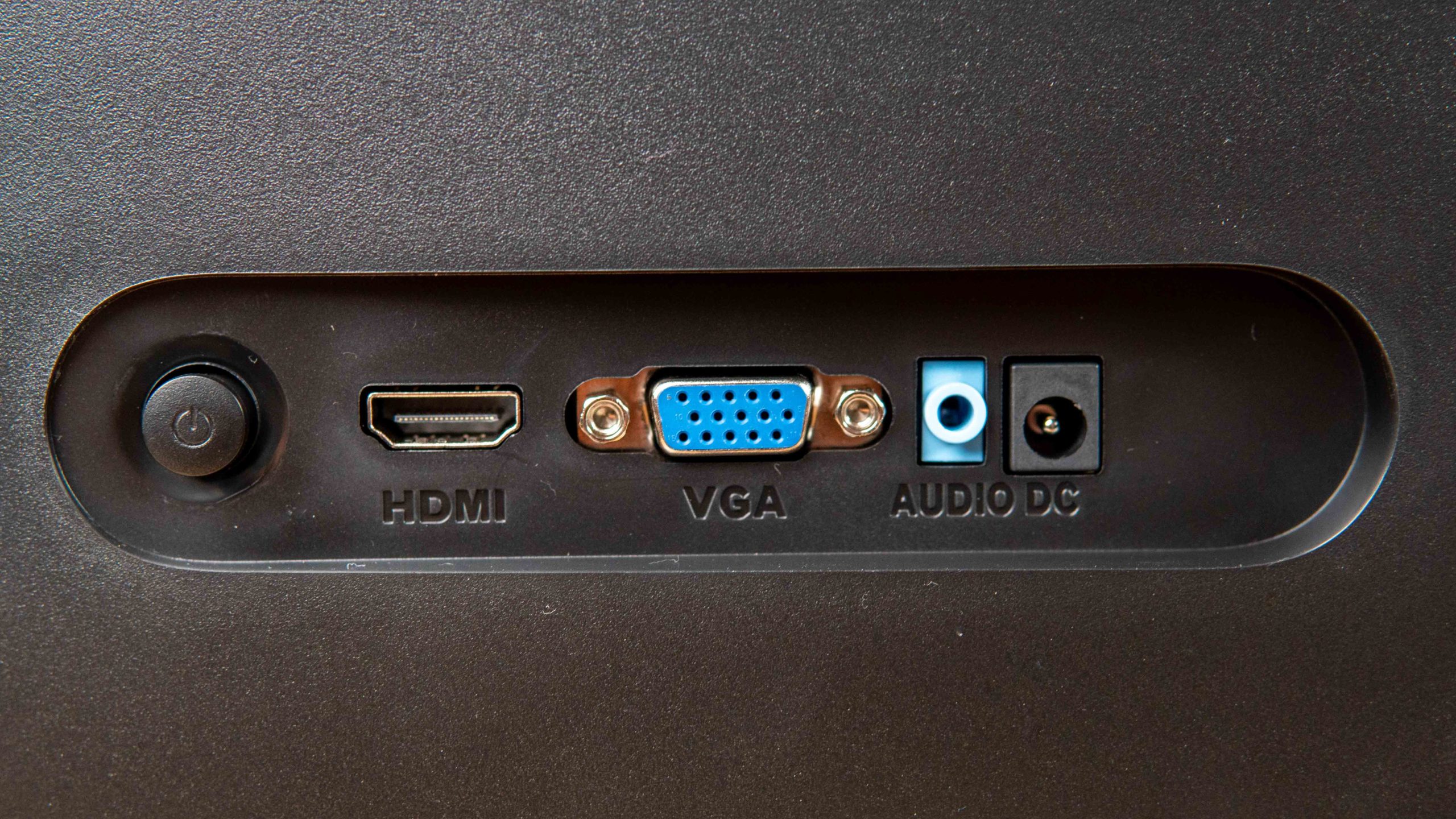 Moreover, the thoughtful placement of ports and controls adds to the overall convenience and user-friendliness of the design. All the ports, including HDMI, Audio-out, and VGA, are located on the bottom right side of the screen. This placement also provides easy access and minimizes any cable clutter, allowing for an organized cable management. Additionally, the on-screen display (OSD) control features an analog nub that is clickable, simplifying navigation within the OSD interface. This innovative control mechanism offers a more intuitive and streamlined experience compared to traditional button configurations, making it easier to adjust settings and customize your display preferences.
Aesthetics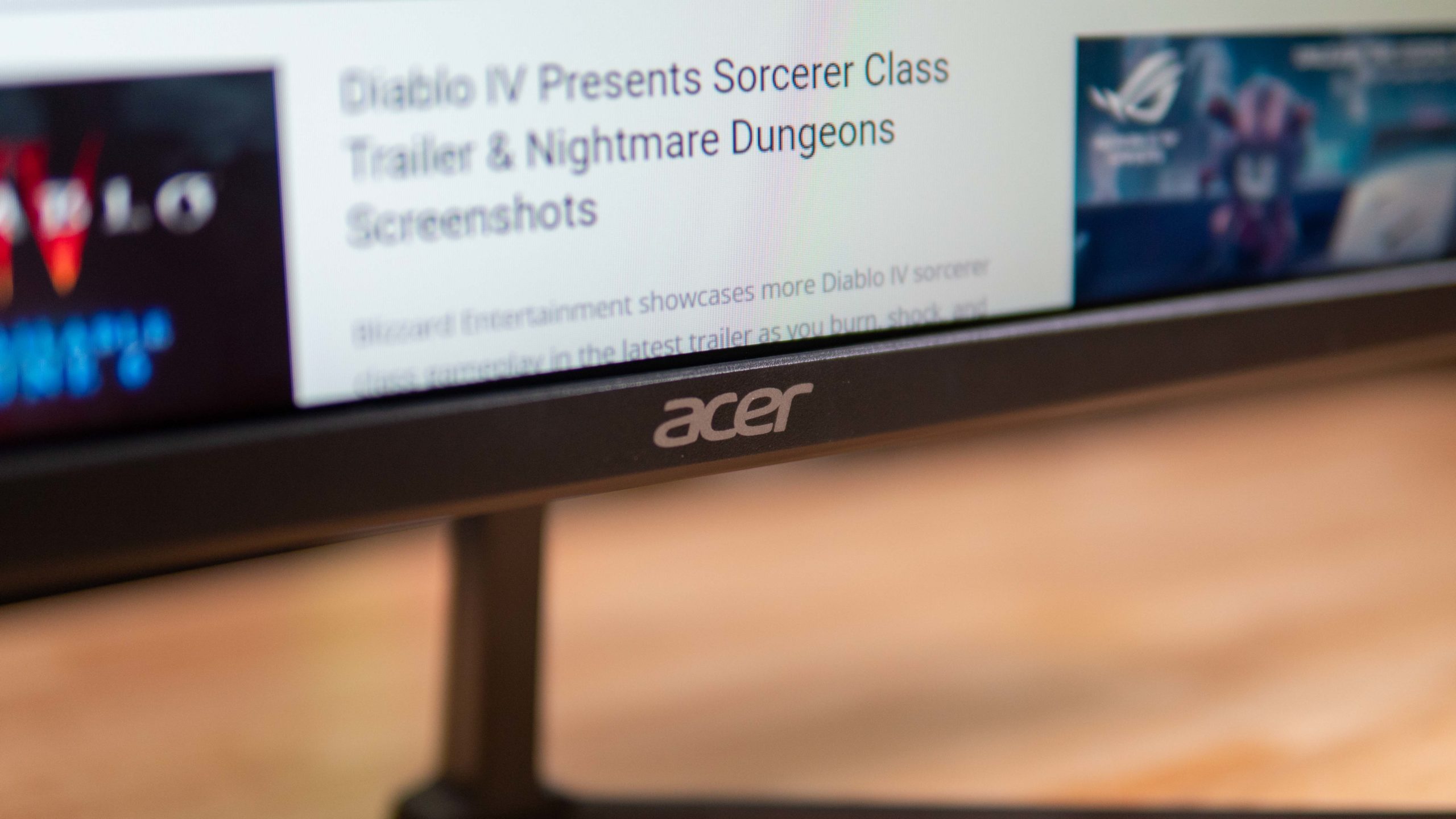 In terms of aesthetics, the QG240YH3 exudes a minimalist vibe, devoid of any flashy or distracting elements commonly associated with gaming monitors. The absence of gamer-centric aesthestics or overly prominent branding ensures that the focus remains on the stunning display itself. The Acer logo, discreetly placed at the bottom of the monitor panel, is often overshadowed by the vibrant and captivating visuals on the screen, allowing for a more immersive viewing experience.
Display Quality and Visual Experience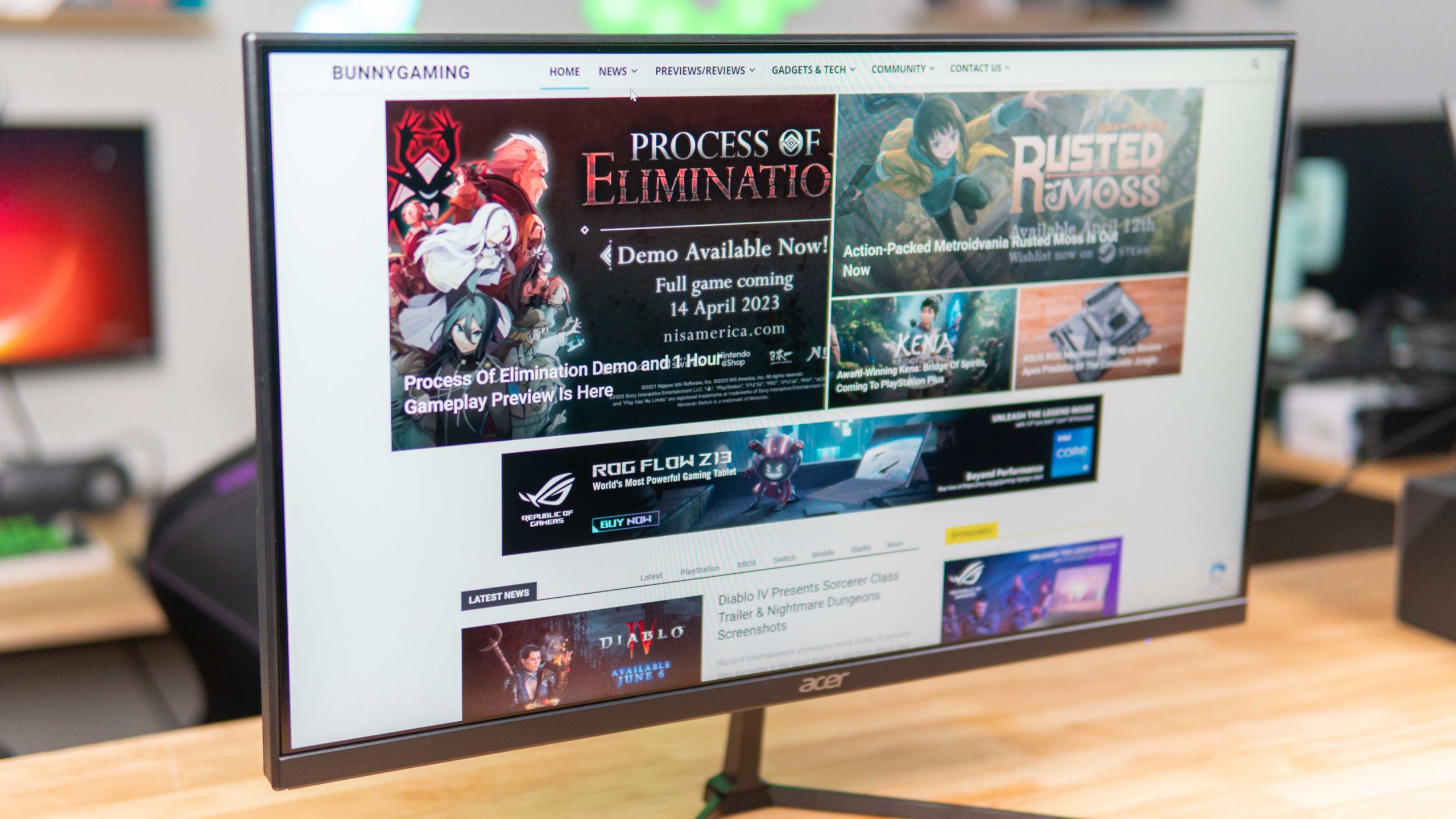 The QG240YH3 sets a pretty decent standard for a budget monitor. With a VA panel at its core, this monitor excels in delivering excellent contrast levels that bring visuals to life with stunning precision. The vibrant colors and deep blacks create a captivating visual experience, making games and multimedia content truly immersive.
One notable feature of the QG240YH3 is its support for HDR10, which takes the display quality to another level. HDR10 technology enhances the dynamic range of the monitor, resulting in darker blacks and brighter whites. This feature contributes to a more realistic and vivid representation of colors, adding depth and detail to both bright and dark areas of the screen. Whether you're exploring the vibrant landscapes of open-world games or watching HDR content, the QG240YH3 delivers a captivating experience.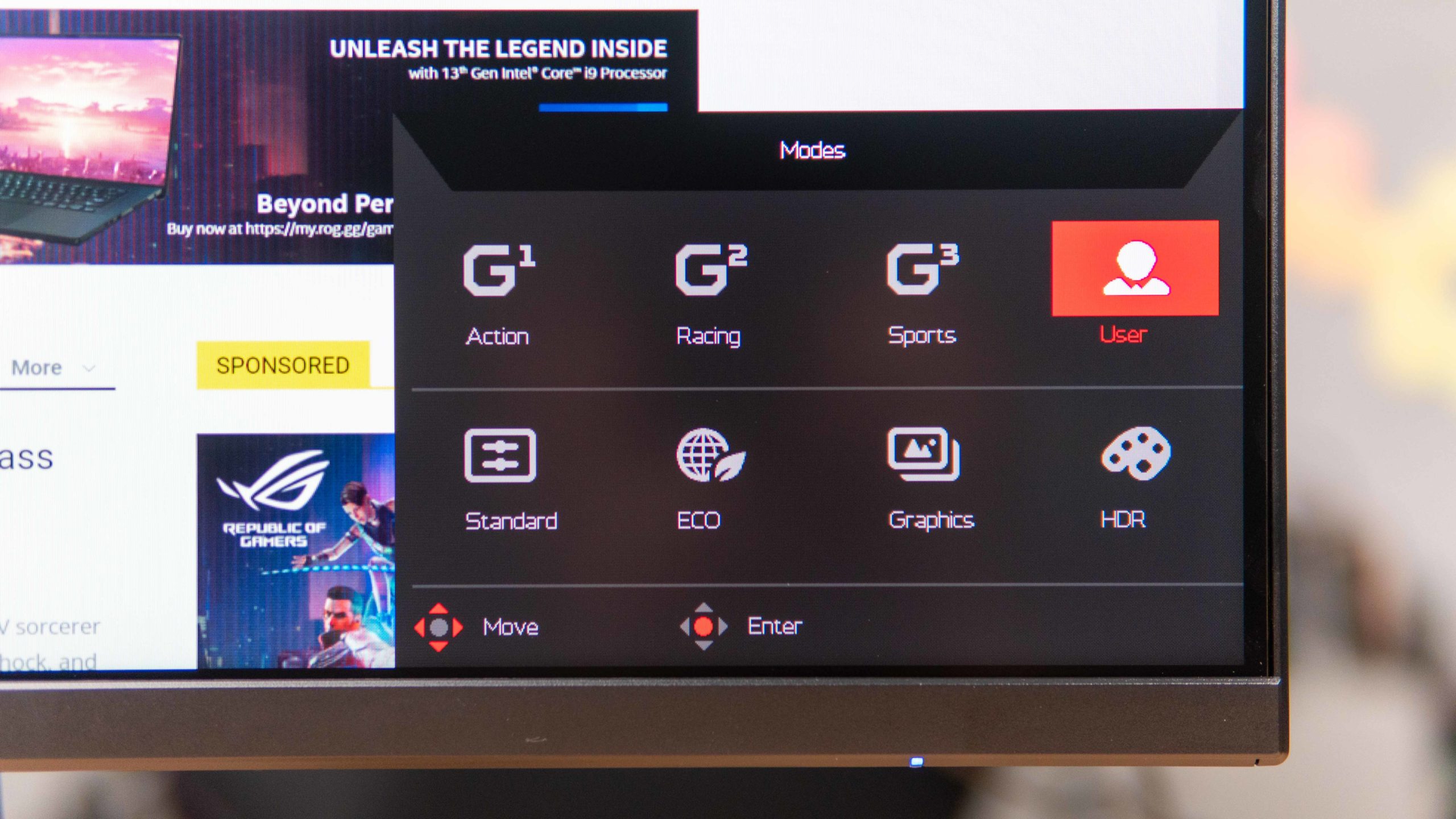 While the monitor features a 1080p resolution, which some may consider a compromise in an era of higher resolutions, it still manages to impress with its image quality. For mainstream gamers, the 1080p resolution remains highly suitable and provides sharp visuals without straining the GPU excessively. In fact, many gamers prefer the balance between performance and image quality that 1080p offers, as it allows for smoother gameplay without sacrificing too much detail.
The QG240YH3's standout feature is its impressive 100Hz refresh rate, which is easily achievable through the HDMI 2.0 port. This high refresh rate provides a noticeable advantage, particularly in competitive gaming scenarios. The increased frame rate ensures smoother control inputs and reduces input lag, allowing for a more responsive and precise gaming experience. Games with fast-paced action, such as first-person shooters or racing games, greatly benefit from the QG240YH3's high refresh rate, enabling players to react swiftly to on-screen events and gain a competitive edge.
It's worth noting that achieving and maintaining high frame rates requires a capable graphics card. While mainstream AAA titles may not necessarily require such high refresh rates, esports titles like Valorant or Dota 2 can fully leverage the QG240YH3's capabilities. For gamers who prioritize competitive gaming and seek every advantage they can get, the 100Hz refresh rate is a feature that can make a noticeable difference in gameplay without tearing a hole in the wallet.
---
What I Liked About the Acer Nitro QG240YH3
It's really affordable
It checks most boxes in a gaming monitor
It's really light!
What I Wished Was Better
No VESA mounting
Limited stand adjustment
Not rotateable
---
Conclusion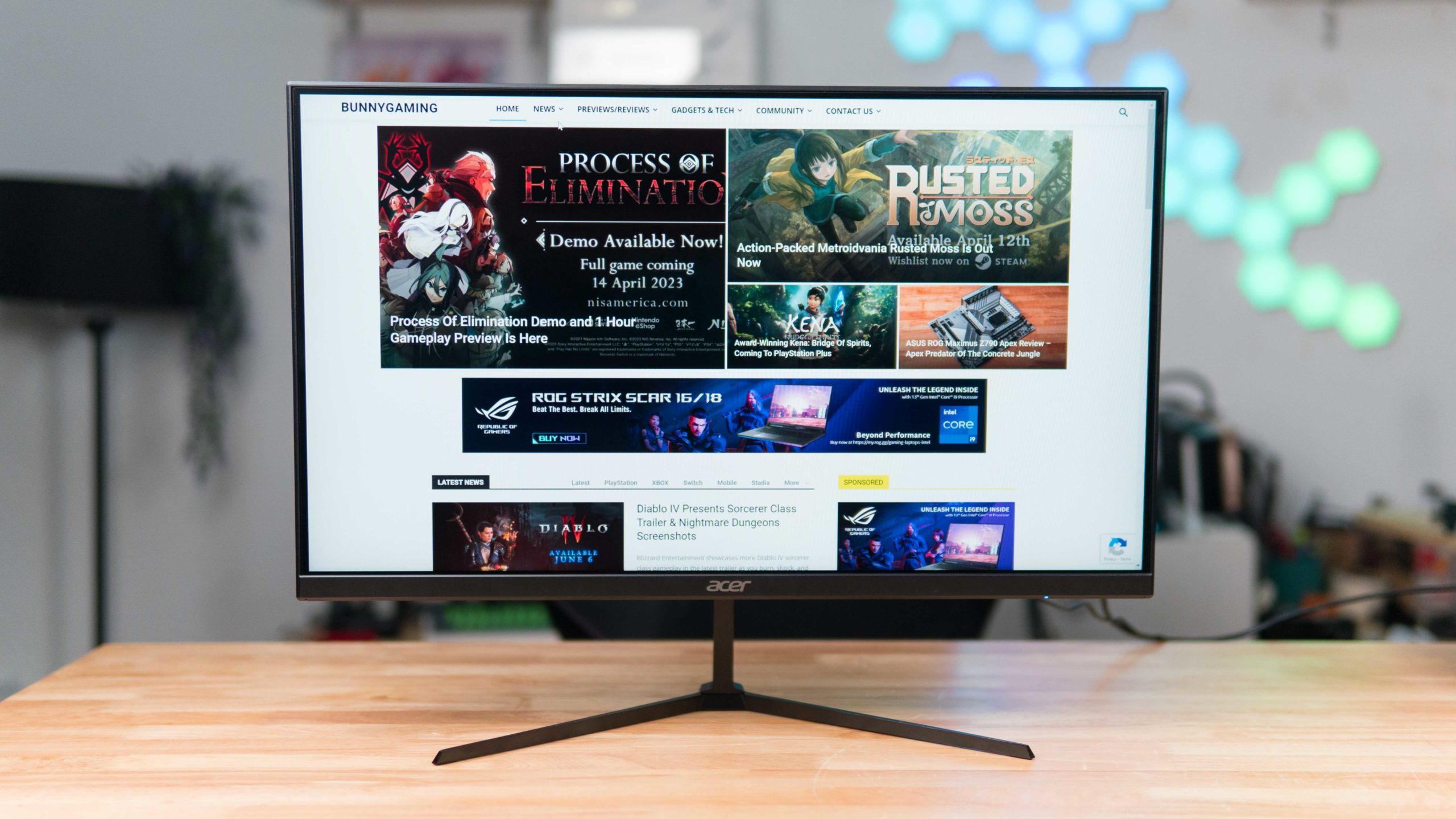 Overall, the Acer Nitro QG240YH3 represents a game-changer in terms of affordability in the gaming monitor market. It offers an impressive package of high refresh rate, display quality, and innovative features, rivaling higher-end models from the previous year while remaining accessible to budget-conscious gamers. Acer's commitment to delivering exceptional value is evident in this monitor, making it a top choice for those seeking a budget-friendly option without compromising too much on performance. The QG240YH3 stands as a testament to Acer's dedication to providing an exceptional gaming experience for all, regardless of budget constraints.
One of the standout features of the QG240YH3 is its affordability. Acer has managed to make gaming more accessible to a wider audience by providing a high refresh rate, impressive display quality, and innovative features at a price point that won't break the bank. This ensures that gamers on a budget can still enjoy a premium gaming experience without compromising on performance or quality.
Acer has also paid attention to the user experience by incorporating innovative features. The inclusion of an analog nub for navigating the OSD interface adds convenience and intuitiveness to the monitor's controls. This attention to detail demonstrates Acer's commitment to delivering a well-rounded product that enhances the overall gaming experience.
Final Verdict : 7/10