Behold, the Noctua NF-A12 x 25. This is a high performance fan that is known for its quiet sound profile and excellent cooling capabilities. This fan is a great choice for anyone that is out there yearning to keep their PC cool and quiet with no caveats to their performance. Let's just dive in and take a look at what makes this fan a product that many out there crave upon.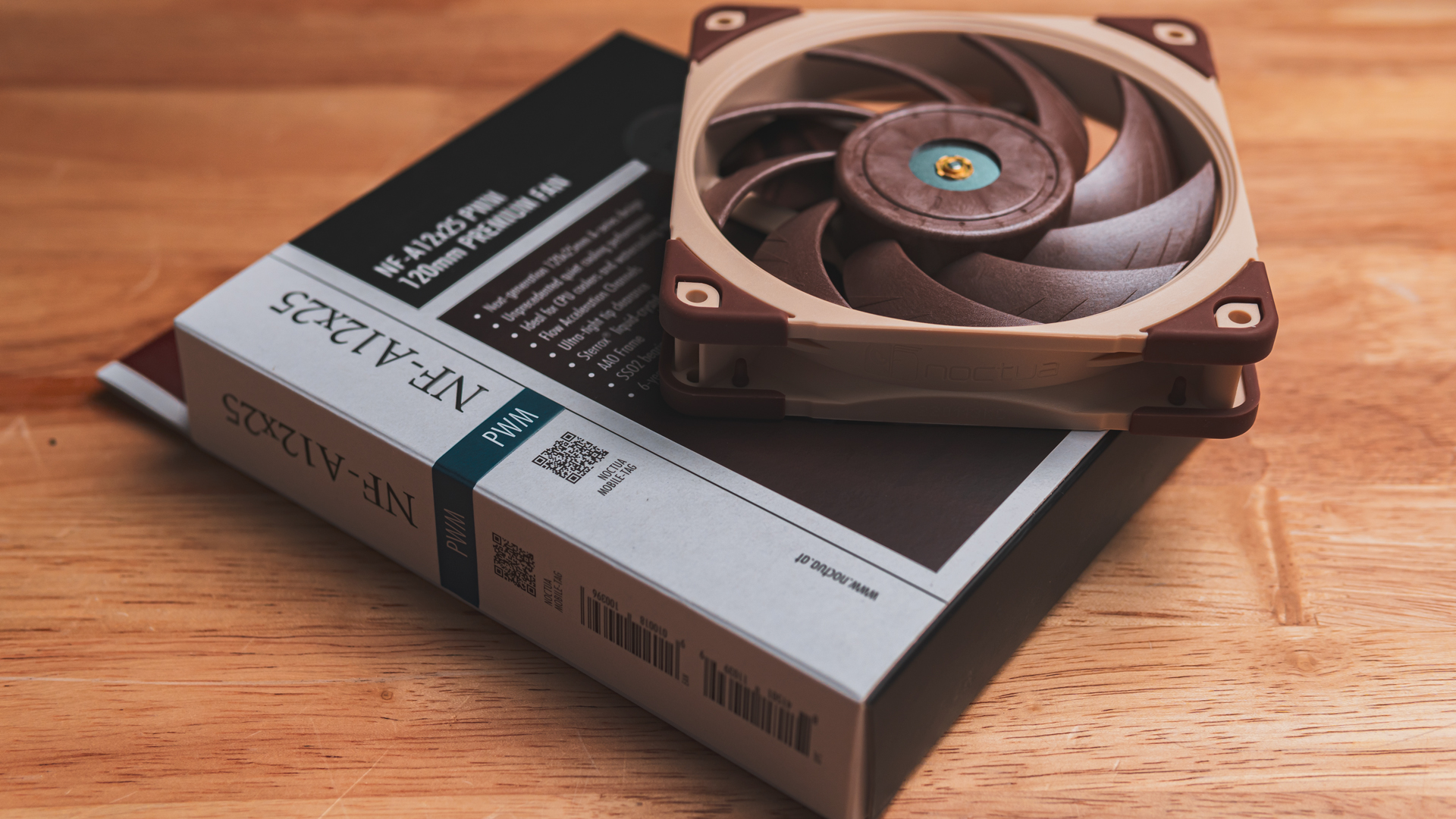 Overview
The Noctua NF-A12x25 features a unique 9 blade design that helps to reduce noise while still providing great air flow. The fan blades are wide, curved, and have some fins/protrusion(that are called flow acceleration channels) allowing them to move more air with each rotation while reducing turbulence and noise.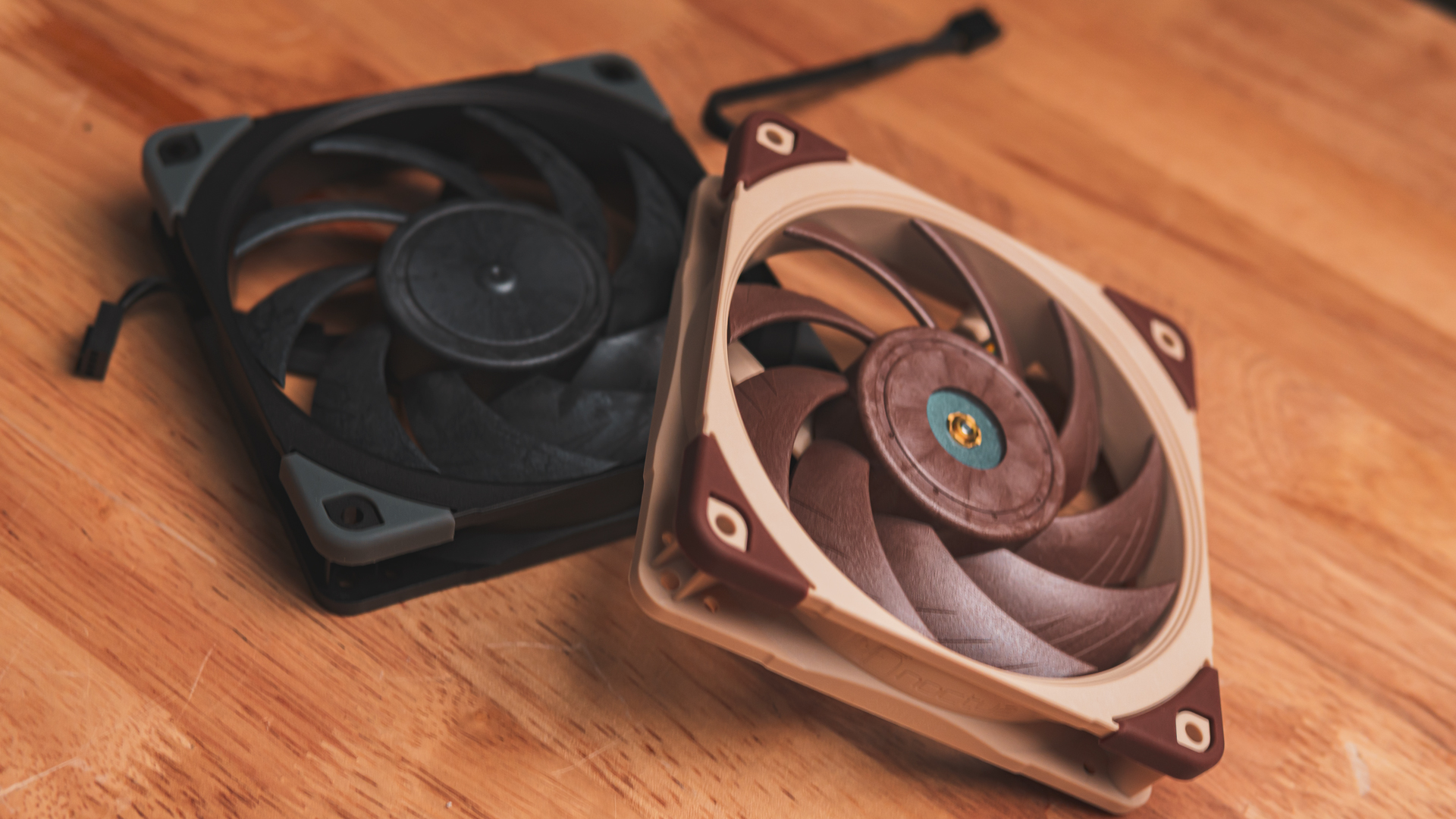 As for colour schemes, the fan is available in Noctua's signature brown and beige colour schemes. Worry not as for those who do not quite like the color as Noctua also has another colour way that is sure to appeal to a wider audience which is the Noctua NF-A12x25 Chromax Black. The Chromax version comes with additional colours of rubber dampeners to suit multiple colour themes as well.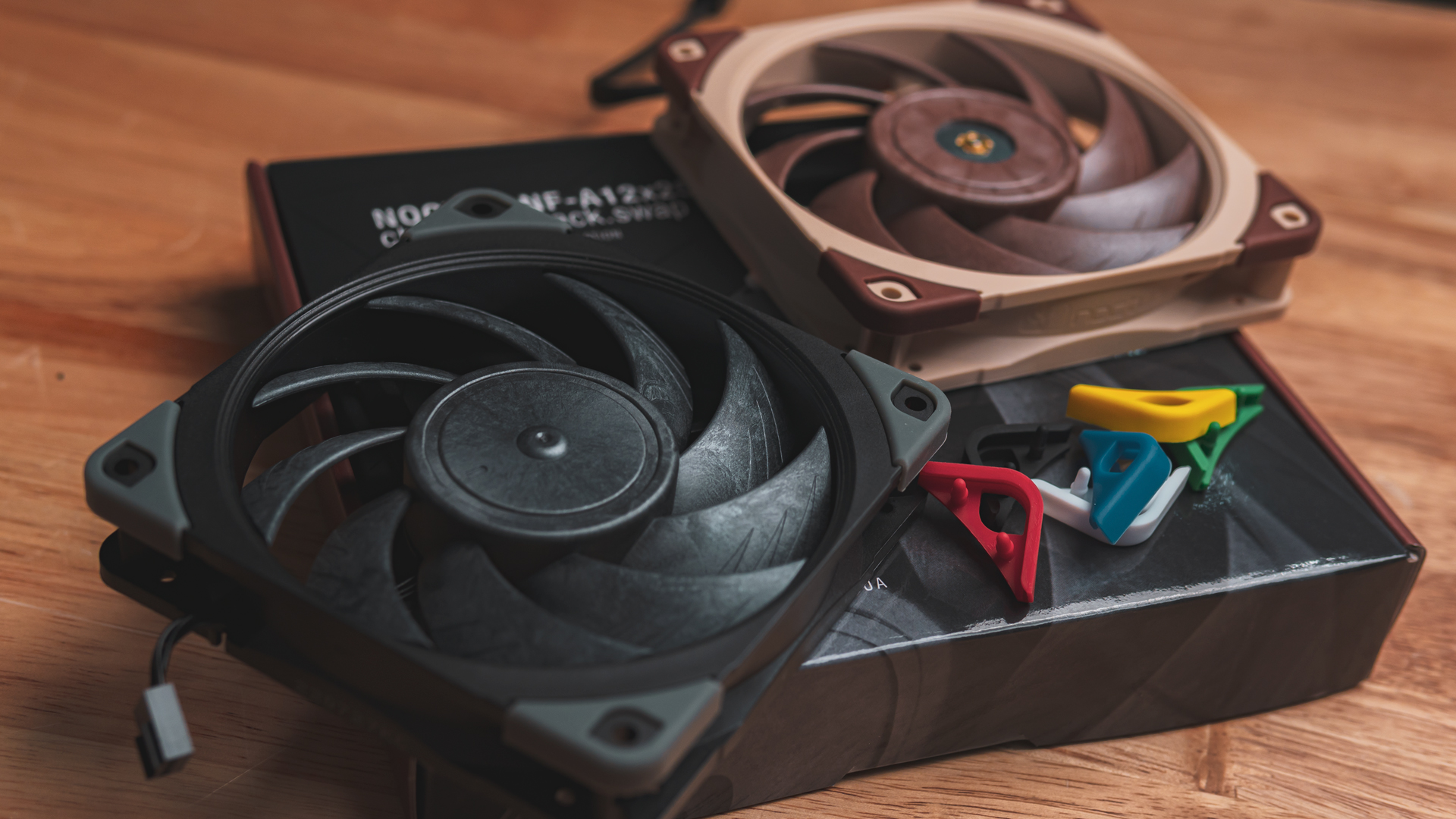 The fans come bundled with a slew of accessories. Each purchase comes with an additional set of rubber dampeners(coloured ones are only available to the Chromax Line), screws, anti-vibration rubber gasket that helps seal the fan gap when up against a radiator, and three sleeved cables—a 30 cm long extension cable, 4-pin Y-splitter cable, and low-noise adapter (LNA) which reduces the rated speed of the fan from 2000 RPM to 1700 RPM.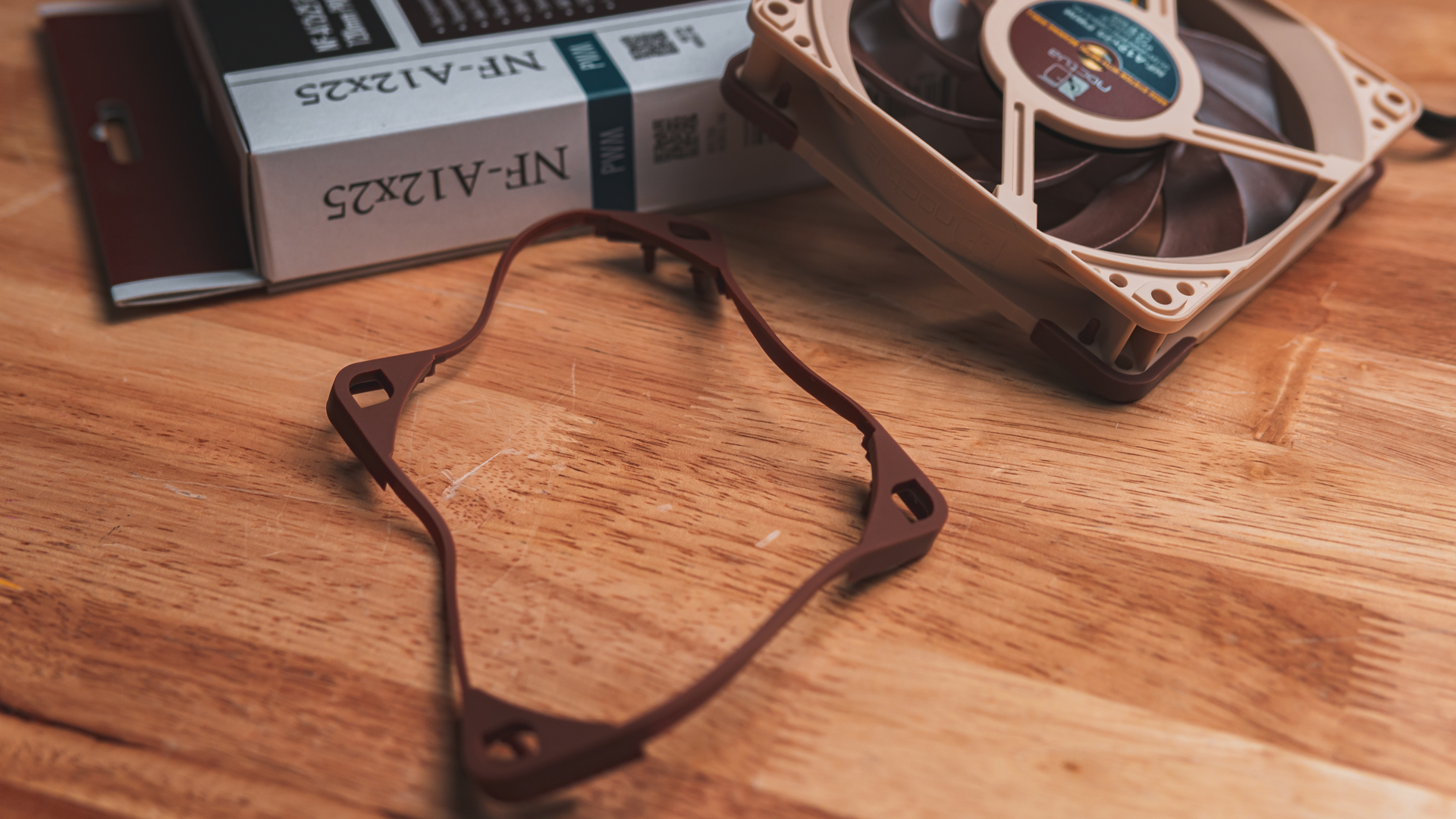 Technical Specifications
Size

120x120x25 mm

Mounting hole spacing

105×105 mm

Connector & pin-configuration

4-pin PWM

Cable length

20cm + 30cm NA-EC1 extension cable

Bearing

SSO2

Blade geometry

A-Series with Flow Acceleration Channels

Rotational speed (+/- 10%)

2000 RPM

Static pressure

2,34 mm H₂O

Airflow

102,1 m³/h

Acoustical noise

22,6 dB(A)

Package

Low-Noise Adaptor (L.N.A.)

4-pin y-cable

30cm extension cable

NA-AV2 anti-vibration mounts

Anti-vibration gasket for water cooling radiators

Fan screws

Warranty

6 years
Utility
Another great feature of the Noctua NF-A12x25 is its versatility. The fan is compatible with a wide range of cooling solutions, including CPU coolers, case fans, and radiators. It can be used in a variety of configurations, making it a great choice for anyone looking for a high-performance fan that can be used in many different ways. In simple words, this is the Numero Uno for all rounders.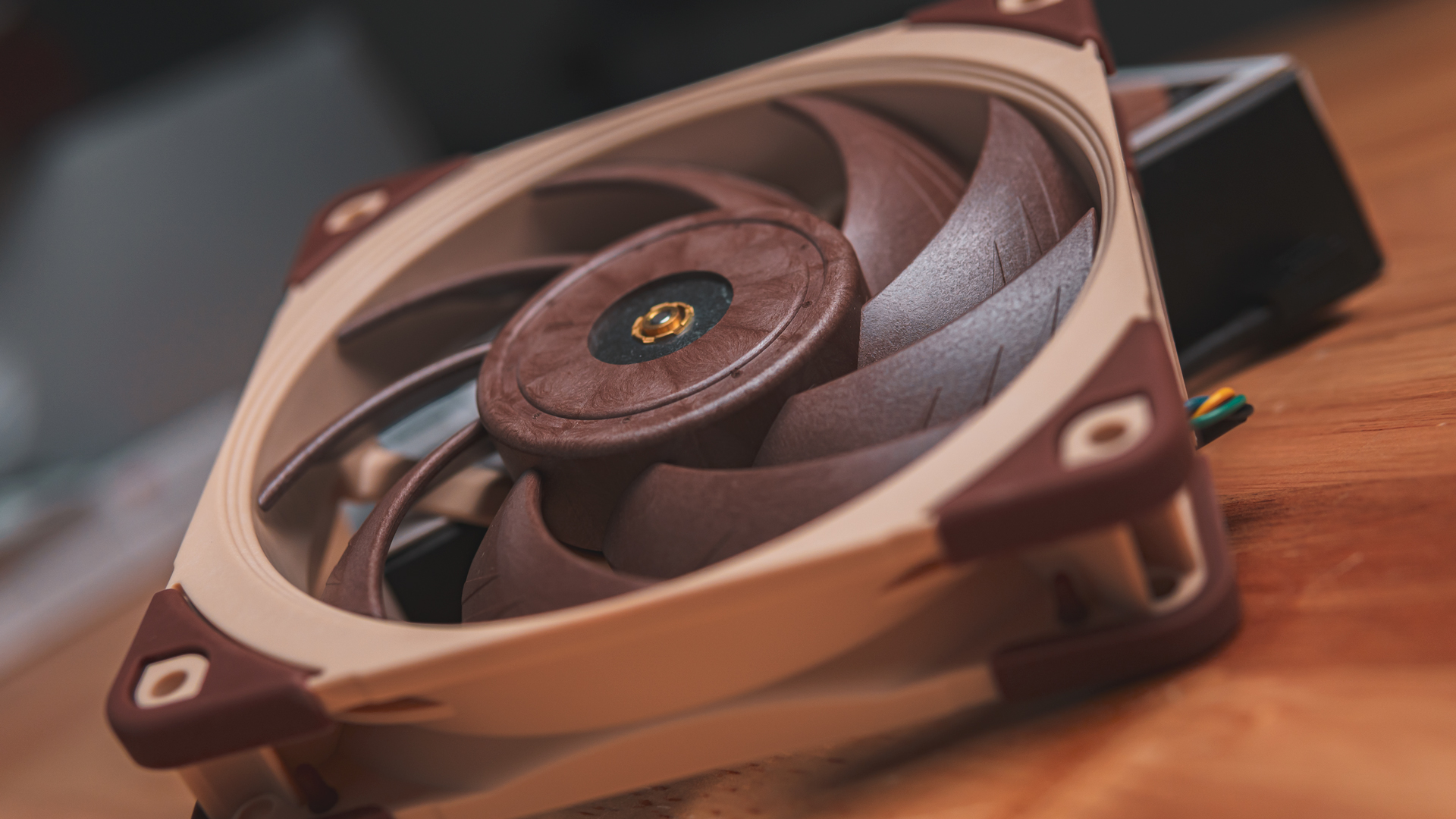 Verdict
Overall, the Noctua NF-A12x25 is an exception fan given it's excellent performance and silent operation. Taking into account its amazing build quality, durability and versatility, the fan tends to be a natural selection for a reliable cooling solution. Whether you're an enthusiast who wants a high-performance fan that looks great or a professional who needs a fan that can handle demanding applications, the Noctua NF-A12x25 is definitely worth considering.
Product Page : https://noctua.at/en/nf-a12x25-pwm