The HW-Q990C is the latest Samsung flagship Q-series soundbar in the market launched this year to replace last year's Q990B. The price is a tad bit high at RM 6,499 but for those seeking to experience the best Dolby Atmos room-filled sound sphere, then this 11.1.4 channels with 16 channels of sound would be the top model in the market to do just that.
(At the time of writing, there's an ongoing promotion that saw the price slide down to RM 4,969 only, making it absolutely worth it to buy)
tl:dr: This is arguably the best soundbar in the market today for the Dolby Atmos experience.
Design, setup, and specs.
The minimal setup required before one can enjoy this soundbar was an impressive start when we first unboxed and tested the Q990C. If you are already a recent model Samsung TV user, the new version of the Q-Symphony feature in the soundbar allows for a seamless pairing with your display unit and the SpaceFit Sound Pro feature to calibrate to the space or room you're planning to use the soundbar in order to produce the best possible sound quality for your environment.
The sheer length of the bar itself at 1232 x 69.5 x 138mm. This means the Q990C would be more suitably paired with TVs that are 55″ at least. And it will remain a good fit for TV beyond the said size as well. It is built thin enough to not distract or take up a lot of space when placed seated in front of the TV, and there's a mounting hole at its back ready for you to mount it to the wall if you want.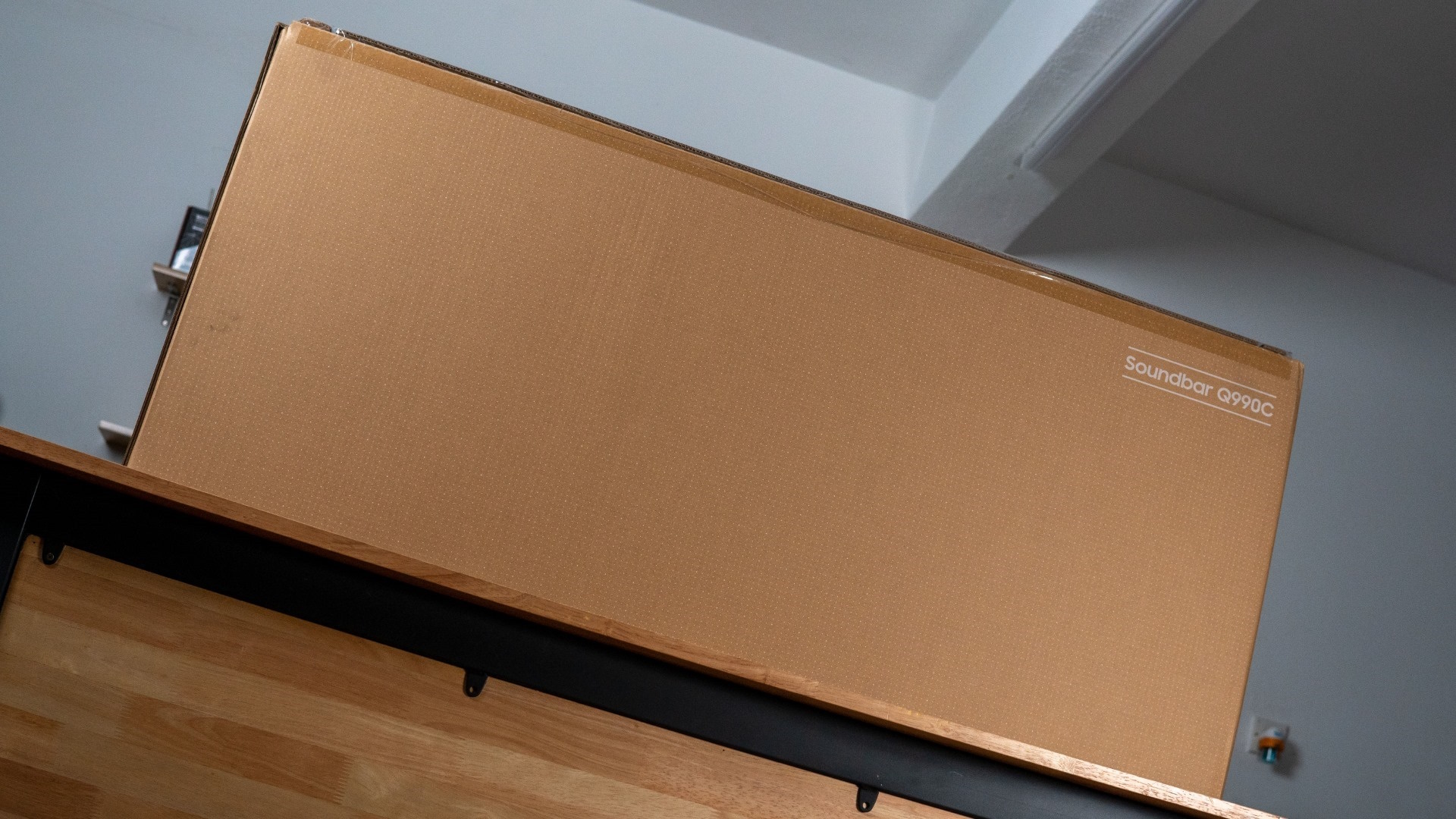 Its two rear speakers would each require a power outlet to run and my only complaint about their design is the length of their cables that are too short for my preference. You can roll up the excess when they are long, but it'll just be more complicated if you come up short.
But other than that, the two speakers are just charming. They'd connect wirelessly to the main speaker so there aren't any manual connections required, and thanks to the SpaceFit Pro calibration, you won't have to worry about where to specifically place them. The huge and powerful 8-inch driver subwoofer with protruding Acoustic Lens cover will easily fit into any corner.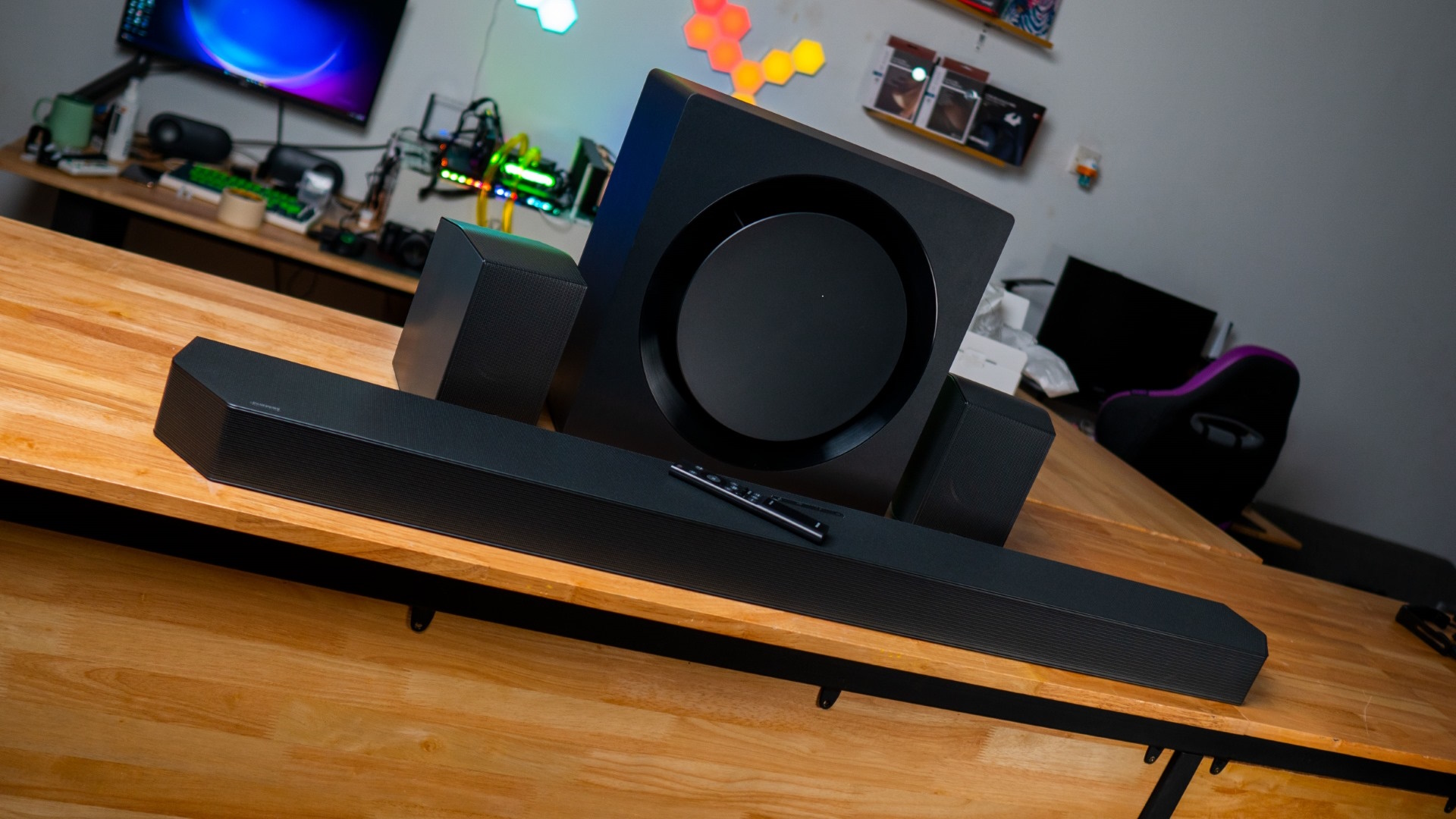 On its own, the design of this soundbar set may appear plain. But once fitted into the living room setup, its minimalistic titan black metal mesh grille design easily blends into the room scape to provide a high-tech piece of decoration. It is actually quite beautiful and I can easily tell just by its looks that this is premium hardware.
Number of Channel

11.1.4

Number of Speaker

22

Subwoofer Type ( Active / Passive / Wireless, Bulit-in )

Wireless

Wireless Rear Speaker Included

Yes

Center Speaker

Yes

Dolby

ATMOS Music,ATMOS,Dolby MAT,Dolby Digital Plus, Dolby True HD

Voice Enhance Mode

Yes

Sound Modes

Surround Sound expansion, Game Pro, Standard, Adaptive

Night Mode

Yes

4K Video Pass

Yes

HDR

HDR 10+

Decoding Format

Yes for AAC, WAV, MP3, OGG, ALAC, FLAC, AIFF

HDMI In

2

HDMI Out

1

HDMI ARC

Yes(eARC)

HDMI CEC

Yes

Optical In

1

Bluetooth

Yes

Bluetooth Codec

SBC

Bluetooth Power On

Yes

Wi-Fi

Yes

One Remote Control

Yes

Wall Mount Bracket

Yes

Remote Controller

Yes

Weight

Soundbar 7.7 kg




Speakers 3.4 kg each

Sub Woofer 11.7 kg


With packaging 28.2 kg
Performance
On the performance side of things, this soundbar is capable of providing an immersive sound quality for TV entertainment like Games, Movies, and Sports. There are some modes you can choose from to enjoy the finer details of the entertainment type you're going for, or just depend on the reliable Adaptive Sound feature to decide on what's best. I just use the Adaptive Sound most of the time because that's usually adequate for me.
The level of energy and dynamism the Q990C is capable of delivering when it comes not just to volume, but intensity and range is just admirable. The 8-inch driver subwoofer with Acoustic Lens design backed by the SpaceFit Pro auto-calibration feature gives it the precision it needs and produces a consistent and smooth deep sound that responds well to the ups, downs, and shifting of bass-heavy scenes. Even when the bass had to dive, it did so smoothly without cracking, rarely bottoming out.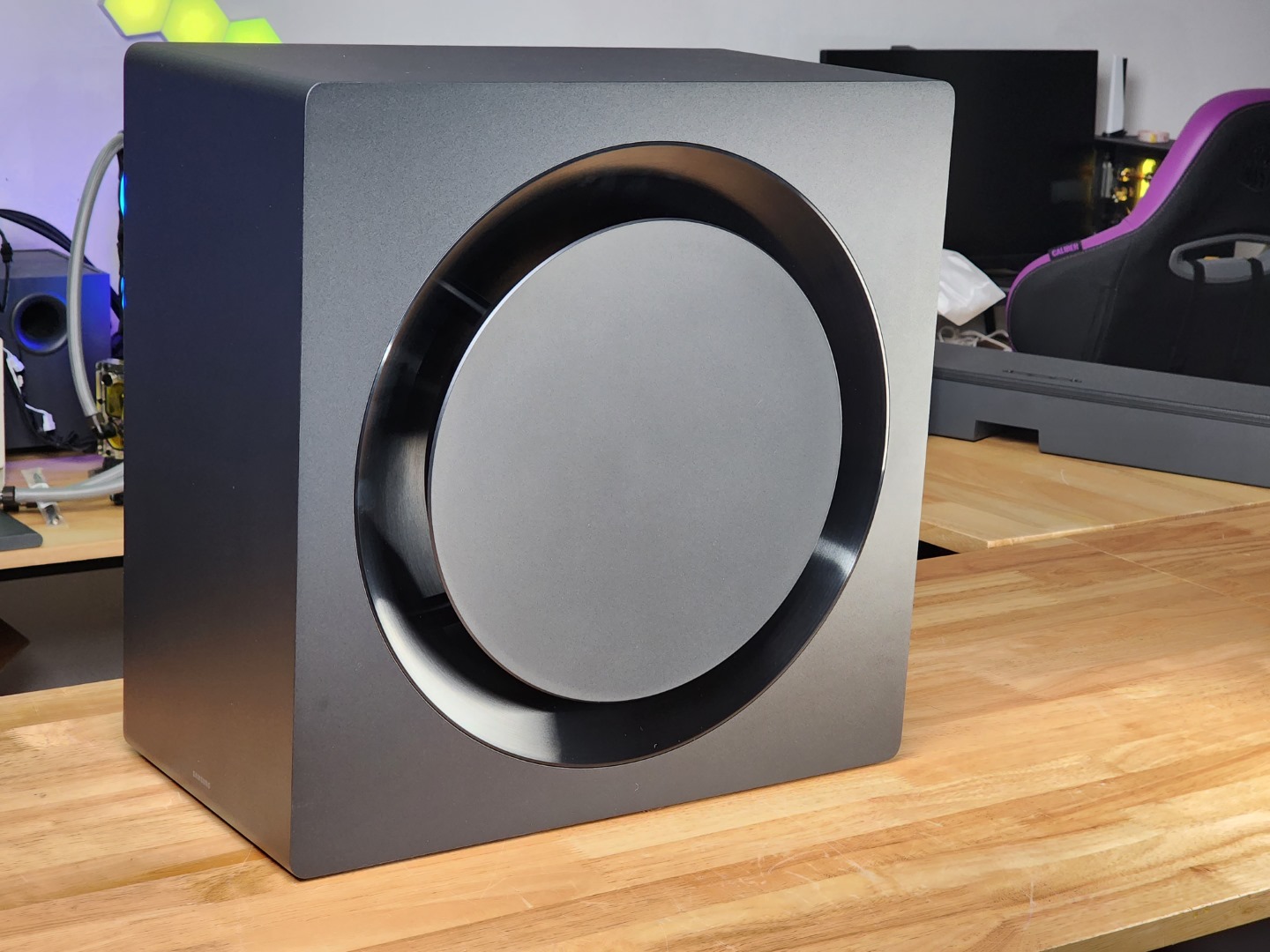 The scale and overall quality of the soundbar's soundstage are rich and balanced. Once set up and calibrated by the SpaceFit Pro, the listening experience is akin to sitting in the middle of a perfect Dolby Atmos or DTS:X audio dome surrounded by gapless sound from every direction. And even so, the speakers cooperated coherently without any one of them falling behind or being louder than the other.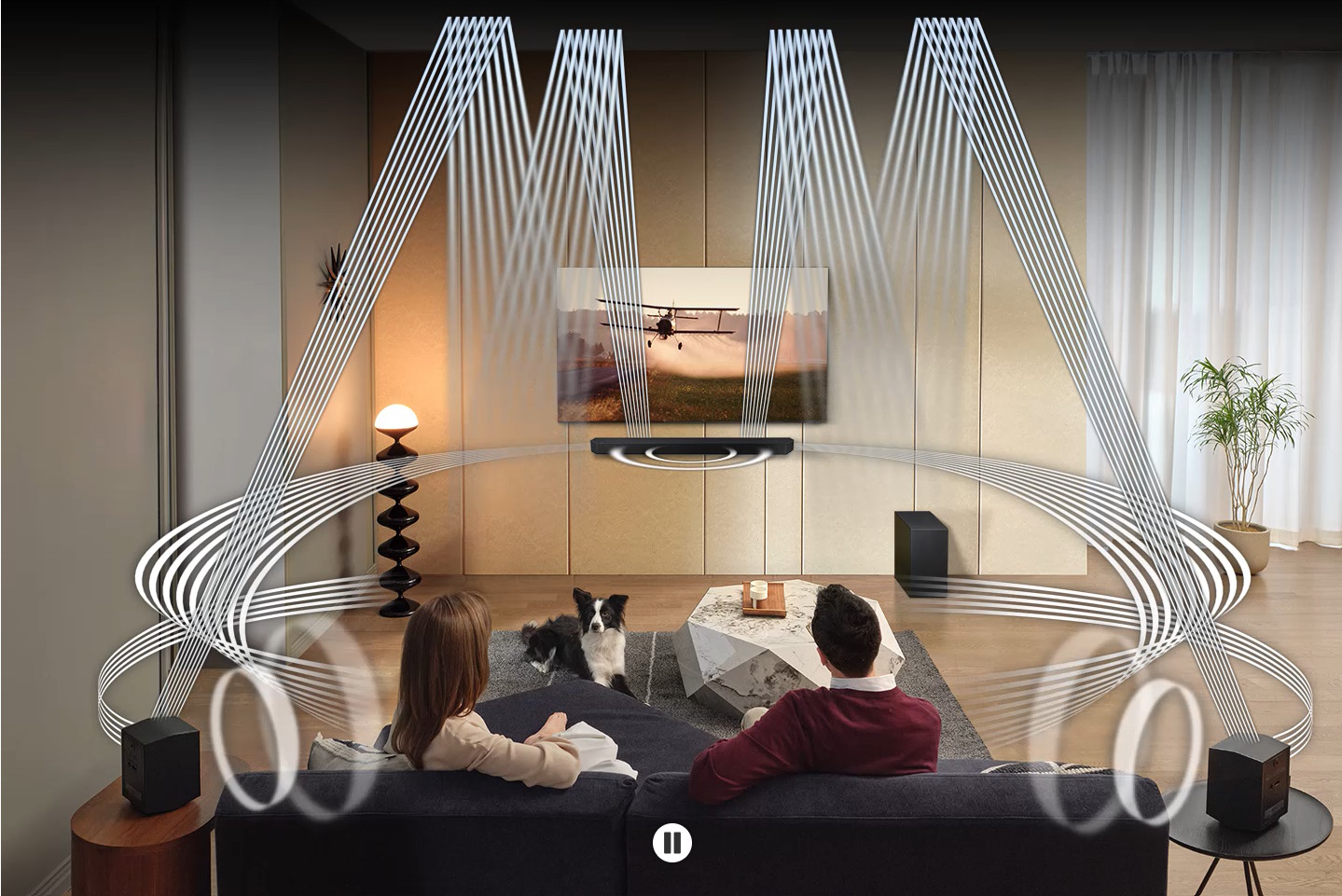 Naturally, this made the movie experience top-notch with this soundbar. With each of the speakers always ready and roaring to go, audible elements are naturally and clearly heard without a problem. Even on high volume, there was no loss of quality, and the level of detail and clarity was still top-notch.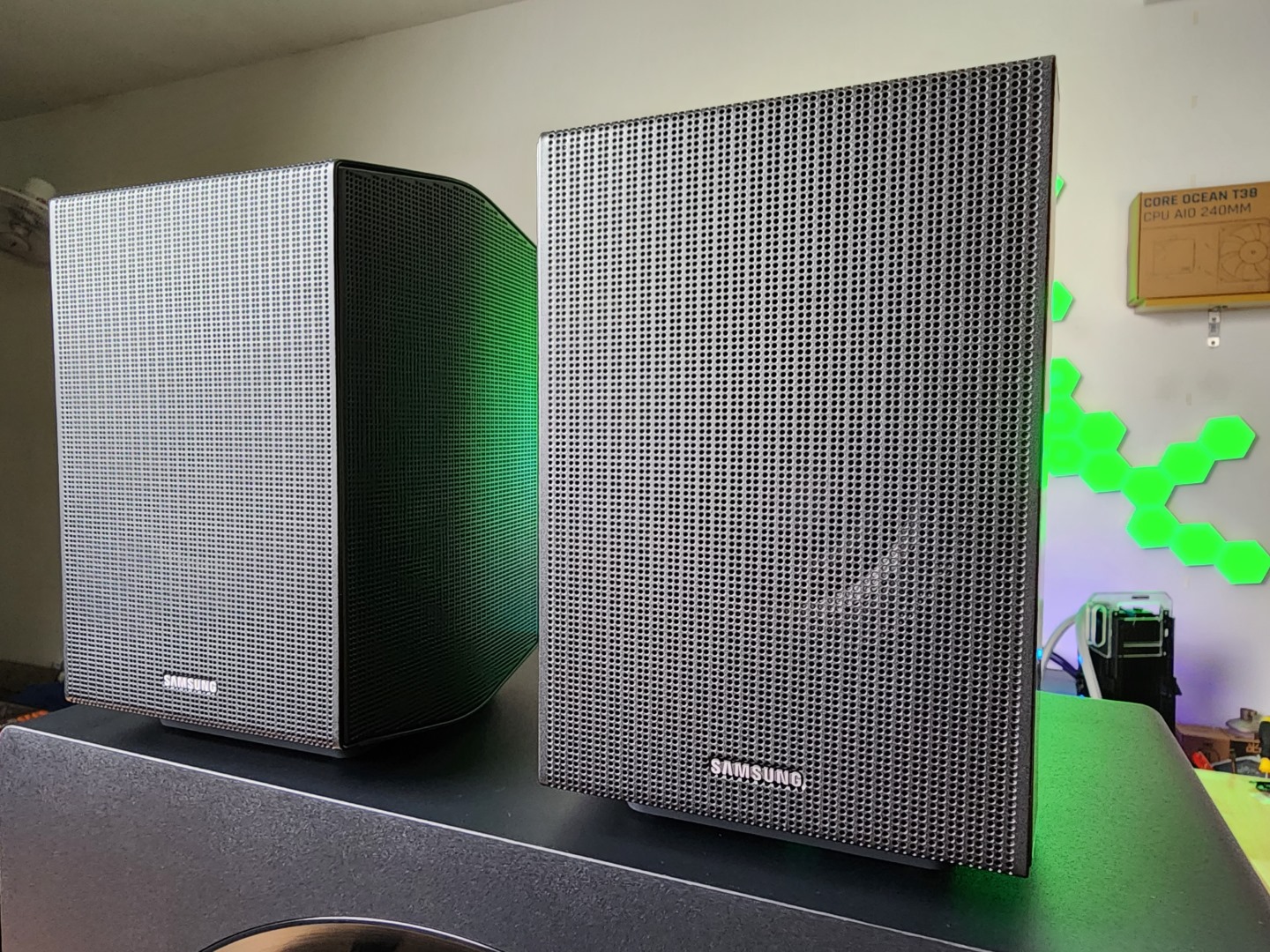 I'd avoid all horror movies with this soundbar because I am weak like that. The normal TV speakers are enough to give me nightmares, I don't need a 3D sound dome making it worse. I'm more like an action movies guy so stuff like John Wick, Red Notice, and Top Gun Maverick were what I watched with this soundbar. Dialogues were crisp and clear, followed by the usually tame background music that suddenly sounds upgraded but never robbing your attention. Whenever the Jets flew in Maverick, they took me with them and the sense of speed thanks to the soundbar's expression was so convincing. Watching Keanu Reeves floor every bad guy was amazing. But listening to him do it was even better. Gunshots were powerful and the sound of glass breaking around him from stray bullets when he was taking cover added a new level of intensity to the movie experience.
The Q990C brought gaming blockbuster titles like God of War Ragnarok and The Last of Us Part 2 alive like I've never experienced before. Each slash, slam, and shot were memorable and impactful. Racing games like F1 2023 and Gran Turismo 7 were fantastic, to say the least. I've always enjoyed cupping my ears with a good headset and blasting the volume close to max to take in every bit of the engine revving and roaring sound. The Q990C's performance in providing a loud, clear, and satisfying experience far exceeded my expectations.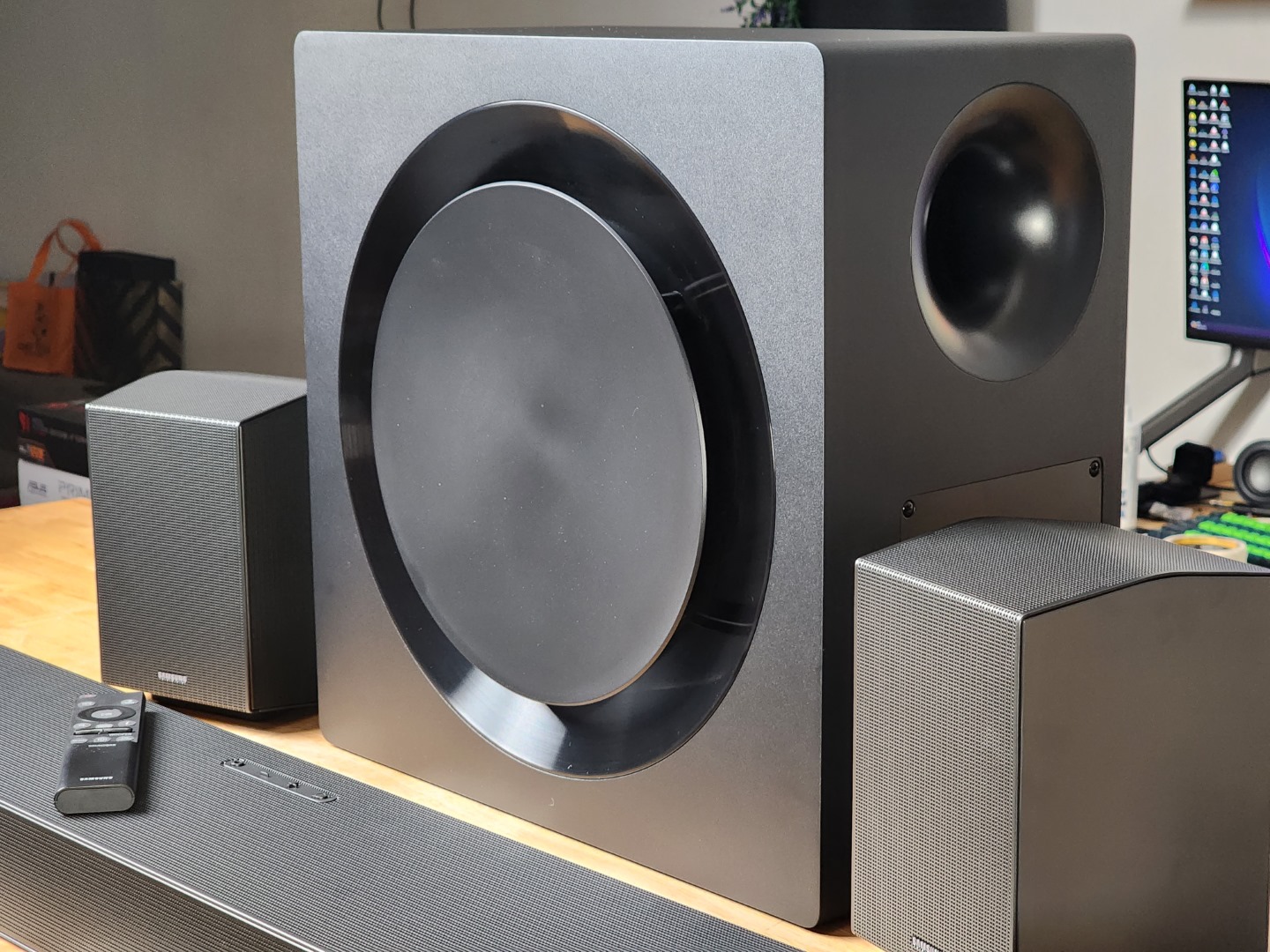 When it comes to music, it was just as impressive as listening to a good live band. There just isn't anything to complain but so much to enjoy about. All the ups are fine and with clear clarity, while the downs are solid and seemingly bottomless. No matter soft or loud in volume, it just doesn't fail. Listening to concert videos where the singer begins to talk after a song is like being in the actual concert itself.
Great for Samsung TV users
I've never had a great deal of trust whenever it comes to audio pairing wirelessly, especially when my main activity for entertainment involves gaming. Any delays from the sound and screen not syncing properly would just ruin the whole experience and gameplay. But being a Samsung QLED TV user myself, I can at least confirm that audio from the soundbar and the visual on my screen stays in perfect sync throughout my testing. The soundbar will probably work equally well with other TVs provided they are WiFi and Bluetooth-ready.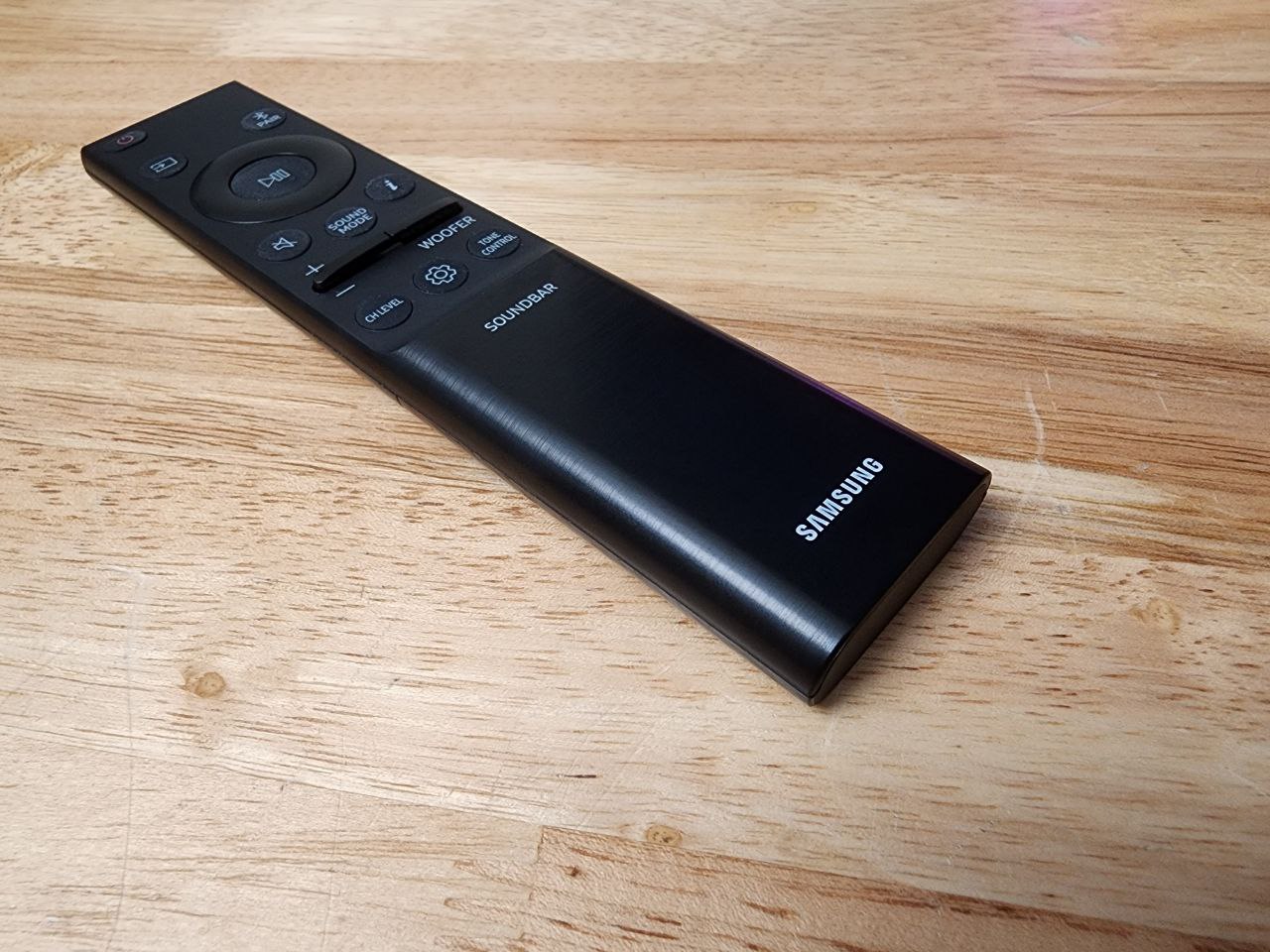 The other advantage for Samsung users would undoubtedly be the Q-Symphony feature. This feature combines all the speakers from the TV and soundbar to deliver an even more immersive spatial sound experience, further enhancing that highly sought-after 3D sound experience. But it is worth noting that older Samsung QLED model TVs that do not feature Q-Symphony would just rely on the soundbar itself for audio. I could also just use my TV remote to control and manage both devices without the hassle of keeping two remotes near me all the time.
Connections
With the Samsung HW-Q990C, you have a range of versatile connectivity options at your disposal. It features one HDMI eARC port, along with two HDMI ports and one optical digital input. If you prefer a wireless setup, you can enjoy the immersive Dolby Atmos experience through a wireless connection. Additionally, the soundbar offers Bluetooth connectivity for easy pairing with your devices, and it supports AirPlay 2 for seamless integration with Apple devices.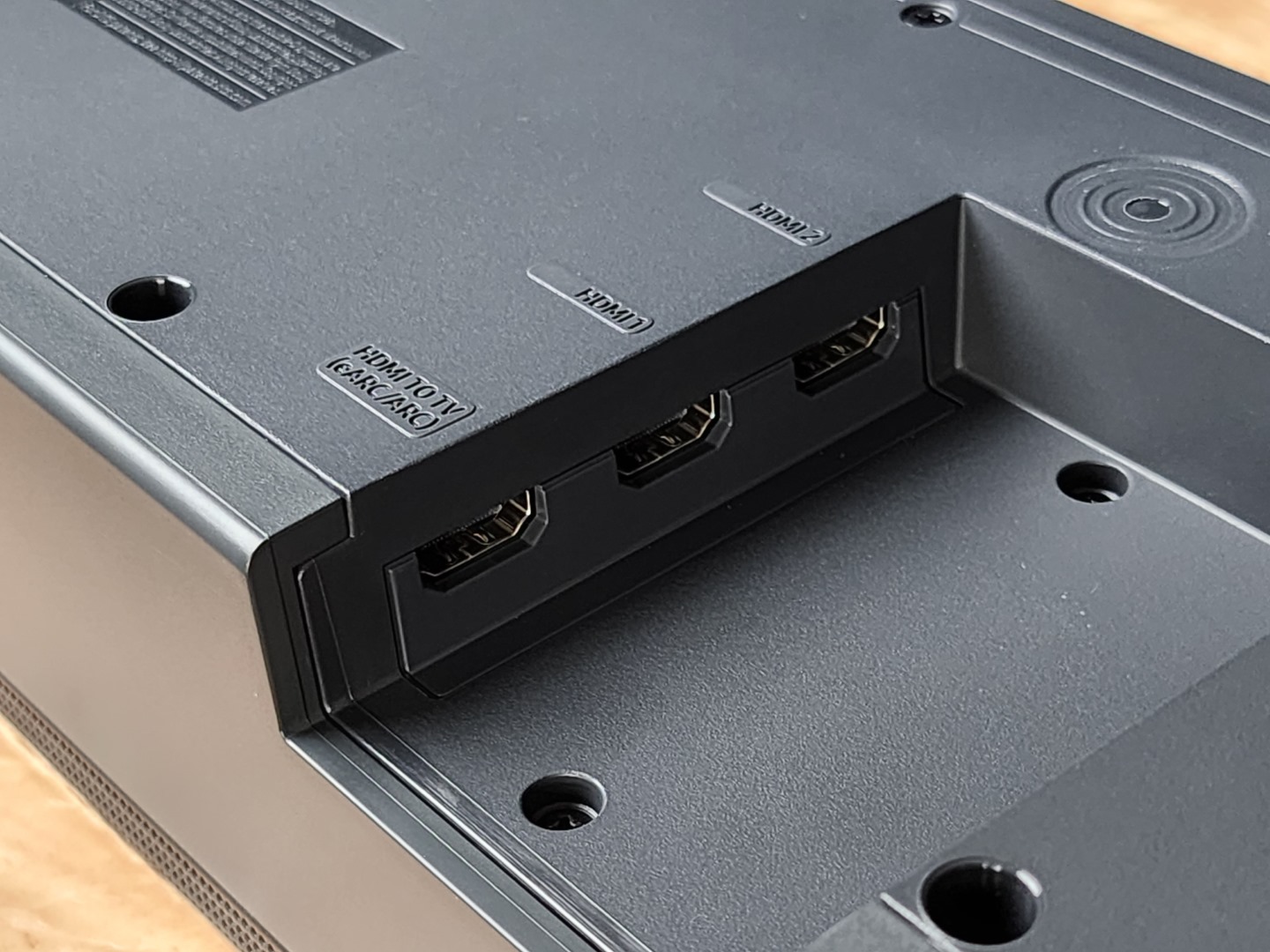 Using the SmartThings App, you can easily choose between the sound modes as well as gain access to the more advanced settings for the soundbar. The Q990C also comes with its own remote control with a simple layout that's self-explanatory once you look at it.
The downside here is if you're looking for HDMI 2.1 support because there is none. So there's a bit of a roadblock here for those looking for 4K120Hz passthrough and VRR but it isn't a dealbreaker for me. One can easily get around this by connecting directly to the TV and using the eARC connection to the soundbar.
---
Conclusion
What I liked about this sound bar –
Nice design and premium looks

Minimum set-up effort required

Seamless and wireless connection between the speakers

Deep, powerful, and controller bass

Superb performance on all levels and genre

Best Dolby Atmos staging and experience so far
What I wished was better.
The price tag can be a little friendlier

The cables for the two rear speakers can be longer

No HDMI 2.1 could be a dealbreaker for some
---
Verdict
The Samsung HW-Q990C soundbar is in a class of its own for a full Dolby Atmos experience. On top of its performance which is unmatched and superb in every measurable way, I especially adore how easy it is for users to enjoy these benefits without needing to crack their heads for a specifically optimum placement thanks to the soundbar's SpaceFit Pro function. The setting up is honestly effortless, yet the result is mesmerising through and through. The lack of a 4K120Hz passthrough may irk some people but there's a reasonable workaround so it isn't a deal breaker for me. The way this soundbar handles bass and its ability to really "envelope" users in a dome of the quality soundscape as Samsung marketed prove to be more than just gimmicks. It isn't cheap but its qualities easily tipped the scale in its favour.
Final Score : 9/10