In our previous review of the ASUS ZenScreen Ink, we highlighted ASUS' position as a leader in the portable display market. Now, we have the opportunity to review the MQ16AH variant of the ASUS ZenScreen Portable OLED monitor, which is not yet available in Malaysia. However, the features of this variant are similar to the 13.3-inch ASUS ZenScreen OLED MQ13AH, which is currently available in Malaysia for RM 1,888.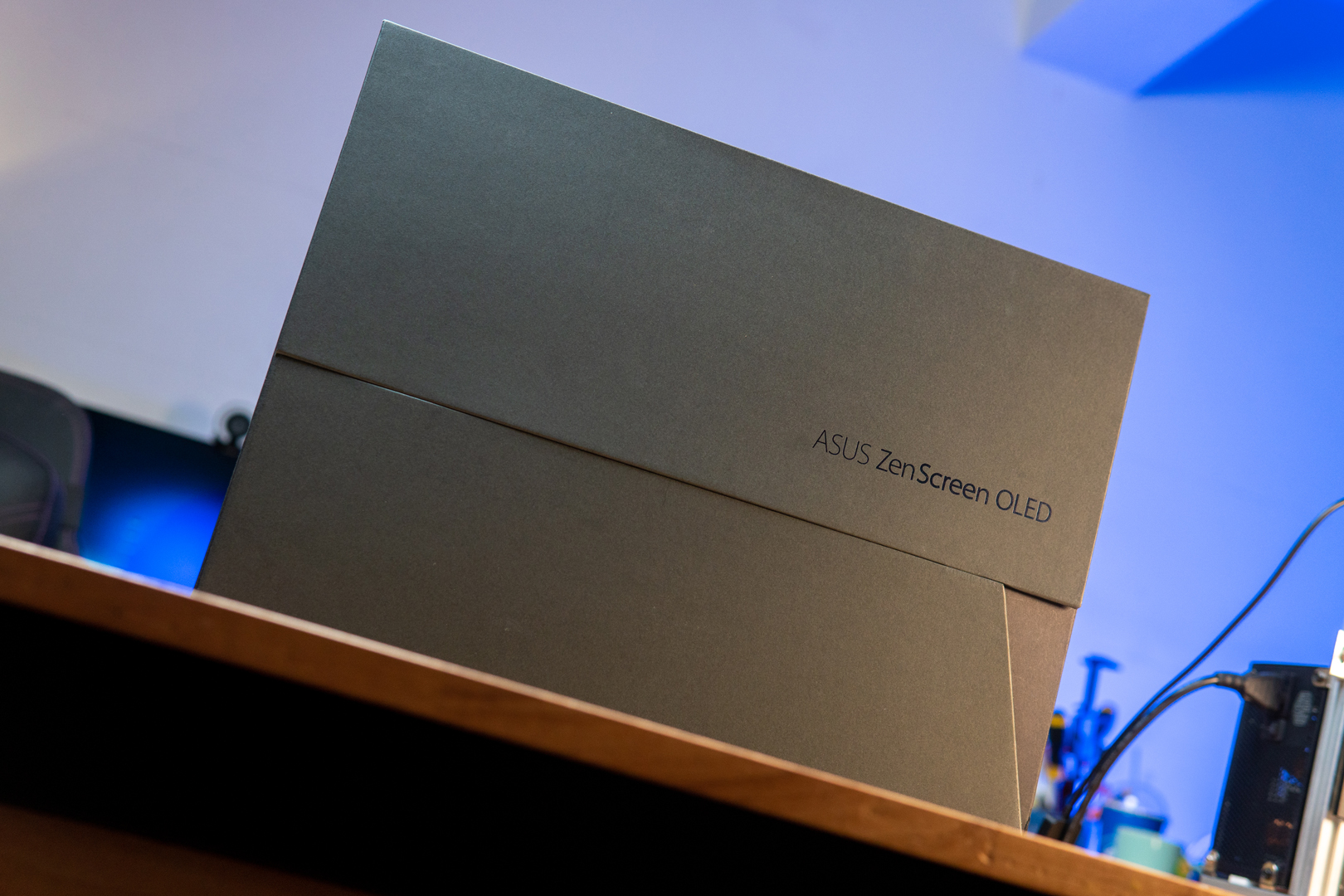 The ASUS ZenScreen OLED MQ16AH is a portable monitor that boasts a 15.6-inch OLED display with impressive color performance. It features a wide 100% DCI-P3 gamut and a 100,000:1 contrast ratio that enables deeper blacks and brighter whites. With a speedy 1-millisecond response time, the ZenScreen OLED can display animated and fast-action content without any blurs. Additionally, it's ultralight and slim design, coupled with versatile connectivity options, make it an ideal portable monitor for users who require excellent color accuracy and crisp visuals while on the go.
Specifications
Display
Panel Size (inch): 15.6
Aspect Ratio: 16:9
Display Viewing Area (H x V) : 344.21 x 193.62 mm
Display Surface: Glare
Backlight Type: OLED
Panel Type: OLED
Viewing Angle (CR≧10, H/V) : 178°/ 178°
Pixel Pitch: 0.179mm
Resolution: 1920×1080
Color Space (DCI-P3): 100%
Brightness (HDR, Peak): 400 cd/?
Brightness (Typ.): 360cd/㎡
Contrast Ratio (HDR, Max): 1,000,000:1
Contrast Ratio (Typ.): 100,000:1
Display Colors: 1073.7M (10-bit)
Response Time : 1ms(GTG)
Refresh Rate (Max): 60Hz
HDR (High Dynamic Range) Support: HDR10
Flicker-free: Yes
Trace Free Technology: Yes
SPLENDID Technology: Yes
Color Temp. Selection : Yes(4 modes)
Color Accuracy: △E< 2
GamePlus: Yes
QuickFit: Yes (Photo/Alignment Grid)
HDCP: Yes, 1.4
DisplayWidget: Yes
Low Blue Light: Yes (Hardware Solution)
I/O Ports
USB-C x 2 (DP Alt Mode)
Mini HDMI x 1
Digital Signal Frequency : HDMI: 60HZ (V)
USB-C: 60HZ (V)
Consumption: 4.84 W
Power Saving Mode: <0.5W
Off Mode: <0.3W
Voltage : 100-240V, 50/60Hz
Tripod Socket
Yes
Phys. Dimension without Stand (W x H x D) : 358.7*226.15*8.95mm
Box Dimension (W x H x D) : 552 x394 x 125 mm
Net Weight without Stand: 0.65 Kg
Gross Weight: 3.65Kg
Accessories (vary by region)
Mini HDMI to HDMI cable
Power adapter
Quick start guide
USB-C cable
USB-C to A cable
Warranty Card
ZenScreen smart cover
ZenScreen tripod hole cover
Certificate
TÜV Flicker-free
TÜV Low Blue Light (Hardware Solution)
Aesthetics & Physical Design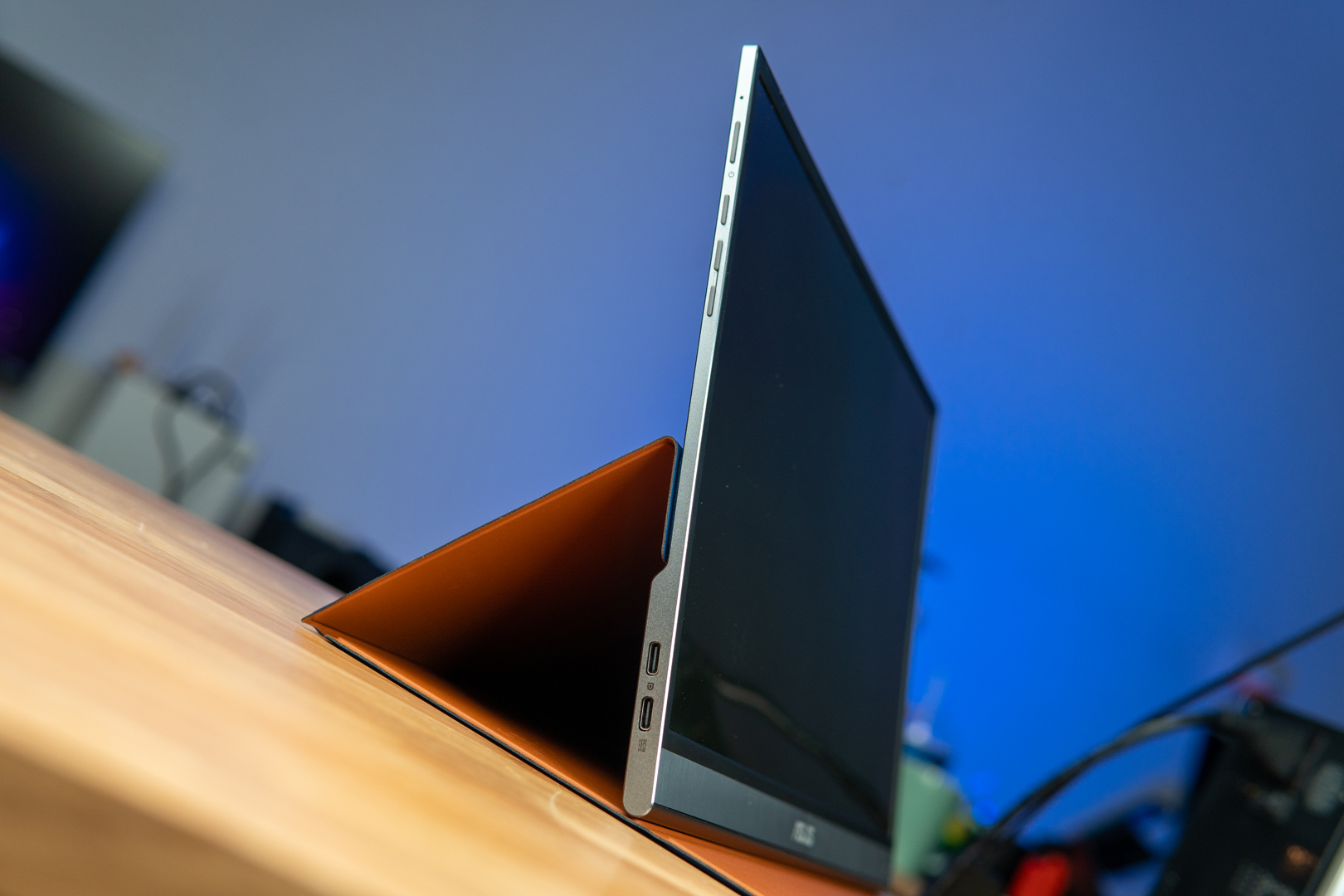 The ZenScreen OLED MQ16AH is a device that has been designed with premium quality and aesthetics in mind. Its physical appearance is sleek and elegant, with a sturdy metal frame that is slim and lightweight. The metal enclosure measures 358mm x 226mm x 8.95mm and has a matte grey finish that exudes a sense of sophistication.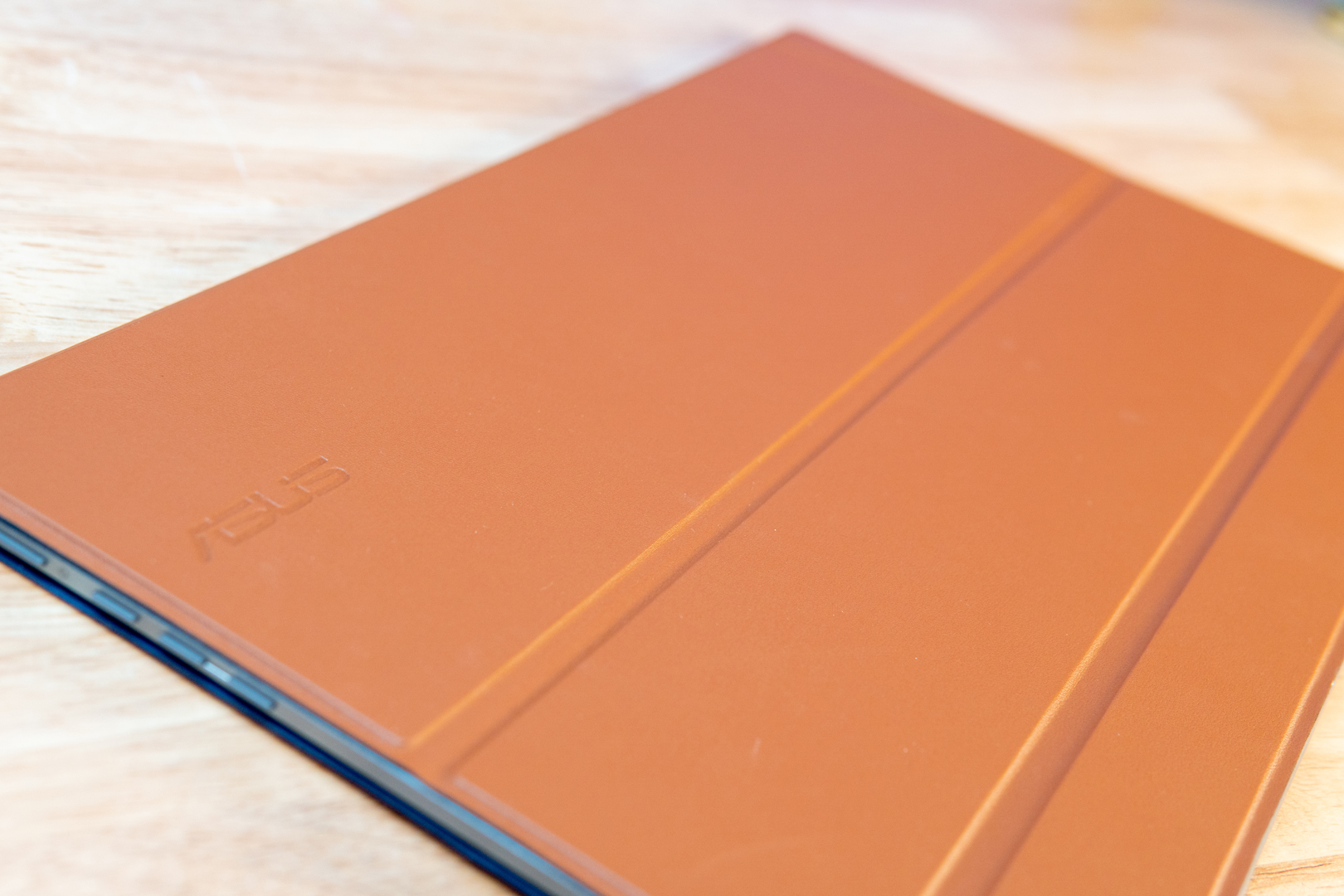 The form factors make it highly portable and easy to carry around. The thin metal casing also contributes to the device's sturdiness and durability, while also preventing it from warping or twisting against unintended damage during storage or transportation.
Furthermore, the device features a smart and functional design with an ergo smart case that doubles as an innovative kickstand. The smart case is crafted from a leather-like material that adds a touch of sophistication to the device and is designed in a folio style similar to that of a tablet cover. The kickstand is a useful feature that enables the device to be positioned at different angles, catering to a variety of use cases.
Front Panel, Buttons, and Ports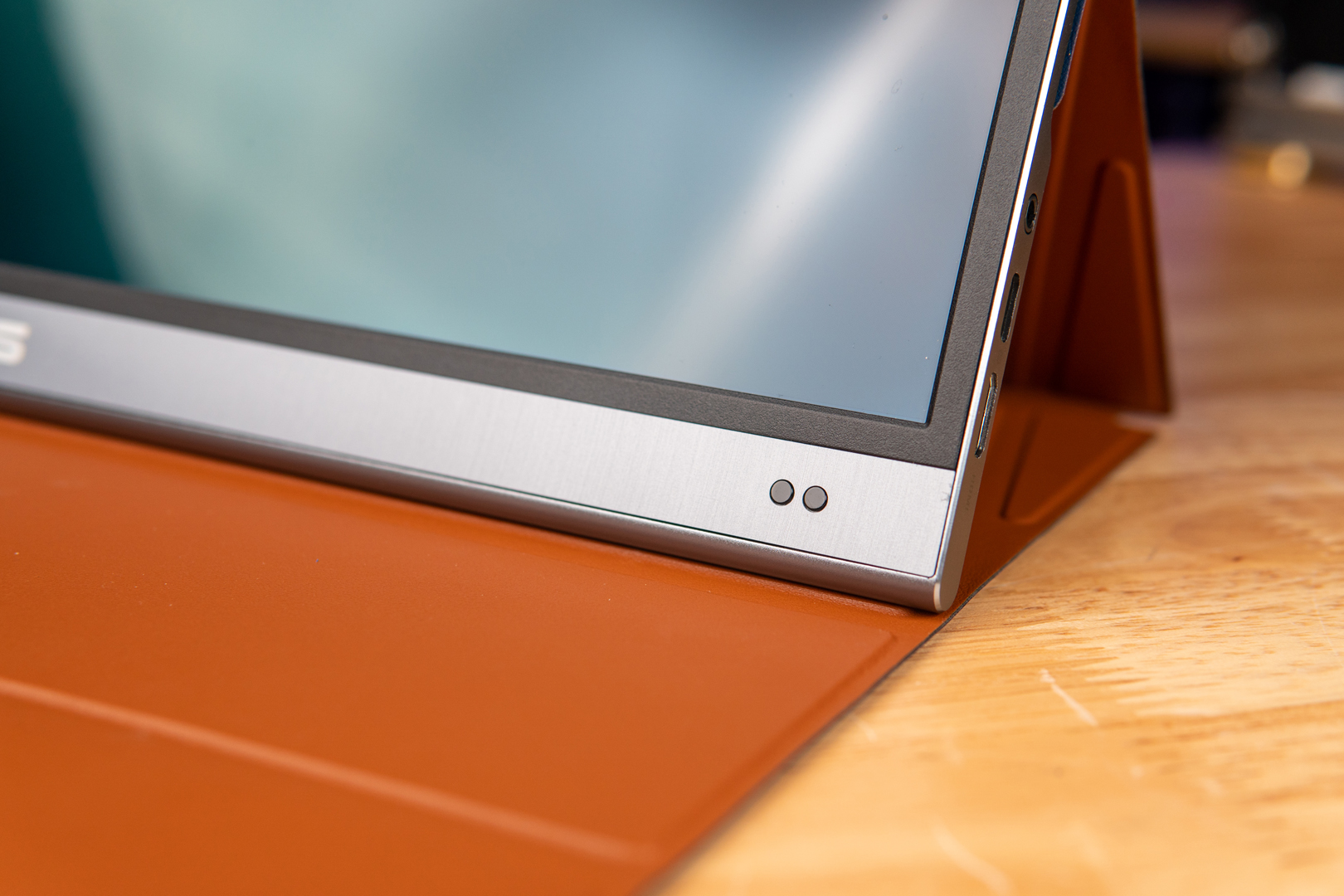 The front panel of the ZenScreen OLED MQ16AH showcases a 15.6-inch OLED display that has a narrow bezel on all sides except for the bottom part, where the ASUS logo and proximity sensors are located. These sensors serve as a protective feature to prevent OLED burn-in and conserve power when the user is not in front of the screen. After conducting further tests, I discovered that the proximity sensors work both ways by automatically turning the screen back on when the user approaches and triggers the sensors from a close enough distance. These sensors can also be switched off manually if required.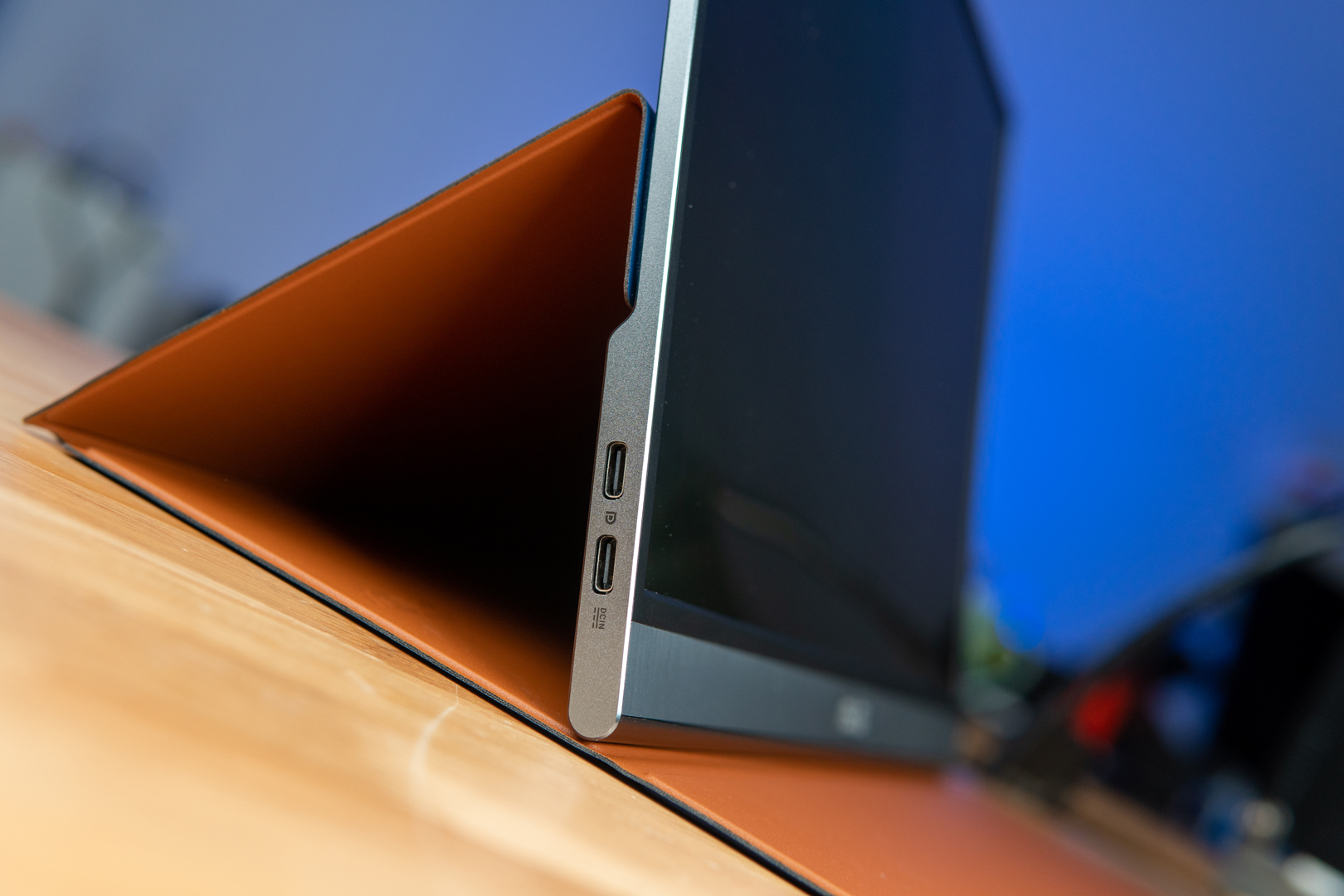 In order to preserve its sleek profile, the ASUS ZenScreen OLED only features USB-C ports, with each port serving a distinct purpose. The bottom left side of the device has two USB-C ports, with the top port supporting display port and the bottom port supporting power delivery. The DCIN logo next to the bottom port distinguishes it from the other port. The power delivery USB-C port can also be powered by a power bank with PD capabilities.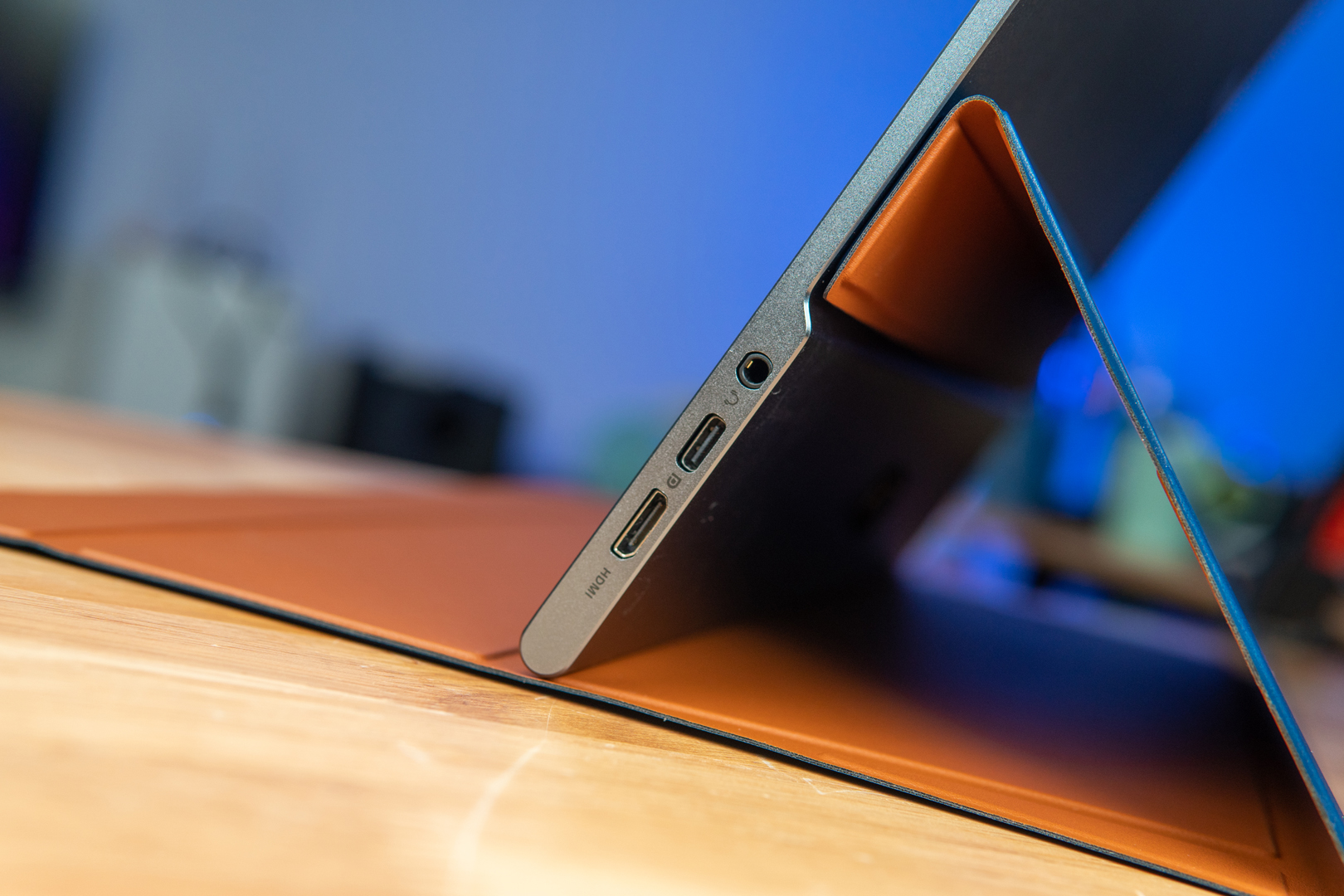 On the right side of the device, there is a mini HDMI port, a USB-C port with display port functionality, and a headphone jack in mini-jack format. This arrangement of ports allows for various connectivity options and ensures that the device can be used with a variety of peripherals.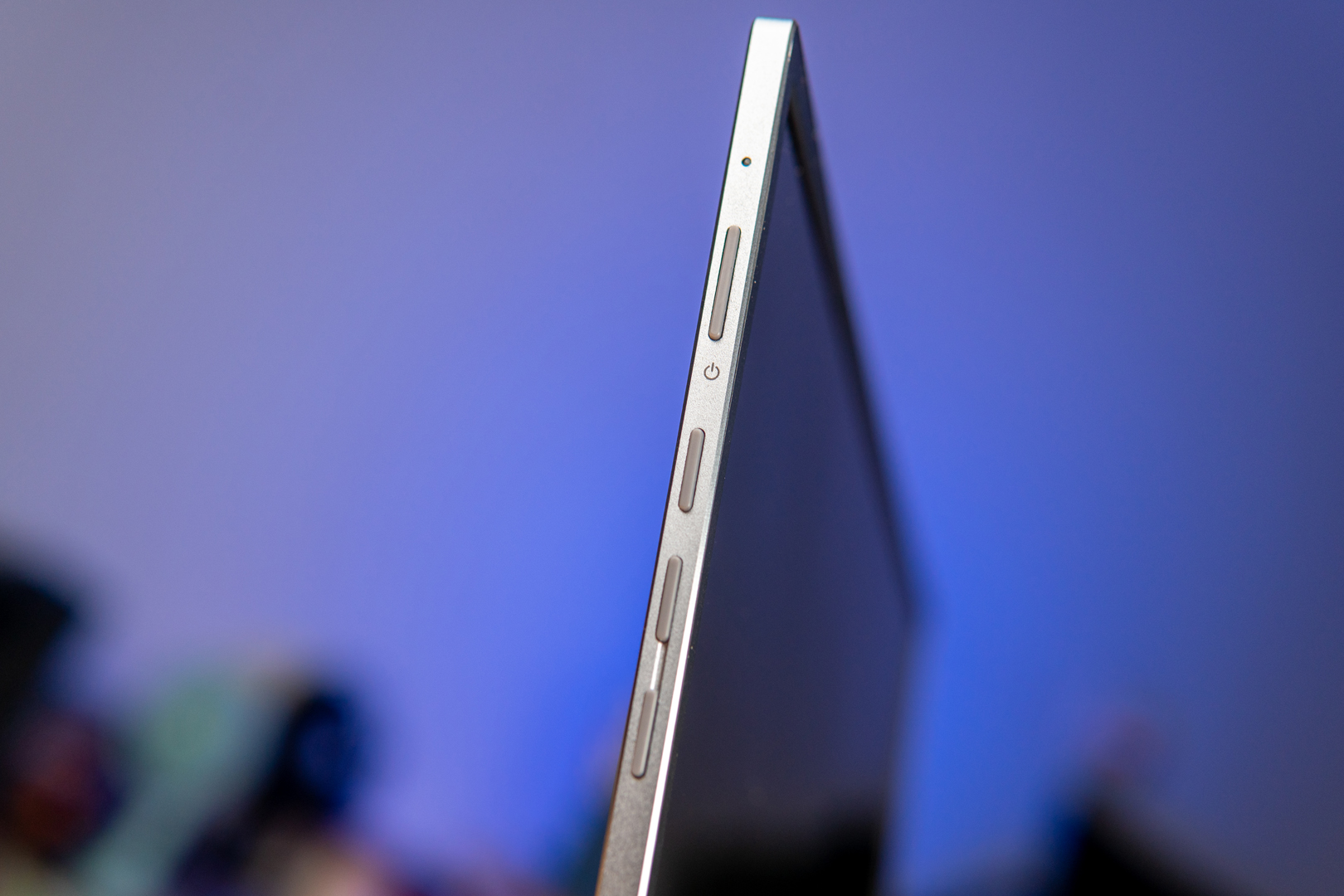 On the left side of the ZenScreen OLED, you'll find the power button and three navigation buttons for the on-screen display (OSD). This layout is similar to the ZenScreen Ink, which was reviewed earlier. Meanwhile, the back of the device is mostly plain, with the exception of a tripod mount which comes in handy for those who want to position their monitor at a higher angle.
Accompanying Accessories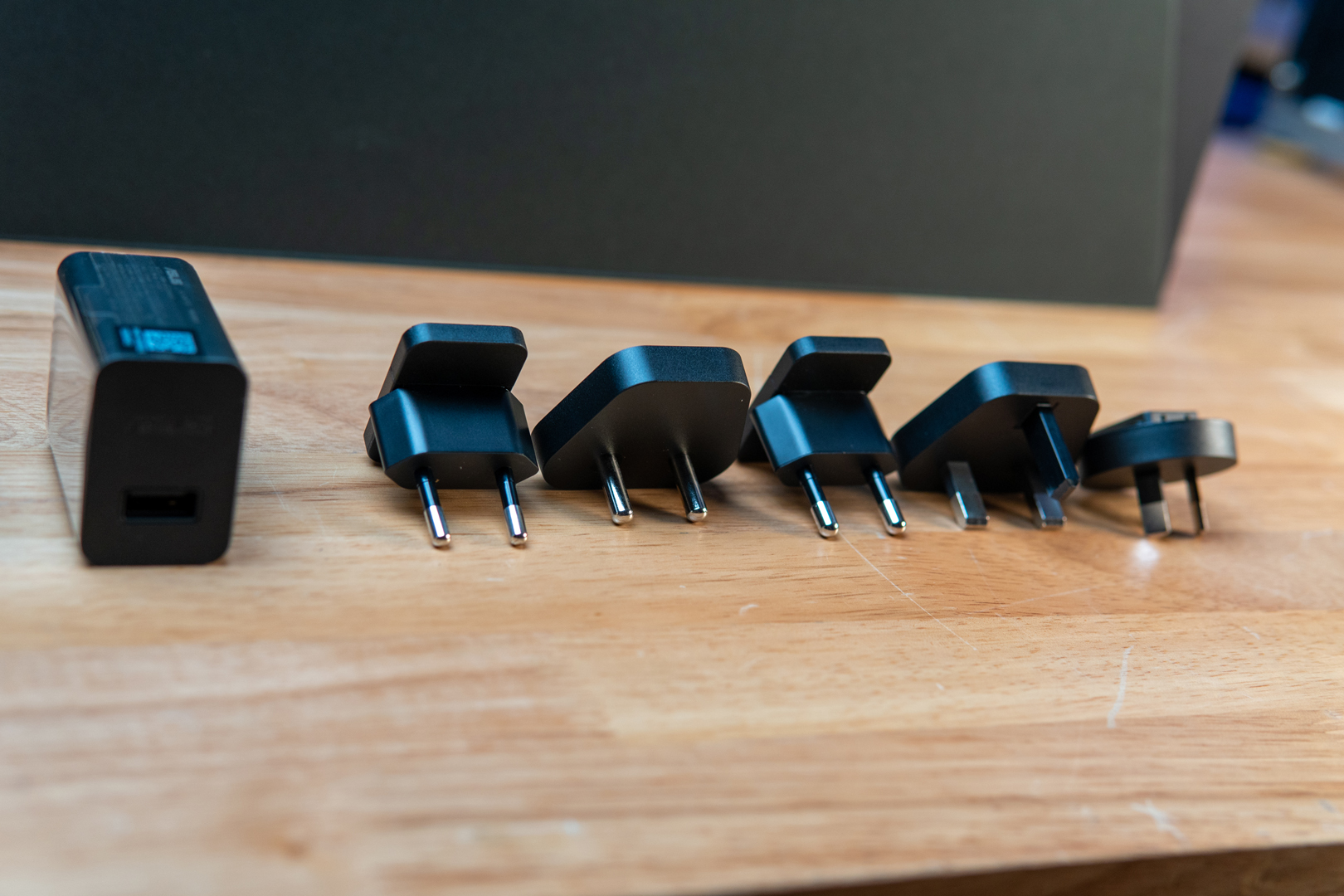 In addition, ZenScreen OLED comes with a comprehensive accessory package that includes all the necessary adapter cables to accommodate to the limited ports. This package comprises a USB-A to USB-C cable, a mini HDMI to HDMI adapter, and a USB-C power cable.
The USB-A to USB-C adapter cable is particularly useful for users who have older devices with a USB-A connector, as it enables them to connect to the monitor without having to purchase an additional cable. This is a great feature for users who are always on the go, as it means they don't have to carry around extra cables with them.
The mini HDMI to HDMI adapter is also a useful accessory, as it allows users to connect the monitor to devices with an HDMI port. This is especially important for gamers, as many gaming laptops and consoles have HDMI ports.
Finally, the USB-C power cable is essential for powering the monitor. This cable can be connected to the included power adapter or a USB port on a laptop or desktop computer. Overall, the accessories package for the ASUS ZenScreen OLED is very practical and makes it easy to connect the monitor to a variety of devices.
ZenScreen OLED Display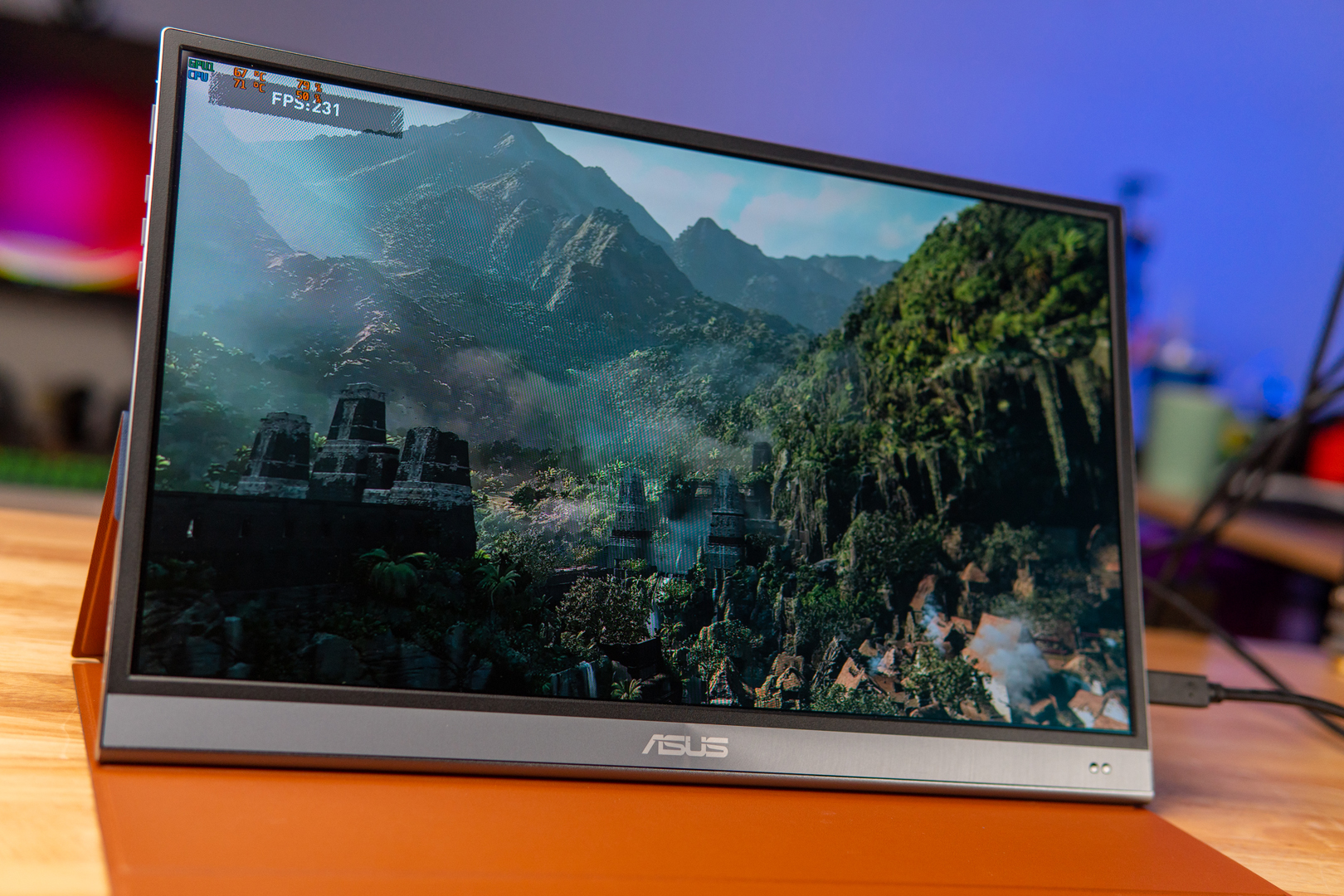 The ZenScreen OLED's 1920 x 1080 60Hz OLED screen is its standout feature, and it definitely lives up to expectations. The OLED panel is rated for 400 nits with a contrast ratio of 100,000:1 (HDR contrast of 1,000,000:1) and a 1ms response time (GtG), according to ASUS. Based on our hands-on experience, the OLED panel is an all-around performer in most conditions.
Gaming & Game Plus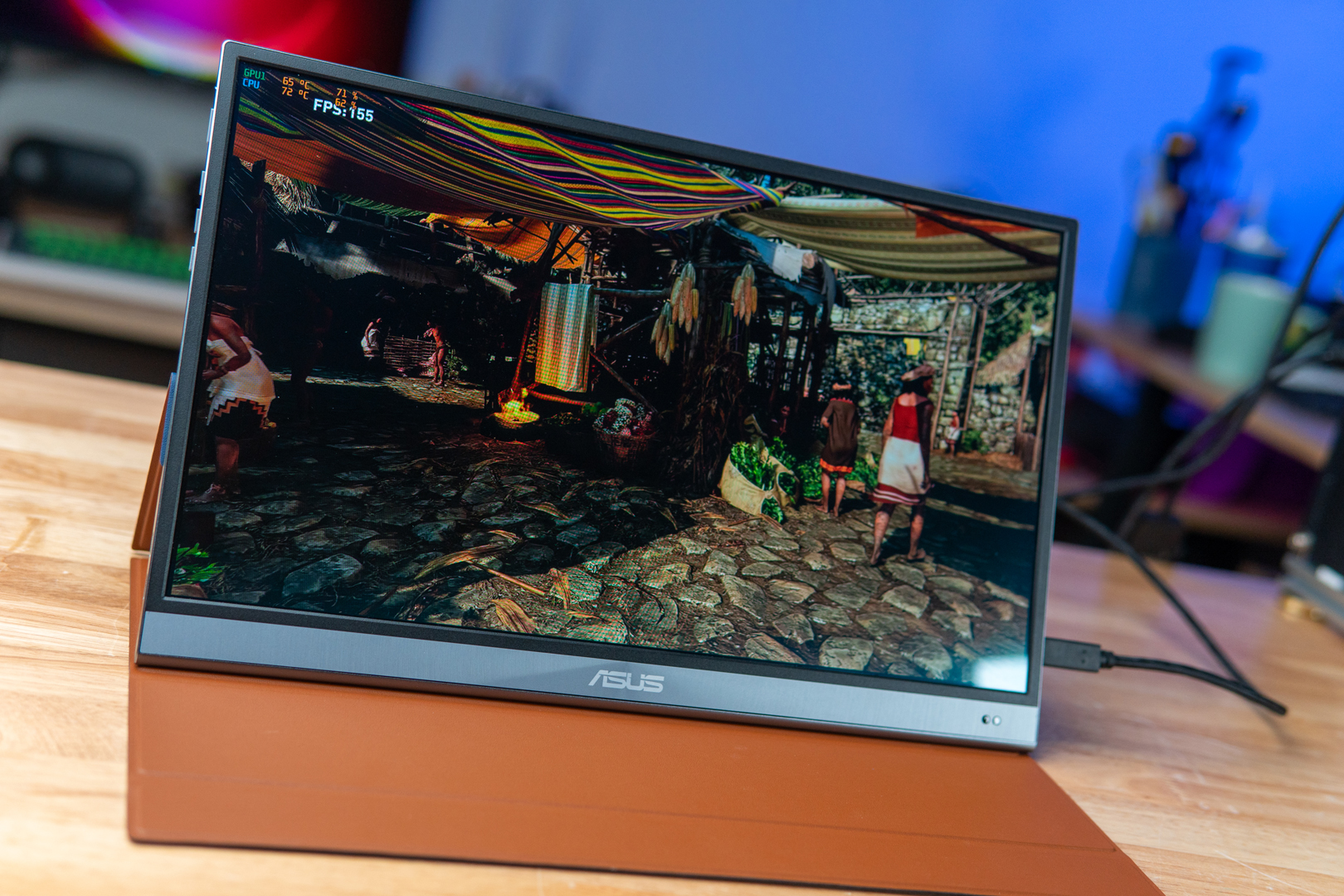 The ZenScreen OLED's response time is excellent for gaming, but its refresh rate may not be sufficient for some users, given that it is a portable monitor. While a refresh rate of 60Hz is adequate for non-gaming activities, those accustomed to higher refresh rates may find the animation a bit jerky on the OLED panel.
The monitor also comes with Game Plus, a proprietary gaming feature commonly found in the latest ASUS monitors. GamePlus is a collection of features that allow gamers to customize their display to suit their needs. Some of the most notable features of GamePlus are Crosshair Overlay, FPS Counter, and display alignment feature, which helps users align multiple monitors. This feature can be useful for gamers who use multiple monitors for gaming and want to ensure that their displays are perfectly aligned.
Overall, the ZenScree OLED panel is at best a decent portable option for casual gaming or as a complementary screen in a multi-screen gaming layout.
Non-Gaming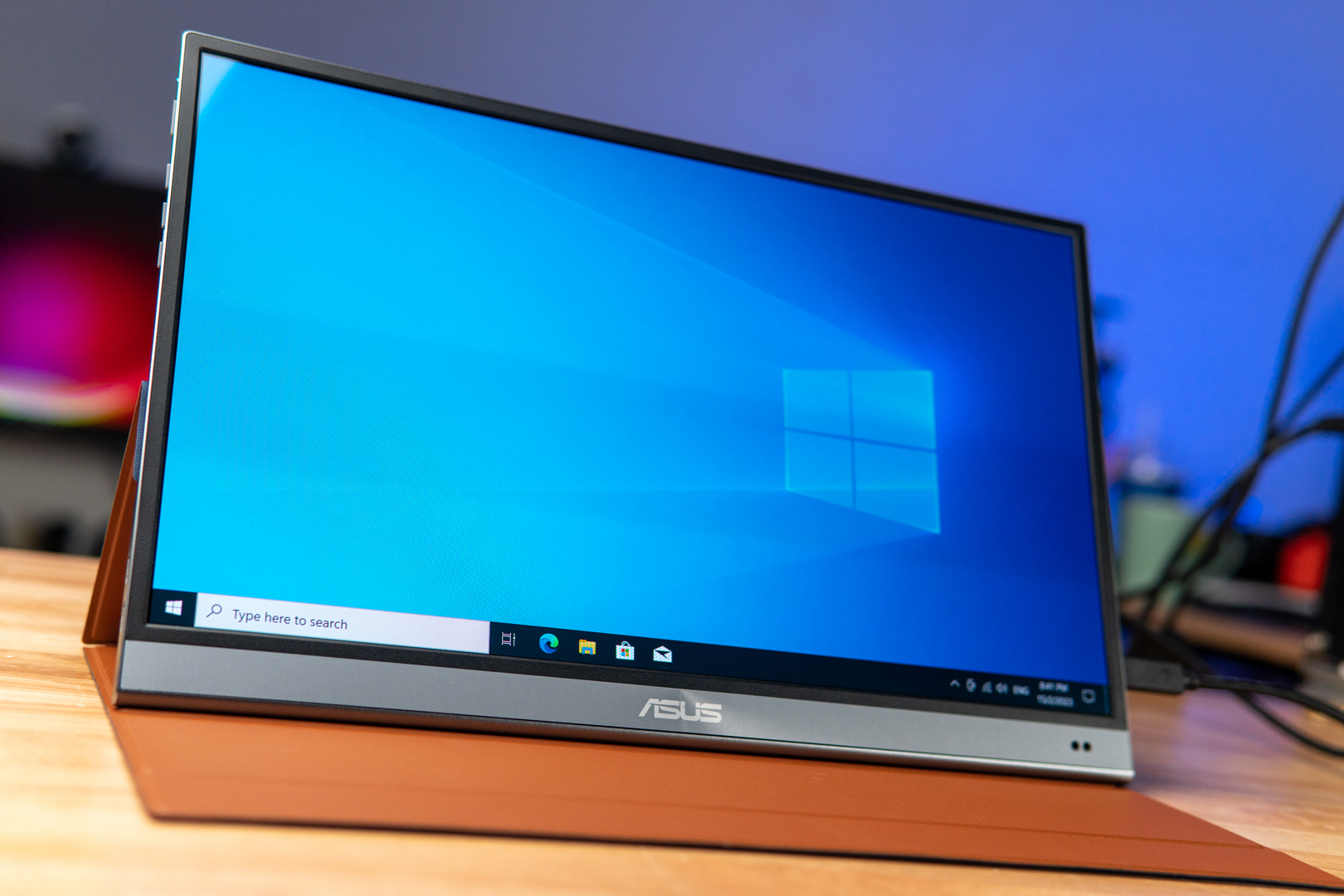 One of the most impressive things about this monitor is how great the viewing experience is from all angles. There was barely any noticeable backlight bleeding or color shifting when viewed from the side. This is particularly useful for those who need to share their screen with colleagues or clients, as everyone can view the content on the screen from any angle without any loss in color accuracy or brightness.
The ASUS ZenScreen OLED monitor also features support for HDR10, which is a high dynamic range format that is designed to offer a wider range of color and contrast than standard displays. With HDR10 support, the monitor is capable of producing more vibrant and accurate colors, along with deeper blacks and brighter whites.
The colors on the ZenScreen OLED come out rich and yet natural where they should, and the black levels are inky and deep. This makes it a great monitor for watching HDR movies or TV shows with dark scenes, as the black levels remain true without any gray or washed-out areas. Furthermore, the OLED technology used in this monitor allows for a very wide color gamut, making for more accurate and vibrant colors across the board.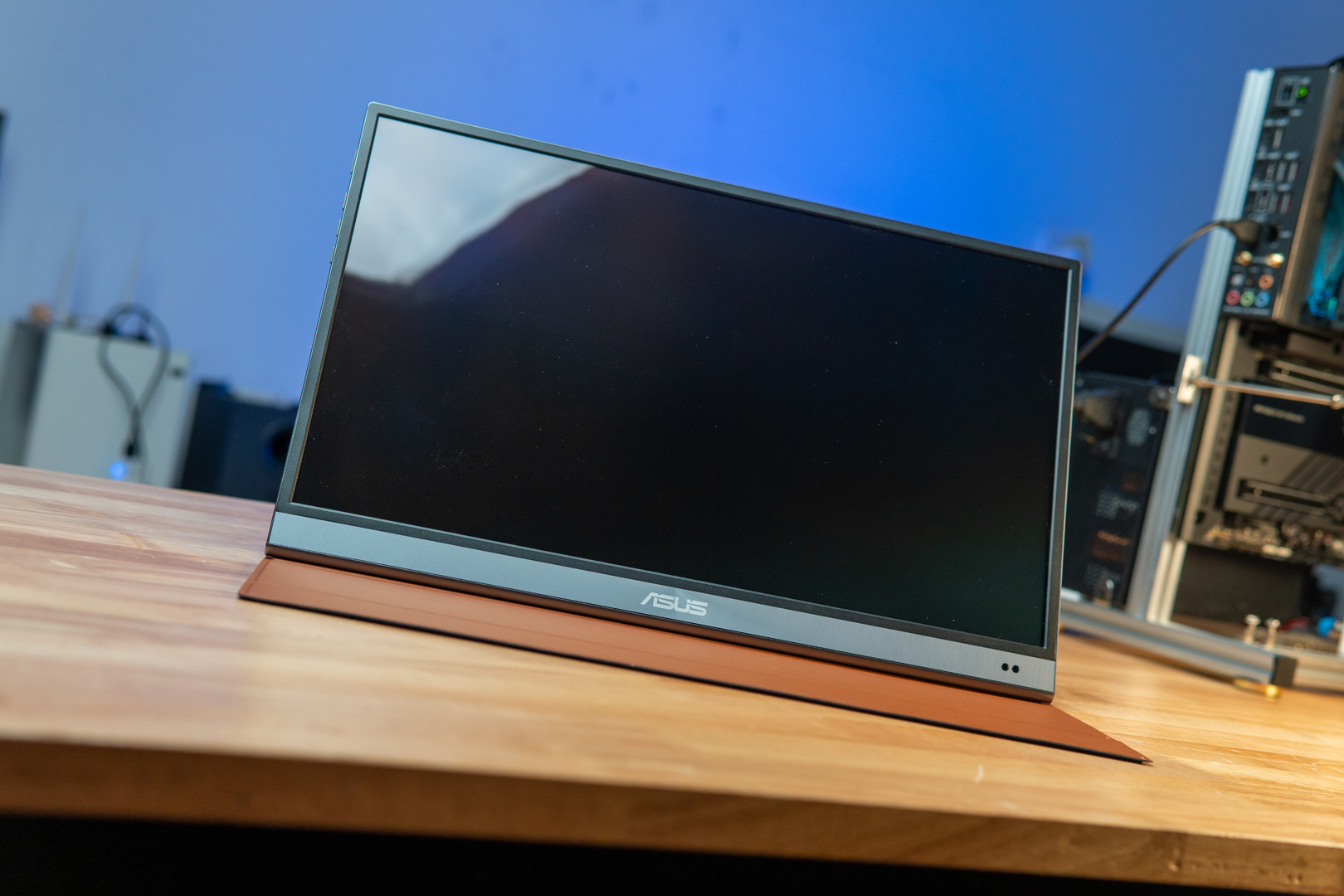 However, one downside to this monitor is that, like most glossy screens, it can be prone to reflections. While increasing the screen brightness can help address this issue, we recommend users avoid using this monitor in bright, outdoor environments for the best experience. Indoors, the reflections are not a major issue, especially in a well-lit room.
---
What I Really Liked About The ASUS ZenScreen Ink
Full USB-C & Mini-HDMI ports are the way to go!
Compact form factor without sacrificing build quality.
Sleek and Premium design.
Great OLED Performance.
Can be powered with a power bank.
What I Wished Was Better
Again, no built-in battery (unlike the ROG XG17).
---
Verdict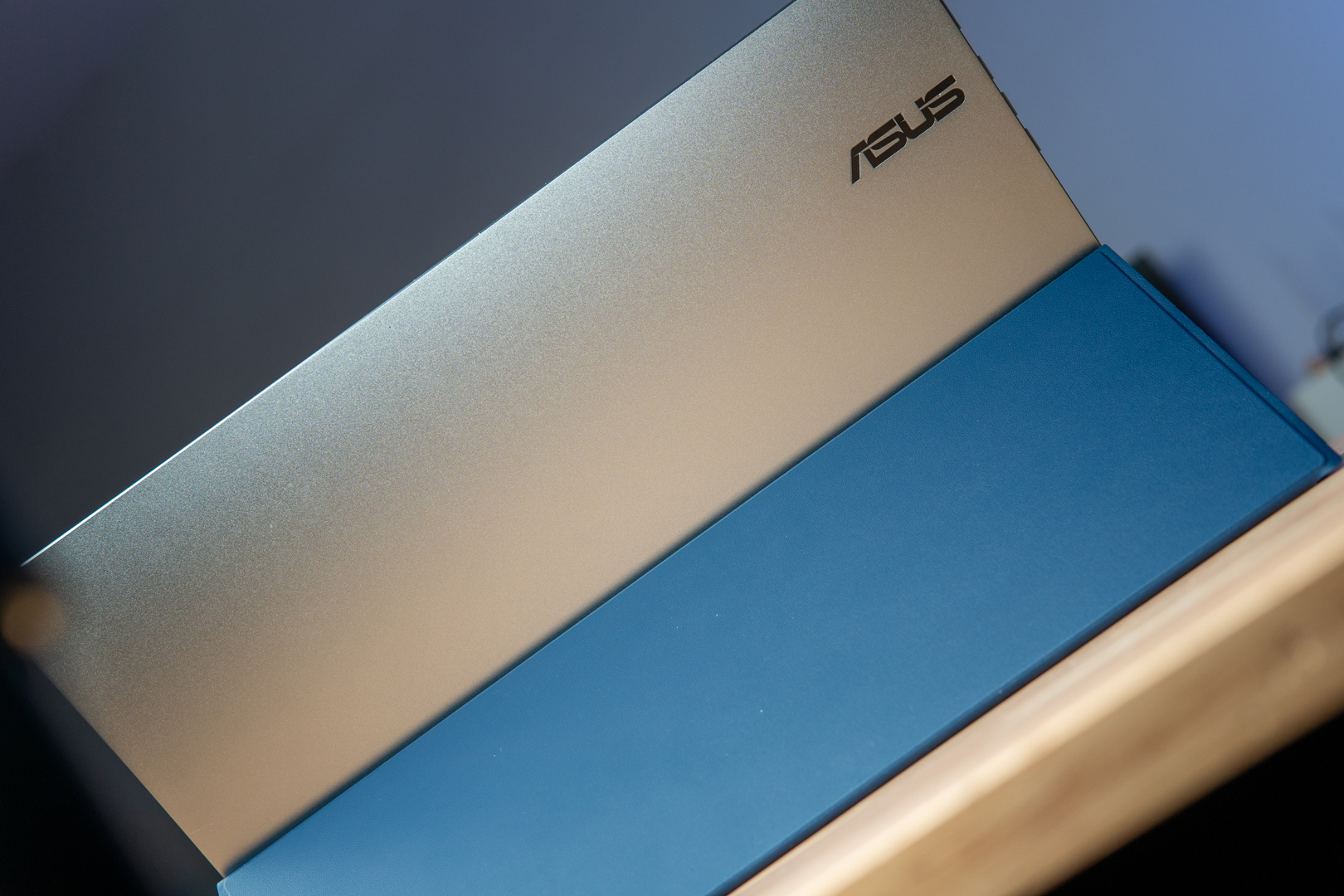 As stated previously, this review is based on the 15.6-inch model MQ16AH. However, since this model is not available in the Malaysian market, the pricing analysis will be based on the 13.3-inch variant, the ASUS ZenScreen OLED MQ13AH. Priced at RM 1,888, the cost is reasonable considering the monitor's performance. However, it may be too expensive for some consumers.
Pricing aside, the ZenScreen OLED MQ16AH is a well-designed and elegant device with a premium build quality that prioritizes aesthetics and functionality. Its slim form factor, metal casing, and ultra-thin bezels around the display make it a stylish and visually appealing option for those who value high-quality design in their tech gadgets.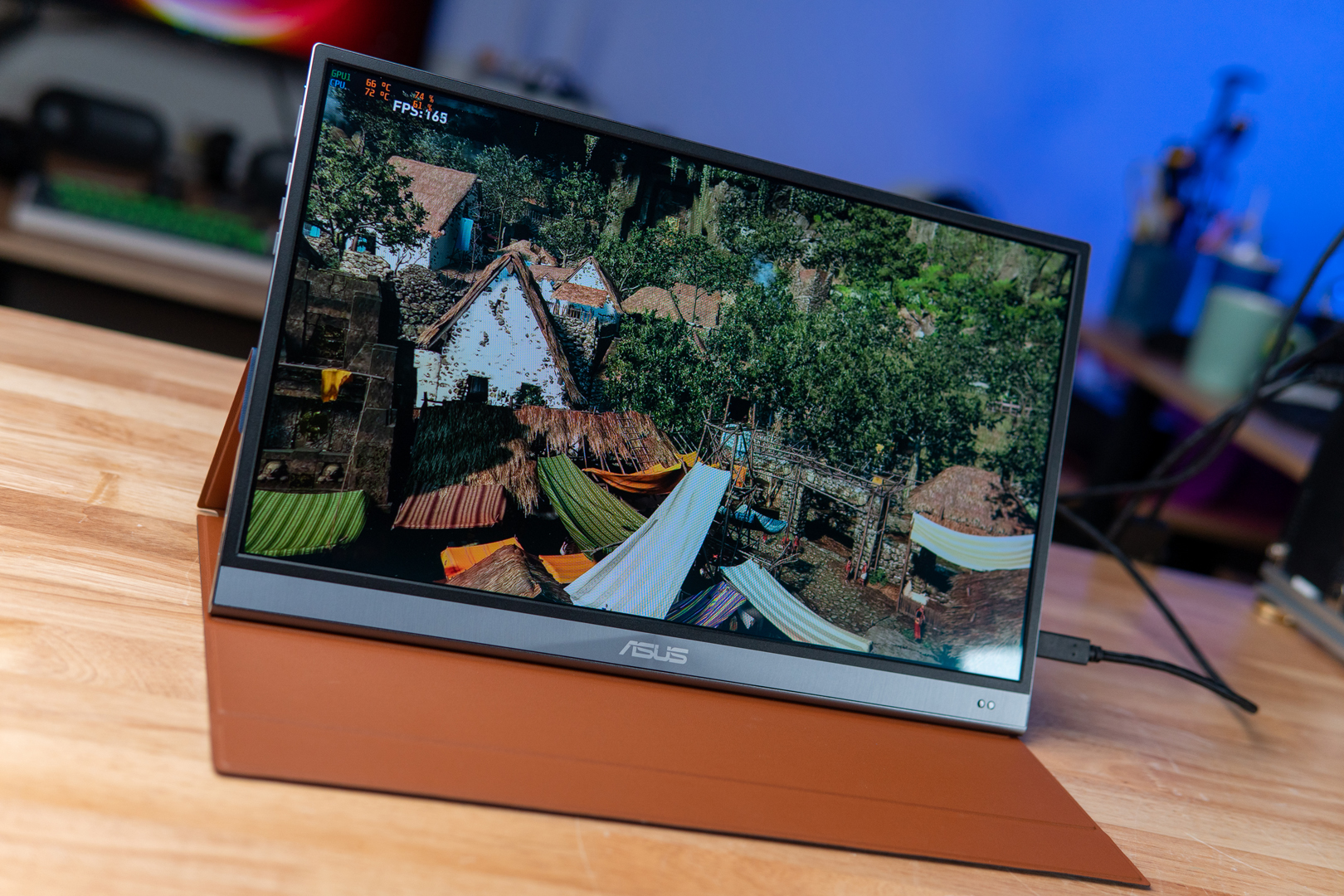 The accessor. By providing users with essential accessories, the ZenScreen OLED also ensures a hassle-free user experience. Users can save time and effort by avoiding the need to buy separate cables, which can be especially important for those who are frequently on the go. Overall, this comprehensive accessory package makes the ZenScreen OLED a practical and convenient option for users who value ease of use and versatility.
Overall, the ZenScreen OLED's OLED performance and visual experience is exceptional. It's clear that ASUS has put a lot of thought and effort into the display technology of this monitor, and it shows in the final product. The viewing experience is great, the colors are vibrant and accurate, and the black levels are impressively deep. If you're in the market for a portable monitor with excellent OLED performance, the ZenScreen OLED is definitely worth considering.
FINAL SCORE: 9/10
---
Product Page: https://www.asus.com/my/displays-desktops/monitors/zenscreen/asus-zenscreen-oled-mq16ah/