A modern day gaming keyboard comes in a variety of sizes. Namely 100%, TKL, 96%, 75%, 65% and etc. In line with this, the 96% is a slightly more compact version of the 100% layout. It removes unessential buttons or rather rarely used navigation buttons like Print Screen, Scroll Lock, and others. Furthermore, the 96% aim is to reduce the overall size while maintaining most of the functionality. This layout is a popular choice for those who want a more streamlined keyboard without sacrificing too many keys and is suitable for a wide variety of users.
In line with that, ASUS has launched their latest keyboard the ROG Strix Scope II 96 Wireless. Furthermore, this comes following the excellent success that the ROG Azoth has been building. While the ROG Strix Scope II Wireless doesn't come at a low price point (MYR780), it is packed with enthusiast-level features that many gaming keyboards either lack or don't execute as effectively. These include lubed and replaceable switches, PBT keycaps, and effective foam dampening.
Specifications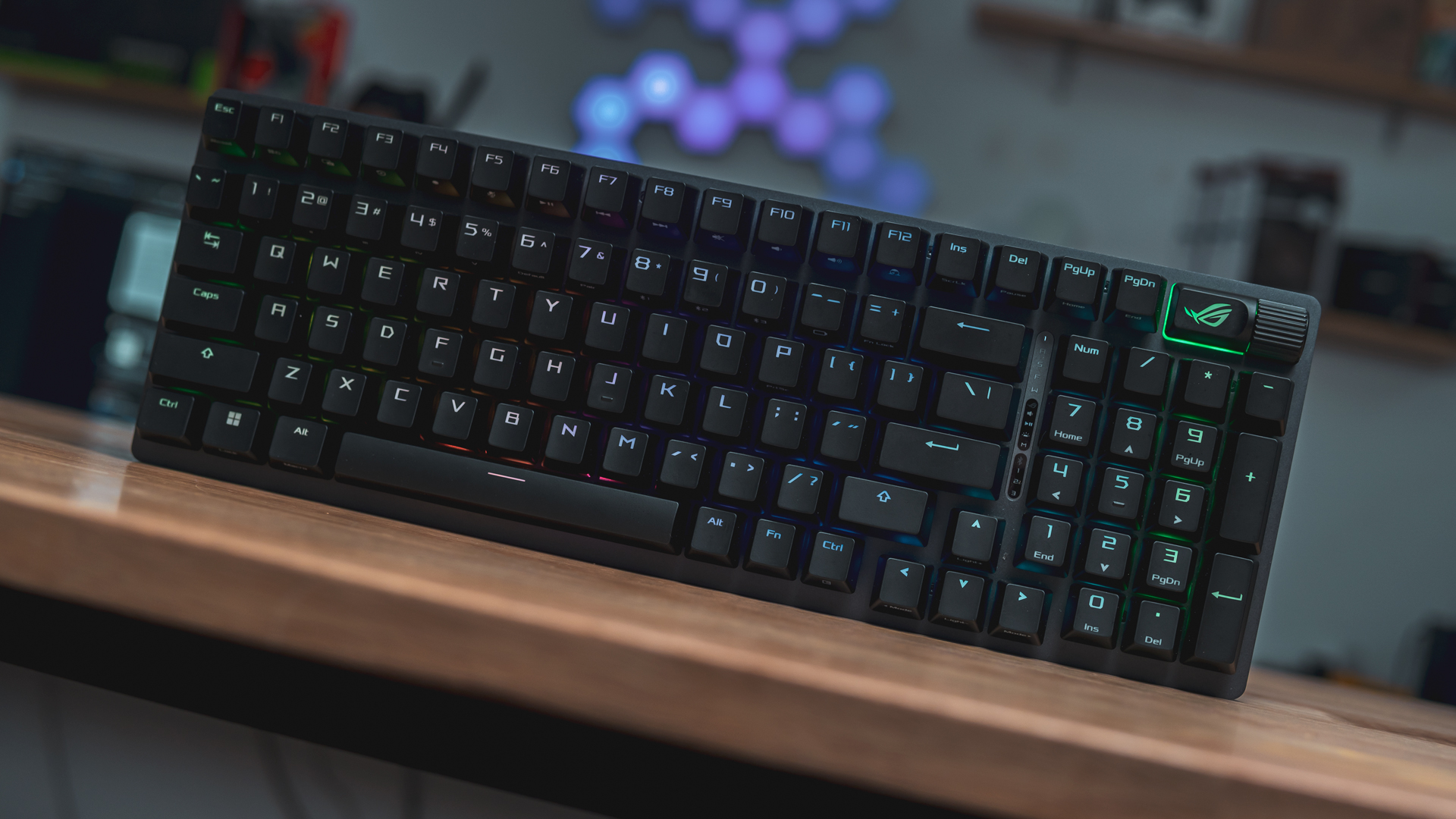 Brief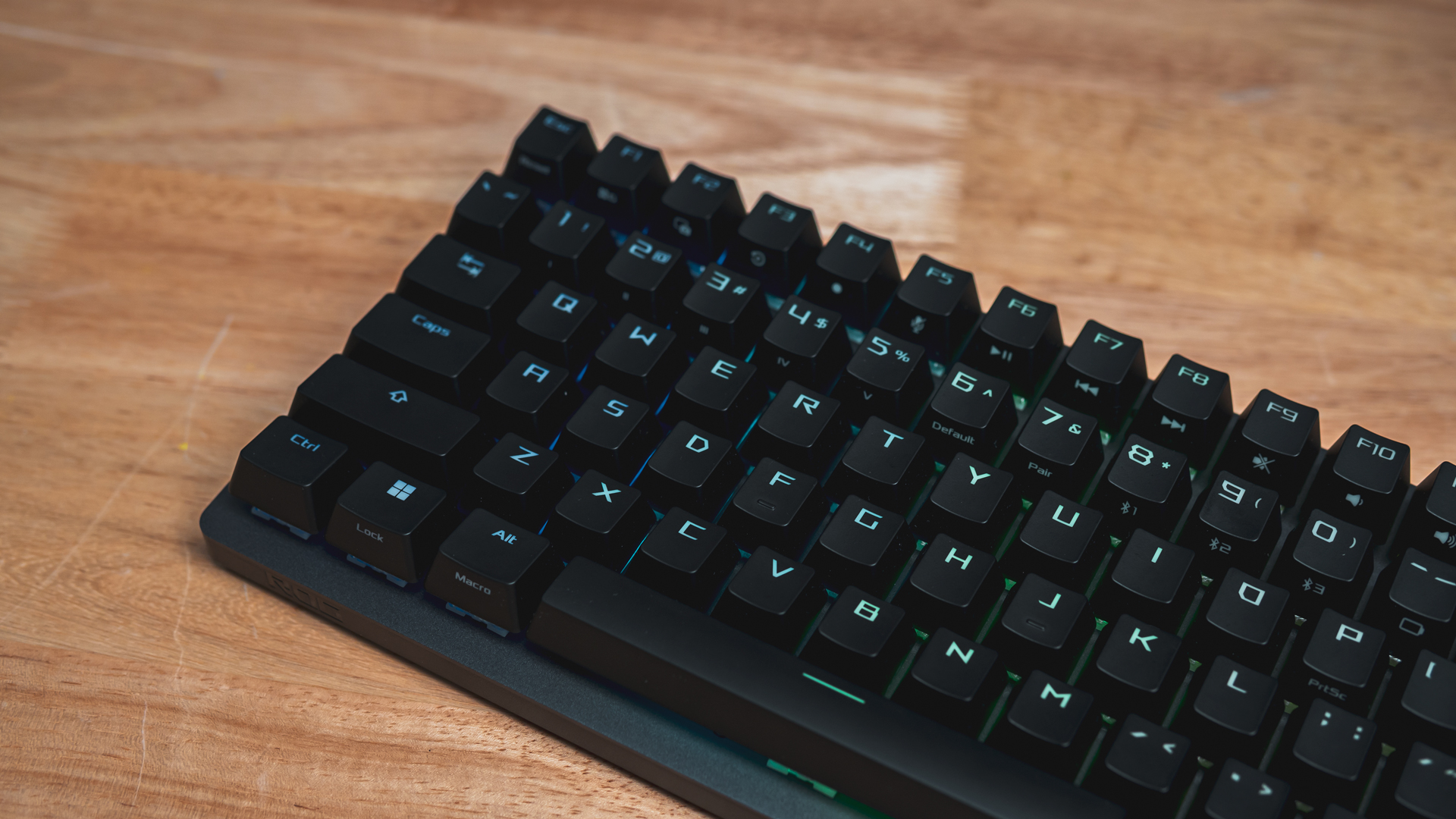 As mentioned, this is a full-function gaming keyboard packed into a 96% efficient layout to free up your desk space. On the surface, the keyboard features a tri-mode connection with ROG SpeedNova wireless technology, hot-swappable pre-lubed ROG NX mechanical switches, ROG keyboard stabilizers, PBT double shot keycaps, silicone dampening foam for a great typing experience, hotkeys for essential streaming functions, and intuitive multi-function controls.
Detailed Specs
Connectivity
USB 2.0 (Type C to Type A)
Bluetooth 5.1
>RF 2.4GHz
Size (Full/TKL)
96%
Lighting
RGB Per keys
AURA Sync
Yes
Anti-Ghosting
N Key Rollover
Macro Keys
All Keys Programmable
USB Report rate
1000 Hz
RF 2.4G Report rate
1000 Hz
Cable
2M USB type A to C braided cable
Software
Armoury Crate
Dimensions
377 x 131 x 40mm
Weight
1012g without cable
MSRP
MYR 780
Contents
ROG Strix Scope II 96 Wireless x1
Magnetic wrist rest x1
2-in-1 ROG keycap & switch puller x1
Wireless receiver USB x1
USB extender x1
ROG-themed spacebar keycap x1
USB Type A to Type C cable x1
ROG sticker x1
Quick start guide x1
Warranty booklet x1
Aesthetics & Design
External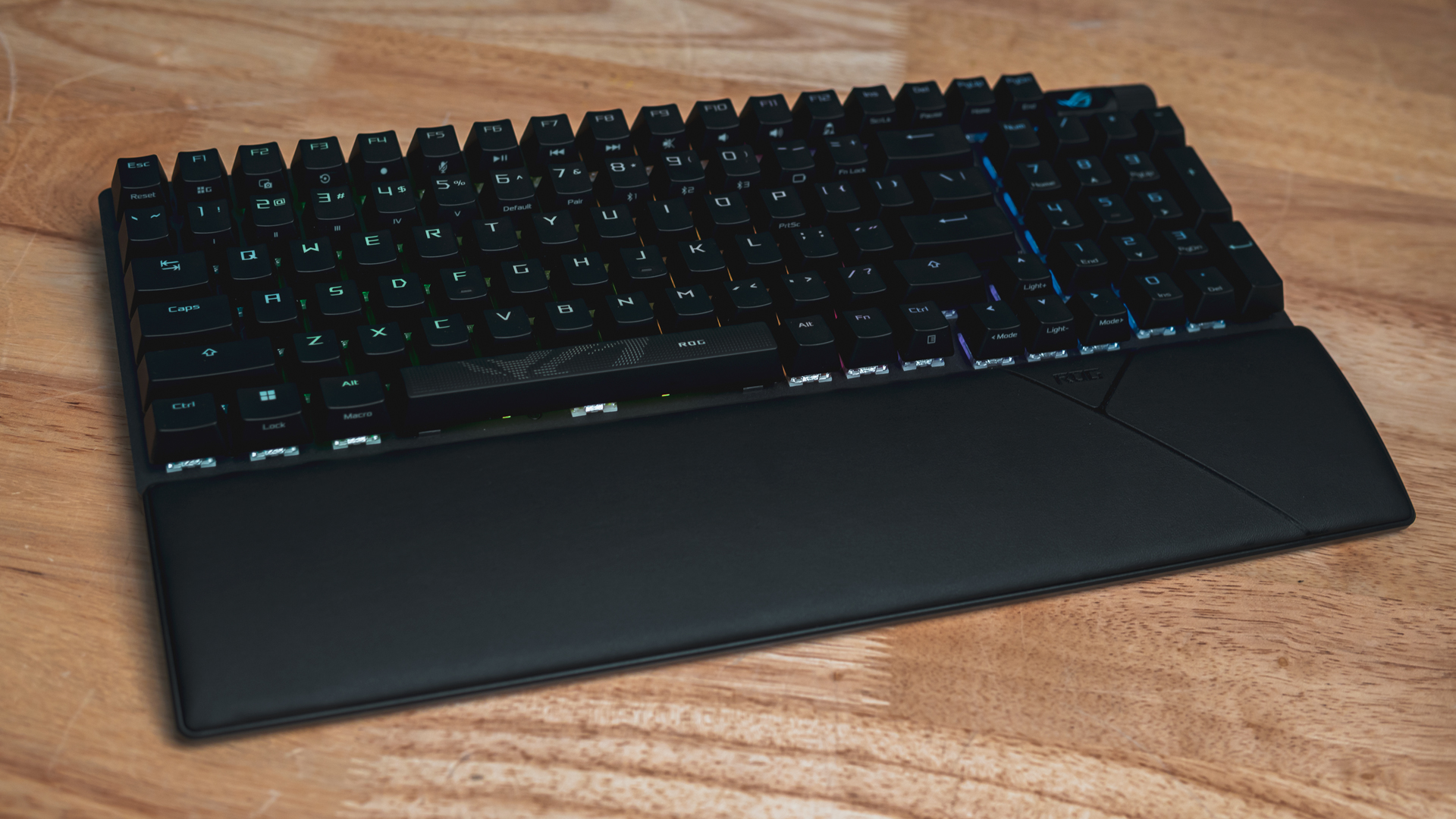 Firstly, the ROG Strix Scope II 96 Wireless keyboard features a sleek design with a compact 96% layout and a removable magnetic palm rest. It is a durable keyboard with a strong metal top plate and a dark gunmetal finish that helps reduce fingerprint smudges. Secondly, the keycaps provided are double shot PBT with a slight touch of shine through to further enhance the shine of the ARGB LEDs being emitted.
Moving on, the top portion of the keyboard houses the USB C socket, tri mode toggle and the magnetic dongle bay for 2.4G wireless connectivity. However, a small drawback here is the process of removing the dongle if you have slightly larger fingers. It appears to be difficult considering the size of the USB dongle. Consequently, if you have long fingernails then this can be overlooked as it is possible to pick out the dongle with your nails.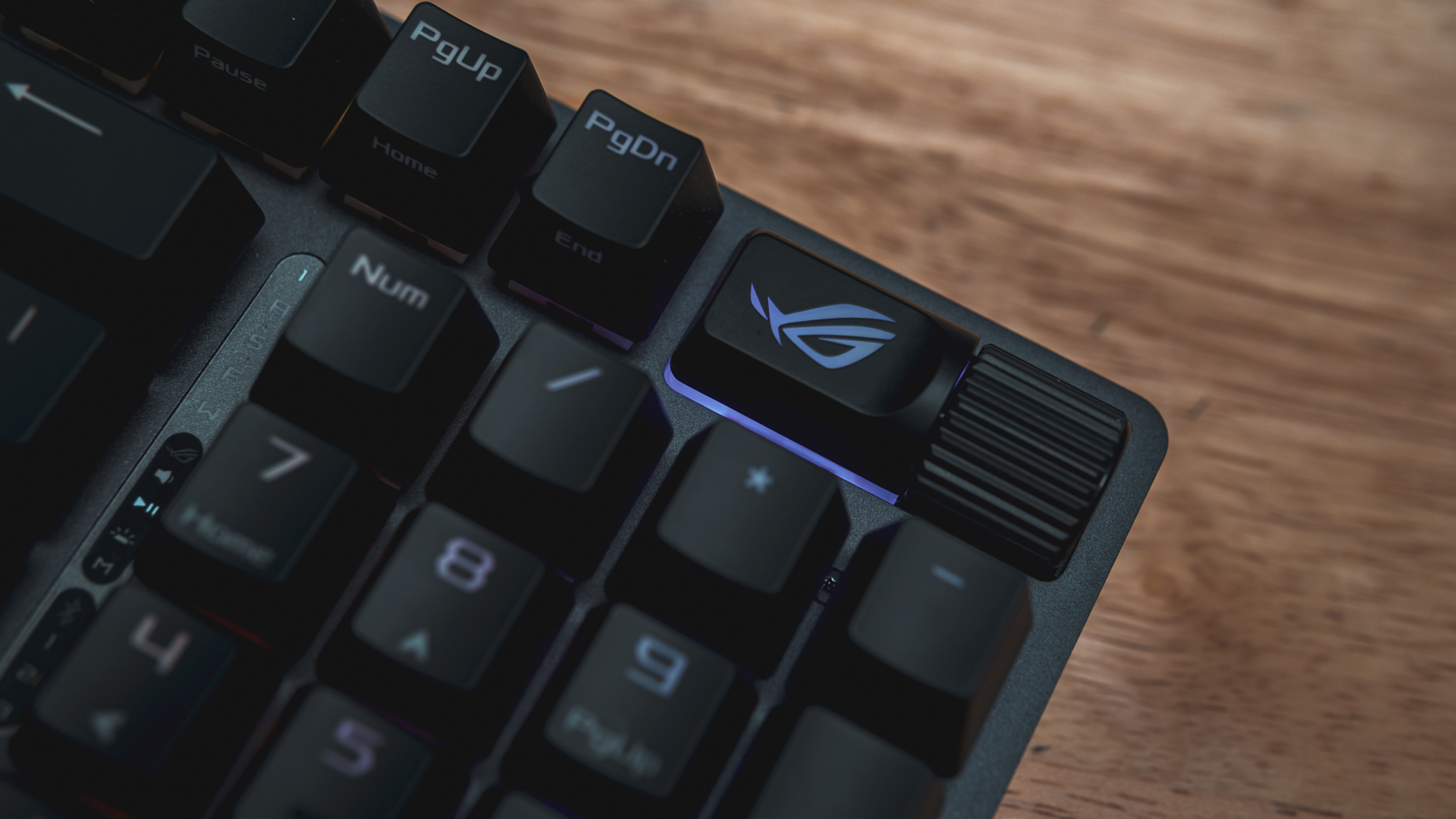 On the other hand, ASUS has decided to install a multi purpose scroll wheel and button. This allows users to control media playback, adjust volume, tweak keyboard lighting and features a single custom profile. In this case, an OLED display such as the one seen on the Azoth is omitted. However, there is a small display that indicates the mode and what not right next to the numpad.
Moving on, the under side has 4 silicone pads to prevent the keyboard from sliding over any surface. Frictional holdback of the keyboard is quite good as it takes great effort to push it around. Adding on, there are two sets of feet which users can set the angle of the keyboard lifting. All in all, there are 3 angles to pick your poison.
Internal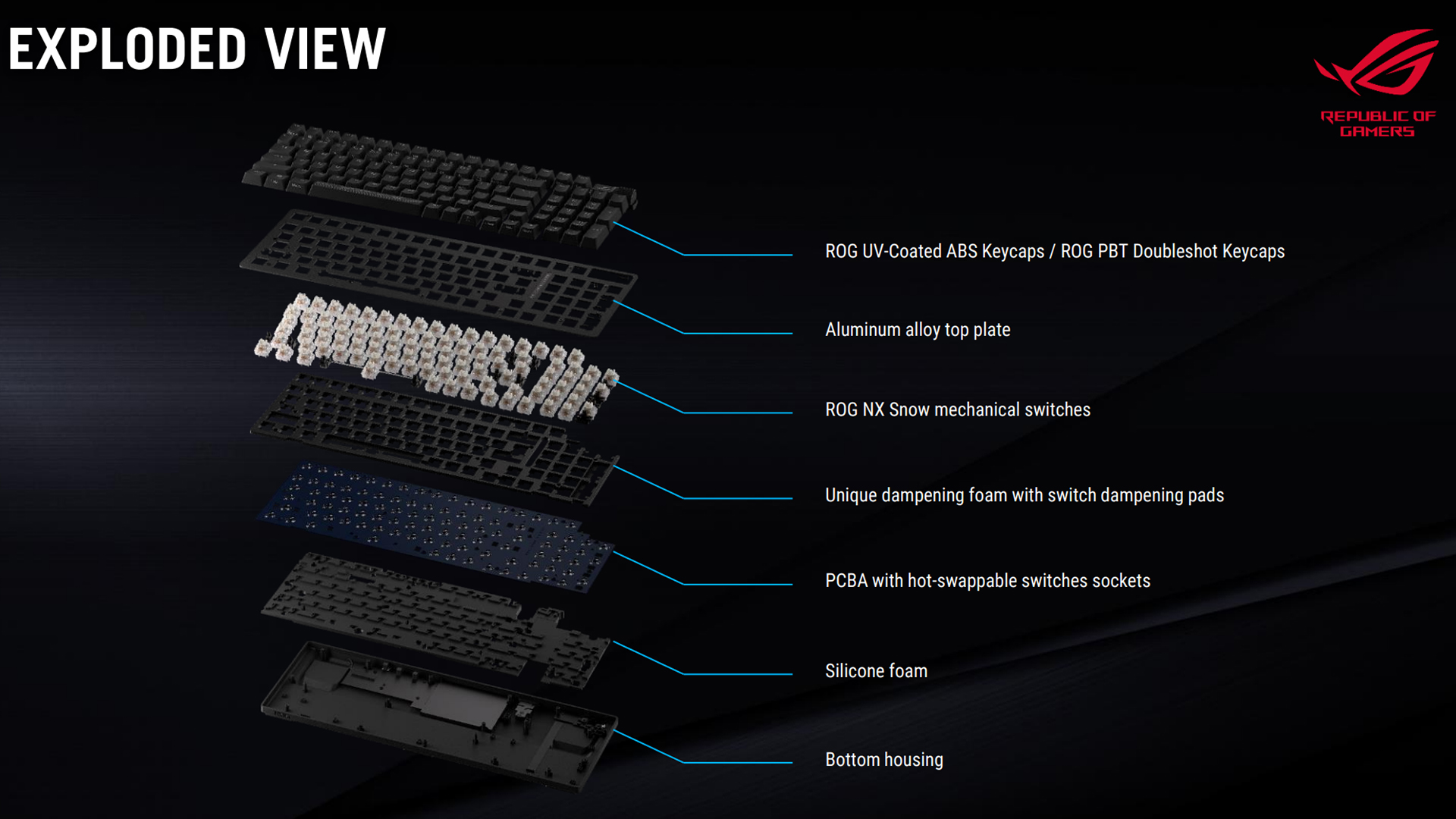 Interestingly, the final product stacks 7 layers of materials to give you the perfect product. Ideally, an aluminium top plate and a hard plastic bottom housing are the core of the external composition. Moving on, the PCB is sandwiched between a unique dampening foam with switch dampening pads and a silicone foam. Obviously, done to reduce resonance or echo whenever you are registering or going all warrior-esque with your keys. For the most part, ASUS has clearly paid a lot of due diligence by clearly excelling in the aspect of paying attention to details.
Switches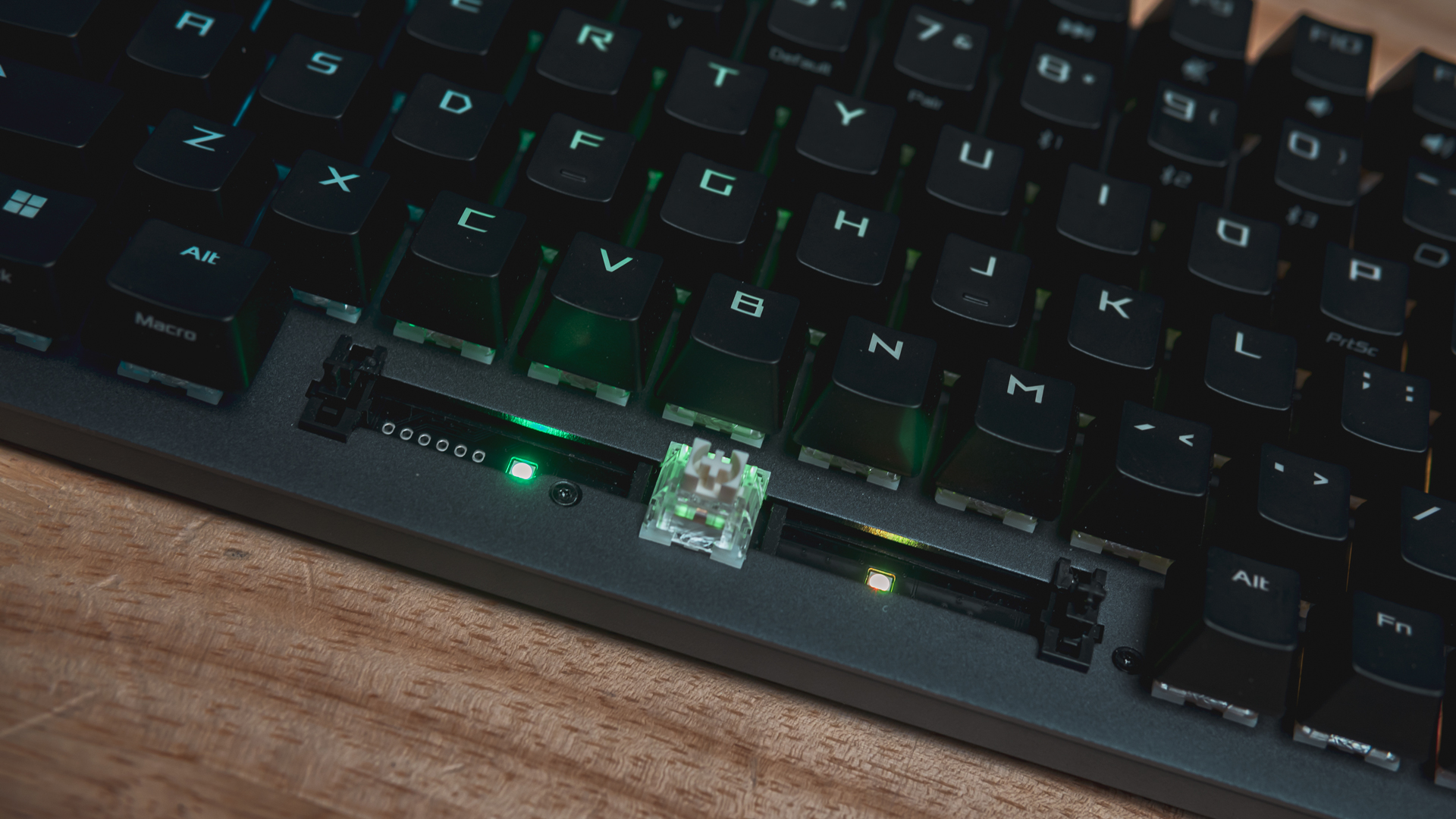 Furthermore, the switch socket that ASUS has gone for is a 5 pin hot swappable one and has north facing LEDs. In addition to being hot swappable, one will definitely feel like upgrading the given NX Snow switches. As a matter of fact, these are ASUS's latest switches, and are deemed to be linear switches. Conversely, these are not bad switches because ASUS has gone by getting them lubed with Krytox 205 Grade 0 as well. Adding on to that, ASUS implemented a walled stem design. Consequently to enhance the keystroke stability and act as a protection measure against dust intrusion. All in all, every keystroke will make a very solid and clean sound, that has deeper acoustics ("thocky").
Moving on, the stock ROG stabilizers are not some run of the mill product. These pre-lubed keyboard stabilizer have been specially tuned with gamers in mind; it produces less friction, allowing long keys such as Spacebar, Shift and Enter to deliver keystrokes that stay true to the original switch feel. For this reason, they require lesser initial force and actuation force in contrast to many high profile stabilizers that can be found in the market.
Tri-Mode Connectivity & Battery Life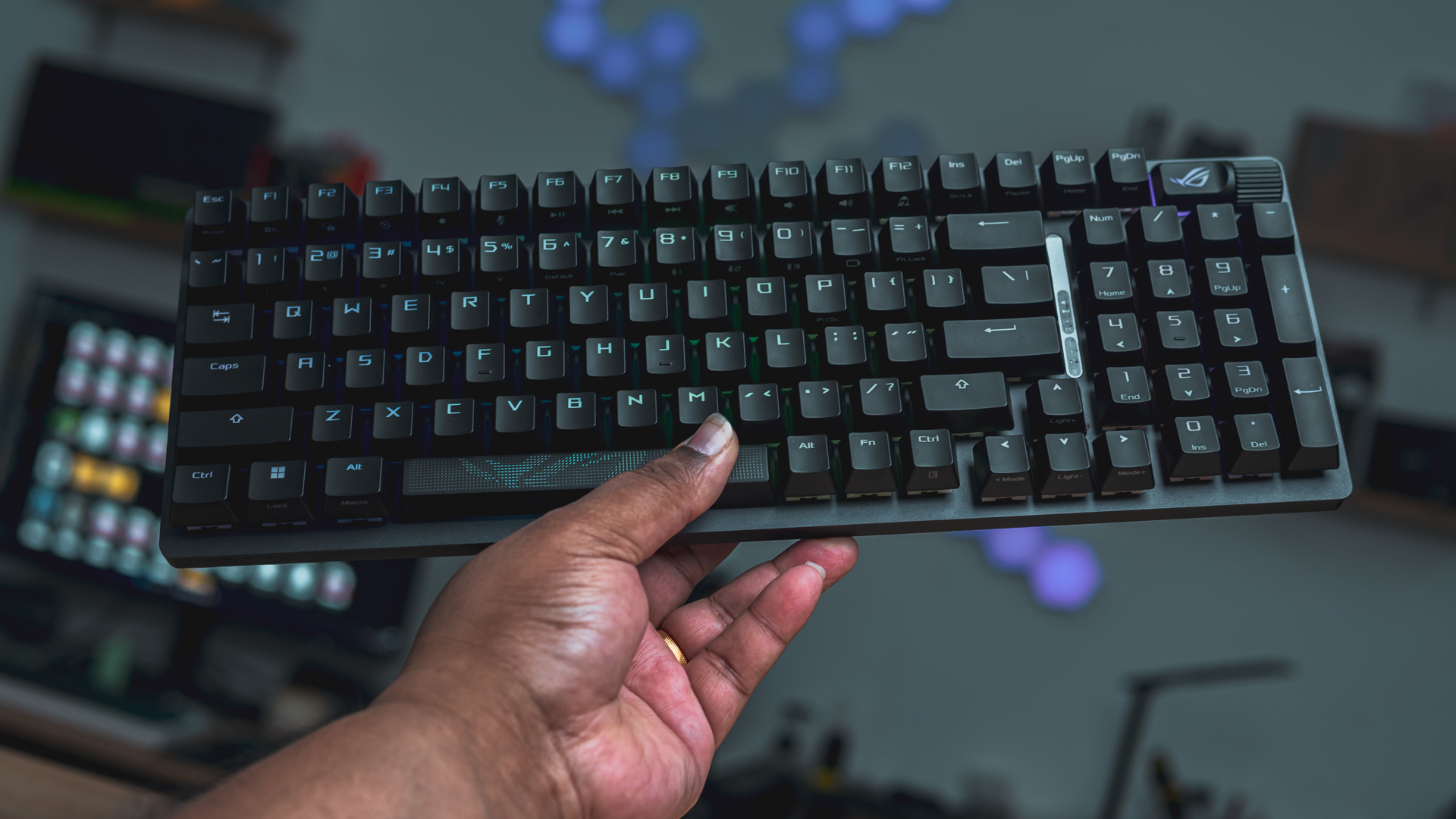 In general, Scope II 96 Wireless keyboard can be used in 3 main modes. Namely USB, Bluetooth and 2.4ghz wireless modes. With this in mind, the supplied USB A to USB C cable provided is a snug fit into the USB C socket of the keyboard. One should be aware to only use the given cable as the socket on the keyboard is slightly recessed.
On the other hand, ASUS states that the bundled battery has the potential to last a minimum of 1500 hours if you switch the RGB off. Furthermore, this is likely due to the ASUS Speednova chipset found in this and the Azoth. The ROG SpeedNova utilizes a unique
signal design algorithm to significantly cut the time needed for signal transfer, as well as the overall power consumption. However, the battery life with RGB on hits a wall as it will last only up to 90 hours on 2.4ghz wireless and 110 hours on Bluetooth.
At the same time, ASUS is releasing their new Omni receiver as well. This ROG Strix Scope II 96 Wireless is the first ROG keyboard to be have the ROG Omni Receiver which will allow wireless connections to multiple supported devices with a single USB dongle. At the point of writing, the only other device that has this unique feature is the ROG Harpe Ace Aim Lab Edition. In addition to that, this will have no compromise in performance as ASUS has done their due diligence.
Armoury Crate
At this instant, the keyboard works really well with the Armoury Crate software. From the software, users can control and tweak the keyboard according to your liking. In addition to that, you are able to program hotkeys, adjust the Aura Sync lighting, customize the multi wheel, oversee power usage and run a firmware update.
---
What I Liked About The Keyboard
96% Layout
Sturdy feeling due to weight and construction
Price Tag of MYR780
Dimensions(377 x 131 x 40 mm) and Weight(1012g)
Excellently pre-lubed switches and stabilizers
NX Snow switches
Hot swappable switches and 5 pin sockets
What Could Be Better
Recessed USB C socket
No Extra Switches
ROG Themed spacebar is slightly off in terms of height
The magnetic dongle bay is too narrow, not for thick fingers.
---
Conclusion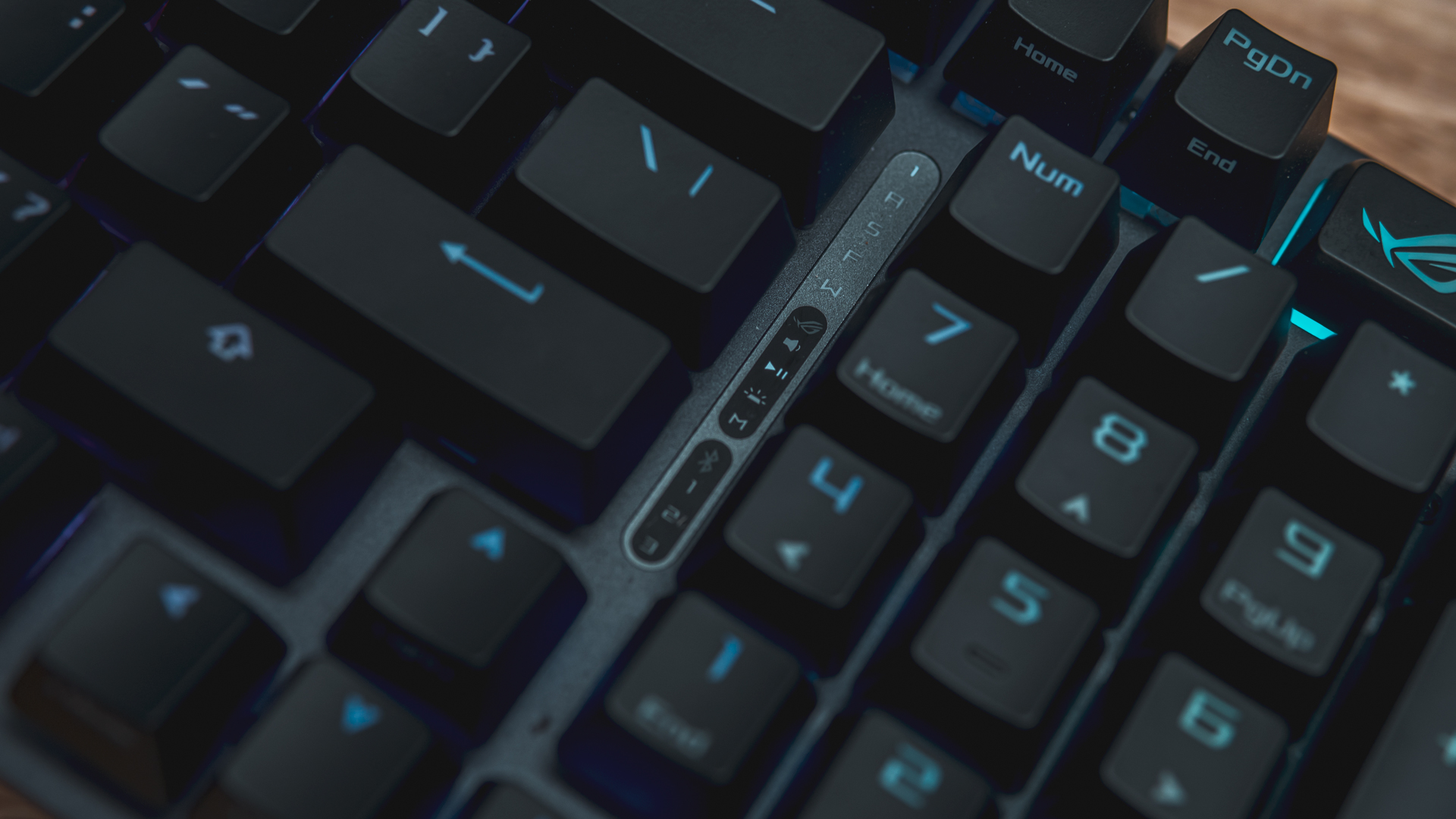 In essence, this keyboard threads between the level of an enthusiast and gaming sections. To point out, it has Asus's ROG branding, gamer-friendly linear switches, and low-latency 2.4GHz wireless connectivity with an Omni Receiver that's compatible with Asus's flagship ultra-lightweight gaming mouse. On the other hand, it has got a unique dampening foam, hot-swappable switches, and an overall high-quality, solid build that does not overwhelm like most gaming keyboards.
Seeing that, it serves both segments, the keyboard is a great attempt from ASUS in crafting a one of a kind product that is not of norm. I highly rate this keyboard to an extent that it actually made me feel absolutely weird to be on the 75% form factor. ASUS has shown that they are serious about the custom keyboard scene with this attempt. In addition to that, for the manufacturers that are not following their footsteps with extras like lubed switches and sound dampening will be left in the dust and be chasing after them.
Final Score : 9.5 out of 10
---
Product Page : https://rog.asus.com/my/keyboards/keyboards/compact/rog-strix-scope-ii-96-wireless/