Square Enix is bringing in a special crossover collaboration between two widely popular mobile games from their lineup. Beginning today through November 10th, players of Dragon Quest Of The Stars will experience collaborative content from Dissidia Final Fantasy Opera Omnia.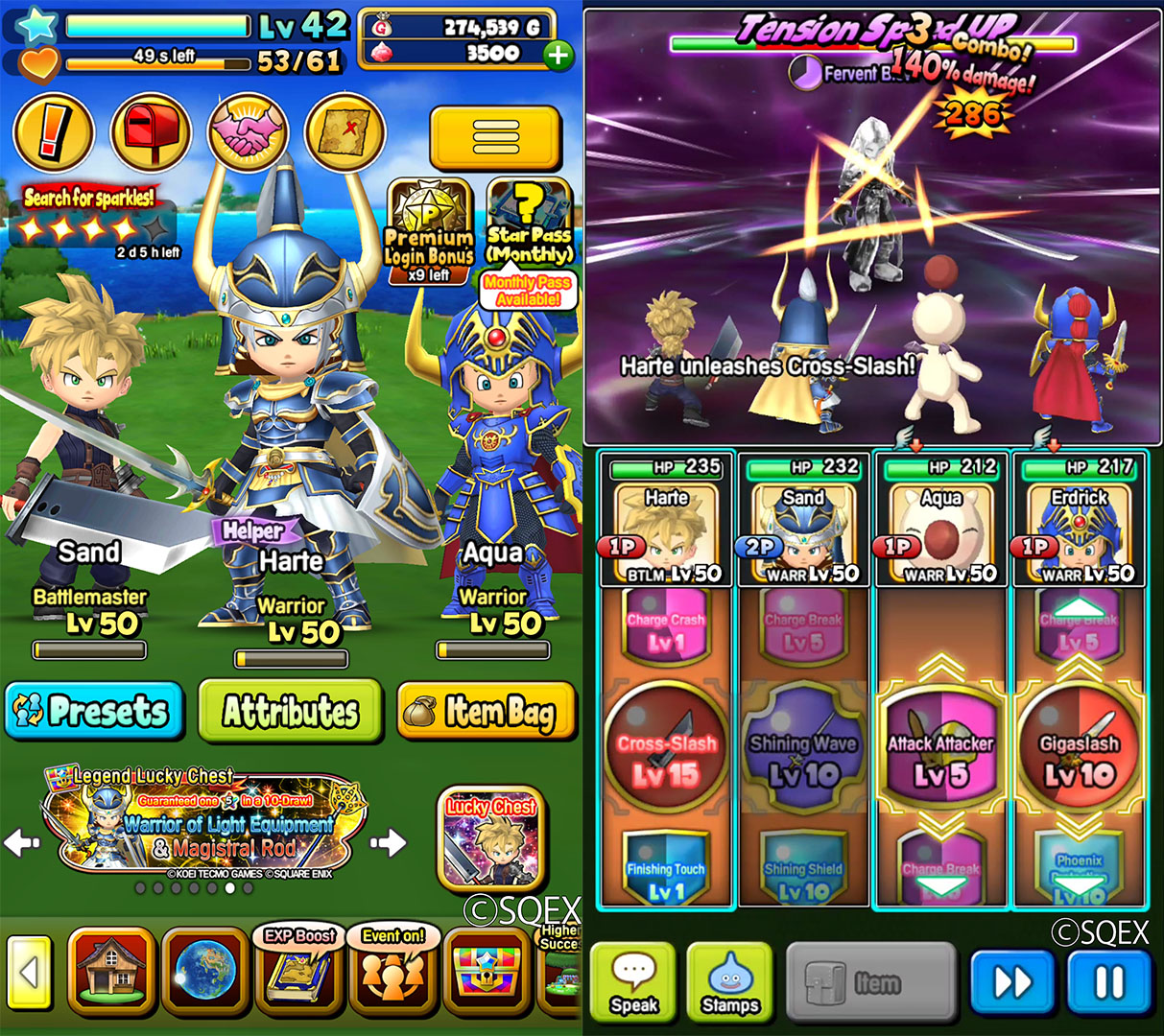 Here is the crossover collaboration on Dragon Quest Of The Stars which includes:
DISSIDIA FINAL FANTASY OPERA OMNIA Event Dungeons – Players can venture into
special event dungeons and battle against Manikins of DISSIDIA FINAL FANTASY OPERA
OMNIA bosses to earn exciting rewards.
DFFOO Crossover Lucky Chest – For a limited time, players can draw from special Lucky
Chest banners to obtain collaboration-exclusive weapons and armour, including Cloud's
Buster Sword, Warrior of Light's iconic armour and much more.
Crossover Rewards – Players can earn crossover-exclusive stamps for use in multiplayer,
Costume equipment, such as Mog's Costume and more, from login bonuses and by unlocking
special treasure boards.
DFFOO Crossover Event Present – All players who log in during the campaign period will be
gifted 3,000 free gems, which is the amount of 10-Lucky Chest. Players can earn rare weapons
and gear from it.
Crossover Login Bonus –Starting from today, players can earn exciting rewards by logging
in daily. Additionally, starting on October 30, players will be treated to another special login
bonus to celebrate Halloween.
Comeback Campaign – Players who return to the game during the crossover will be treated
to a 10-day comeback login bonus, which contains keys to level up their character, a free Lucky
Chest Ticket and more.
Additionally, there will also be crossover-exclusive stickers that will be available for Dissidia Final Fantasy Opera Omnia right now. All stickers are illustrated by famous Japanese illustrator Kanahei who has done a plethora of stickers for LINE. All of the stickers can be used for multiplayer co-op quests.
Both Dragon Quest Of The Stars and Dissidia Final Fantasy Opera Omnia is available on both Apple App Store and Google Play.
Dragon Quest Of The Stars: Apple App | Google Play
Dissidia Final Fantasy Opera Omnia: Apple App | Google Play