Alawar Premium and Wooden Monkeys Studios are gearing up to release a brand new trailer of Song of Farca, revealing more narrative elements and more puzzles in addition to showcasing more characters. The full release is planned for July 21st landing on both Steam PC and the Epic Game Stores.
In Song of Farca Prologue, players step into the shoes of cyber detective Isabella Song to investigate the theft of a pet robodog.
Players can:
Hack security systems, personal computers, and safes
Rebuild CCTV camera footage
Run biometric analyses during questioning
Uncover evidence, chase leads, and draw conclusions
'Song of Farca' Story Plot
As a private detective Isabella Song, you must navigate the city's disparate factions and investigate the most complex, seemingly unrelated cases with the help of gadgets, a small army of drones and your intellect. Though Izy is under house arrest after a bar fight, that won't stop her from doing her job. Getting online is no problem for a hacker, after all.
You must uncover information through hacking, surveillance, and the internet, create an information cloud from leads and logically connect them to draw conclusions and apply them in dialogues.
As the plot progresses, things get more complicated. The stakes get higher and the various plot strands come together to form a single story.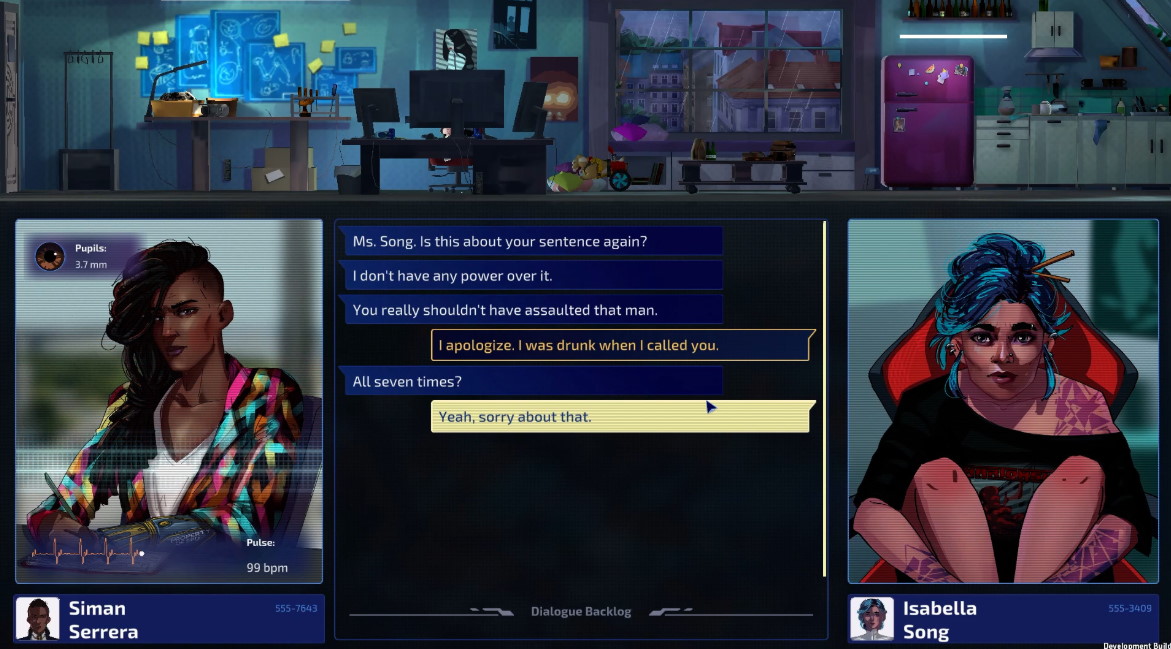 The choices you make in investigations have important consequences to the plot. Do you convict the suspect that all the evidence is pointing to or dig deeper? What collateral damage will you leave behind you?
Don't let your guard down — victims can turn out to be criminals and suspects might be just one link in a long criminal chain.
Game Location and Time Period Setting
Song of Farca takes place in the near future. It is set in the fictional city of Farca somewhere on the coast of the Mediterranean. Technology isn't just part of everyday life – some things are now impossible without it. IT corporations are gradually gaining more and more influence, becoming a modern aristocracy that couldn't care less about the law or mere mortals. Criminal organizations are still trying to resist the powerful corporations, but even they understand that the city is on the cusp of a cyberpunk future. They know that their golden age is over.
"Song of Farca is our vision of a near-future where humanity hasn't achieved space travel or eternal life yet but is rushing headlong into a world dominated by technology and gadgets. A world where personal data can be obtained in two clicks and criminal groups can be destroyed using a device. Where digital bullying can easily push someone into crossing the line. Where all the powers of Big Brother are just another handy tool for experienced hackers."

David Aramyan – Founder of Wooden Monkeys Studio