Ubisoft Forward 2023 event reveals a host of release dates, gameplay trailers and more. Here is a quick roundup of what happened during the event.
Star Wars Outlaws Opens Up a Galaxy of Opportunity
Star Wars Outlaws™ debuted the gameplay during the event which gives us a brand-new look at cunning scoundrel Kay Vess and her companion Nix taking on a high-risk, high-reward mission. The two must infiltrate a secret location, use stealth, fight with a blaster, and steal valuable goods. Once you've watched the action play out, watch our gameplay walkthrough breakdown, where Star Wars Outlaws' narrative director, creative director, and game director go into deeper detail on the characters, locations, gameplay mechanics, Kay's ship the Trailblazer, and more.
Announced during the Xbox Games Showcase on 11 June, Star Wars Outlaws, the first-ever open-world Star Wars™ game, invites you to pull off one of the greatest heists the Outer Rim has ever seen as cunning scoundrel Kay Vess. Set between the events of Star Wars: The Empire Strikes Back™ and Star Wars: Return of the Jedi™, Star Wars Outlaws takes place in a time when the Galactic Empire relentlessly pursues the final defeat of the Rebel Alliance, and the criminal underworld is thriving. Seeking the means to start a new life, Kay and her companion Nix will fight, steal, and outwit their way through the galaxy's crime syndicates and join the galaxy's most wanted. Star Wars Outlaws is coming to Xbox Series X|S, PS5, and PC in 2024.
Learn more about Kay Vess with Ubisoft's Meet Kay Video below.
The back-to-basics Assassin's Creed Mirage will be arriving on 12 October 2023 for Xbox Series X|S, Xbox One, PS5, PS4, and PC. The story is set in ninth-century Baghdad, and centers on the young version of Assassin's Creed Valhalla's Basim, a common thief haunted by visions. Basim soon starts a journey to become a master assassin, mentored by Hidden Ones Fuladh and Roshan (the latter of whom is voiced by Shoreh Aghdashloo). A homage to the first Assassin's Creed, Mirage emphasizes stealth gameplay with classic tools like throwing knives and smoke bombs, as well as new abilities like Assassin's Focus, which lets Basim take down multiple targets in rapid succession.
For a closer look at Assassin's Creed Mirage, check out the gameplay walkthrough video below commentated by Art Director Jean-Luc Sala and Creative Director Stéphane Boudon.
Avatar: Frontiers of Pandora Gameplay Revealed
Avatar: Frontiers of Pandora, was announced at Ubisoft Forward and is a stand-alone adventure set within the Avatar universe. In a world premiere trailer, we were introduced to the player character, a Na'vi who awakens in a never-before-seen region of Pandora, the Western Frontier, years after being abducted as a child and raised by a human militaristic corporation known as the RDA. Now a stranger in your own birthplace, it's up to you to rid Pandora of a newly formed RDA and learn what it means to be N'avi.
The first Avatar: Frontiers of Pandora gameplay also debuted, showing off Na'vi customization, combat that allows you to wield specialized human weapons built for the Na'vai plus stealthier, more traditional N'avi weapons, and breathless arial combat on the back of your very own customizable banshee, or ikran. We also got our first look at crafting, where new and valuable resources enable you to craft the best gear and weapons for your playstyle.
Avatar: Frontiers of Pandora is plan for release on 7 December for the PlayStation 5, Xbox Series X|S, PC and Luna.
XDefiant Open Session Coming 21-23 June, Release Date Window Revealed
XDefiant will launch later this summer on Xbox Series X|S, PS5, and PC. During Ubisoft Forward, Executive Producer Mark Rubin spoke about the recent closed beta period, and shared a sneak peek at the game's Year 1 roadmap, which is set to include 12 new maps and 12 new weapons, as well as new game modes. Rubin also announced that XDefiant will have an Open Session later this month. From 21-23 June, players will have a chance to test XDefiant's brand new netcode by playing the fast-paced arcade shooter for free.
Players can register at playxdefiant.com.
Prince of Persia: The Lost Crown Launching 18 January
Prince of Persia: The Lost Crown will launch on 18 January 2024 for Nintendo Switch, Xbox Series X|S, Xbox One, PS5, PS4, and PC, and debuted an animated trailer and a commented gameplay walkthrough during Ubisoft Forward. The Lost Crown's story centres on Sargon, a warrior who must travel to the mythical and dangerous Mount Qaf in search of a kidnapped prince, only to find its denizens driven mad by a mystery that has unravelled time and unleashed a horde of monsters on the mountain. A side-scrolling platformer, Prince of Persia: The Lost Crown features fast-paced gameplay inspired by Metroidvanias.
Assassin's Creed Nexus Brings Three Adventures to VR
A new VR instalment in the Assassin's Creed franchise, Assassin's Creed Nexus lets players embody three different heroes – Ezio Auditore da Firenze, Kassandra, and Connor (aka Ratonhnhaké:ton) – and immerse themselves in the Italian Renaissance, Ancient Greece, and the American Revolution. Assassin's Creed Nexus will be available exclusively on Meta Quest 2, Meta Quest Pro, and Meta Quest 3, and will deliver gameplay that will put your stealth, parkour, and combat skills to the test.
Assassin's Creed Codename Jade Takes Players to China's First Empire
Assassin's Creed Codename Jade is the first open-world Assassin's Creed game designed for mobile devices, and registration is now open for its first public test taking place later this summer. Set in the third century BCE, Assassin's Creed Codename Jade is set chronologically between Assassin's Creed Odyssey and Assassin's Creed Origins, and puts players in China during the Qin dynasty, considered the first empire of China. Players will be able to customize their assassin through the Animus and undertake a new adventure filled with the historical intrigue, assassinations, stealth, and parkour mechanics that are hallmarks of the series.
The Division Resurgence Gameplay Preview and Test Phase Announcement
The Division Resurgence, the new free-to-play RPG mobile shooter, will launch for iOS and Android devices this fall. An urban open-world game that aims to bring a true The Division experience to handheld devices, The Division Resurgence explores what happened in New York City after the event of The Division, as citizens banded together and started to rebuild. Anyone can register now for upcoming test phases, but players in Australia, Chile, Denmark, Finland, Netherlands, Norway, Philippines, Spain, and Sweden will be eligible for a Regional Beta running from 13 June until 24 July. If selected, participants will be able to share their feedback with the development team and test new main missions, activities, and agent specializations.
The Crew Motorfest Coming September 14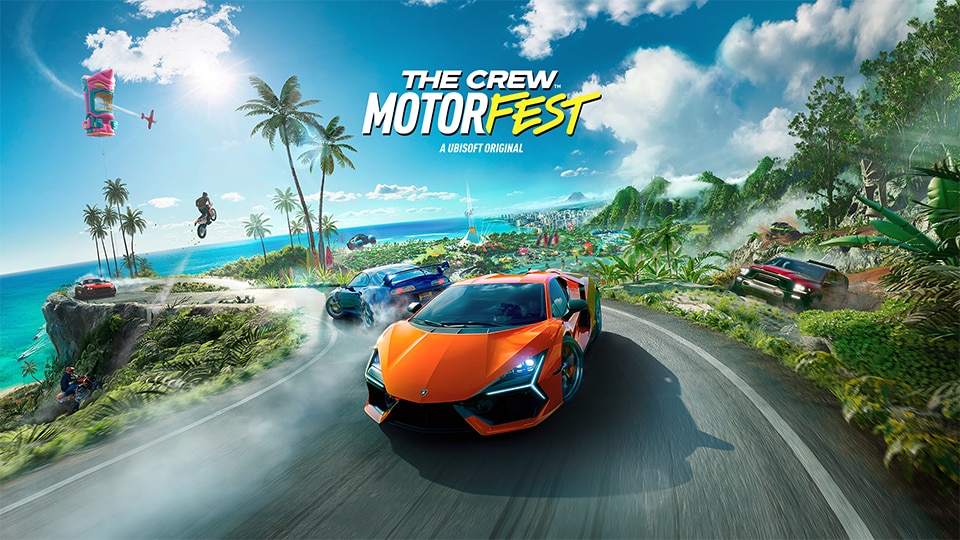 The Crew Motorfest is launching on 14 September, when players on Xbox Series X|S, Xbox One, PS5, PS4, and PC can race their way through the island of O'ahu and immerse themselves in a celebration of car culture. Whether it's speeding through the streets of Honolulu, careening down the side of a volcano, offroading into a rainforest, or taking a relaxing drive along mountain roads or sandy beaches, The Crew Motorfest offers a lot of ways for players to explore the beautiful setting. It also offers a diverse fleet of vehicles for players to choose from, and its playlist feature lets you choose your own path through a selection of campaigns themed around different car-culture experiences and driving styles, including American muscle cars, Japanese street-racing, electric supercars, and more.
Skull and Bones Closed Beta Announced
Skull and Bones is hosting a Closed Beta on 25 August for PC players, and registrations are now open for those who want to play the open-world pirate game ahead of its release. Ubisoft News spoke with Senior Producer Neven Dravinski to learn more about what players will get a chance to do in the Closed Beta, the feedback the team has received from Insider Program players, and how the team is working with the community to get the game ready for launch.
Just Dance 2024 Edition Launches 24 October
Just Dance 2024 Edition is launching on 24 October for Xbox Series X|S, PS5, and Switch, bringing 40 new songs to bust a move to. Those who own both Just Dance 2023 and Just Dance 2024 can have the catalogues for both games displayed together, and a new feature allows you to play tracks online with friends who own Just Dance 2023 Edition. To celebrate the announcement of Just Dance 2024, Just Dance 2023 players will get early access to "Sail" by AWOLNATION from now until 20 June.
Netflix's Captain Laserhawk Animated Series First Look
Captain Laserhawk: A Blood Dragon Remix, a new anime-inspired series coming to Netflix this fall, debuted a teaser trailer during Ubisoft Forward. Betrayed by the love of his life, Dolph Laserhawk has been subsequently imprisoned in the high-security Supermaxx facility and must work with a team of rebel outcasts to survive. Set in a dystopian, cyberpunk version of 1992, the show is an Easter egg-filled homage to the early '90s and features remixed versions of characters from several Ubisoft games.
Brawlhalla: Combat Evolved Epic Crossover Coming 12 July
Brawlhalla's next Epic Crossover, Combat Evolved, is coming on 12 July with two of the most out-of-this-world heroes in gaming history. The Master Chief, an Epic Crossover for Isaiah, is a Spartan supersoldier who has inspired generations of players and will wield the M41 SPNKr Rocket Launcher (with a little help from Guilty Spark for signature attacks). The Arbiter, an Epic Crossover for Sidra, is an unmatched warrior and will use the Fuel Rod Cannon and Energy Sword in combat.
Try Ubisoft+ For Free or Save Up to 75% at the Ubisoft Store
To celebrate Ubisoft Forward, Ubisoft+ is offering a seven-day free trial. Anyone who registers between now and 21 June will receive a free seven-day trial subscription, giving them access to a growing library of games (including premium editions), day-one access to new releases, and the chance to earn exclusive in-game rewards. Additionally, the Ubisoft Store is offering up to 75% off select titles, and you can get an additional 20% off your entire cart by using the code UBISOFT20 at checkout.