Razer has announced the new Razer Naga V2 Pro and Naga V2 HyperSpeed, the latest in Razer's genre-busting MMO and battle-royale mice. Designed primarily for MMOs, with 3 interchangeable side plates on the Naga V2 Pro, and a wealth of new features in both mice, the new Naga V2 Pro and Naga HyperSpeed signal the return of Razer's most adaptable mouse, now better than ever.
Ultimate Control and Adaptability
Launched in 2009, the original Naga created the MMO mouse category, setting new standards for functionality and control with its groundbreaking multi-button side panel, immediately becoming the world's bestselling MMO mouse. The new Naga V2 Pro continues this legacy of excellence, with a series of upgrades and improvements that retain the shape and feel of the Naga series that players love, while focusing on the features that matter most to MMO players.
Boasting 3 interchangeable side plates, 19+1 remappable buttons, 22 programmable controls, the new Razer HyperScroll Pro Wheel, Razer HyperSpeed Wireless, Razer Focus Pro 30K Optical Sensor, Razer Optical Mouse Switches Gen-3, and a range of charging and connectivity options, the Naga V2 Pro is a total upgrade on the Naga Pro, ready to meet the needs of today's gamers in every genre of game.
"The Razer Naga line of mice are widely regarded as the kings of MMO games thanks to their modularity, customizability and flexibility,"

"Sporting more scroll wheel customization options, wireless charging compatibility, and a lot of other upgrades, the Razer Naga V2 Pro is set to continue the legacy of the Razer MMO mouse line."

Chris Mitchell – Head of Razer's PC Gaming Division
Spin It Your Way With The Razer HyperScroll Pro Wheel
The new Razer HyperScroll Pro Wheel brings near-unlimited customization to the Naga V2 Pro, with intelligent settings to customize scrolling action and feel. Users can toggle through 6 modes of scroll wheel settings, including a user-customized mode, all available within Razer Synapse 3 and accessible on the fly. With a Standard mode for more typical in-game selections, Distinct mode for easy, definitive scrolling and an Ultrafine mode for the highest number of inputs, the Naga V2 Pro has a further 2 presets; Adaptive scrolling, to give less resistance the faster the wheel is scrolled, and Free Scrolling for always-on accelerated scrolling.
The final option for the Razer HyperScroll Pro Wheel is its Custom mode, where a user can make near infinite adjustments to get the perfect scroll feel and function tuned to their liking. Through Razer Synapse 3, users can adjust the scroll tension, number of steps and customize the force curve between steps, setting everything from a smooth, free spinning wheel through to a positive step wheel with as few as 8 distinct steps, or take it all the way to 96 steps – and then adjust how the tick between each step feels. These levels of customization allow users to minutely adjust the HyperScroll Pro Wheel function and tactile feedback, giving them the perfect feel and action they require.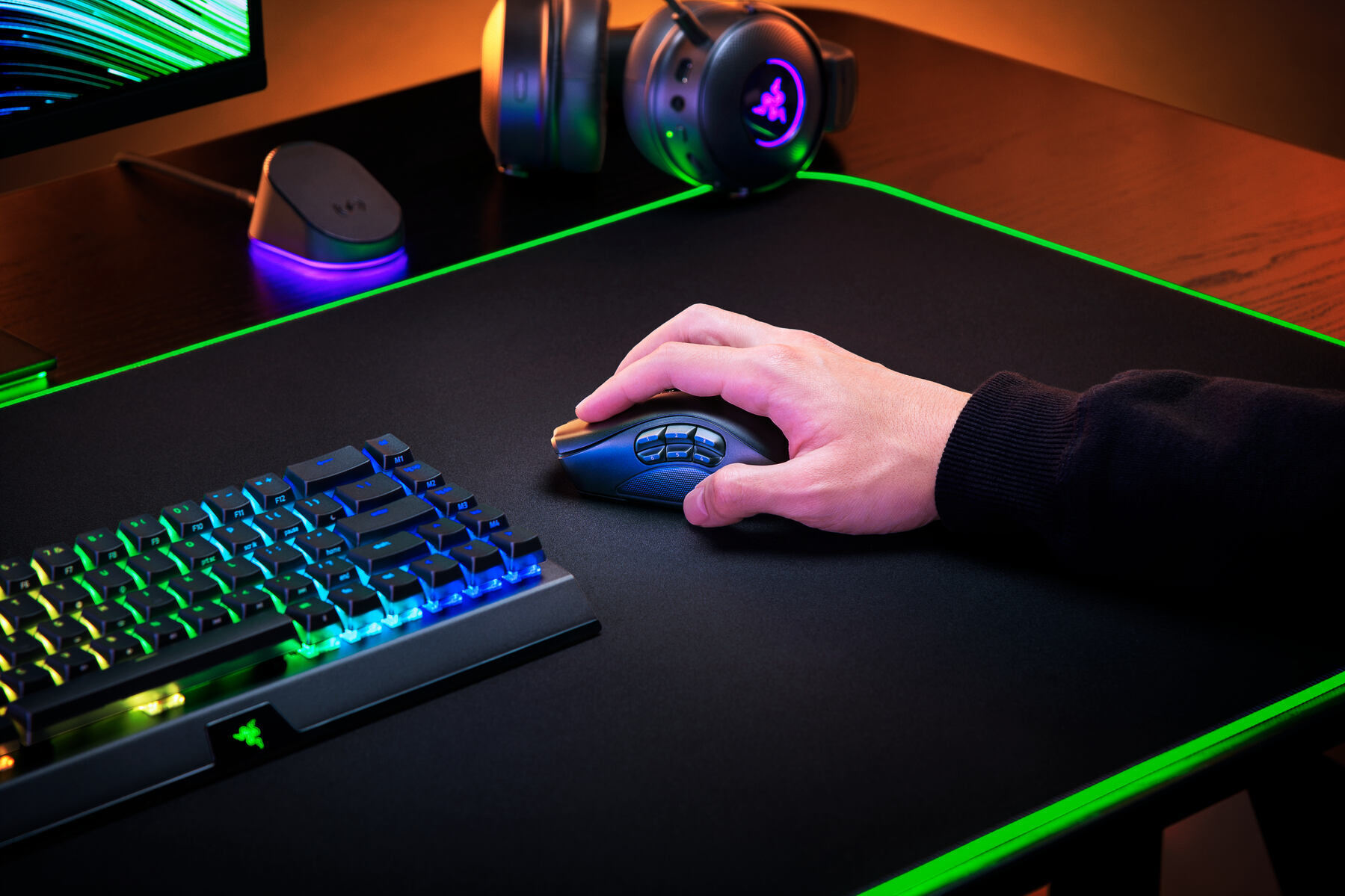 Action Unleashed
The Naga V2 Pro features the very latest in Razer's wireless technologies, both for connection and power. Boasting Razer HyperSpeed Wireless, the Naga V2 Pro enjoys a high-performance, low-latency connection for lag-free gaming while adaptive frequency monitoring and switching, allows gamers to enjoy a fast, uninterrupted wireless connection, even in the noisiest signal environments. For complete versatility and ease of use, the Naga V2 Pro can also be connected via Bluetooth or the included SpeedFlex Type C cable, to allow play while charging.
Featuring tremendous battery life of up to 150 hours on HyperSpeed Wireless, or 300 hours on Bluetooth, the Naga V2 Pro can also be charged wirelessly, as it is compatible with the Razer Wireless Charging Puck and the Razer Mouse Dock Pro (both sold separately). The Naga V2 Pro also supports Razers multi-device wireless connection, allowing users who already own a Razer HyperSpeed enabled keyboard to connect to the included Naga V2 Pro USB dongle, freeing up a USB port on their system.
It's All About The Optics
Topping off the updates in the Naga V2 Pro are the new Razer Focus Pro 30K Optical Sensor and Razer Optical Mouse Switches Gen-3. Razer's brand-new sensor provides flawless tracking performance on a wide variety of surfaces including glass and is supported by intelligent functions for enhanced aim and control such as smart tracking, asymmetric cut-off, and Motion Sync.
The Naga V2 Pro sports the Razer Optical Mouse Switches Gen-3, bringing unrivalled durability and speed with a blistering 0.2ms actuation with no debounce delay, an improved 90 million click lifecycle, and zero double-clicking thanks to its use of infra-red light to measure switch presses.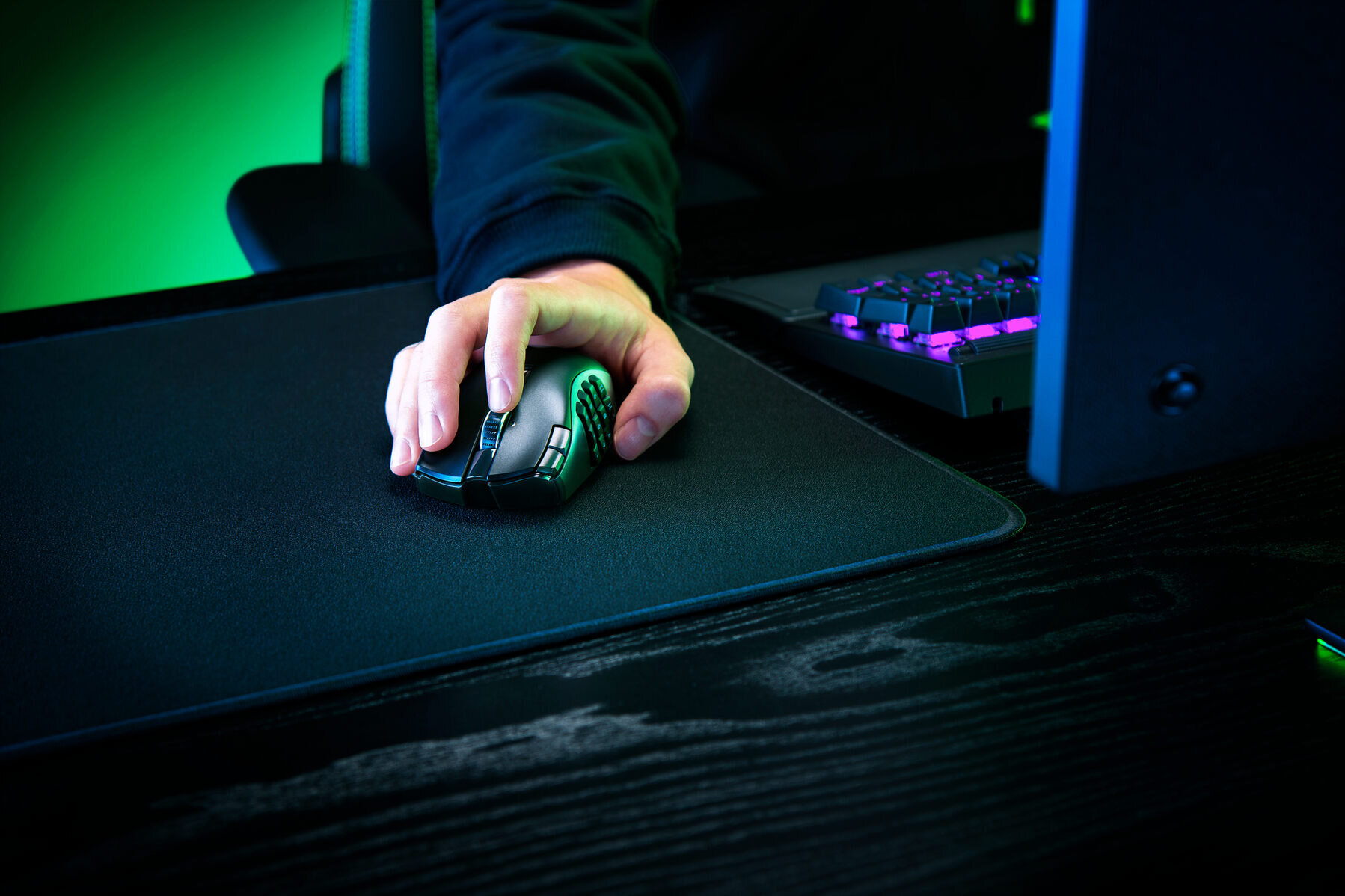 The Razer Naga V2 HyperSpeed
Also announced today is the Naga V2 HyperSpeed. Featuring 20 programmable controls, Razer HyperScroll Technology, Razer Focus Pro 30K Optical Sensor and Razer Mechanical Mouse Switches Gen-2, the Naga V2 HyperSpeed is ideal for the MMO gamer looking to declutter their desktop and go cable-free.
Powered by a single AA battery, diagonally mounted within the mouse body for balance and weight distribution, the Naga V2 HyperSpeed gives up to 400 hours on Bluetooth and 250 hours of seamless low-latency gaming on Razer HyperSpeed Wireless.
Accompanied by the precision and accuracy of the Razer Focus Pro 30K Optical Sensor, backed up by the speed and durability of the Razer Mechanical Mouse Switch Gen-2, and connected over the seamless, low-latency performance of Razer HyperSpeed Wireless, the Naga V2 HyperSpeed is every gamer's raiding companion.
• 3 interchangeable side panels with 2, 6 and 12-button configurations
• Up to 22 programmable controls, 19 programmable buttons
• Razer HyperScroll Pro Wheel, toggle through 6 scroll modes including 1 customizable on Razer Synapse
• Focus Pro 30K Optical Sensor with 99.8% resolution accuracy
• Up to 750 inches per second (IPS)/70 G acceleration
• Advanced Lift-off/Landing distance customization
• 3 modes of connection – HyperSpeed (2.4GHz), BLE, and wired
• 100% PTFE mouse feet
• Ergonomic right-handed design with textured side-grips
• Razer™ Optical Mouse Switches Gen-3 rated for 90-million clicks
• On-The-Fly Sensitivity Adjustment (Default stages: 400/800/1600/3200/6400)
• Advanced on-board memory (4+1 profiles)
• Razer Synapse 3 enabled
• 1.8 m / 6 ft Speedflex cable for charging and wired use
• Battery life: Approximately 150 hours with HyperSpeed wireless, 300 hours with BLE (estimates without lighting, battery life depends on usage settings)
• Razer Mouse Dock Pro and Wireless Charging Puck compatible
• Approximate size:
o Length: 119.5 mm | 4.7 in
o Width: 75.5 mm | 2.97 in
o Height: 43.5 mm | 1.72 in
• Approximate weight:
o Mouse only: 134g / 0.295lbs (without cable and dongle)
o 12 Button Side Panel: 22g
o 6 Button Side Panel: 19g
o 2 Button Side Panel: 17g
• 20 programmable controls, 19 programmable buttons
• Powered by HyperScroll Technology – for a free-spin or tactile scroll wheel with 4-way tilt wheel
• Razer™ Focus Pro 30K Optical Sensor with 99.8% resolution accuracy
• Up to 750 inches per second (IPS) / 50 G acceleration
• Advanced Lift-off/Landing distance customization
• Razer™ Mechanical Mouse Switches Gen-2 rated for 60-million clicks
• 2 modes of connection – HyperSpeed (2.4GHz) and Bluetooth
• 100% PTFE mouse feet
• Ergonomic right-handed design with textured side-grips
• On-The-Fly Sensitivity Adjustment (Default stages: 400/800/1600/3200/6400)
• Razer Synapse 3 enabled
• Battery life: Approximately 400 hours on BLE 250 hours with HyperSpeed wireless (estimated with an AA Alkaline battery)
• Approximate size:
Length: 119.5mm / 4.71 in
Width: 75mm / 2.96 in
Height: 43.5mm / 1.71 in
• Approximate weight:
95 g / 0.21Ibs (Excluding battery)