Sony today announced the next generation of its Creators' Cloud[i] platform, opening up a host of applications and features for individual content creators, interested in leveraging the efficiencies and opportunities offered by the cloud.
"With Creators' Cloud, we believe it's a case where the sum of the whole is greater than all the parts although users can opt into different services according to their needs"

"We want creators to see cloud-based applications as one of their fundamental tools, in the same way they know their camera is crucial to their work. The lines between hardware and software, online and offline are increasingly blurred thanks to the possibilities offered by the cloud. Creators' Cloud creates a unique space where all aspects of a creator's work come together seamlessly, with their device an integral part of this ecosystem."

Yasufumi Machitani – Director, Digital Imaging Division, Sony Electronics Asia Pacific
Sony introduced Creators' Cloud, a suite of cloud-powered applications and services for professional and enterprise users in September 2022. The next generation of Creators' Cloud, aimed at individual or small teams of content creators is now coming to the market with the same philosophy but tailored applications and services. It is a suite of applications designed to extend the camera and shooting into the cloud, through instant video and stills upload, and collaborative work with peers, from multiple devices.
"We know content creators are increasingly looking for a one-stop shop, a place that integrates their creative tools, allows them to share and learn from other professionals around the globe, and importantly, offers business opportunities. Creators' Cloud is Sony's answer to this, powered by AI,"

Yasufumi Machitani – Director, Digital Imaging Division, Sony Electronics Asia Pacific
The Creators' Cloud platform for individual creators includes cloud storage, available anytime from anywhere, Ci Media Cloud for collaborative media workflows, and Discover, a community for creators to post their own content, discover and connect with peers. This Creators' Cloud platform, aimed at independent professionals, also includes Creators' App, a content transfer application from camera to cloud. 1
Content Immediately Available On Multiple Devices
As creators seek to view and share their content efficiently and safely, Creators' Cloud will enable the transfer of images and videos shot on their Sony cameras to the cloud for immediate viewing and sharing with their community.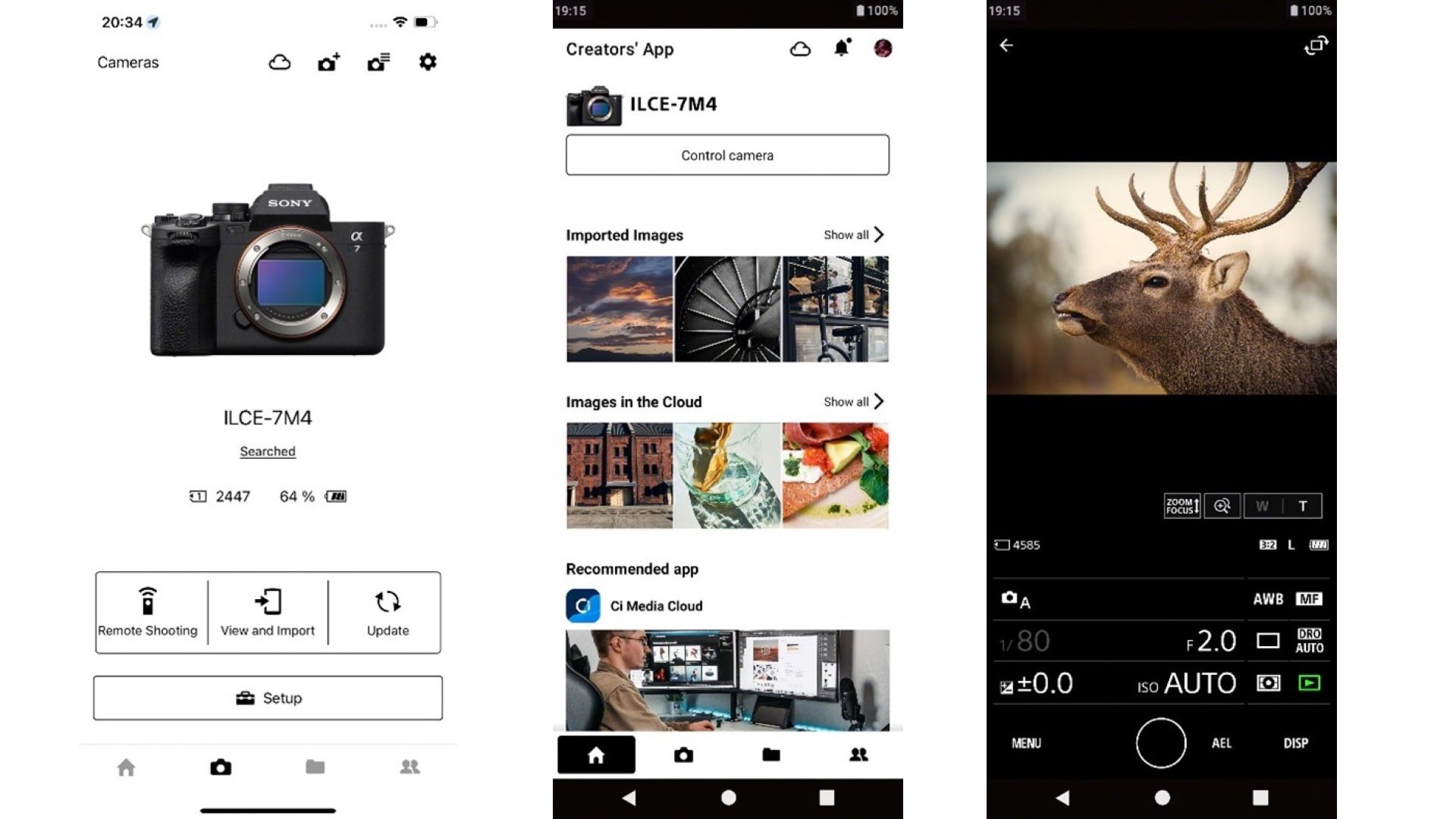 Creators' App[ii], is the successor of Imaging Edge Mobile Plus​ and will act as an extension of a camera to upload, view, and manage content (video and photo) stored in the cloud[iii]. Key features include:
Content transfer to mobile and transferred content viewer
Remote shooting, updating and camera settings changes
Cloud Storage – 5GB for any user with a Sony Account​, 25GB of cloud storage for owners of selected Sony cameras.[iv]
At time of launch, upload to the cloud to Creators' Cloud will be available for cameras[iii] α7 IV and ZV-1F through the Creators' App mobile application. Direct upload from camera to cloud is planned to be available at a future date. With the launch of Creators' App for individuals, "C3Portal App," a cloud gateway application currently being provided for enterprises, will be renamed as "Creators' App for enterprise."
Facilitating Collaboration
Ci Media Cloud, Sony's well-established online creative collaboration and content management service, supports over 150 000 professionals worldwide. Ci will open its tools to individual creators and small teams with new pricing and subscription plans built for how individual creators work and create. With Ci Media Cloud, creators and creative teams can simplify collaboration on media files from anywhere on any device in a simple, intuitive UI. With an Adobe Premiere Pro panel integration for mobile applications and an Apple TV app now available, Ci continues to develop features and integrations to empower creative professionals to work simpler and smarter.
Creating A Community Of Creators Across The Globe
Discover is another stand-out feature of Creators' Cloud launching today[v]. Users' profile and portfolio of selected content will be available to share with their community of other professionals, multiplying global networking and collaboration opportunities. In Discover, images and videos will include information about the camera operator's location, camera and lens models, settings, genre and much more to create an environment of learning and exchange with other users. Discover will be accessed through Creators' App and web browser.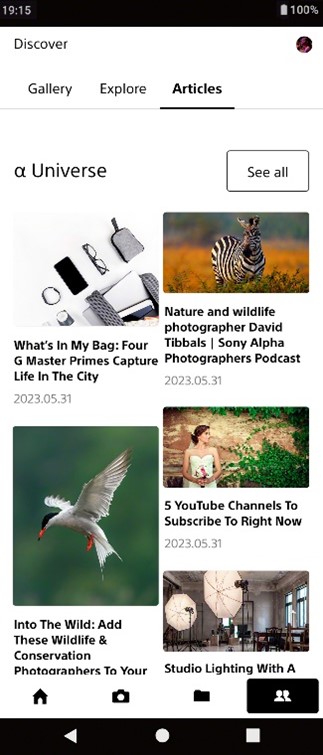 "With Discover, creators will have a dedicated space for them to showcase, find inspiration and interact with each other's content,"

"We're aiming to create the largest community of camera users and content in the world."

Yasufumi Machitani – Director, Digital Imaging Division, Sony Electronics Asia Pacific
Creators' Cloud will continue to expand in the future with new services and features added regularly based on user feedback.
For more information about Creators' Cloud, please visit: https://www.sony.net/cc/
---
[i] Sony will roll out availability of Creators' App, Cloud Storage, Ci Media Cloud and Discover progressively in Asia Pacific and the rest of the world, thus availability of and availability timing of services will vary by region and country.
[ii] Creators' App will be launched at the end of February 2023 onwards. The timing will vary by regions and countries
[iii] At time of launch, video and image transmission from cameras to cloud via smartphones with the "Creators' App" and camera remote control functions will be compatible with α7 IV, ZV-1F​. Q2 2023: α7R V, FX3, FX30. α7 IV, α7R V, FX3, FX30 will need software update respectively. After updating to the latest firmware, Imaging Edge Mobile cannot be connected with these models, but Creators' App can be connected with them.
[iv] The full list of Sony cameras that can give access to the 25GB free storage in Creators' Cloud can be found in the "Add Cameras" menu of Creators' App. For more details, please visit https://www.sony.net/cca/.
[v] The timing will vary by regions and countries.