Going full circle, based on a light novel, manga and anime, now it is fully realized as a dungeon crawler titled KonoSuba: God's Blessing on this Wonderful World! Judgment on this Greedy Game! announced by 5pb. Check out the new trailer below:
Main story and how this game fits into the narrative
Basically the series follows a boy name Kazuma who died and is sent to a fantasy world following his death. Before leaving, he met with the Goddess Aqua and was given a wish either to bring with him a weapon of mass destruction, magical items or the greatest armor of his choice but he chose the unthinkable which is to bring the wishful Goddess with him into the world to fight against monsters and eventually a Dark Lord. Did I mention this is a comedy series?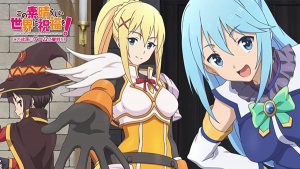 For this game premise however, it acts more of a side-story content which is different from the original work whereby Kazuma puts on a cursed ring that steals underwear of those around him. Receiving a large amount of underwear, he panics and asks Vanir for his opinion on the ring. He learns that a large amount of money is needed to lift the curse. From there, they embark on a new adventure in order to gather the required funds.
This game will be out on PlayStation 4, and Vita with currently an unannounced release date so stay tuned for more.