OPPO took to the stage at the Snapdragon Summit 2022 to introduce a collaboration between OPPO and Qualcomm Technologies, Inc. in ray tracing graphics for mobile devices. The two companies have been collaborating since the early phases of the next-gen driver development. Thanks to the great effort, users can experience a fully optimized hardware-based ray tracing feature on the flagship Snapdragon 8 Gen 2 Mobile Platform when it releases. At the Snapdragon Summit, OPPO also demonstrated breakthroughs achieved in its collaboration with Qualcomm Technologies and Google to implement Google Vertex AI Neural Architecture Search (Google NAS) on a smartphone for the first time. The new solution will boost energy efficiency and AI processing latency on mobile devices.
As a long-term partner of Qualcomm Technologies, OPPO has also announced that it will use the latest premium Snapdragon 8 Gen 2 Mobile Platform in its next Find X flagship devices, delivering a leap in video, gaming, and connectivity experiences for mobile users worldwide.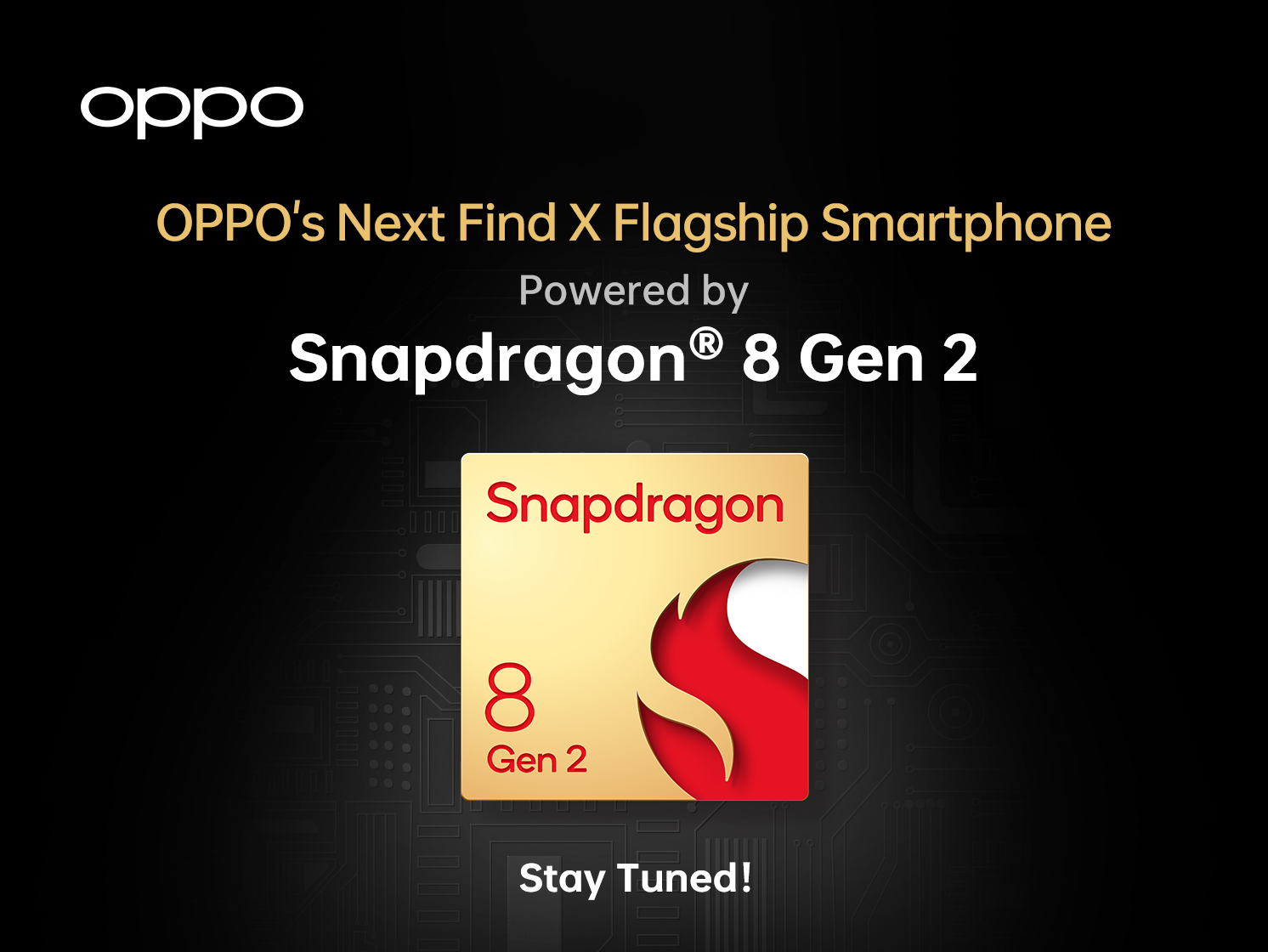 OPPO's collaboration with Qualcomm Technologies has reached a new stage. Together, we have carried out research into several cutting-edge areas of technology that will support the development and implementation of innovative technologies on mobile devices. Drawing on OPPO's extensive experience in mobile graphics and AI, and the powerful capabilities of the new flagship Snapdragon 8 Gen 2, OPPO and Qualcomm Technologies have delivered a breakthrough in mobile ray tracing technology and brought Google NAS to a smartphone for the first time. We look forward to extending our cooperation with Qualcomm Technologies as we redefine the smartphone experience and place more cutting-edge technology into the hands of millions of users around the world.

Pete Lau – Senior Vice President and Chief Product Officer at OPPO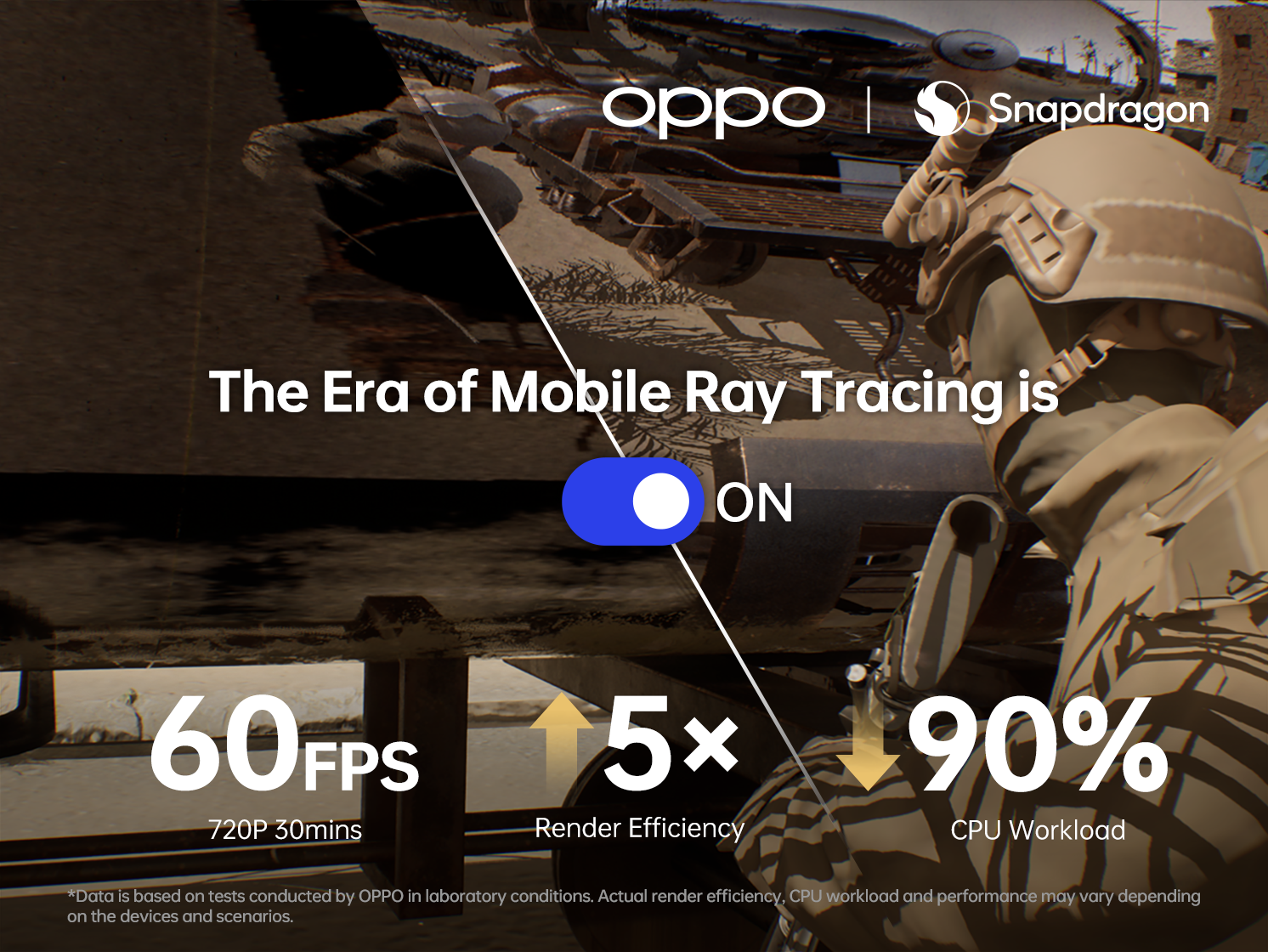 We are excited to work with OPPO to bring a hardware accelerated ray tracing experience to mobile games – The collaboration between Qualcomm Technologies and OPPO in this area allows game developers to take full advantage of desktop-level quality ray tracing to provide the highest visual fidelity, life-like aliasing free shadows, reflections on curved surfaces and global illumination to unlock the next-level gaming experience on mobile, all in real-time at usable frame rate. The collaboration covers the entire render stack and is a significant step in driving forward the mobile gaming ecosystem. We look forward to deepening our cooperation with OPPO, to further explore the possibilities of innovation landing on mobile devices powered by premium-tier Snapdragon platforms.

Ziad Asghar – Vice President of Product Management, Qualcomm Technologies, Inc.
OPPO and Qualcomm Technologies deliver breakthroughs in mobile graphics processing and AI through underlying technology optimisations
As the first smartphone manufacturer to provide an open-sourced ray tracing solution for mobile, OPPO has collaborated with Qualcomm Technologies to conduct software optimisations based on the new generation Snapdragon 8 Gen 2 Mobile Platform. These optimisations enable OPPO's ray tracing technology to be applied to complex, large-scale game scenes on mobile devices.
Visitors to the Snapdragon Summit 2022 were able to experience this ray tracing technology on live game demos, making OPPO the only smartphone manufacturer at the Snapdragon Summit to demonstrate such technology on handsets powered by the flagship Snapdragon 8 Gen 2 Mobile Platform.
Running on a device powered by Snapdragon 8 Gen 2 Mobile Platform, with multiple ray tracing effects turned on, top mobile games can run at a steady 60 FPS while providing life-like soft shadows and reflections for the highest gaming visual quality. Compared with previous software only generation, ray tracing render efficiency increased by a factor of 5 and reduced the CPU workload by 90%. These advances will enable the mobile game industry to step away from its reliance on using software simulation to achieve ray tracing effects, and instead bring advanced, ultra-realistic lighting to complex, large-scale game scenes on mobile devices.
OPPO was the first smartphone manufacturer to develop ray tracing technology on mobile devices through software. Since 2020, OPPO has been building an open ecosystem around the technology that brings together creators, game developers, and game engine developing platforms with the PhysRay SDK — the first open-source ray tracing solution on mobile devices released by OPPO. To better cater to the various needs of developers, OPPO has continued to optimise the PhysRay engine for enhanced compatibility between different hardware and software configurations. The Open, Convenient, Adaptive and Balance ray tracing solution acts as a much-needed bridge between hardware and software when implementing ray tracing on mobile devices.
In addition to the cooperation in mobile ray tracing technology, OPPO has been working with Qualcomm Technologies and Google to enhance future AI capabilities on mobile devices. Under the collaboration, OPPO has successfully integrated the hardware power reward into Google NAS for the first time. Through optimisations to the AI algorithms based on the specific chip characteristics, OPPO's implementation achieves a 27% reduction in power of the target detection algorithm and a 40% reduction in computing latency. Together, these improvements will enable AI models to be trained with greater energy efficiency and hardware friendliness in a shorter timeframe.
With 'Inspiration Ahead', OPPO is working with Qualcomm Technologies to bring more innovative technologies to mobile devices
OPPO and Qualcomm Technologies' efforts in ray tracing technology and AI are part of a long-standing collaboration between the two companies. Snapdragon flagship mobile platforms have featured on several OPPO smartphones, through which they have brought 5G mobile experiences to more users worldwide. In 2022, OPPO Find X5 Pro flagship smartphone was one of the first to be powered by the Snapdragon 8 Gen 1, delivering unprecedented experiences in connectivity, AI, gaming, video, audio, and security. Earlier on, OPPO released many smartphones that featured Snapdragon 5G mobile platforms, including the Find X3 Series and Reno6 Series.
Through its brand proposition of 'Inspiration Ahead', OPPO will continue to collaborate openly with industry leaders like Qualcomm Technologies to provide more enhanced experiences to users worldwide through advanced technologies on mobile devices.
Data is based on tests conducted by OPPO in laboratory conditions. Actual rendering efficiency, CPU workload, and performance may vary depending on the devices and scenarios.
Data is based on tests conducted by OPPO in laboratory conditions. Actual power consumption and latency may vary depending on the specific application and hardware