Sail Forth, a quirky, breathtaking sailing adventure, charts a surprise course to launch now during Nintendo's Holiday House of Indies Event, with no prior release date announcement. Developer Festive Vector and publisher Quantum Astrophysicists Guild, known for best-selling titles like The Bridge (4M units) and Cozy Grove (500k+ units), uncovered charming treasures now on Nintendo Switch, Playstation 5, Xbox Series X|S, PlayStation 4, Xbox One, as well as PC, Mac, and Linux via Steam, Epic Games Store, and Humble Bundle.
Awaken upon the remains of yer shipwreck with no memories n' direction. Tie together the remains of yer vessel to craft a makeshift sailboat n' seek answers across the Deepblue, embarking on a weighty quest where yer world's fate hangs in the balance. Master accessible, semi-realistic wind sailin' physics to navigate a wide, expansive ocean littered with six distinct island biomes.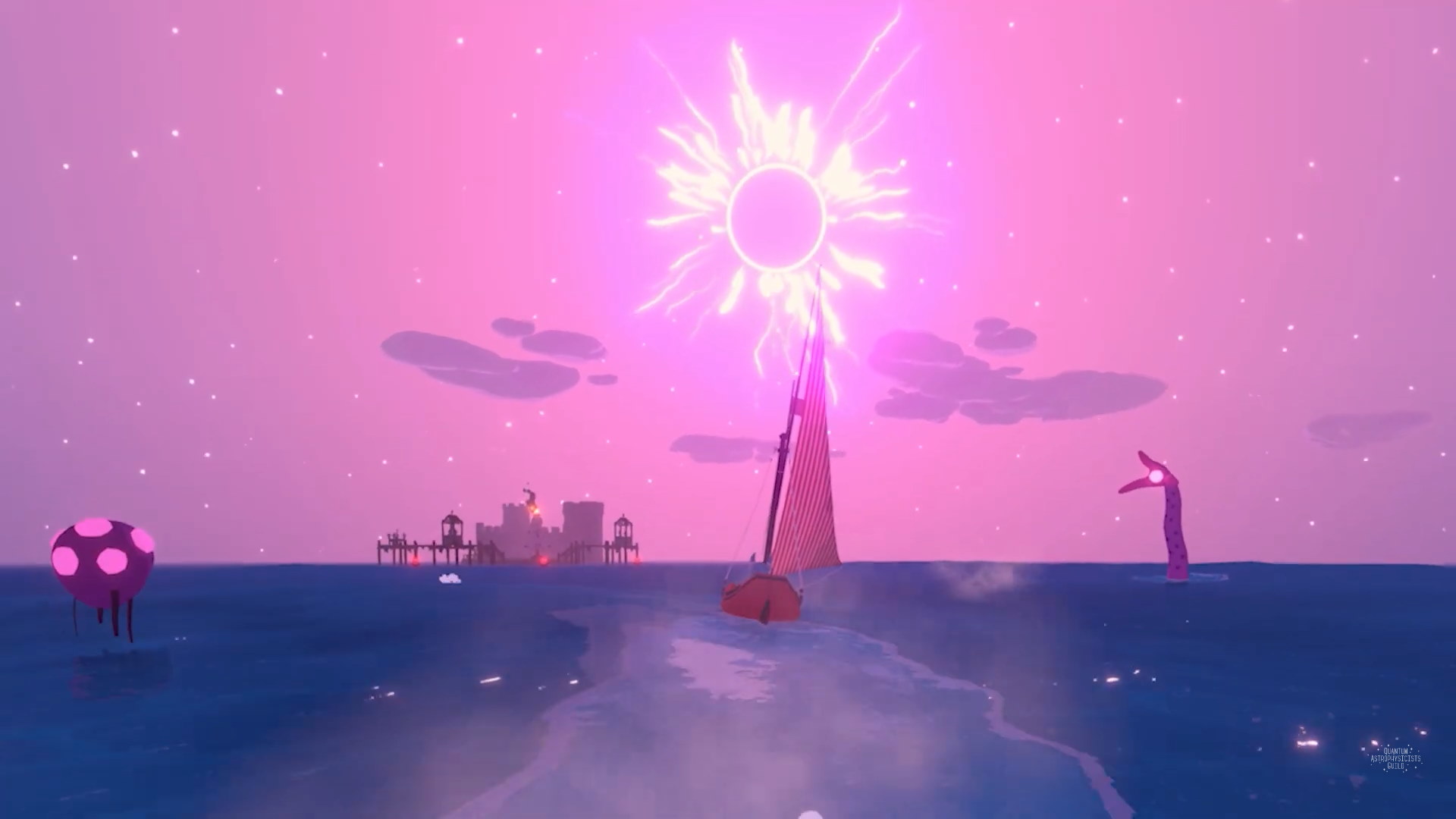 Discover uncharted regions like the ice-filled Frigid Sea, ancient stone structures in the Green Ruins, or impenetrable treelines of Pine Peaks. Scan the coastlines fer upgrade materials, landlubber recruits, skulking Skull Clan bases, ability-locked containers (or contain'arrs?), among tons of other seafarin' activities. When yer treasure hoard runs dry, take on more than 30 side quests or challenge other swabs to a variety of mini-games includin' boat racin', target shootin', card gamin', fishin' contests, or photo collectin'.
Sail Forth is out now on Steam! ⛵️

🌊 master semi-realistic wind sailing physics to chart unknown waters
🐸 welcome aboard quirky crewmates
⛵️ manage a fully-fledged fleet throughout a charming heartfelt journey

Get it for 10% off now!https://t.co/AWoYNihOHl pic.twitter.com/Lp2c1FtfK1

— QAG (@QuantumApG) December 21, 2022
S'not all fun 'n games though, matey, as ye transform yer frail dingy into a fearsome fleet with over 40 weapons, 20 ships, plus eight types of stat alterin' crewmates to choose from. Befriend somber sailors or accept the apologies of remorseful renegades post sea skirmish to expand the crew into a full fleet of ships, formin' various attack or navigation strategies. Bring together the denizens of this here shimmerin' turquoise world to save the planet from seven deep sea baddies corrupted by a mysterious substance known, arr… The Deadrock.
Holiday cheer has sailed to the high seas and brought the gift of Sail Forth!! – We are also stoked to reveal two new modes to expand accessibility, Auto Sail and Free Sail. Auto Sail mode provides easier navigation for struggling sailors and Free Sail mode only offers the company of the open ocean and endless horizon. We appreciate everyone's patience this past year as we worked hard to ensure this adventure will be enjoyed by both realistic sailing fans and casual captains. Thank you all!

Michelle Lega, Producer – Quantum Astrophysicists Guild
Sail Forth is available now on Nintendo Switch, Playstation 5, Xbox Series X|S, PlayStation 4, Xbox One, as well as PC, Mac, and Linux via Steam, Epic Games Store, and Humble Bundle for $19.99 with English, Simplified Chinese, German, Brazilian Portuguese, Japanese, and Simplified English language support.
You can watch developer @festivevector stream Sail Forth live on the Steam page right now!https://t.co/zrxoyeTWXg pic.twitter.com/yp9c9Ll0y9

— QAG (@QuantumApG) December 21, 2022